Taking your first RV trip? That's so exciting! It's a trip of a lifetime and the first time will not be your last. RVs are a home away from home, and even though they may seem intimidating, they're just another fun way to travel with the ones you love.
Like with anything, the first time can be scary. You may forget something at home, you may get frustrated about getting lost, but those are all things that can be a learning experience for your next time.
Here is how to get the most out of your first trip in an RV. Make it a smooth ride!
1. Make a checklist of everything you need before you leave
This may sound obvious, but it's crucial. Even if it's just little things like batteries, if you think of something important, write it down on a list! It's amazing what you'll forget when you're just packing aimlessly.
2. Be flexible with all of your plans
Have a plan for if it rains or shines. Campgrounds are great for when it's sunny and warm, but if it's cold and wet, you'll probably just want to do something else, like drive to the nearest city. There will be tons to do either way!
3. Get a hotspot
WiFi is tricky and pretty much nonexistent in the middle of nowhere. Whether you're on a campground in a forest or driving through fields, you'll probably want WiFi in case of an emergency or to keep others occupied while driving. A hotspot is a great idea and they're actually pretty cheap!
4. Find spots nearby that allow overnight parking for RV's
A lot of malls or supermarkets allow RV's to hang out there overnight. Unless it's stated otherwise, feel free to sleep there with no trouble. It will help ease your mind when you know you're almost at a free rest stop for the night.
5. Make sure to test all of the systems in the RV before you leave
This will also help put your mind at ease. Checking if things like the air conditioning works, the bathrooms, if the tires are inflated, etc., will help you to get going and cause less troubles on the road. This should be done several days before your trip so it doesn't cause any delays.
6. Don't overpack!
While some RV's are huge, some have less storage space. Overpacking will crowd the RV unless you have a lot of storage. If you can, pack efficiently so you can still have everything you need but less clutter.

7. Have fun with storage spaces
If you're an over packer, there are some ways you can get around that! You can put storage under the beds, in the oven, and in the microwave. You can use the microwave to store breads and snacks, you can put the clothes and bags under the beds, and you can put whatever you want in the oven just as long as you don't turn it on.
8. To save money, pack your own groceries and try not to eat at restaurants along the way
This is a game changer. Buying groceries for your trip will not only save you a ton of money, but it will help you to get to where you're going without needing to stop all the time. Most RV's have fridges and even if yours is small, it can still hold a lot! You can also bring coolers that will store the food in there too. This will save the passengers from getting "hangry" too :)
9. Along with that, bring frozen meals
If you're renting a big RV, chances are you will have a bigger fridge that comes with a freezer. This is perfect to freeze meals so you can have delicious dinners. You can bring lasagnas, dishes, and more that just need to be heated up!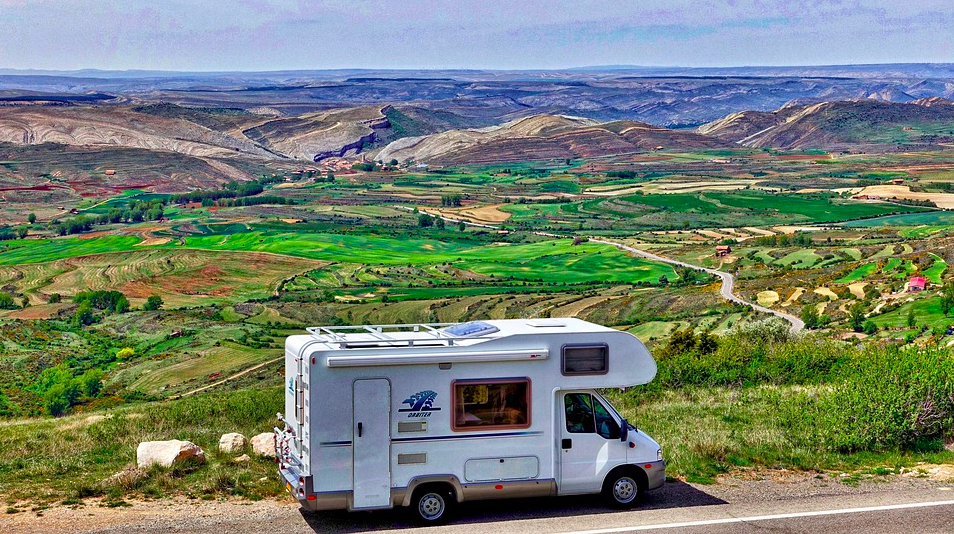 10. Don't think you have to stick to a schedule
The great thing about RV's is that you can pretty much make up your own schedule. If you want to stay an extra night somewhere instead of heading home, feel free! A schedule is just an idea of what to do, but it's way more fun to be spontaneous.
11. Have water bottles on hand
Sometimes the water at the campgrounds can be iffy, so it's best to bring your own. Especially while on the road and in the heat, you want to be hydrated.
12. Try to map out where the gas stations are along your trip
While gas in RV's last long, you never know with the amount of driving you're doing especially if it's a long trip. It's better to be safe than sorry, and mapping out the gas stations along the way will help you so much.
13. Take a practice drive beforehand
Driving an RV for the first time can be intimidating, but it's so worth it. Usually after the first couple of times you get used to it and it doesn't feel any different. It's good to take a test run before you take your trip just so you know the feel of the RV!
14. Bring a first aid kit
This may sound like an obvious suggestion, but some people do forget bandaids and other necessities while on a trip. It's really important to be safe on your trip, but if something were to happen, you're set!
15. Make if feel like a home away from home
Buying your own comforters, bringing your own pillows, and even bringing your favourite movies will make it feel like home. Just because you're on the road doesn't mean you can't be at home! You'll have more fun this way and feel more relaxed.

16. Make a homemade bug repellent
A lot of bug repellents have a ton of chemicals you don't want to be consuming or on your skin. Making a homemade bug repellent from essential oils is super effective and will last so long since essential oils take forever to run out. Researching different repellents can help you find the perfect one for your trip.
17. Make sure to spend time outside of the RV
Whether it's solo or with the people you're travelling with, it's important to stretch your legs so you don't get irritated. Going for hikes, swim in the lakes, and even playing games outside will help you feel more relaxed.
18. For the first few times, it may be best to leave your furry friends at home
Cats and dogs are great RV companions, but they may make it stressful the first time. Leaving them with a trusted friend or family member at home would be best as your first time on the RV you're just getting the hang of things. Of course, if you're already comfortable, you can bring them along!

19. Bring cash as well as a credit card with you on your trip
A lot of campgrounds only accept cash, and you don't want to be stuck! Bringing a good amount of money for emergencies or just to play it safe is a great idea. A lot of campgrounds have shops that serve ice cream and treats and you'll definitely want some. Make sure you have cash for these kinds of things!
20. Make sure to take several stops if you're driving a far distance
Taking stops every 2-3 hours to stretch your legs is the best way to do a trip. Not only will it stop you from burning out, but you can switch drivers, eat, and go to the bathroom while not rushing. It's a great way to divide the trip up.
21. Make use of the driving time
Maybe you have a book you want to finish, you have a lot to unpack, you want to cook, etc. You can do this all while someone else is driving! It's a really great way to pass the time, and make use of the time so you don't get bored.
---
So there you have it! If you're taking an RV trip for the first time, these tips will save your life before and during your amazing trip. Being prepared is while away from home is very important, and these 21 tips are here to help you have the best trip ever. Relax, and have fun, as all the work is done for you now!