If you're a first time RVer, you're in for a real treat. Driving an RV is the best way to hit the open road, and you can make great memories in an RV. Whether it's with family, friends, or just a solo trip that you've always wanted to do, you won't regret taking the plunge.
The only thing about being a first time RVer is that you should know what to expect. It helps to have some experience driving larger vehicles, but even a beginner can dive into the RV lifestyle with a little preparation. Driving an RV is exceptionally easy, and the only thing you need to worry about is never wanting to go back. That's not a bad problem to have!

If you're scouring the internet looking for tips on becoming a first time RVer, then you've found the right place! Here's just about everything you need you need to know, from what to expect in costs to the best times of the year to rent. Buckle up, because you're going to fall in love with the adventure of RV camping.
Renting an RV with RVezy
Renting with us is as easy because we do everything we can to make RV adventures and travel possible for everybody in Canada - at a reasonable price.  You can even have your perfect RV waiting for you when you arrive at your destination with added delivery, find amazing discounts on motorhomes that sleep up to ten people for spring and fall, or get the perfect campervan for the romantic adventure of a lifetime.
Renting is also a great way to dip your toe into the waters of RVing, whether its for a weekend or a month-long trip down south.
There are just a few steps to booking through our site, and it's super easy to navigate and communicate with owners. Here are the main steps to renting an RV on RVezy:
1. Go to RVezy.com and type into the search bar the city you're in or where you're planning on going.
2. Browse an array of RVs in your location, which you can customize to your price range as well as the type of RV you want, the amenities you prefer, plus handy add-ons like delivery or airport pickup!
All of the information you'll need, such as pricing and RV specifications, are on each listing page.
3. Once you've got a few options you like, you can either send the owner a question or a request to book the RV for your dates.
4. Once you request an RV you can pick your add-ons, roadside assistance, and insurance deductible type (Read more about our insurance here).
5. You'll hear back from specific owners to arrange any other details, and when you are happy with the RV you've picked you can officially book it by paying the deposit. (Read more about our fees and policies here.)
And you're done! See how easy that is?
Costs of Renting an RV
Another main question you'll want to know for planning is, of course, the cost. One of the great things about renting an RV is that you can really set a budget and stick to it. If you're looking for a less expensive vacation, you can definitely find it. And if you're looking to splurge, you have that option too!
RVing is great because you don't need to worry about plane tickets or hotel reservations - you've got your accommodations and means of transportation combined into one expense.
There are a few things that determine how much it costs to rent an RV:
First is the time you're going to rent. Peak RV rental season is July and August, so you can assume that owners will set a corresponding price during those months because the weather is great. While it can be more expensive than the shoulder seasons, there are lots of options, prices, discounts and possibilities in our community. We can also help you find the perfect RV based on dates and guests, the two biggest factors in your final price.
Colder months are less expensive, because there isn't as much demands as in the summer. Fall and spring make for fantastic camping, however, and winter is a great time to get away from the cold or even do a little winter camping and fishing!
The second factor is how many days you're going. A longer trip would obviously be more expensive, but lots of owners offer discounts depending on how many days you're renting, particularly for weekly or monthly bookings. You can expect that a weekend trip of 2 nights would be less expensive than a whole week, but you can also find big discounts with RVezy owners that let you come out way ahead when comparing flights, hotels and car rentals.
A great option to consider if you're on a budget is to make it a group trip as the more people there are, the less you all have to pitch in. A smaller group of people would have to pay more than a group of, let's say, 7-10 people.
If you're worried about costs while planning, we have a great article on the different kinds of RVs, the best times to rent, and other costs to consider. Check it out here.
As a general rule, you can find prices ranging from $50 to $250 a night depending on the unit - a pop-up tent trailer would cost less than a modern Class A motorhome but there are lots of ways to fit your budget and get what you want.
Rent an RV and Enjoy Great Savings!
Saving money while renting an RV is not out of the question. Lots of owners on RVezy offer amazing rates to rent their motorhomes, trailers or campervans. On top of that, many offer great discounts for weekly and monthly bookings.
There are a few other things that will allow you to save big very easily! From meal prepping food to inviting more people onto your trips, you save some cash for your next trip:
For starters, making a budget is crucial when planning any trip. A good budget for food, gas and other expenses will pay off in the long run.  This doesn't mean you have to be cheap about everything, but there are a ton of ways to save money on trips from scouting gas prices to parking for free throughout every province (more on that below).
Adding more people to the trip really cuts costs. If  a month-long trip, all together, comes to $1300 and you have 3 people, that's only $433 each - for a month! If you had 6 people, that would only be $216.
Meal prepping food instead of eating out during your trip will also save a lot of money. You can easily prep food beforehand, or even just bring food to make while on the trip and put it in the fridge or freezer! This way you're not eating out every meal and spending a lot on restaurants.
Another huge way to save money is to find free campsites. Yes, free! In Canada, there are actually a lot of spots that offer free camping. Whether it's in a Walmart parking just overnight or parking your RV on Crown Land, you won't regret using these free campsites which can cut the costs by a whole lot.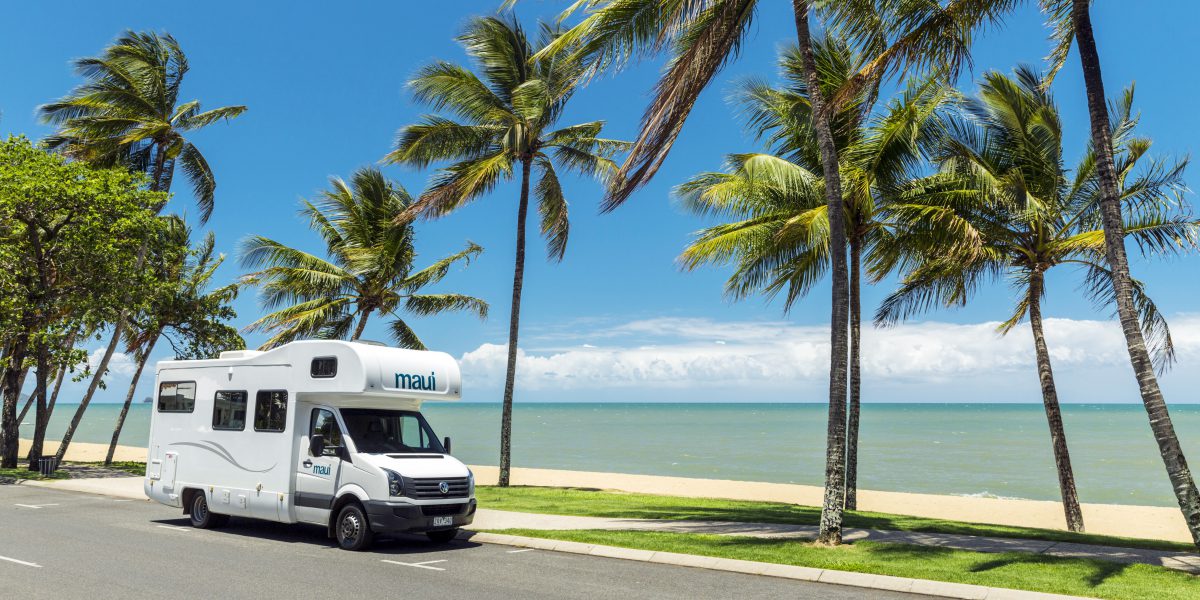 Rent an RV and #GoAnywhere
Anywhere you can drive a car, you can drive an RV. The options are truly endless when it comes to the RV trips you could take! Canada is a stunning place, and doing a cross country trip in an RV is a once in a lifetime adventure. You can also take your RV across the border into the United States and check out some beautiful places there, especially all the ones with a sunny beach.
If you're planning on going from Ontario to BC or from Nova Scotia to PEI, it really doesn't matter. The journey will be amazing, no matter how you do it. As long as there isn't an ocean in the way of your destination, you're good to pick any option!
Some popular spots for Canadians to travel to are Florida, doing a West Coast trip, or touring around the province  - all of which have amazing parks and stunning sights.
Renting an RV is Easy!
Renting an RV on RVezy is easy and straightforward. All you really have to do is determine your budget, the time you want to go on your trip, and how many people will be travelling. Once you've got all those determined, the work is pretty much done for you by our search engine, helping you find the perfect type of RV near you or your destination.
Here's what it would look like for a group of 5, leaving from Ottawa (our home town!) for a week in July:
We chose a price range of $260 maximum a night, assuming that between five people a cost of $52 per night is not bad at all!
For the RV type, you have three options. We chose motorized, picturing an easy trip for those who may not have a truck to tow a trailer. We're also looking for a few key essentials for our group, such as air conditioning, pet friendly, family friendly, a toilet, and kitchen.
Try out our search filters yourself! It really is that easy!
You can also have a look at this explainer video by Erin Lawrence of Tech Gadgets Canada.
---
All of your questions, answered! Being a beginner at anything is exciting, especially when it allows you to travel and explore. You'll get to experience a whole different side of travelling in an RV, and that's what it's all about. Happy travelling!