Whenever you're going on a trip, you probably want the local experience. Even though you're a tourist, you want to feel like you're part of whatever city or town that you're in. Whether you've been there before or it's your first time, there's always something new for you to see.
Local experiences are the ones that make you fall in love with the city you're in. You want to know what the famous food from that city is, and where the best place is that you can get it. You want to know the famous hiking trail that everyone rushes to once it hits spring. All of these local traits will make your experience feel so genuine.
So, how exactly can you get the best local experience on your RV trip? Find out by reading these tips!
Ask Locals for Suggestions
If you've never been to a city before but want the best of the best, sometimes you can't trust Google. A quick search will give you the obvious spots that everyone knows, but asking a local will give you all of the hidden gems that you'd never know about.
You may be wondering where you can ask a local about the best spots to go to. It's actually pretty easy! If you're at a campground, there are multiple people working there who know the area really well. Try going to a local coffee shop or restaurant and ask the people working there as well. People love getting personal, so don't worry about asking too many questions.
Follow RV Facebook Pages
You may have not known this, but RV Facebook pages are gold. There are actually a ton, and they're used for different things. However, there are a lot of RV Facebook pages and groups that give tips on where to go to get the best local experiences.
You may be an experienced RVer and just need travel tips, or maybe you're a new RVer who hasn't really been anywhere yet. No matter what your purpose is, you can find an RV Facebook page for it. Pages such as Go RVing have tips from where to go, to new parks opening, to great summer spots. If you're looking for more than just tips from locals, then definitely try out some great RV Facebook pages!
Use Yelp to Find the Best Food Spots
If you really want to know where the best food spots are around the area you're in and you're in a hurry, Yelp is a great app and website that will show you the nearest restaurants and coffee shops near you. Let's say you're in Calgary, Alberta and have never been there before. You would type into the search bar what you're looking for, and put near Calgary, Alberta.
No matter what kind of food you're in the mood for, it will give you all food options with their ratings! A ton of the time they have the full restaurant menu on there as well, so you don't have to go into the restaurant not knowing what you're getting. Yelp is completely free and it will really help you if you don't know the area at all.
Download RVillage
Want a local experience with other RVers? No problem! RVillage is a website and an app where you can find other people with RVs wherever you are. They may be from the place you travelled to, or they may be from a completely different spot and want the same local experience. No matter what, you can find likeminded people on RVillage.
Right now, there are 131,309 members on the app. It's totally free to join, which means you can meet lifelong friends for free! If people from the app and website are from the area, then they could also tell you how to get a great local experience. It's a win win.
Look to See If Your Campground Has Local Events
On almost every National Park website, there is a place where you can view events that are either near the campground or in the campground. This is a great way to feel like you're involved in the city! The events could be food events, game nights, movie nights, or anything in between. However, if something is outside of the campground, that's the perfect way to get to know the city.
If you're big on events, you could always book your trip according to the events calendar where you're going. If you type in "Ontario campground events" into Google, you'll see there are a ton at different campgrounds. There is even a whole page dedicated to it on the website Camping in Ontario! From things like tournaments to BBQs to Christmas in summer, you're going to love all of the options you get for events.
Go Places You've Never Been Before
This may seem obvious, but if you're a creature of habit, then you may not want to try new camping spots. Whether you're found a hidden gem that's hardly ever busy or you love how packed full your favourite campsite gets, it's good to change things up! We all want the place we go to in our RVs to be our home away from home, but you can make multiple places your home!
Maybe you always decide to trek from Ontario to BC because you find the drive calming. That's amazing! But you're missing out on everything Ontario has, and even the East Coast. The East Coast is filled with amazing places that you can take your RV to, and it's completely different than BC. Why not try it out and get the best local experience for the first time?!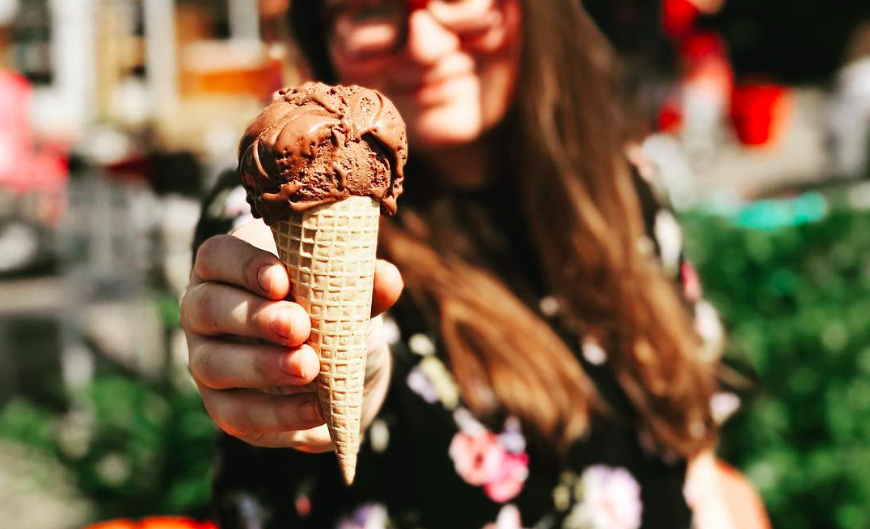 See If There Are Any Food Festivals Where You're Going
Let's be real here. Food equals local experiences. If you're going to a certain city, then you want to know what foods are popular there so you can try the best ones! Summer is the best time for food festivals and it's peak camping season. Put those two together and you have an amazing reason to venture out of the campground and get to eating!
Every single province has a ton of food festivals every year. They start at the end of April and go on all summer long! You can find food festivals that have poutine, ice cream, mac and cheese, vegan food, and even pizza! Does it get any better than that?
If you try out a great vendor at a food festival, then you can put it on your restaurant bucket list to try whenever you're there next! These kinds of things make traditions, and you won't regret getting out of your comfort zone and trying new things.
Go Outside Of Your Campground Bubble
Speaking of getting out of your comfort zone and trying new things, this rings true for camping activities as well. Maybe you do want to stick to the campground you've always been to, and that's totally fine. But guaranteed there are a ton of beaches, hikes, and more near your campsite that you've never checked out. It's waiting for you!
Exploring the town that you are camping in is so much fun. You find new and exciting things every time, and you become more like a local each time. But when it comes to activities, it's so crucial to switch it up! Hit up a beach 20 minutes away instead of walking to the beach from your campground. Or instead of going on the hike through the campground, go to one where it takes you to the top of a lookout!
Changing it up will make you more like a local than you think. Locals like variety, and they also want to try new things in their city. This is the perfect way to get a local experience when you're a tourist.