One of the most amazing experiences you can have is to set off on a long RV travel adventure.
If you are going on an extended RV adventure, here are some tips developed right here at RVezy.com for those long-haul itineraries!
Our key tips revolve around:
Preparation and planning
Packing
Flexibility
Safety
Money Management
1) Preparation & Planning
The success of extended travel starts here.
Wondering when to start planning and packing?
We recommend at least three months before you leave. Make a list of everything you think you will need (see our suggestions below), do some internet research, and talk to some people who've done it before.
It's always good to keep your lists and planning on paper and ready for following trips.
Not sure how to create the best itinerary?
In terms of destinations, you should be creating a rough route based on seasons. This can help you avoid extreme weather conditions. We also advise trying to explore areas in shoulder seasons to avoid bulk tourists!
2) Packing
Below, we have compiled a list of the 'non negotiable' gear you should pack for your extended RV adventures (excluding personal items like bathroom amenities and clothes).
A tool kit (with a wide variety of tools to help fix any minor issues - but not the entire tool shed!)
An assortment of different lengths and widths of ropes in addition to adhesive tapes
A good variety of cooking utensils, plus dishwashing liquid, sponges and towels
Extra supplies and resources like tins of food, drinking water and fuel
A spare tire and tire changing equipment (e.g. a working jack)
A GPS and/or hard copy map of relevant areas
A notepad containing important and emergency phone number and addresses (plus a phone of course!)
Self defence item, i.e. a baseball bat (most likely not necessary, but better safe than sorry! Some Bear Mace would be good to pack if you're going to that neck of the woods)
An excess of warm blankets
First aid kit and an emergency blanket
Fire extinguisher, matches and lighters
Some extra buckets and containers
Recreational gear like binoculars and hiking equipment
Laundry gear like baskets, some rope, pegs and cleaning products
Hand torches, head torches and candles
Spare batteries (in a large range of different sizes)
Spare parts for your vehicle such as hoses, filters, and fluids (on very long trips).
A tarp, at least four poles, spare pegs and guy ropes
For a more detailed list of bits and bobs check out the Traveler Savvy website.
3) Pack Smart But Light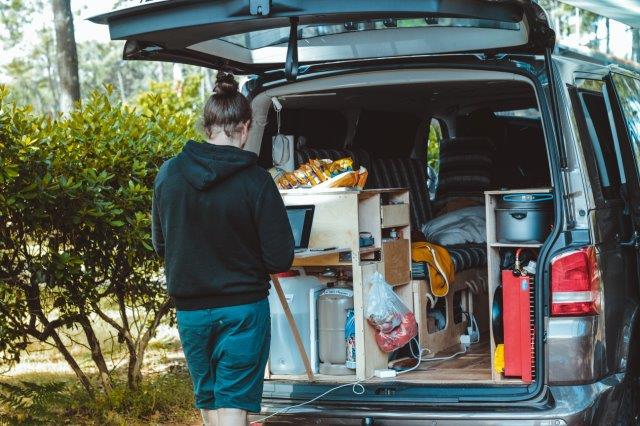 The way you pack your RV gear can have a huge impact on how stress free your trip is. As long as you have all the essentials, less is actually more. The easier you can find everything, the less stress you will develop over an extended RV adventure.
4) Flexibility
It's good to plan a rough itinerary, but don't be too rigid in your movements. The best experiences are often found by accident at the times you least expect. So be open to change, and don't miss out on those little moments of gold which can easily slip through rigid fingers!
5) Safety
This is relevant regardless of how long your trip is. But the longer you travel, the more important it becomes.
6) Money Management
Below, we have compiled a list of money saving tactics which can be used to extend your RV travel adventure as long as possible!
Stay overnight in free places where possible
Shop for food in bulk at cheap supermarkets in metropolitan areas
Top up fuel supplies in metropolitan
Avoid buying anything in remote areas
Pre-plan your travel budget, i.e keep your extra cash for the tourist attractions you have dreamed about, and don't get caught throwing it at every little gimmick!
Cook on an open fire as much as possible, and source wood from nature where it is legal
Try and stick to 100 kph or less while on the open road. Once you start driving faster in large vehicles the fuel bill will jump through the roof!
Learn how to change vehicle filters and fluids yourself, as it should generally be changed every 5 thousand kilometres (for diesel) or 3 months, whichever occurs first.
In terms of money storage, it is always a good idea to carry a little cash in a hidden spot. This can help you to capitalise on affordable wares which may not be able to be purchased using a card.
Happy Traveling!
We hope a these tips come in handy on your next extended RV adventure!