When you are travelling with your family, planning out meals can be a challenge. Of course you could just bring sandwiches and cereal and call it a day, but we all know that's not very exciting. Why not make gourmet meals that everyone will love?!
You don't necessarily have to put out a four course meal, but if you make your meals ahead of time, you will be able to avoid the stress of cooking while on your trip. You could always go for staples such as burgers and salad, as all of these recipes are easy and the whole family will love them. But if you want to try something new, most of the meals featured in this blog can be frozen and then reheated or thawed out. How quick and easy is that!
Making your camping meals ahead of time will allow you to relax while knowing your family is well-fed on your RV trip. Whether it's just a short camping trip or a trip that will last a couple of weeks, these pre-made meals will have your whole family asking if they can have seconds.
Breakfast Ideas:
Banana Bread
Banana bread is a classic food that is perfect for breakfast. You can make it any way you want by adding in a few ingredients to spice things up a little. Banana bread is very easy to make and there are a ton of variations, but here are a few things you can add in to make it better than ever:
Chocolate chips
Walnuts
Nutella
Coconut
Dried fruit
Fresh fruit
To view a classic banana bread recipe, click here.
Breakfast Bake
A breakfast bake is basically a fancy term for a breakfast casserole. It includes all of the items you would normally have at breakfast, but just baked into one dish! It's so easy to make, and you don't have to worry about cooking breakfast for everyone since it's already done for you.
These are typically the items that go into a delicious breakfast bake:
Sausage - regular or maple
Hash browns
Pancake mix
Cheese
Eggs
There is no doubt your family will love this. If you need an easy meal to get the family going, then you need to make this.
To view the breakfast bake recipe, click here.
Homemade Granola Bars
Sure, you could just buy granola bars and call it a day. Homemade granola bars - on the other hand -  are so much more nutritious and they're actually very easy to make. Like the banana bread, you can add in a bunch of items to make it taste delicious. Your family won't even know these are homemade! Here are a few items you can add in to the granola bars:
Chocolate chips
Coconut
Nuts
Dried fruit
Peanut butter
Granola bars are a great option because you don't have to worry about them going bad. If you're going away for a long time, you can keep these in your RV without having to worry about them going bad. You can alter the recipe to add or take out anything to suit your family's taste.
To view the granola bar recipe, click here.
Lunch Ideas: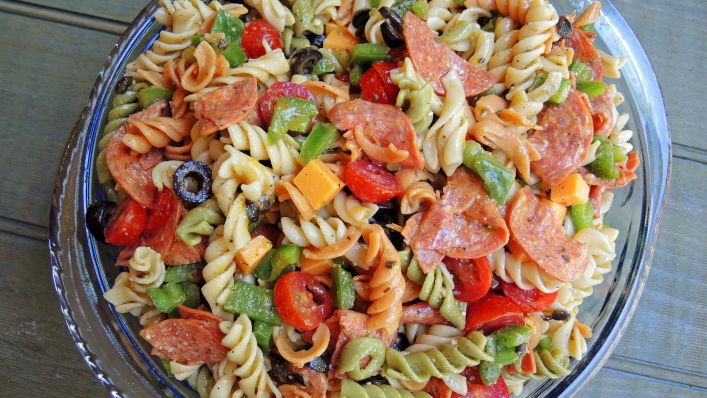 Pasta Salad
Pasta salad is a great option for lunch. It's light and won't make you feel overly full, but it's still filling enough for your whole family. Making pasta salad ahead of time will allow you to just grab what you need and go, as you will definitely be busy during your RV trip.
These are typically the items you would put into a pasta salad:
Cheese
Veggies such as peppers, cucumber, onions, and tomatoes
Olives
Meat of your choice
Dressing
The only thing that takes time when you are making this dish is waiting for the pasta to cook, that's it! It's a very simple recipe that you can customize completely. You can also add in the meat before you eat it to keep it even more fresh.
To view the pasta salad recipe, click here.
Quinoa and Black Bean Tacos
This may sound like a random mix for tacos, but I promise it's so good! The great thing about this meal is you can whip it up in under 10 minutes! If you pre-cook the quinoa and keep a few cans of beans on hand, then you're pretty much done. Just add these awesome sides to the mix and you've got yourself the best taco around:
Guacamole
Cheese
Salsa
Sour cream
Green onions
Lettuce
Corn
Throw all of these into a tortilla and your family will love this recipe. It's filled with plant based protein which is great to keep you full for a long time.
To view the quinoa and black bean tacos recipe, click here.
Tuna Salad Lettuce Wraps
If you're not big on eating lunch or sometimes feel that you're not very hungry around lunch, that's no problem. While it's definitely a good idea to eat something, you can still make it light! Tuna salad lettuce wraps are a light meal that won't have you feeling overly full. You can make the tuna salad ahead of time so it takes literally no time to prepare.
Here are a few things you can add to the tuna salad:
Celery
Spices
Egg
Peppers
Onions
Avocado
Pickles
This is a great lunch if you are busy driving and you just need to eat something quickly. You can serve this with something else like a bean salad if you feel this will not fill you up enough. No matter what, your family will be asking for this recipe again and again.
To view the tuna salad lettuce wraps recipe, click here.
Dinner Ideas:
Chilli
No matter if it's hot outside or cold outside, chilli is always a good idea. It's a filling meal that can be made in so many different ways. You can freeze it beforehand and then leave it out to thaw all day, leaving you a delicious meal for the family that took no work.
Of course you have to prep your chilli, but it basically cooks itself! You can make your it vegetarian or add meat to it, depending on your needs. Here are a few things you can add to the chilli to make it amazing:
Corn
Avocado
Jalapeños
Cilantro
Cheese
You can serve this with a side of tortilla chips, as it's great to dip with. You can eat this while sitting by the fire at night!
To view the chilli recipe, click here.
Sloppy Joes
Sloppy Joes are one of the best camping meals, and yet, they are underrated. There are so many recipes for Sloppy Joes but you can make them very simple and amazing. They are also a great meal option that you can freeze beforehand and let thaw throughout the day. The meat inside is obviously crucial, but the bread is what can make or break the recipe! Here are a few types of bread that it can be served on:
Pretzel bun
Ciabatta bun
Brioche hamburger buns
Whole wheat buns
Gluten free buns
The great thing about Sloppy Joes is everyone loves them as they are a reminder of their childhood. You can serve Sloppy Joes alongside a pre-made salad or some chips, and you've got yourself a very easy meal!
To view the Sloppy Joes recipe, click here.
Cheeseburger Pasta
What could be better than two of our favourite meals mixed together?! Pasta and cheeseburgers don't seem like they would go well together, but they really compliment each other. They are basically what you would expect them to taste like, with all of the ingredients from the burger just put into a pot with pasta.
If you want to get creative with this, you can put in ingredients that the recipe would not necessarily call for that you would normally put on a burger such as:
Pickles
Avocado
Onions
Grilled pineapple
The options are endless! You can serve your cheeseburger pasta with a side salad as well if you would like, or if you're really digging the cheeseburger vibe, serve it with fries!
To view the cheeseburger pasta recipe, click here.

Dessert Ideas:
S'mores Pie
Okay, we all know that s'mores are the key to every camping trip. But what happens if you're stuck in your RV because it's pouring rain outside and you can't sit by the fire?! You need a backup. This s'mores pie recipe is basically a s'more made into a pie, and it's life changing.
Just like with any s'more you would make, you can totally customize these to what your family likes! Here are a few things you can add in:
Mini Reese's Peanut Butter Cups
Caramel
Bacon
Mint
Even if it's super sunny outside, you still have an excuse to make a s'mores pie! Everyone loves pie and sometimes it's nice to just sit inside and chill. You can serve this after dinner as a nice treat.
To view the s'mores pie recipe, click here.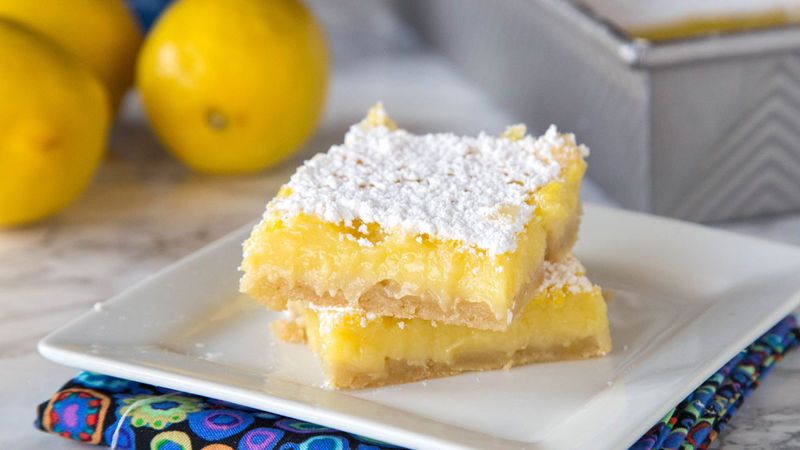 Lemon Bars
Lemon bars are one of the most refreshing desserts. Nothing screams summer more than lemons, so having it in a dessert doesn't make you feel as guilty. Lemon bars are definitely underrated as they can be delicious and will satisfy your sweet tooth. Now, there aren't many things to add to lemon bars as they are perfect on their own, but you can definitely switch things up a little bit by:
Adding lavender
Creating a chocolate crust
Creating a gluten-free crust
Adding white chocolate
Making them lime instead!
These are bound to make your family beg for seconds. They are perfect on a hot summer day as they are like drinking a tall glass of lemonade. You also don't need to keep them in the fridge!
To view the lemon bar recipe, click here.
Puppy Chow
If you've never heard of puppy chow, then you're seriously missing out. Of course it's not your average dessert, but if your family isn't big into desserts, then this is perfect. Puppy chow is basically a upgraded form of cereal, but it's way better than it sounds! In it, there are crispy rice cereal squares, confectioners sugar, and a ton of other ingredients.
However, you can make it your own by adding in these delicious items:
M&Ms
Chocolate chips
Peanut butter
Crushed graham crackers
White chocolate
Trail mix
Dried fruit
And basically anything you want. No, really. There isn't a way to mess this up. Puppy chow is great if you are all watching a movie and want something to munch on or you can eat it by the fire. The options are endless!
To view the puppy chow recipe, click here.
---
All of these make ahead meals are so easy, and your family will love them. Whether your family loves tacos, light meals, or anything with tomato sauce, these recipes are guaranteed to be a hit. The great thing about these make-ahead camping meals is that you can modify any of these recipes to your own liking!
So skip having hamburgers and sandwiches every day on your trip and try out one of these delicious recipes.