It's officially 2020 and maybe your resolution for the start of a new decade is to travel for. While seeing the world on a plane is amazing, seeing places in an RV is magical and surreal. Especially if you're never travelled in an RV before!
2020 is the perfect place to start. If you're a new renter and a first time RVer, there are definitely some things you need to know before, during, and after your trip. What are the prices like? What can you expect when going through the renting process? Is an RV really that hard to drive? These tips will save you.
Make sure to have these tips printed out or bookmarked on your computer for when you start your very first trip. From renting to handing the keys over, everything will be a breeze!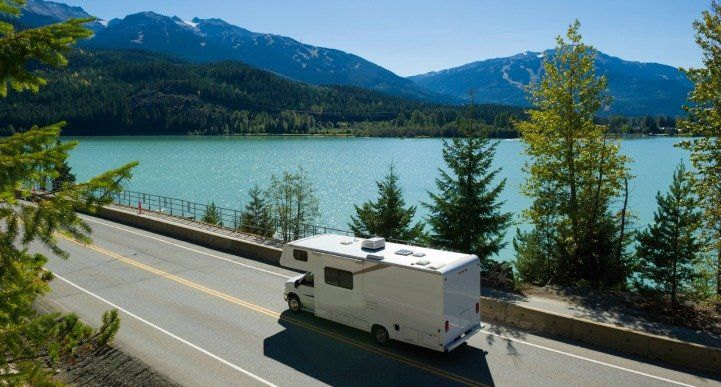 First And Foremost, Plan Your Destination
Most trips start with an idea. There are so many places to see, how can you choose?! Well, it's one of the most important parts of the entire trip. Even though the journey there is great, the destination is what sets the whole trip.
Here are a few things you need to decide:
Do you want hot or cold weather?
Do you want to take a long or short journey?
What exactly do you want to do at your destination?
Are you looking for more secluded spots or something more trendy?
Is it a family or friend vacation?
On RVezy, we have a ton of destination inspiration articles. If you're looking for something completely different, check out these 2020 RV holidays you should book ASAP. There are also 5 road trips you must do in Canada, and everyone with an RV will agree!
If you're looking for vacations in provincial parks, there are a ton. The most popular ones are in BC and Ontario.
Book In Advance
The second most important part is booking not only your destination, but your RV. While there are thousands of RVs to choose from on RVezy, if you've been eyeing a certain motorhome for a while, it's best to book it ASAP if the dates are available.
The busiest time for RV renters is from June to October, which means those months fill up quick. Even though it may be months from now, most campgrounds and provincial parks start taking reservations in January.
If you can't decide what months to book your RV and take your first ever trip, here are a few links that may help you out.
Summer is the prime time for RVers, but spring and fall camping are very underrated. Every season has it's pros and cons as well. You just need to weigh your options and see if you like rainy weather, hot weather, or warm but also chilly weather.
If you're not entirely sure what to ask before renting an RV, click here!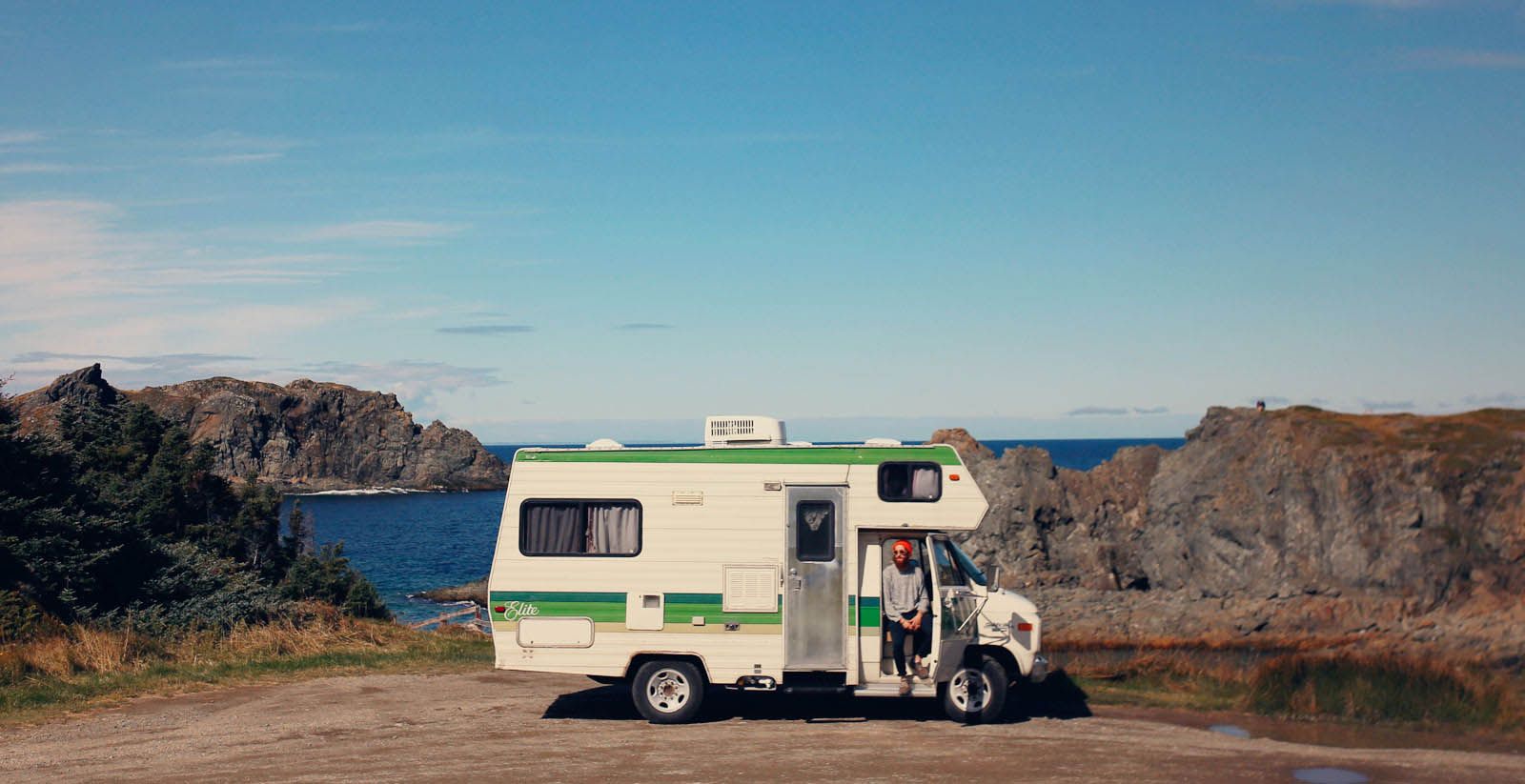 Make Sure You Weigh Your Options
Whether it's to bring your whole family on the trip, stay close to home, or doing a month long cross country trip, there are a lot of options to weigh out. There are so many different trips you can take with an RV and even though you may want to take all of them (we don't blame you), your first trip should be easy and memorable.
Your options are pretty much endless, but you want to make the right choices. Here are a few things you need to figure out:
Do you want a big or small trip?
Is it a family, friend, or solo trip?
What kind of RV do you want to rent?
How much time do you have on this trip?
Will your budget work for all of these?
If you still feel like your head is spinning with all of the options, don't worry! These 21 tips for first time RVers will really help. And if that's not enough, you can see everything, yes, everything you need to know about renting an RV for the first time here.
What Size Is Right For Your Needs?
There are so many classes of motorhomes, it can get kind of confusing. There are class A motorhomes, towable RVs, folding tent trailers, and so many more. So how do you choose?! Well, depending on the type of vacation you're taking, how many people are coming with you, and how long you'll be gone for, the decision really is yours.
Here are the best motorhomes for every vacation:
Class A: Long-term use, family reunions, cross-country trips
Class B: Weekend trips, week long trips, and day trips
Class C: Quick family trips, a solo trip, weekend with friends
Travel trailers: trips where you need your own car, week long trips, full-time campers
5th wheel trailers: family reunions, long-term use, trips where you need a separate car
Folding and tent trailers: strict budget trips, occasional camping trip, an add-on to a big trip, great for beginners
For a deeper look into what motorhome will suit your needs, check out a great article here.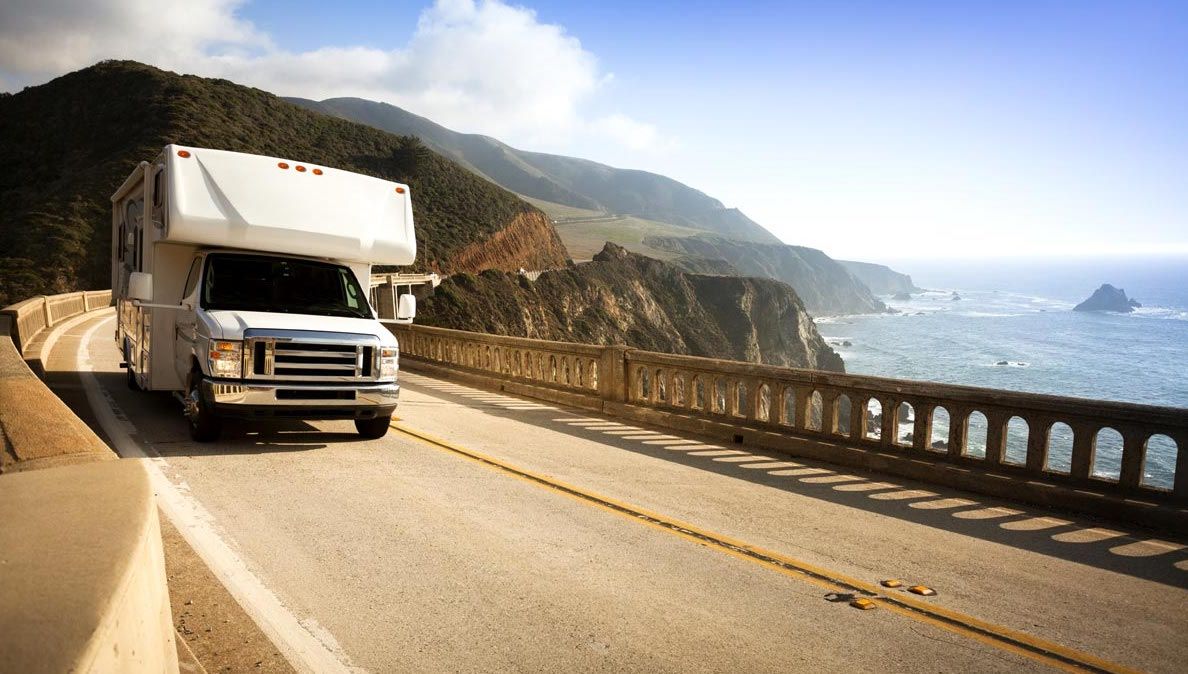 Make A Budget
Aside from securing your vacation spot and your RV rental, making a budget is the next most important step. If you're a first time renter and an RV newbie, you may not know how much to expect.
Here is a breakdown of the essentials that you'll need to think of:
Let's say you've decided to stay in Algonquin Park from July 12th to the 17th. If you put in all the information into RVezy, hundreds of available RVs to rent will pop up. While they range in prices based on their class and style, it's easy to pick one out for your needs.
Depending on your budget, you can make sure that you are seeing only RVs that you can afford on the lefthand side of the website. Once you've chosen one that you like, you'll be brought to a page telling you everything about the RV from the price, to the make, to the amenities.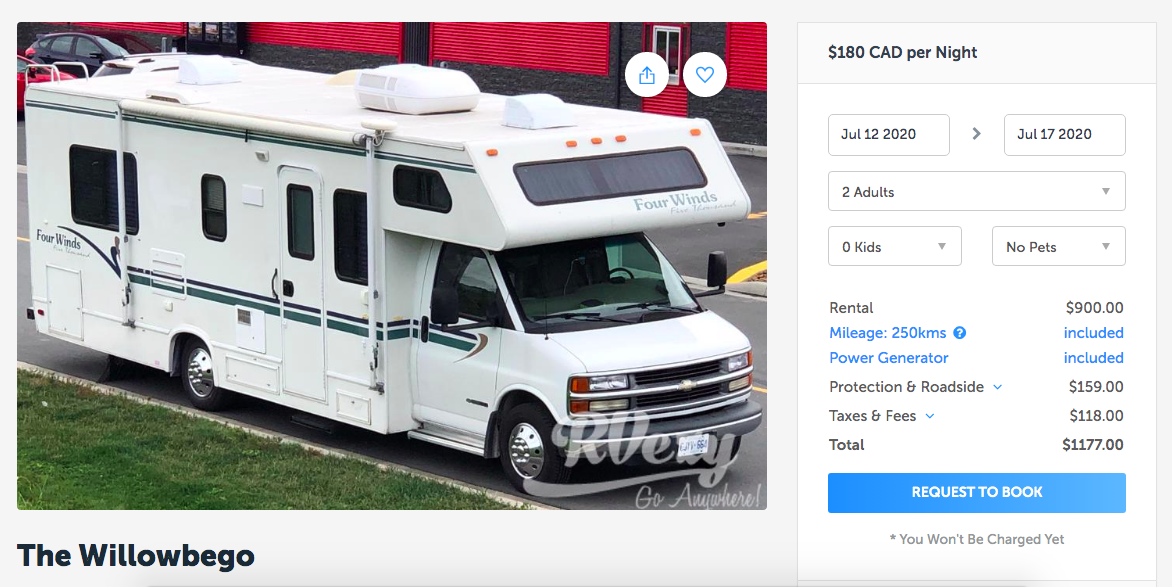 The RV above, which you can view here, sleeps 5 and is $1177 for the trip. If you're planning on bringing 5 friends, that's $235.40 each which is very cheap. But if there are only two people on the trip, it would come to $588.50 each.
There are also add ons that you can choose from such as bedding and linens, portable BBQ, and more.
As for the campgrounds in Algonquin Park, the prices vary. If you're looking for a campsite with electricity, you'll be paying $51.13 a night which comes to $255.65 for 5 nights. But if you're looking for the cheapest option, it would be $39.83 which is $199.15 for 5 nights.
Of course, all of this is just to show that the amount of people you bring will make the trip less expensive, and there are plenty of cheaper options you can go for.
You'll also need to think about things such as food, gas prices, money for activities, and more.
Test Drive An RV First
Last but not least, if you've never driven an RV, I wouldn't suggest the first time being when you're heading on your trip. RVs can look intimidating, Class A motorhomes are much bigger than travel trailers, and harder to drive. But don't let that stop you!
If you are a nervous driver, it's best to take one for a test drive. You can always go to an RV dealership, and they will allow you to test drive one. If you know someone that owns an RV as well, you can ask them if you can practice on theirs.
Since you're a first timer, there are a few things you should be aware of:
Be aware of the weather! Make sure you first time driving isn't in a full on thunderstorm.
Adjust your mirrors! Just like in a car, you need to see behind you at all times.
If you're tired, pull over and have someone else drive.
Don't speed! Your first trip can be a learning lesson, but take your time getting there.
If you're curious about other tips on how to drive an RV, you can click here.