RVing as a way of life, or even just a pastime – that is, living the RV life (#RVlife) – is enjoyed by seasoned full-timers and novice part-timers alike. From coast to coast, Canadians find RVing one of the best ways to experience the great outdoors.
With an RV you are able to get out on the open road and head into the wilderness, all the while enjoying the comforts of home. So whether it's your permanent home on wheels, or just your temporarily home away from home, it's important to protect your investment with a proper RV insurance policy against any accidental damages, theft, or even vandalism.
There are many types of RVs, from your simple camper van, like the iconic Westfalia, all the way up to a full-on motorhome, like the Fleetwood Bounder. All RVs are categorized into 3 classes, and are as follows: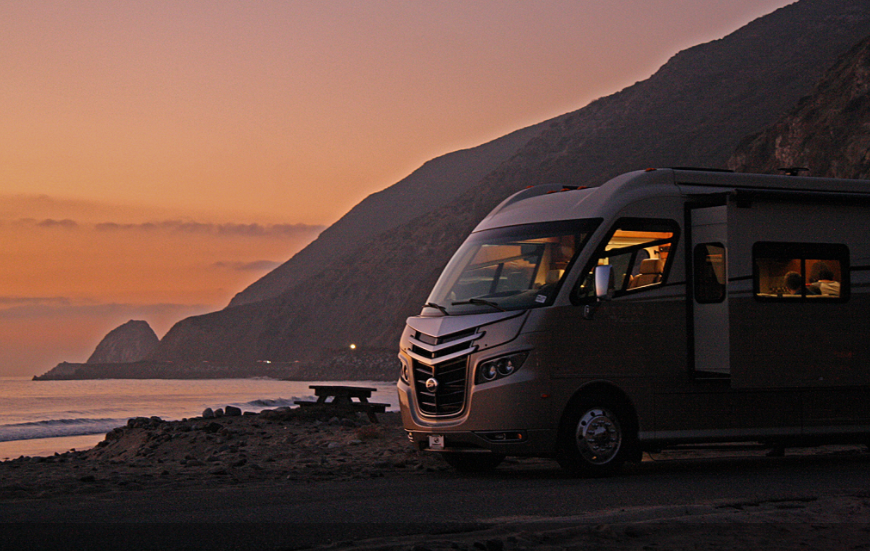 Class A RVs are the large, boxy motorhomes that are most associated as being a full-on home on wheels – think the Fleetwood Bounder. These large RVs are chock full of amenities, such as master bedrooms, full kitchens, and fully equipped bathrooms. Most newer models also come with slide-out systems providing more space when camped.
---
RVezy - Canada's Largest And Most Trusted RV Rental Marketplace!
Own an RV? Watch this quick video to learn how you can list your RV and start earning today!
---
Class B RVs are typically the smallest RVs on the market, and because of their limited size they tend to have less amenities than that of the other classes. Although some do come with such facilities as a tiny kitchen, and even a bathroom, the living space is such that only two occupants can really fit in a Class B RV for any extended period of time. The bonus of the smaller sized RV is that it can be parked virtually anywhere.
Class C RVs are typically larger than a Class B, but smaller than a Class A, with the distinguishing feature being the overhang located over the attached cab. This overhang is usually used as a sleeping area, but it can also be used for storage. Although much smaller than Class A RVs, the Class C RV is still big enough that parking will require more space than it does for say, an average to large sized automobile.
How Much Does RV Insurance Cost?
The cost of RV insurance will not only depend on the class of RV – Class A usually being the most expensive followed by Class C, with a Class B RV typically being the least expensive option – but also other factors, such as how much you use it, the deductible amount you set, and any added coverage, such as insuring your personal belongings, and adding such upgrades as roadside assistance.
Is RV Insurance Important?
RV insurance is a requirement much like any other motorized vehicle insurance, and you can't operate your RV without it, so having the minimum amount of third-party liability coverage is extremely important. Additional coverage, such as collision and comprehensive are not legally required, but they can be just as important to protect your RV.
How Does RV Rental Insurance Work?
Now that we've covered the basics of RV insurance, we can get into discussing how RV rental insurance works. But wait, if you already have RV insurance, why would need rental insurance?
Many Canadian RV owners are not full-time RVers themselves. Most RVers in Canada can fall under the category of living the part-time RV life, usually from spring to autumn. Most part-time RVers don't have the available to go on RV adventures for a full eight months out of the year, which leaves their RVs dormant in parking lots, RV parks, or RV storages.
Instead of letting their RVs sit unused for weeks, or even months on end, some RVers have embraced the sharing economy that has allowed them to earn extra income by renting out their RVs to other travellers. And if you want to rent your RV, you will definitely need to have RV rental insurance to cover any accidental damages, theft, or even vandalism.
RVezy offers a first-in-Canada insurance product that fully covers your RV during all trips booked through Rvezy.com. And best of all, it's completely included when you list your RV through us!
In order to be eligible for this first-in-Canada insurance product RVs must meet the following criteria:
The RV must be:
Less than 20 years old – special approval is required for vintage RVs
Currently valued at less than $150,000.00
Less than 40 feet / 12 metres in length
Provided by AON, and underwritten by Intact Insurance, *RVs registered throughout Canada are covered for all physical and collision damage with $2 million dollar liability.
Any claim made will never result in your RV insurance rates going up, as all claims are done through Rvezy.
Have any questions? For more information, please click here to find out more about RV rental insurance through Rvezy.
*Please note: RVezy's commercial insurance policy covers RVs (motorhomes and trailers) during any trip across Canada and the USA. Motorhomes are only covered if registered in the provinces of Ontario, Alberta, Quebec, Nova Scotia, and British Columbia.