When you're renting or buying an RV, the thought crosses your mind that you may not have a lot of space. While that really depends on the size of the camper, it's always nice to have tips that allow you to store more and to maximize space. You don't want to under pack just because you think you may not have enough room, but overpacking and feeling crowded isn't the best feeling either.
With these tips, you'll be able to save so much space while having the best trip! We don't want you to have to worry about space while you're on your trip, as you're supposed to be relaxing. So here are the best storage ideas for maximizing space in your beautiful RV.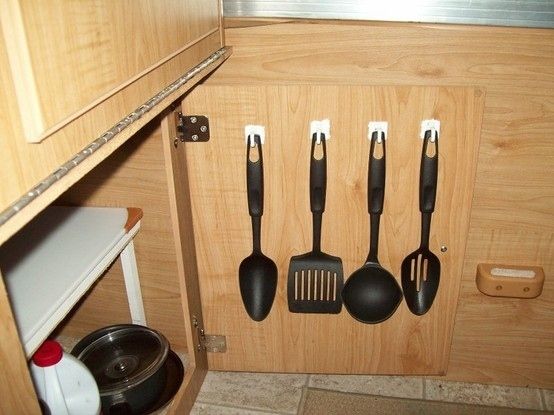 1) Get full use out of command hooks
Command hooks are great for little things that don't have a spot. If you have multiple cabinets, then you can put a few on the door to hang spatulas, other utensils, and even mugs!
2) Purchase nesting bowls instead of separate bowls
If you're not familiar with nesting bowls, they're pretty much a bunch of bowls that fit perfectly within each other. They range all the way from large to super small, sometimes even having measuring spoons at the top. These will really maximize space under your counters and you'll never lose one because you know exactly where they go!

3) Get a paper plate dispenser
Yes, these actually do exist! You may need drawers and counter spaces for so many other things, that paper plates may seem like a waste of space. However, you need to eat! A lot of people wouldn't know that paper plate dispensers exist, but they're an amazing invention that were made for situations like this. They're around $10 and you can find them at Canadian Tire stores or online.
4) Invest in some hanging shelves
If you don't have a ton of cabinet space, hanging shelves will save your life. You can put them in the bathroom or over the sink and you can fill them with food, supplies, cleaning products, or whatever you feel needs to go there.
5) Make sure your garbage can is hanging on a cabinet door
If you have cabinets in your RV, then your garbage should have a spot on one of the doors. This makes it easy to access, keeps the smell out of the RV, and you won't have to worry about it falling over when you're driving. This will also allow space for under the counters as you need that space for other things.
6) Use a magnetic strip for hanging knives
Nobody has room for a knife stand on the counter. Hanging knives on a magnetic strip on the wall gives it such a cool look, and it's such a simple space saver. They're very inexpensive too!
7) When you're not using the microwave or stove, use it for storage
This is the ultimate storage hack. Putting your breads in your microwave will help them stay out of the way, and you can put other things like pots and pans in the oven until you're ready to use them.
8) If possible, put huge bins under the beds and couch filled with clothes and shoes
A lot of the time, the beds in RVs have storage space underneath them. This is perfect for storing bins of clothes, shoes, and other things that won't fit anywhere else. Not a lot of RVs come with closets, so it's a perfect way to not use a suitcase or big bags and to just lay everything out.
9) Add slide out drawers under the dining table
What can you use this for? Well, cutlery of course! What a perfect places to store cutlery if you have no room elsewhere. These sliding drawers are easy, and go unnoticeable once they're placed back in.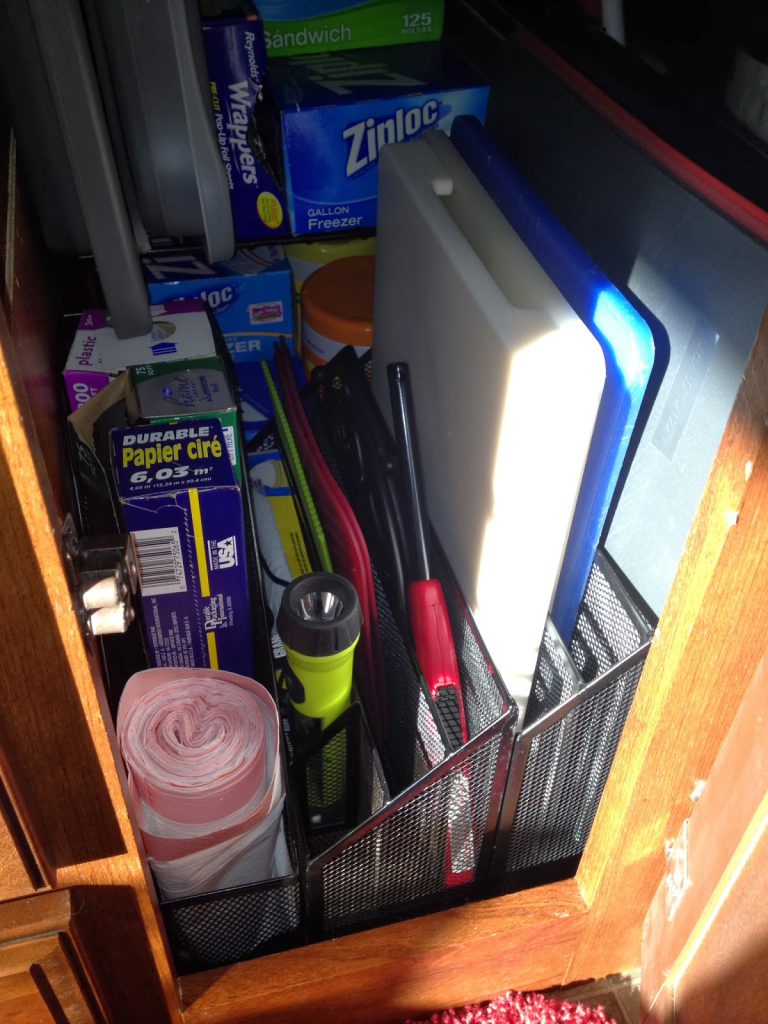 10) Use file folder holders for under the sink use
Lighters, flashlights, cutting boards, garbage bags, all of these can fit in file folder holders if you're stumped on how to maximize space underneath the sink. Some spaces can be really small, so you need to get creative! You can also use these for plates if you're not into using paper plates.
11) Install a magnetic spice rack holder on one of your walls or cabinet doors
You really can't cook without spices, but spice jars take up so much room! The way to combat this is to get a magnetic spice rack holder that comes with little jars that are also magnetic. These look really cool on the wall and you can also label them so you know exactly which is what spice.
12) Put in your own shelves into your cabinets to save space
A lot of the time, cabinets only come with one or two shelves, however you can get way more space if you put it in your own. Putting in wired shelves maximizes the space and you can also make sure there is enough room for certain objects. This works wonders for all your dishes and cups!
13) If you have a mirror in your bathroom, install a mini shelf underneath it
Installing a skinny and small shelf underneath the mirror in the bathroom will allow you to put your toothpaste and toothbrushes on there without crowding the sink. You can also put soap and other necessities that need to be out in the open and easy to grab.
14) Buy some seat organizers
Not only does this help the driver and the passenger, but you can really benefit from these seat organizers! They go on the back of the seat, and they can hold a bunch of things. This could be iPads, books, medicine, first aid kits, or even just little things like headphones that you don't want to lose.
15) Use hanging shoe racks as added storage space
You can use these and hang them over the door! You can put toiletries, shoes, and even workout gear in them. This is great so that you aren't searching through piles of things or losing anything. You'll see it as soon as you open or close a door.
16) Velcro all important items to the side of a cabinet
Things like remotes, iPads, and even phones can get lost pretty easily while you're busy. Velcro is sent from heaven in these situations, as they will never go missing if they're put back in their place. Velcro as many spots as you need on a cabinet or a wall and hang the items there.
---
Hopefully these tips will help your RV stay clean, organized, and save you while travelling. Most of these are DIY projects, but a lot of them can be purchased at the store. These storage tips can work for small, medium, or large RV campers. So next time you decide to take a trip, try one of these out and see how much of a difference it makes!