If you have never driven or taken a trip in an RV, then it can look pretty intimidating. However, it's one of the best ways to get around! You don't need to own an RV to experience what the motorhome life has to offer. But how do you know what the best RVs for first timers are? Keep reading!
If you've caught the RV bug and want to plan a trip to wherever your heart desires, that's no problem. All you need is the RV, the road, and a destination! But there is a lot to learn if you're a first timer. From classes, to size, to renting, it can seem a little frightening. With this guide, you'll be able to figure out everything you need to make your first time perfect.
Why Small RVs Are The Way To Go
When you think of an RV trip, you may think of the large RVs that they show in movies and TV shows that have an entire house inside of them. You can definitely rent motorhomes like that, but for your first time, smaller RVs are the way to go.
Don't bite off more than you can chew. If you find larger RVs intimidating, or you're nervous about driving an RV in general, smaller motorhomes still get the job done and provide a ton of benefits. If it's your first trip, then you may want to stick to a few guests on the RV as well. This will keep stress levels lower.
Small RVs can range anywhere from pop-up trailers to class B motorhomes. You can see the difference in these classes below.
What Class Should You Consider?
Being your first time, it's recommended that you opt for a smaller and lightweight RV. The certain classes listed below are first timer friendly, and range between size, class, and amenities.
Class B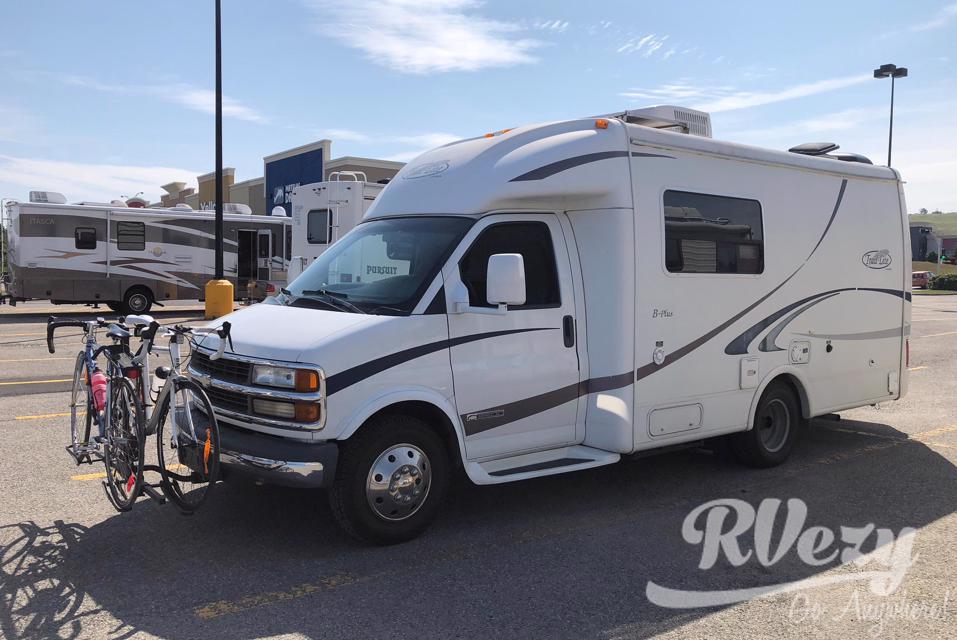 Price: $213 per night
Amenities: Kitchen area, air conditioner, camping chairs, inside shower, extra storage
Sleeps: 2 people
Listing here.
Micro Trailer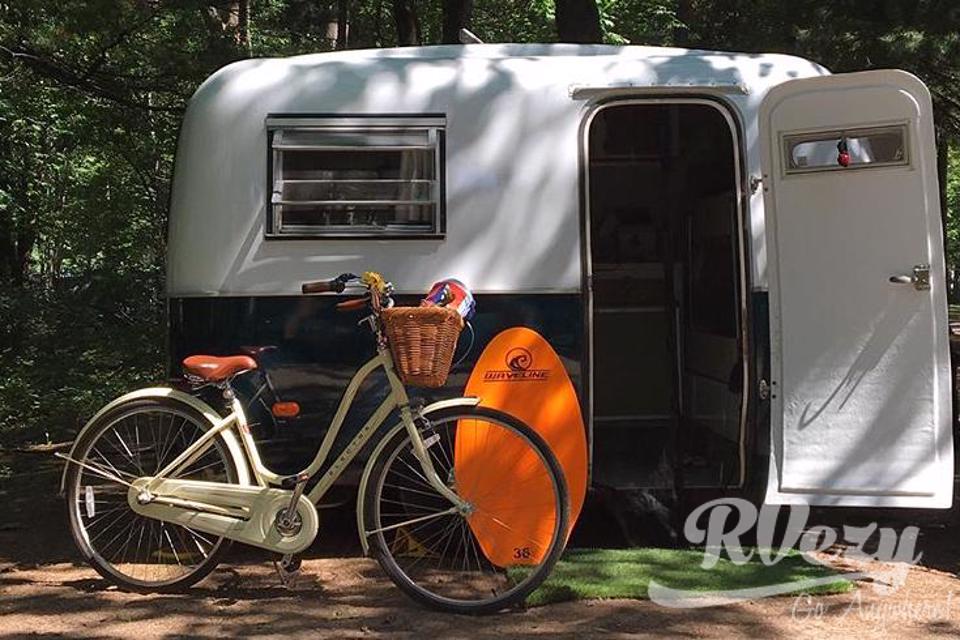 Price: $87 per night
Amenities: Dining table, kitchen sink, stove
Sleeps: 4 people
Listing here.
Travel Trailer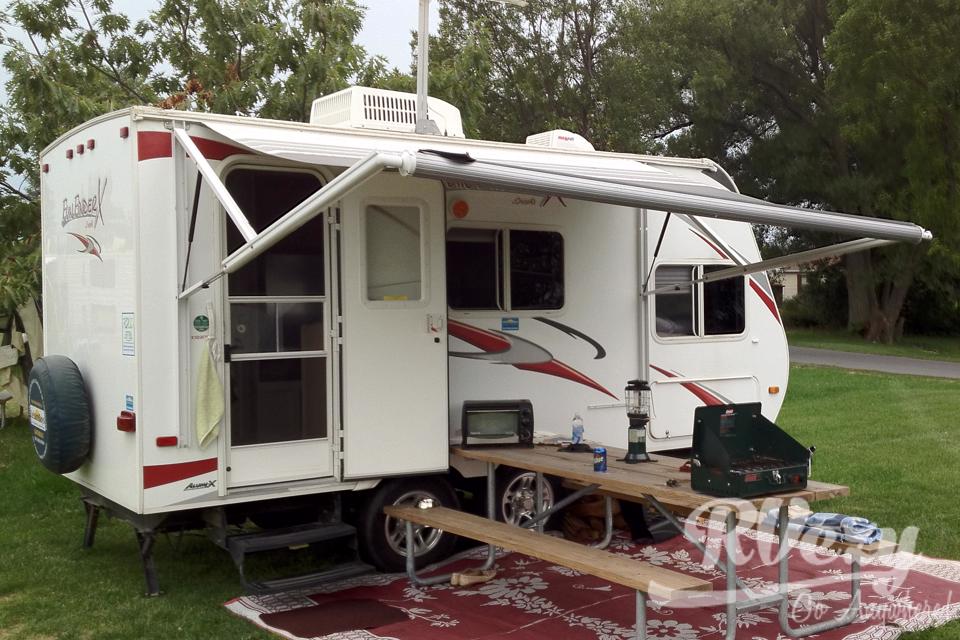 Price: $81 per night
Amenities: Air conditioning, pet friendly, inside shower, TV & DVD, kitchen area, awning
Sleeps: 3 people
Listing here.
Bigger Travel Trailer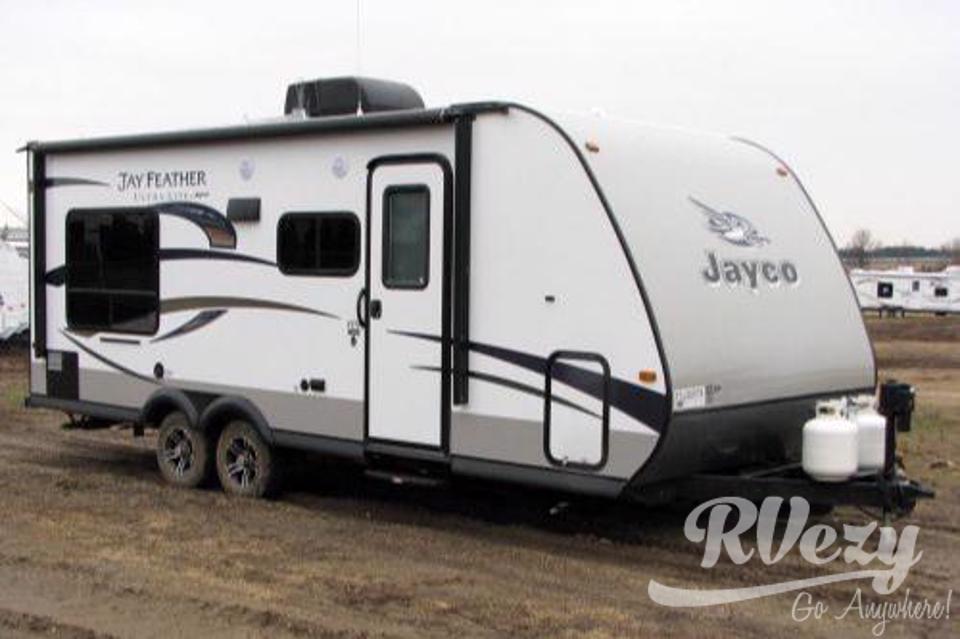 Price: $90 per night
Amenities: Kitchen area, air conditioner, camping chairs provided, TV, DVD and CD player, pet friendly
Sleeps: 6 people
Listing here.
Tent Trailer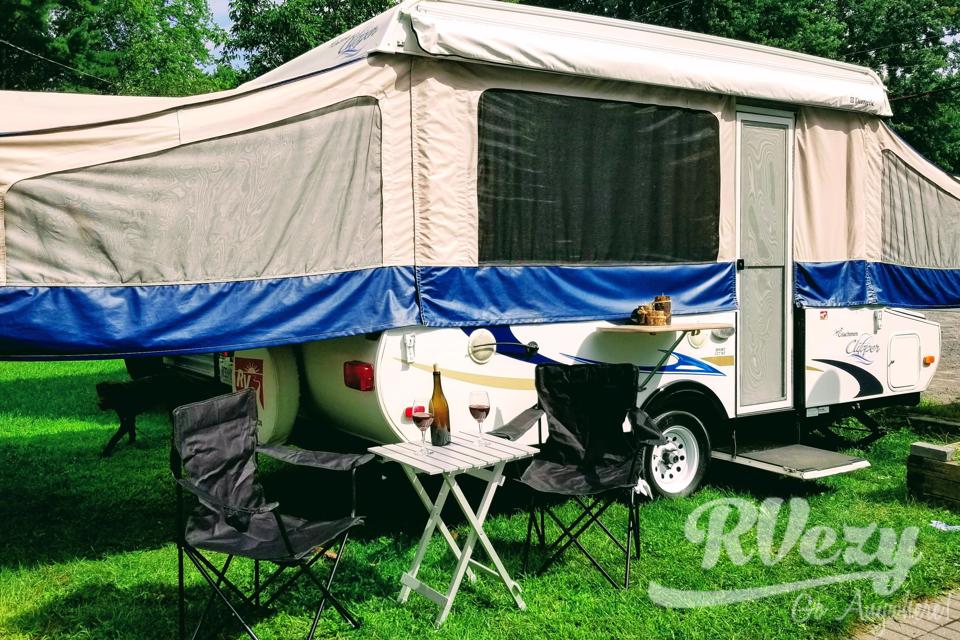 Price: $64 per night
Amenities: Fridge, stove, full winter rental available, heater, toilet
Sleeps: 7 people
Listing here.
As you can see from the listings, each RV provides a lot of different things. From how many people it sleeps, to the amenities, and the pricing, you can find the best RVs for first timers on RVezy.
Smaller RVs Are Less Expensive
If you're comparing one of the above listings from bigger RVs, you may be shocked at the price difference. Since you're a first timer, the pricing of RVs is probably new to you. Class A all the way down to tent trailers have a large range in price.
Searching a tent trailer on RVezy will show you that they typically differ in price from $50 to $100 per night.
Searching a Class A motorhome will show you that the price ranges anywhere from $150 to $300 per night. That's a big difference!
The range in price is for a good reason, though. Of course, because of the size, Class A motorhomes will sleep more people, have a larger living space, and more accommodations. It could almost be mistaken for a tour bus!
Looking at the Class A motorhome below, you can see why it would cost $300 a night. It sleeps 8 adults and 2 kids, has a decked out kitchen with a large fridge, a large bathroom and a living room.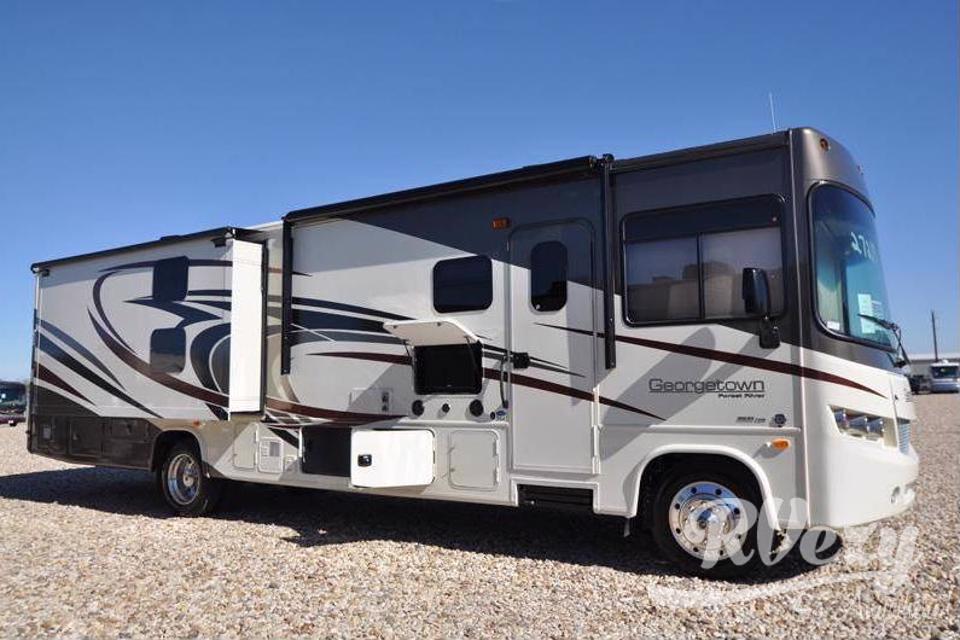 Listing here.
The tent trailer below costs $77 per night, sleeps 6 people, has a sink, fridge, and a place to eat.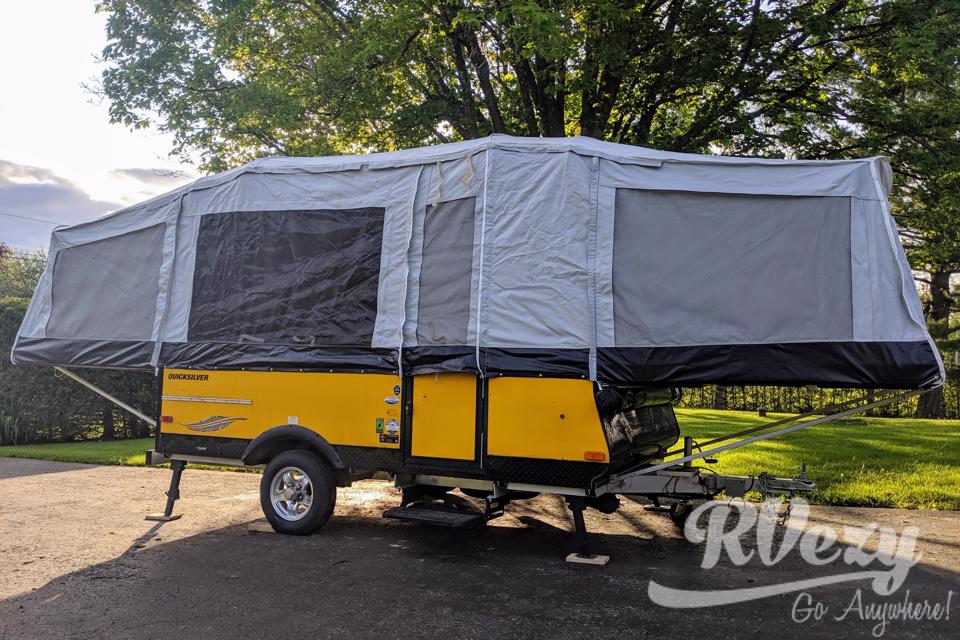 Listing here.
Renting A Small RV Is Less Stressful
Driving a large RV isn't as bad as it seems, but if you're a first timer, you may have some anxiety that is understandable. To keep those nerves at bay, renting a small RV to get your motorhome journey going is your best bet.
Not only will it calm your nerves, but if you decide to rent a travel or tent trailer, you'll be driving your own car! You can have a peaceful drive knowing that the trailer you rented isn't going anywhere.
If you decide to rent a Class B motorhome, it's good to note that when you drive an RV for the first time, it only gets easier from there! There are plenty of YouTube videos on the difference between driving a car and an RV and also others showing you exactly how to drive a motorhome. You can view one below.
Work Your Way Up!
There's a first time for everything and that goes for your first motorhome trip. It may be smart to start off slow, but you can always work your way up to the bigger RVs.
Many RV lovers take a couple of trips a year and that's exactly how you become a pro. If you're wanting to make it a family tradition, try renting a new RV every single time you decide to take a trip! That way you can get used to all the different types that RVezy has to offer.
There are also different RVs for different seasons. The peak season is from July to September, but it's recommended that if you're camping in the winter, that you try to pick an RV for heat and one that will keep you as warm as the fire does.
For the summer, you can definitely get away with just renting a tent trailer as the breeze through the mesh windows will make the nights even cooler.
Maybe one day you'll become such an RV pro that you'll buy your own RV but until then, you can find whatever motorhome you're looking to rent on RVezy.