So you've decided that a travel trailer is the right fit for you — whether you plan on buying or looking to rent one — you've made a great choice!
Choosing a trailer over a motorhome is just one step. The hardest part for you know is going to be choosing the type of trailer that is perfect for you. It will again come down to your personal preferences when it comes to finding the right trailer.
Get ready to learn about the different types of trailers on the market and learn about some of the unique features that might help you decide which is right for you.
Just like the name suggests, pop-up campers are RVs that pop up, or out when the camper is parked. They are compact and extremely easy to tow, some are light enough you can even tow with your sedan car.
Pop up trailers are extremely popular among people who are looking for something small to pull that still offers living space. Usually pop up trailers have a kitchenette, two bedrooms and can sleep up to 6 people. If you are looking for an affordable way to RV without all the luxury then a pop up trailer might be a good fit.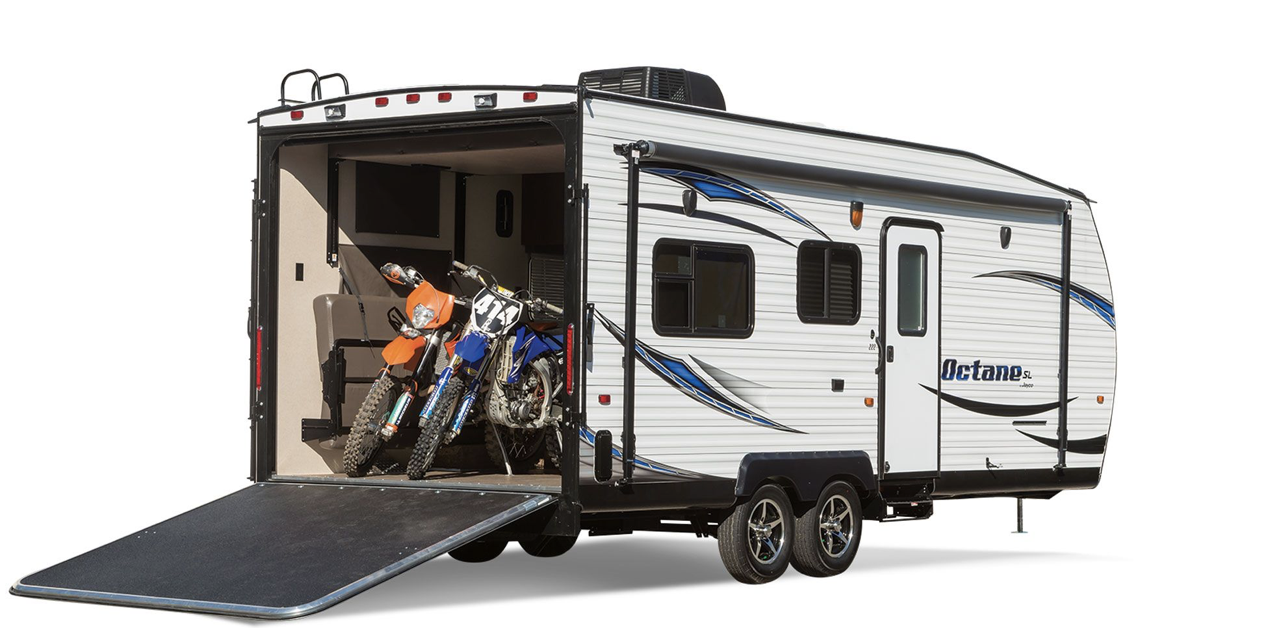 The Toy Hauler, or also known as, the sports utility recreation vehicle, is type of travel trailer that allows you to bring your adult toys with you on your trip. They are designed to allow you to bring your ATV, golf cart, sea doo or even motorcycle with you on your trip with convenient design and a door that converts into a landing ramp.

The "standard" travel trailer is an RV that you tow with a vehicle. These trailers can range in size, layouts and in price. They usually offer full kitchens, bathrooms multiple sleeping areas. Travel trailers can offer the luxuries and amenities of that of a Class A or Class C motorhome making it a favorite among travellers.
With ranges in length and price, there really is a travel trailer to fit any budget, whether buying or renting.
If you wanted the luxury and size of the Class A but with the ability to park and explore your destination without worrying, than the Fifth Wheel Trailer is perfect for you. These trailers can get up to 45 feet in length and can offer layouts designed for couples or large families. Usually with full kitchens and bathrooms and even laundry facilities, they are a popular choice for full timers, or people who really want to experience "glamping"
Rent Before You Buy
If you still haven't made up your mind on what type of trailer you would like, renting before you purchase might be a great option. Renting a trailer is affordable and will give you the chance to test some of the models out to see which ones you like the best.