Don't put away your RV just yet!  There are lots of ways to stay booked throughout the year. The key is knowing who is looking for RV rentals in your area during the off peak season, so we've put together this list of the type of people that come out to explore and vacation once the summer has gone.
Make sure to tailor your listing so you are catching these ten types of traveller!
Hunting, Fishing, and Sport
Fall is the high season for a lot of sports and leisure, particularly hunting and fishing. These are serious people who look forward to their expeditions and will make sure they have everything they need in a pinch.
What they are looking for:  Think about special offers and add ons for this type of renter, like local tours and passes, gear you may have, and highlight the benefits of your units for those heading out into the woods.
Snowbirds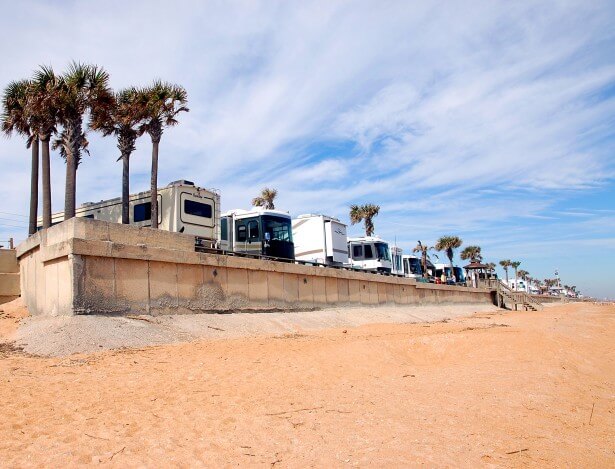 Winter is just around the corner, so thousands of snowbirds will soon be heading south to the U.S. They usually head south before the snow starts falling, and spend the winter in places like Florida. Remember, our insurance covers your unit throughout Canada and the U.S!
What they are looking for: They'll be looking for good deals on mileage and monthly discounts to fit their long term and long distance trips. You can also let them know your RV is available for snowbirding by adding "Winter Rental Available" to the title of your listing.
Early Planners
Early planners have already started to make their plans for next year! This is the type of traveller that has everything reserved more than six months in advance and does extensive price comparison.
What they are looking for: The best way to make sure you get them is to put some time into your calendar for next year, making sure your summer dates for next year are set. You can also highlight the amenities and advantages you can offer, like availability and delivery near destinations that require reservations well in advance.
International Renters
International renters are also early planners looking to book longer trips near popular destinations. They could include travellers from the UK, Australia, France, or Germany, where RVing is a long standing tradition. They are usually making a significant investment in their trip abroad, so will want to feel they are in good hands.
What they are looking for: Let them know you have the knowledge to guide them around, the add ons they'll need and can't bring from overseas like bedding and kitchenware, and the Canadian hospitality to make their trip is memorable. They are likely to compare prices and look for add-ons that make their trip better, as well as listing reviews to make sure they can count on you.
Last Minute Renters
Last minute trips are also happening NOW on a spur of the moment throughout Canada. These could be family trips, but just as likely weekend trips for groups of friends or even work trips from one province to the next.
What they are looking for: Consider features like Instant booking or add-ons like delivery to make it easier for people to quickly book your unit, even if it is a trailer that requires towing. Make sure your dates and prices for the fall months are set up to meet them.
Birdwatching and Nature Enthusiasts
Bird watchers and naturalists are also out and about, exploring and cataloging flora and fauna from coast to coast. This type of renter usually is not looking for luxurious comfort but rather convenience. They are likely to travel in groups, and will be interested in local species and unique landscapes.
What they are looking for: If your unit is ideal for camping, is easy moved or delivered, and you've priced it competitively, you could improve your appeal to this type of camper by offering local guidance, particularly for natural reserves and parks. You can also use add-ons to offer things like binoculars and other exploring gear, blankets, high-visibility or camouflage apparel, etc.
Tailgaters and Sports Fans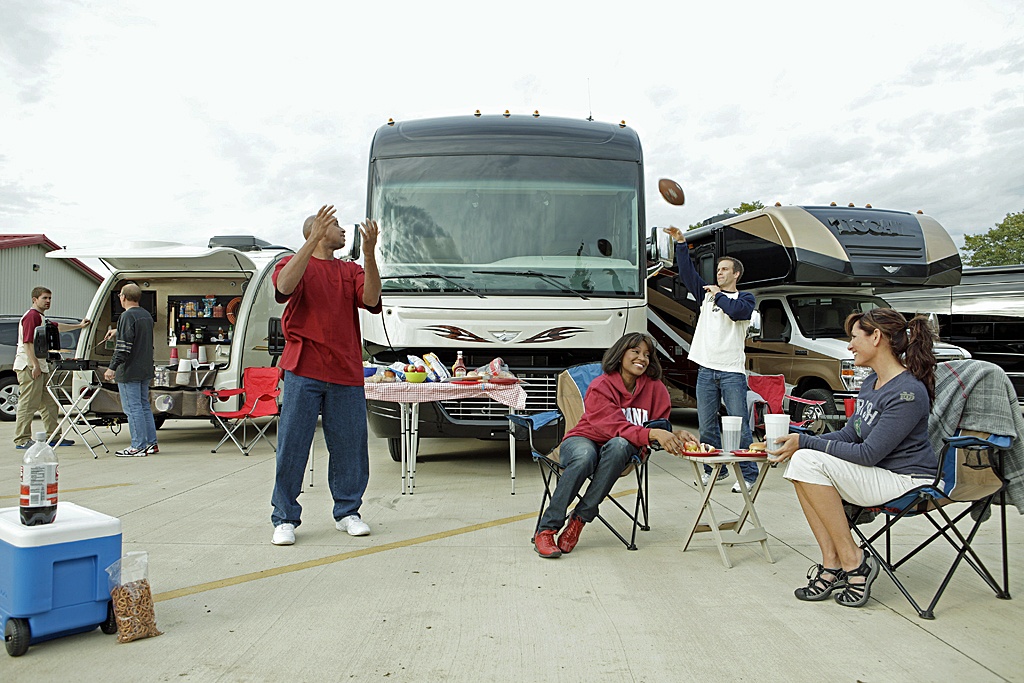 Tailgating is particularly popular around this time of the year, mainly but not exclusively for football games throughout Canada and the U.S. Sports fans like to not only watch the game with a big crowd, but they like to have the option to BBQ, have fun, throw the ball around, and make great memories.
What they are looking for: If you know your local team has a good following, chances are they have a regular tailgating crowd who you can attract by offering delivery to tailgating parties, short-term rentals, and amenities that will go far at a tailgating party like a BBQ, lawn chairs, mats, and even big screen TVs if you have one in your RV.
Winter Enthusiasts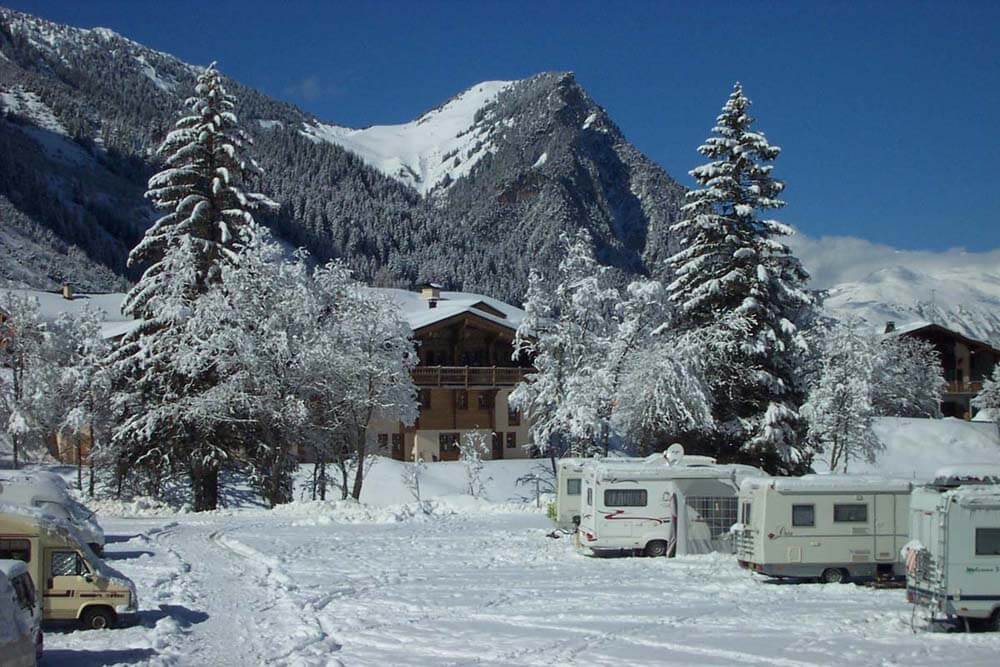 Winter enthusiasts are also getting ready for their favourite season. These include skiers, snowboarders, cross-country skiers, and ice fishers. If your unit has the right amount of insulation and you feel it can stand up to mild winter conditions, you can keep your calendar open and put off winterizing to meet these winter warriors.
What they are looking for: They are looking for for units they can drive or tow easily, regardless of the vehicle they have, to ski hills or camping sites that are open over the winter. You can attract them by highlighting winter availability in your listing and offering add-ons like delivery, season passes to nearby hills, equipment, storage, and good sleeping capacity.
Winter Vacationers
Lots of people will take their yearly vacation over the winter months, choosing to go to places like Disneyland or DisneyWorld, Myrtle Beach, Miami, California, or iconic destinations like the Grand Canyon, Mount Rushmore, or YellowStone National Park.
What they are looking for: Like travelers with similar needs, they are looking for a good deal on mileage and long-term rentals, they want to be assured that travel to the U.S is easy, and will often be highly motivated - so make sure you make your listing as competitive as possible during the off peak season.
Looking to Buy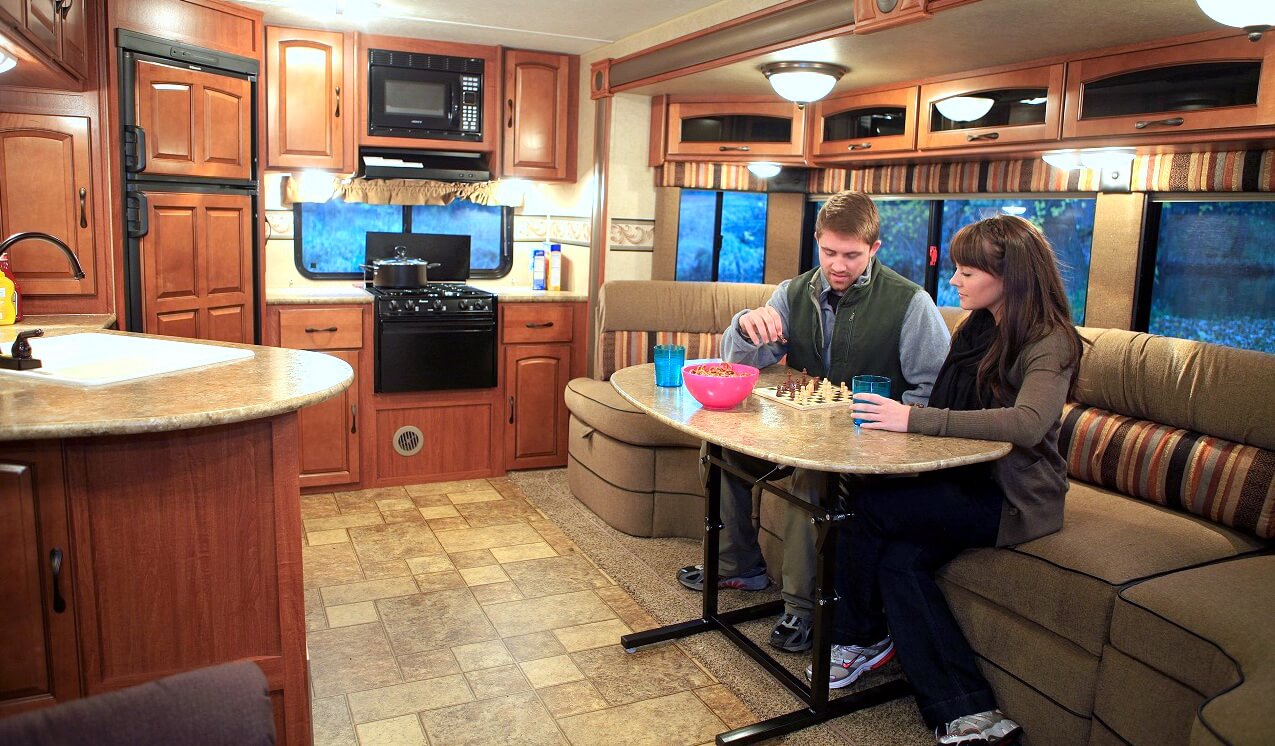 This type of renter could inquire for your listing during any time of the year, but with the year's end at hand and the beginning of the RV Show season, many people have begun to compare prices and units for their first or next motorhome. You can catch this type of renter if your unit is not too old and in good condition, available for a short stint where they can see how well it handles and how many it sleeps comfortably.
What they are looking for: Make sure to highlight your unit's best points in the description and pictures, as well as your own intimate knowledge of the unit. This type of renter wants to know you'll be able to answer all of their questions.