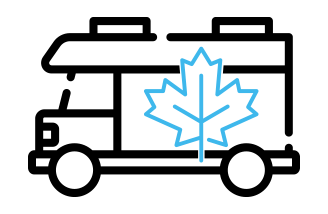 Les 32 meilleures locations de VR à
st-sauveur, quebec
$180 Nuit
gmc - savanna
St-Sauveur, Quebec
$120 Nuit
safari condo - gmc safari
St-sauveur, Quebec
$200 Nuit
Glorious Getaway
Morin-Heights, Quebec
$210 Nuit
Forest River - Sunseeker DS3010
Sainte-Adele, Quebec
$225 Nuit
Kephan
Saint-Jerome, Quebec
$60 Nuit
Light 17 feet/ Légère 17 pieds
Saint-Jerome, Quebec
$70 Nuit
Liberté M&M
Saint-Jerome, Quebec
$199 Nuit
GLENDALE ROYAL CLASSIC.
Saint-Hippolyte, Quebec
$220 Nuit
Holiday Rambler - Arista
saint-hippolyte, Quebec
$65 Nuit
quicksilver - 8
St-sauveur, Quebec
$30 Nuit
Thule - remorque de camping
St-sauveur, Quebec
$95 Nuit
Roulotte hybride 7-8 places de 2750 livres, parfait pour un Grand Caravane ou un petit SUV
Prevost, Quebec
Locations de VR Motorisés
$135 Nuit
2013 Thor Majestic
Lorraine, Quebec
$200 Nuit
Coachmen Leprechaun 2018
Chertsey, Quebec
$225 Nuit
Winibago - Era 170X
Laval, Quebec
$428.75 Nuit
Beautiful 2016 Motorhome Sleeps 9 and has 2 FULL bathrooms! Perfect for large families and friends!
Laval, Quebec
Locations de Roulottes
$80 Nuit
Tag NüCamp
Mirabel, Quebec
$150 Nuit
sunset creek - 271BH
sainte-anne-des-plaines, Quebec
$55 Nuit
Car-go teardrop - Liberty
Sainte-therese, Quebec
$110 Nuit
Safari Condo - Alto F1743
Rosemere, Quebec
Locations de VR pour familles
$80 Nuit
Gulfstream - 330tb
sainte margueritte du lac masson, Quebec
$115 Nuit
Fifth Wheel pour vos vacances de reve.
Saint-Jerome, Quebec
$100 Nuit
Gulfstream - Ameri-lite
St-colomban, Quebec
$150 Nuit
Ford - Majestic
Mirabel, Quebec
Locations de VR acceptant les animaux
$150 Nuit
Roulotte Cargo / Garage pour vos Moto / VTT
Laval, Quebec
$100 Nuit
Camping en famille
Terrebonne, Quebec
$90 Nuit
Grand Junction - Dutchman
Ste-Marthe, Quebec
$100 Nuit
Fourwinds Lite
Notre-Dame-de-lle-Perrot, Quebec
Locations de VR de style classique
$90 Nuit
1984 Uhaul Surfcamper
St-Joseph-du-Lac, Quebec
$70 Nuit
Revamped old charm
Laval, Quebec
$125 Nuit
La van de l'amour
Montreal, Quebec
$175 Nuit
Gypsy Queen
Salaberry-de-Valleyfield, Quebec
Trouver votre location idéale de VR