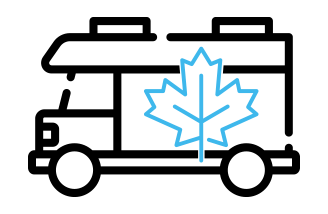 Best 36 RV Rentals in
quebec, trois-rivieres
$175 Night
Potato King- Winnebago Spirit 25b 2015
Trois-Rivieres, Quebec
$175 Night
Fourwinds - Chateau Sport
Trois-Rivieres, Quebec
$185 Night
Magnifique VR motorisé Sunseeker 2011 23 pieds
Trois-Rivieres, Quebec
$175 Night
holiday rambler - admiral se
trois rivieres, Quebec
$50 Night
Ford E-350
Nicolet, Quebec
$100 Night
Cherokee 32
Yamachiche, Quebec
$90 Night
Terry - Dakota
Becancour, Quebec
$170 Night
Fifthwheel Rockwood idéal pour famille
Shawinigan, Quebec
$270 Night
Très beau motorisé de 38 pieds avec lits superposés
St-Tite, Quebec
$200 Night
Sunseeker 29 pied
Drummondville, Quebec
$200 Night
Coachmen 31 pied
Drummondville, Quebec
$195 Night
Prêt à partir
Drummondville, Quebec
Motorhome RV Rentals in
quebec, trois-rivieres
$220 Night
Ford - Majestic
Victoriaville, Quebec
$200 Night
Winnebago - Minnie winnie
Victoriaville, Quebec
$200 Night
monaco - cayman 36pdd
St Agapit, Quebec
$229 Night
New-West Evazion 4 saisons
Saint-Nicolas, Quebec
Trailer RV Rentals in
quebec, trois-rivieres
$150 Night
Roulotte 29 pieds, 2 chambres
Drummondville, Quebec
$60 Night
Mob-Beam Mini-Plus
Drummondville, Quebec
$55 Night
Mob-Beam Micro-Back
Drummondville, Quebec
$125 Night
La belle et la bête
Lavaltrie, Quebec
Family Friendly RV Rentals in
quebec, trois-rivieres
$120 Night
TRAIL-LITE SPORT
Saint-Pierre-les-Becquets, Quebec
$109 Night
Roberto le Winnebago Classe A confortable et spacieux
Sorel-Tracy, Quebec
$50 Night
Ginette
St-apollinnaire, Quebec
$200 Night
My vanlife adventure 🚐
Deschambault, Quebec
Pet Friendly RVs in
quebec, trois-rivieres
$90 Night
Le plaisir relaxant
Saint-Basile, Quebec
$165 Night
New-West Expédition 4 saisons
Saint-Nicolas, Quebec
$200 Night
New-West Liberté 4 saisons
Saint-Nicolas, Quebec
$135 Night
New-West Bo-M
Saint-Nicolas, Quebec
Vintage RV Rentals in
quebec, trois-rivieres
$165 Night
New West Excursion 4 saisons
Saint-Nicolas, Quebec
$218 Night
New-West Altitude 4 saisons
Saint-Nicolas, Quebec
$45 Night
BILLY LE BOLER
Sherbrooke, Quebec
$170 Night
RV Delivery in
quebec, trois-rivieres
$150 Night
Vivez l'expérience Hélio!
Pont-Rouge, Quebec
$60 Night
Mob-Beam Mini
Drummondville, Quebec
$185 Night
Le Combo
Saint-Hyacinthe, Quebec
$35 Night
Tear Drop - Parfait pour les couples!
Mont-Saint-Hilaire, Quebec
Local Trois Rivieres Attractions
La Maurice National Park
La Maurice is a great place to dive right into Quebec's incredible landscape. The park alone has 150 lakes to explore, sail, swim, or fish. It has winding trails for hikers of all experience levels, biking, and general exploration and picture taking. You can go rock climbing, and ice climbing in the winter, plus there is some amazing fishing spots throughout the park. Kayaking and canoeing are encouraged, and you can even do some backwood camping by reaching your lot via a waterway. The park, of course, has served and half-serviced lots available for RV enthusiast and adventurers!
Forges Du Saint-Maurice National Historic Site
Travel back in time and see a perfectly preserved world at the Forges - where the first iron industry in Canada was developed in New France. Custom actors and guided tours will bring you and your family close to this time period, letting you see how this important site contributed to building our nation. You can see not only the impressive blast furnaces used to do this, but many of the iron-wrought works they would produce. Don't miss this chance to go back in time with the family!
What our community is saying
Find Your Perfect RV Rental