Ever dreamt of doing something crazy like renovating or building an RV and leaving it all behind? Check out these awesome RV makeovers!
Well for some pioneering, possibly slightly unhinged individuals (in a good way!), this becomes reality.
Here at RVezy we focus on the more traditional and practical RVs, but we still love to dream! And we do have some quirky options for those who want to stand out from the crowd!
After a bit of digging around on the interwebs, we have uncovered a variety of interesting RV makeovers and creations, from the practical to some which bend the very bounds of spacetime itself!!!
Buckle up!
1) 5th Wheel Glamper
(Image source: Lifeasanartistpreneur.com)
Let's ease into it with something not too extreme. This 2005 Coachman Chapparel was given a luxurious, head to toe makeover in preparation for family cross country travels. After completing the makeover, the owners hit the road to make some great memories before their kids started school! You can check out the entire makeover here.
2) 1976 Aistream Argosy
(Image source: Trailerlife.com)
Husband and Wife, Cate and Chad, bought this retro travel trailer to enable their 'great escape'. Neither had any previous experience with RV makeovers, making their end product all the more impressive! Since finishing the makeover, they have clocked up over 30,000 miles around North America. Click here for the full RV makeover.
3) The Serendipitibus
(Image source: Facebook)
The 'extreme' part of this RV is the way it was created. In 2014, eight recently graduated college students decided to buy and renovate an old 1995 Carpenter school bus. Despite only one member of the group having any formal construction experience, they bound together and got the job done! They called it the SerendipitusBus, and it took them on a five month adventure across the US!
For more information on the story click here.
4) One Person, One Hour, One Screwdriver...
(Image source: QuiteLite.com)
Okay, perhaps it's not an authentic 'renovation', but it can be assembled by the average Joe single handedly in one hour, using one screwdriver! We couldn't leave it off the list! It's called the Tail Feather and it was created by Teal Global Enterprises.
5) Solar School Bus
(Image source: Offgridspot.com)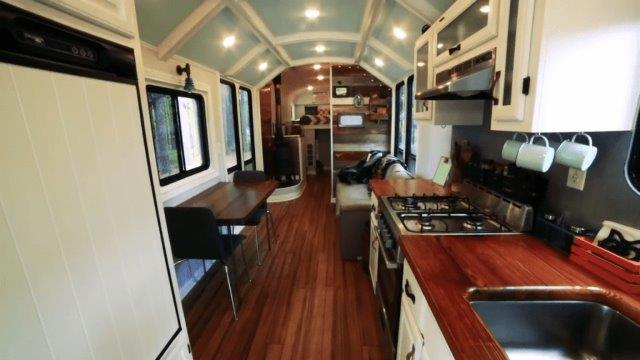 (Image source: Offgridspot.com)
Luke and Rachel converted this old school bus into a solar powered 'off the grid' motorhome. At the time the source article was published, they had been travelling with their 2.5 year old daughter in the bus for 1.5 years around the US! The whole story can be found here.
6) 1983 Starcraft Venture
(Image source: SierraTrailerRestoration.com)
Greg and Shannon completely stripped the old Starcraft back and started from scratch. The result is this beautiful sleek travel trailer ready for relaxing road trip adventures. A week by week photo log of the amazing renovation can be found here.
7) Steampunk Teardrop
(Image source: Livinginashoebox.com)
Dave had plans to roadtrip Scotland, so he decided to build his own travel trailer. His passion is building trailers out of natural materials and giving them a Steampunk twist. More detail on his tear drop project can be found here.
8) Airborne Caravan
(Image source: Fastcodesign.com)
This kind of steps up the level of extreme!
This interesting creation was the brainchild of French Artist Bufalino Benedetto,  which he made to fulfill his dream of taking a caravan into the sky and through the clouds. The altitude may not be enough for that, but it's no less amazing! More about the story can be found here.
9) 1980 AM General
(Image source: Fourwheeler.com)
Originally built for war, this AM General was converted into a beast of an RV by Soni Honneger. He was sick of things breaking in his previous off road machines, so he went all out. It's only got a towing capacity 99,730 pounds. For more on this 'access all areas' machine click here.
10) Botorhome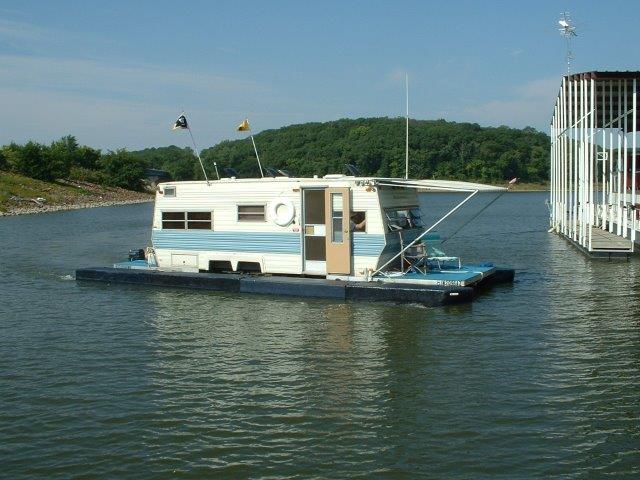 (Image source: Botorhome.blogspot)
This 1976 Wilderness travel trailer had more of a conversion, rather than a makeover. But it can still be used as a travel trailer by sitting the whole rig on a large dual axle trailer. For more details check out the Botorhome blog
11) School Bus Crossbreed
(Image source: DoityourselfRV.com)
We're not sure if this RV makeover was entirely necessary, but we're sure glad it was done! There's not a great deal of info about this one, so let your imagination fill in the gaps :)
12) The Neverwas Haul
(Image source: DoityourselfRV.com)
This fantastical Victorian tower on wheels was actually built on the frame of an old 5th wheeler, and can thus be called an authentic 'makeover'. It was created for the famous Burning Man festival , held every year in the Black Rock Desert of the USA. Check out some more about it here.
13) Yesteryear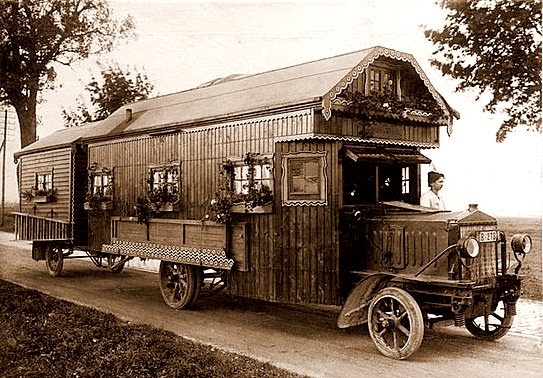 (Image source: TheFlyingTortoise.blogspot)
Here's a good example of the RV's origins. The flying tortoise website shows a few which are dubbed the oldest RV examples in the world, including this fine vehicle.
14) 1979 Unimog
(Image source: Bangshift.com)
Another interesting RV cross breed using a Unimog as the base, and a camper van as the home. There's not too many places this thing wouldn't take you. Check out some more details here.
15) The Dragon Wagon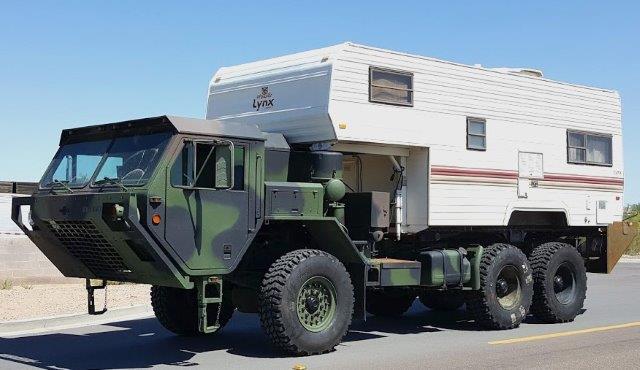 (Image source: SlicknessIndustries.com)
This is what is known as a 'bug out' vehicle. It means in the event of the world's end, this would be a decent set of wheels to get around in. It's a combination of two military trucks and a 1987 Fleetwood Prowler. Slickness Industries provide a heap of info on their awesome RV Frankenstein here.