Your trust and safety are our top priority
RVezy is committed to building your trust, helping you feel safe, and protecting every user throughout the rental process.
Verified users

RVezy cares about your safety, which is why we use face recognition software to verify the identity of our owners and renters before they can list or rent an RV on our platform. The verification process is simple. All you need is your valid driver's license or passport and the camera on your cell phone to get started.
Approved drivers

An approved driver is the person who takes financial responsibility for the RV during the rental. At least one approved driver must be added to every booking, even if the RV is delivered and will not be driven or towed by the renter. Any individual planning on driving or towing the RV must be an approved driver.
To qualify as an approved driver, you must:
Become a verified user.
Be at least 25 years old.
Possess a valid and unrestricted driver's license.
Have a clean driving record.
Upload a valid credit card to your account.
Quality RV listings

RVezy reviews every RV published on our platform. As a result, renters can book rentals confidently, knowing that all RV owners must verify their identity, meet RVezy's listing requirements, and offer renters appropriate insurance. Once an RV is published, the RV owner is required to maintain the safety and quality of the RV and exhibit good behavior by actively responding to renters.
Secure communication

RVezy provides a secure messaging system that enables renters and owners to communicate throughout the rental process while protecting their personal information. We use industry-leading fraud detection software and monitoring systems to protect users against communications that don't adhere to RVezy's terms of service. As such, RVezy highly recommends that users only communicate through the platform so that our team can review relevant messages in case of a dispute or claim.
A trusting and respectful community

At RVezy, we are committed to providing exceptional customer service and sharing RV knowledge. We bring together like-minded people who help us create an ecosystem that allows travel and vacationing in an RV to be accessible, reliable, safe, and easy.
RVezy holds our users to the highest standards, and we encourage respectful communication that's free from discrimination, racial injustice, hate, or any other type of offensive or intimidating language.
Secure transactions

RVezy's payment processing technology ensures that all automated transactions are tracked, documented, and secure. To ensure the security and authenticity of every transaction, we ask that users make payments through RVezy and never wire money or pay someone directly.
User reviews

RVezy encourages renters and owners to add a review after their trip. Peer-to-peer reviews give you an extra layer of confidence when booking your trip, knowing that others users had a great experience before you.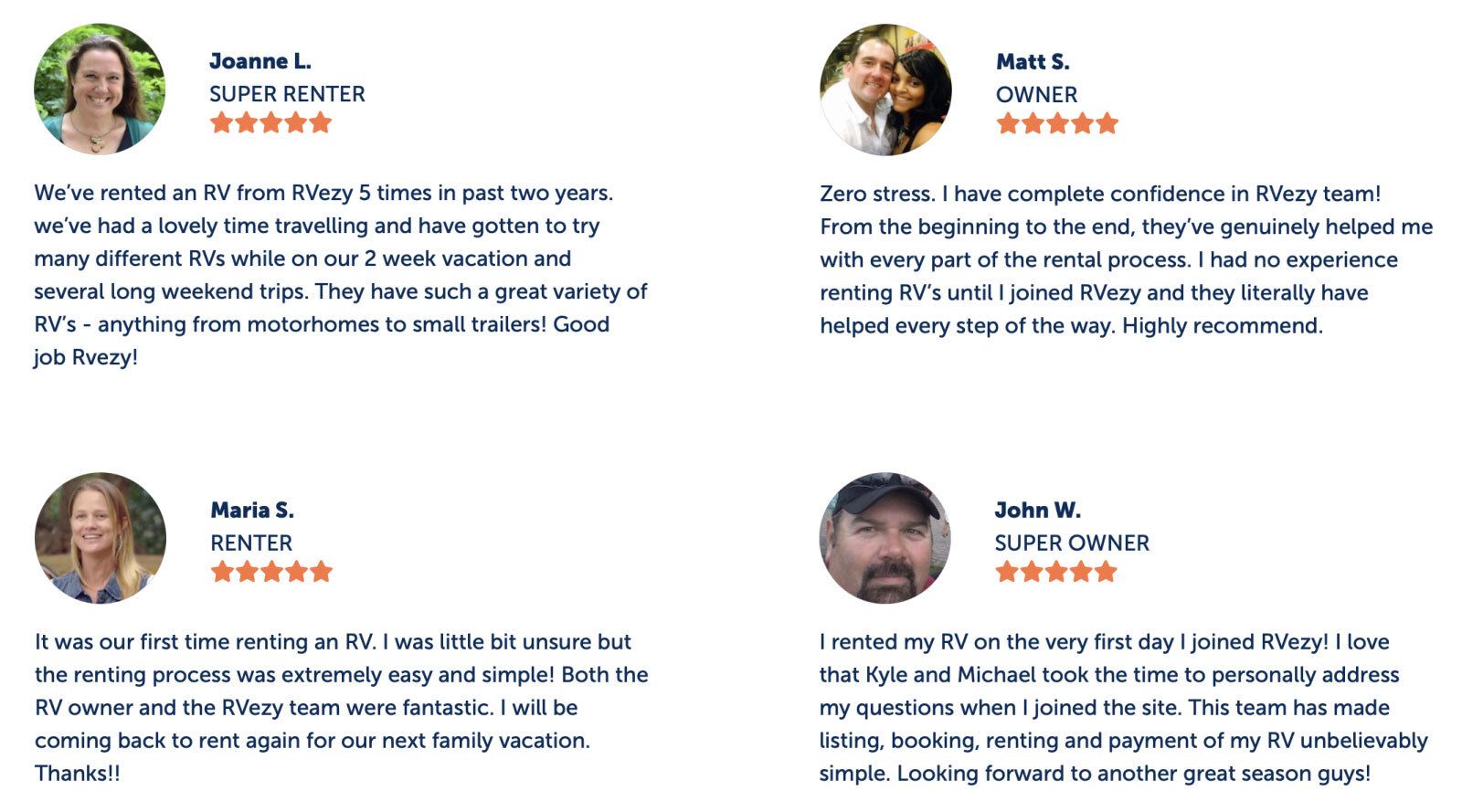 Travel safety

New to peer-to-peer RV rentals? No problem. RVezy makes it easy for all parties to feel confident at every stage during the trip.
Here are just a few ways RVezy keeps users safe:
RV owners run through a checklist with renters to ensure they feel confident operating and driving their RV.
RV delivery is offered to renters who don't want to drive and/or set up the RV at the campsite.
Owners and renters are required to take pictures, document, and sign off on the RV's condition before and after the trip.
Timely reminders are sent to users to ensure all documentation and safety procedures are completed before the trip begins.
Easy access to all relevant documents required before, during, or after your trip, like the insurance certificate, roadside certificate, and rental agreement.
The ability to quickly get in touch with the RV owner, roadside assistance, and RVezy's customer support.
Customer support
Got questions? We've got answers.
Our customer support team can be reached by phone, email, or chat between 9 a.m. and 9 p.m. EST from Monday to Friday and from 11 a.m. to 7 p.m. EST on Saturdays and Sundays.
We can be reached by phone at (855) 697-8399 for urgent or timely matters.
For all other inquiries, you can email us at any time, and we will get back to you within 24 to 48 business hours.
Our live chat feature is also available within our help center by clicking on the help widget on the bottom right corner of your screen.