Exploring and camping in an RV is no excuse to skimp on healthy RV cooking! In fact, it's actually a great way to start experimenting with healthy eating, because it feels so good to cook fresh, healthy and simple recipes with natural surroundings!
Some other pluses include the ability to catch and find your own fresh ingredients, explore rural produce markets, and swap meal ideas with other inspired RV travellers!
In this post we list 20 healthy meal ideas for the RV traveller!
The ideas we provide below are broad, with a few for breakfast, lunch, dinner and dessert. Experiment with them. Add a little of this and a little of that. Meal preparation is not meant to be stressful or complex. Have fun with it and remember what worked and what didn't.
Bon appetit!
#1: Fruit Salad
A perfect breakfast or dessert. Utilise the produce markets found throughout rural and metro North America and buy fruit which is in season. For an extra zing, add some toasted coconut, some seeds, nuts, honey and/or yoghurt!
#2: Muesli
This is a true breakfast on the run. You can make your own combination of grains, seeds, nuts and dried fruit before setting of on your RV adventure. If your not a fan of eating it chewey, mix the muesli with some yogurt, honey and grated apple the night before. Keep it refrigerated overnight and it'll be a nice creamy texture in the morning!
Or, check out delicious.com for 15 different muesli recipes!
#3: Eggs
Eggs are the best go-to when other ideas escape you. They're great for breakfast, lunch or dinner. Try them fried, scrambled, soft or hard boiled, as an omelette or use them to make French toast.
Scrambled Egg Tips
For the perfect scrambled eggs, add them straight to a pot on very low heat with a small dash of olive oil and a pinch of salt. Whisk them around a bit, then stir slowly but constantly until they start to clump together (usually around the 10 minute mark), and remove once they are at a consistency you like.
#4: Pancakes And Crepes
Pancakes and Crêpes are family pleasers. They make a great breakfast or dessert, but can also be eaten with ham, cheese and eggs like the French eat their savoury crêpes!
Use a non stick pan, a very small amount of butter or oil to cook, and eat with fruit when using them as a breakfast or a dessert. You can also decrease or completely remove the sugar in the recipe to reduce calories.
BBCgoodfood.com provides an easy pancake recipe to take on your next RV cooking adventure!
#5 Sandwiches
The humble sandwich is a great travel meal. Pack it with salad, some cold meats and sauces for a healthy meal. For healthier options, try wholemeal and grain bread or rolls and exchange the meat for some antipasto ingredients such as grilled peppers or marinated artichoke hearts.
#6: Salads
You can make salads with almost any combination of ingredients. For the healthiest results use beans, grains or peas (e.g. chick peas) as a base, then add your favourite salads and flavours.
For Mediterranean flavours add a dressing of olive oil, lemon, balsamic vinegar and salt/pepper. For Asian flavours add a dressing of soy, fish sauce, sesame seed oil and honey.
Always taste the dressing before adding it to make sure it hits the spot!
Check out Foodnetwork.com for 50 easy salad ideas!
#8: Stir Frys
The old favourite. Any combination of fresh veggies and meats can be added to a hot wok or a standard fry pan and quickly fired to make a crunchy tasty and healthy meal. Add a few simple Asian flavours like soy sauce, oyster sauce, sesame seed oil, and fish sauce to make a flavour explosion.
Also remember that any stir fry is lifted by adding some crushed garlic, ginger and diced onion at the start of the frying process!
#9: Only Overtake When Safe
Ideal for a cold winter's night, all you need for a perfect soup is some bones to simmer and produce a stock, some herbs for flavour and some veggies for nutrients.
If you don't have the time for a bone broth, buy dried cubes or a few cartons of stock before you leave and skip a few hours of simmering ;)
You can give the soup a Mediterranean twist or add Asian flavours for an Asian style soup!
#10 Casseroles And Stews
Like soups, casseroles are the top choice for cold weather. Any cut or type of meat on the bone will make a great casserole when slow cooked for a few hours. Remember to add lots of onion and garlic. Bay leaves will also lift any casserole you make.
The best casseroles are made using a cast iron camp oven on the fire! Just remember to check regularly so you know its not burning.
To ensure the casserole thickens, add a tablespoon of plain flour while your frying the meat and onions at the start, and before you add the liquid (plain water or stock).
#11: Steamed Fish
Steamed fish is one of the healthiest and tastiest ways to cook freshly caught fish!
A fish can be steamed in a variety of ways. All you need is some moisture and heat, and you can get creative with the steaming apparatus (i.e. it could simply be in an aluminium foil packet filled with a little water, garlic ginger, soy, and the cleaned fish, placed near a fire.
Or for another approach to steam fish without a steamer check out GeniusKitchen.com.
#12: Rice Pudding
An easy and healthy dessert on the road. Rice cream or rice pudding is delicious with a variety of fruit.
Check out Taste.com for an easy rice pudding recipe (you can replace the sugar with Agar Agar for a healthier result).
#13: Vietnamese Rice Paper Rolls

One of the easiest, healthiest tasty meals ever invented! Bring along some rice paper wraps, vermicelli noodles, and a variety of fresh salads.
Cook the vermicelli, cut the salads into long thin strips, and fry some meat or seafood marinated in any variety of Asian flavours.
Place a wrapper in a bowl of water for 15 seconds (it doesn't even need to be hot water), drop some of each filling on the layed out wrapper, then fold the edges in and wrap it up!
The Perfect Vietnamese Sauce
Mix three tablespoons of fish sauce, three tablespoons of vinegar (any type), and a heaped tablespoon of sugar into a small pot and stir until it all combines and the sugar dissolves. Add some water, or a little more of each ingredient if the sauce is too sweet, sour or salty.
Some chilli will make it fly!
#14: Rice Noodles
This could be a hot or cold meal. It's a simple combination of rice noodles and stir fry ingredients.
Soak the rice noodles in hot water first as per their instructions. Then add them to the stir fry.
Any meat and vegetables will be fine. Add some Asian flavours like soy and fish sauce and honey, and for the best results, a combination of chilli, coriander, crushed peanuts and lime!
#15: Grills And BBQ's
You can literally grill any fresh ingredients! Meats, veggies and even some fruit like pineapple and mango!
Baste all ingredients in the flavours you're going for to make them super tasty!
Grilled meals go great with a salad and some fresh bread!
#16: Fire Bake
Wrap your favourite meats, sausages and veggies in foil with some olive oil herbs, salt and pepper and pace over a fire until they are ready to eat!
A really simple and fun way to cook for kids. Probably the best way to eat a fresh fish (filled with onion and lemon)!
#17: Satays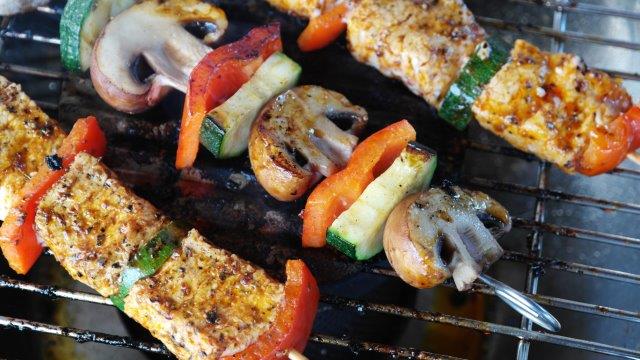 Use any combination of marinated meats, veggies marinated in your favourite spices and thread onto wood or metal skewers to grill or fry.
Remember to soak wood skewers in water before cooking to preventing them catching fire!
#18: Pasta
Pasta has got to be the best crowd pleaser out there. Dried pasta lasts forever in storage and once cooked, can be mixed with an almost infinite variety of tasty ingredients!
Check out SeriousEast.com for 21 quick pasta recipe ideas!
#19: Curries
Curries can be made in a frypan, pot or in a skillet over the fire. Bring along your favourite combination of curry spices, fry them off with onion, garlic and also ginger if you like, then fry the base ingredients (any combination of meat and vegetables), followed by some stock and some extra flavour like tin tomato pure and or coconut cream.
Some dried or fresh chilli will also give you in an extra good kick in the taste buds! And some coriander and yogurt thrown on at the end will turn any curry into a real winner!
Eat with rice, potatoes or flat bread for a rounded, tasty and healthy meal!
Or, check out OliveMagazine.com for 22 easy curry recipes!
#20: Mexican Wraps
Throw a packet of tortillas and a few mexican spices like cumin, coriander and chilli into the RV cooking pantry.
Marinate and grill some meat or veggies in these spices, plus some lime, coriander salt and pepper, then place them in a tortilla with a combination of beans, rice, salads and a dash of yogurt.
And voila!
Mix And Combine Ideas
Find the best RV cooking combinations for you and your family and right them down! Test them over and over, let them evolve, and you will eventually have a delicious repertoire to suit your RV adventures!