Are you curious about which RVs topped the 2021 Hershey RV show?
During the event, our team spoke with thousands of RVers, manufacturers, and dealers, and we asked everyone from current RV owners to prospective owners which rigs made the cut as some of the best at America's Largest RV Show.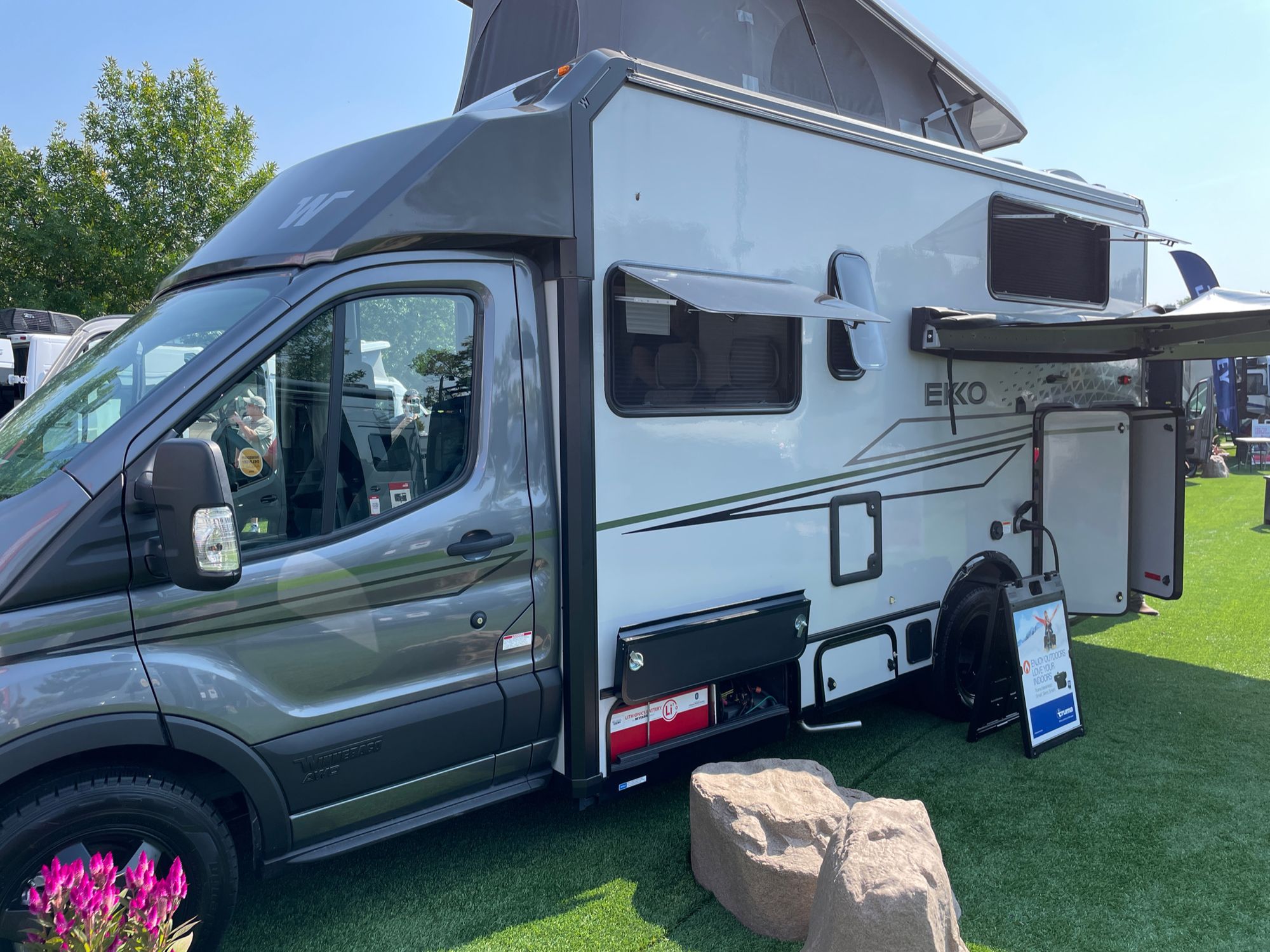 It's no surprise that people wanted to see the latest models with the newest technology. The show featured everything from tiny off-road travel trailers like the inTech Flyer Explore to prototypes of the Winnebago Ekko and the nüCamp Barefoot.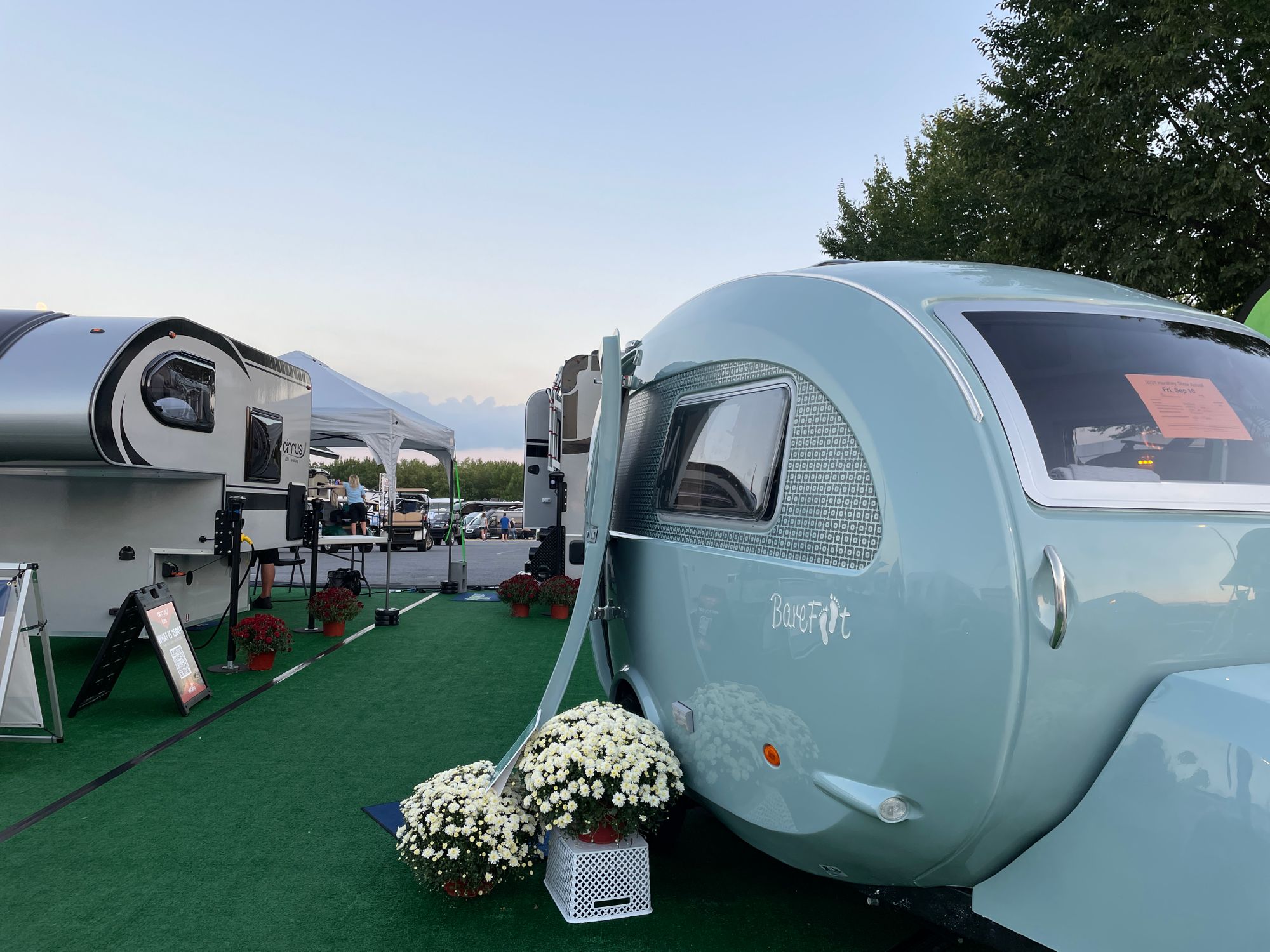 With more than 1,000 RVs at the show, it was hard to narrow down our top-six choices. We included one RV from each of the RV classes. We made our choices based on features, function, and of course, fan favorites.
Without further ado, here are our top-six RVs from the 2021 Hershey RV show.
The best RVs at the Hershey RV show [from big to small]
Winnebago Journey 40P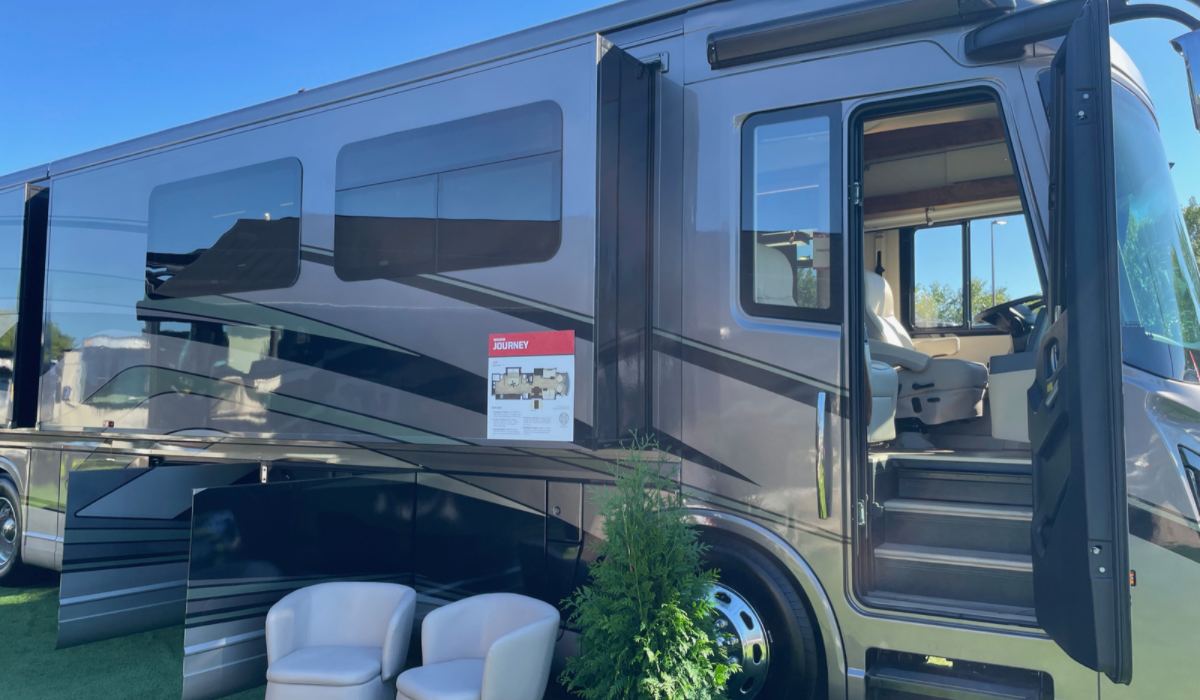 The Winnebago Journey 40P Class A motorhome is so new that Winnebago hadn't even started producing this rig until a few days after the RV show began. Lucky Hershey attendees were some of the first people to walk through this RV, and even luckier attendees had the opportunity to meet the engineer and designer who helped create this modern home on wheels. The Journey has walnut cabinets with sleek, modern cabinet pulls, and finishes like Corian countertops, plank flooring, a built-in wine rack, and recessed LED lighting. The ambiance inside the motorhome is similar to that of a custom-designed home. It begs you to sit down, put your feet up, grab some vino, and sit by the fire.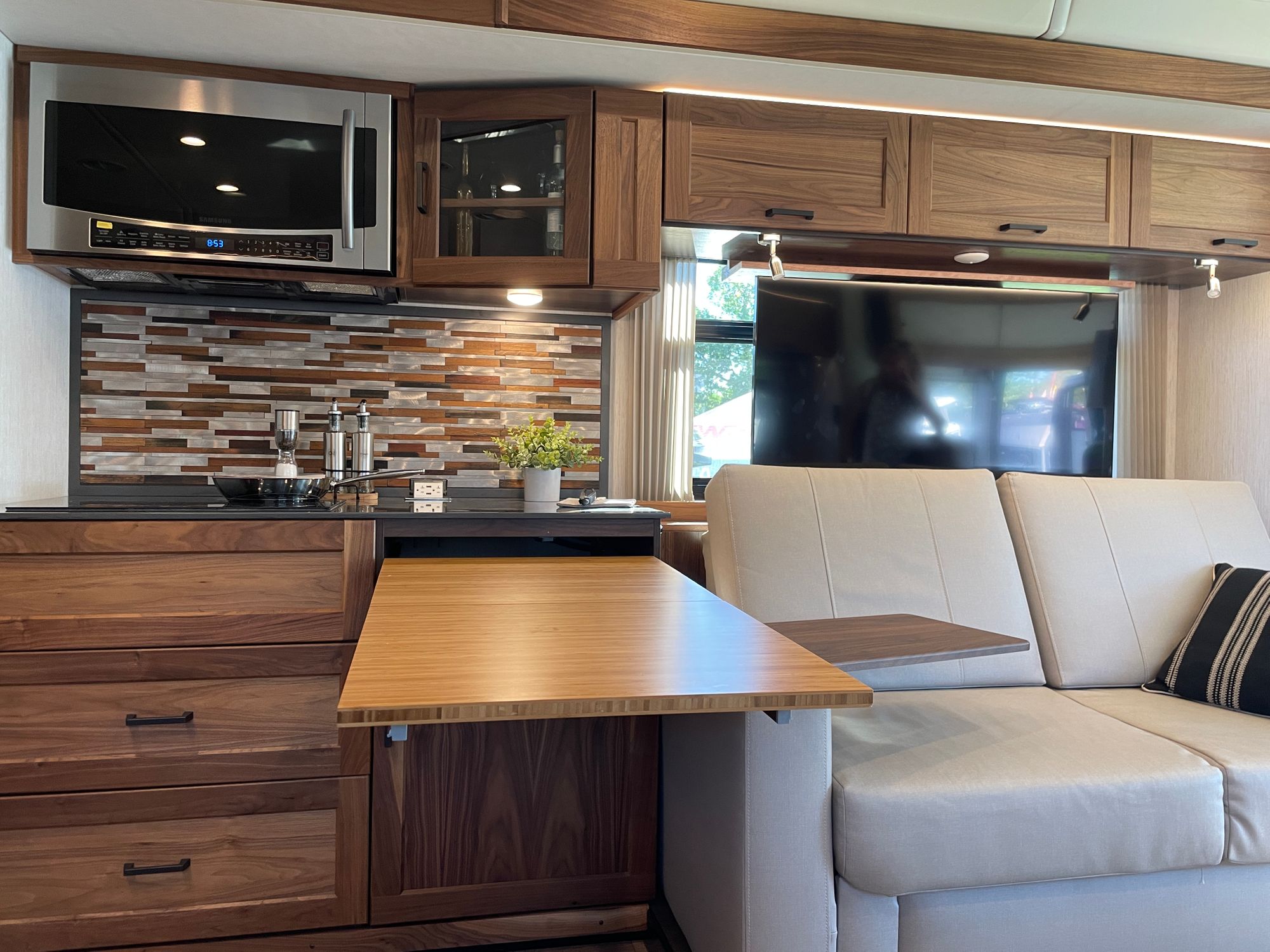 Highlights
41' 4'' long.
38,700 pound Freightliner chassis.
6-speed automatic transmission.
Diesel engine with a 100-gallon fuel tank.
105-gallon freshwater tank.
57-gallon black water tank.
96-gallon gray water tank.
King-sized bed.
Residential refrigerator.
Dishwasher.
Wine rack.
Customizable storage space.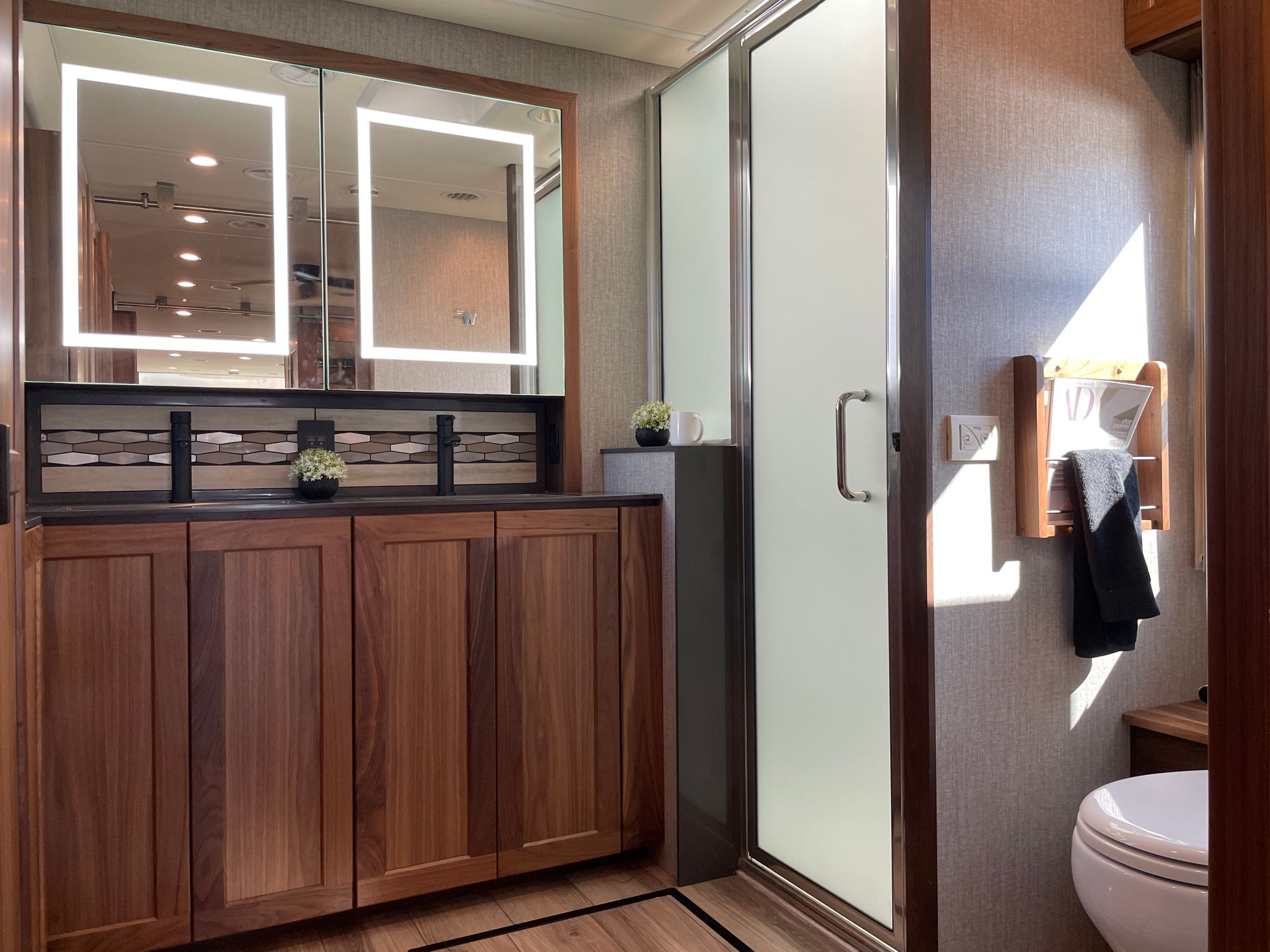 Grand Design Solitude 310GK
Grand Design is an industry leader in quality-built fifth wheels, toy haulers, and travel trailers. The Hershey RV Show had close to fifteen Grand Design RVs on display, and the Solitude 310GK stood out as one of the manufacturer's most popular models. This fifth wheel is one of Grand Design's best sellers because of its sleek exterior and modern interior. The clean lines and neutral colors throughout the rig are streamlined and classic. The inside features theater seating, a telescoping television, fireplace, residential oven and refrigerator, and tons of usable storage space. Toss in the Weather-Tek package, and it's easy to see why so many full-time RVers choose the Solitude as their home on wheels.
Highlights
34' 11" long.
15,000 pounds GVWR.
93-gallon freshwater tank.
50-gallon black water tank.
100-gallon gray water tank.
Residential appliances.
Solar prep comes standard with the option to add solar panels as an upgrade.
Option to add 12-volt tank heaters.
Oversized pantry.
Hide-a-bed sofas.
Queen or king bed options.
Pass-through storage.
Entegra Coach Odyssey 26M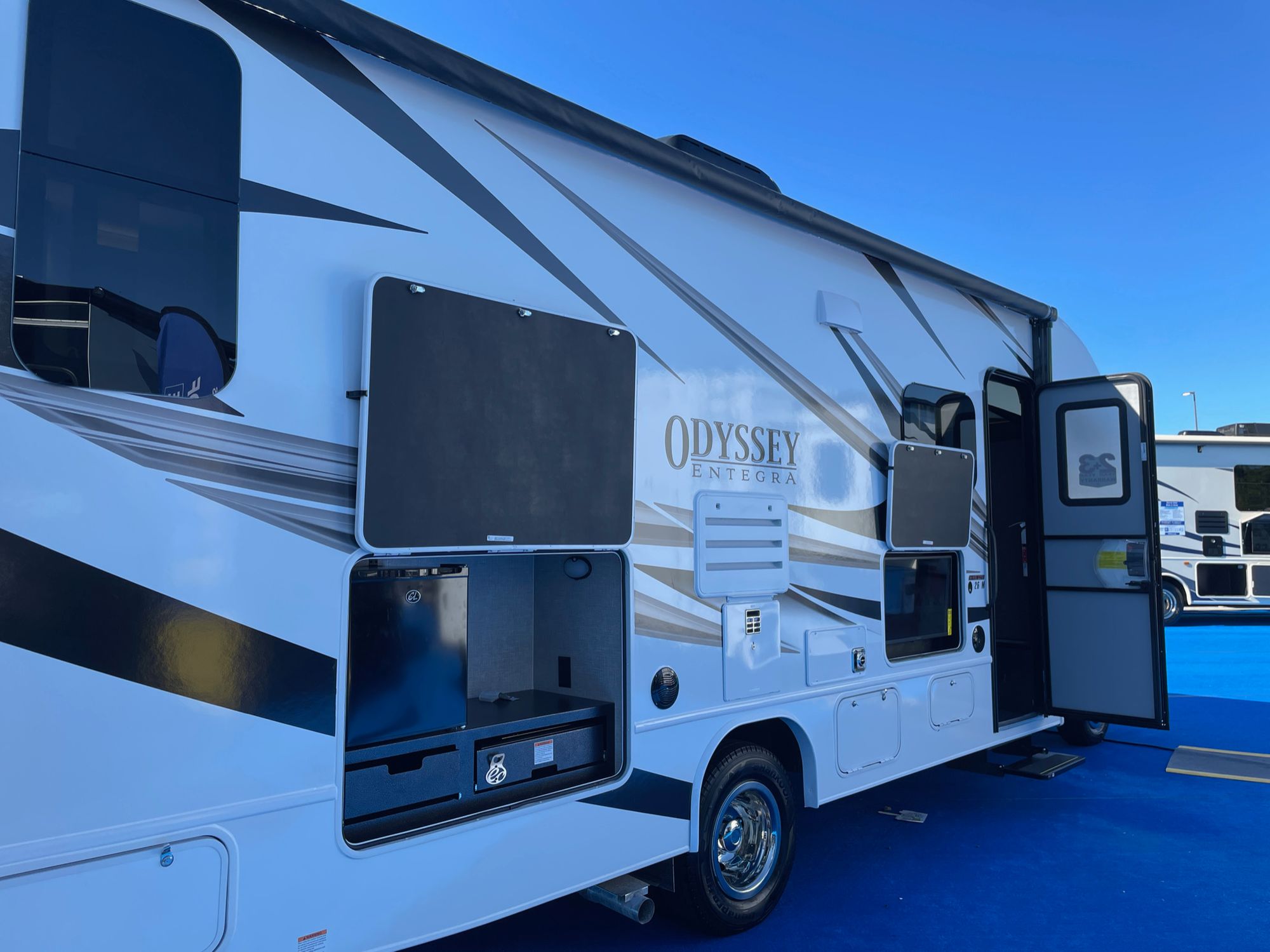 The Entegra Coach Odyssey 26M is a new design for 2022, and it feels like Chip and Joanna Gaines helped design the interior. In the living area of the RV, the cabinets have a distressed off-white coloring with an oil-rubbed bronze cabinet pull. Like most farmhouse styles, nothing is matchy-matchy. The bedroom and bathroom in this model have a black color with brushed silver cabinet pulls, and the wood panel flooring pairs nicely with the faux white subway tile walls and the gray furniture. Add in an electric fireplace, and the whole RV feels like the cozy interior of a home.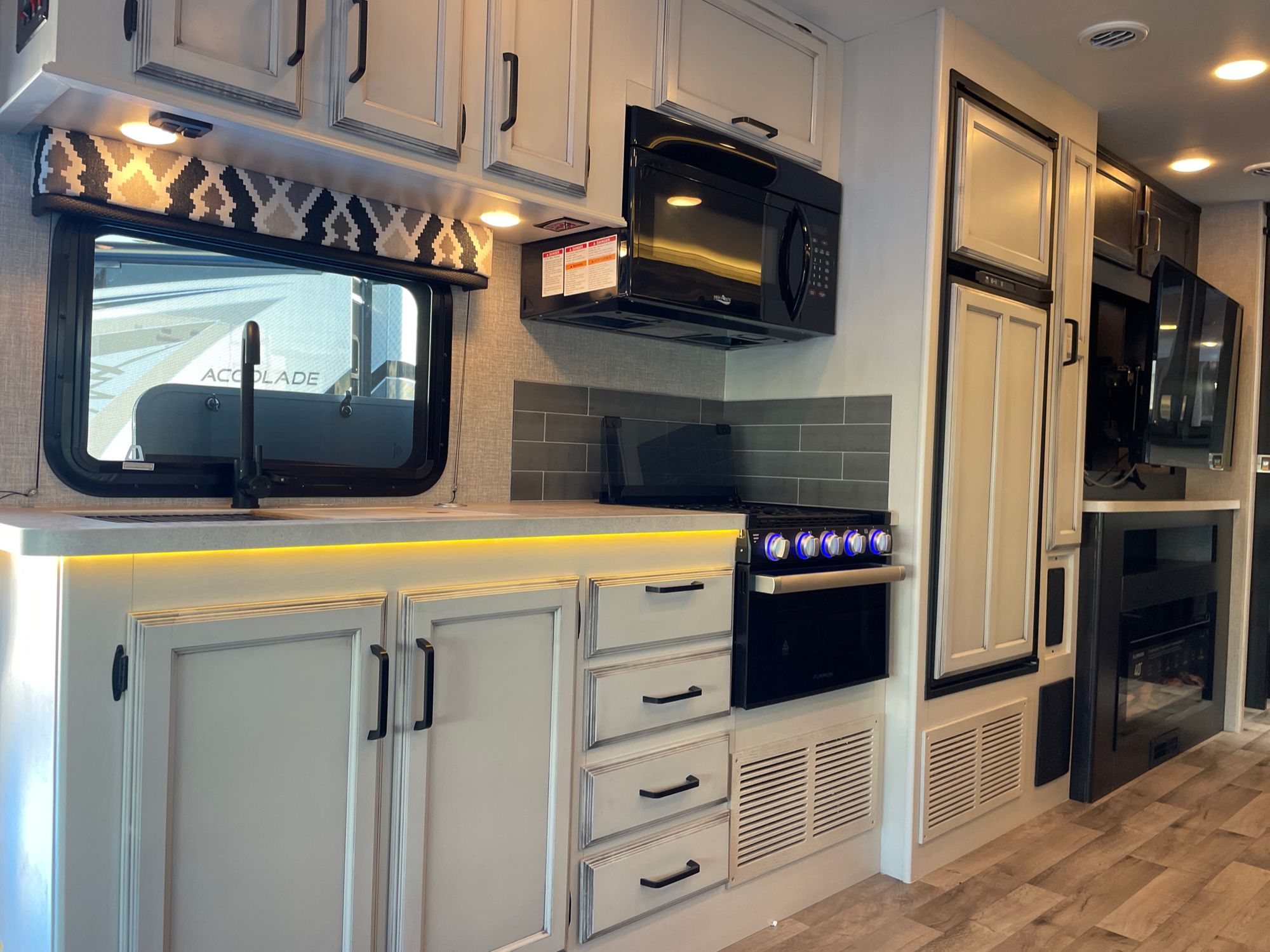 Highlights
28' 8'' long.
Ford E-450 chassis.
55-gallon fuel tank.
43.5-gallon freshwater tank.
40-gallon gray water tank.
31-gallon black water tank.
Sofa and Queen Murphy bed.
Bunk over the cab.
Outdoor kitchen.
Exterior TV.
Swivel chairs in the cab.
Modern farmhouse finishes.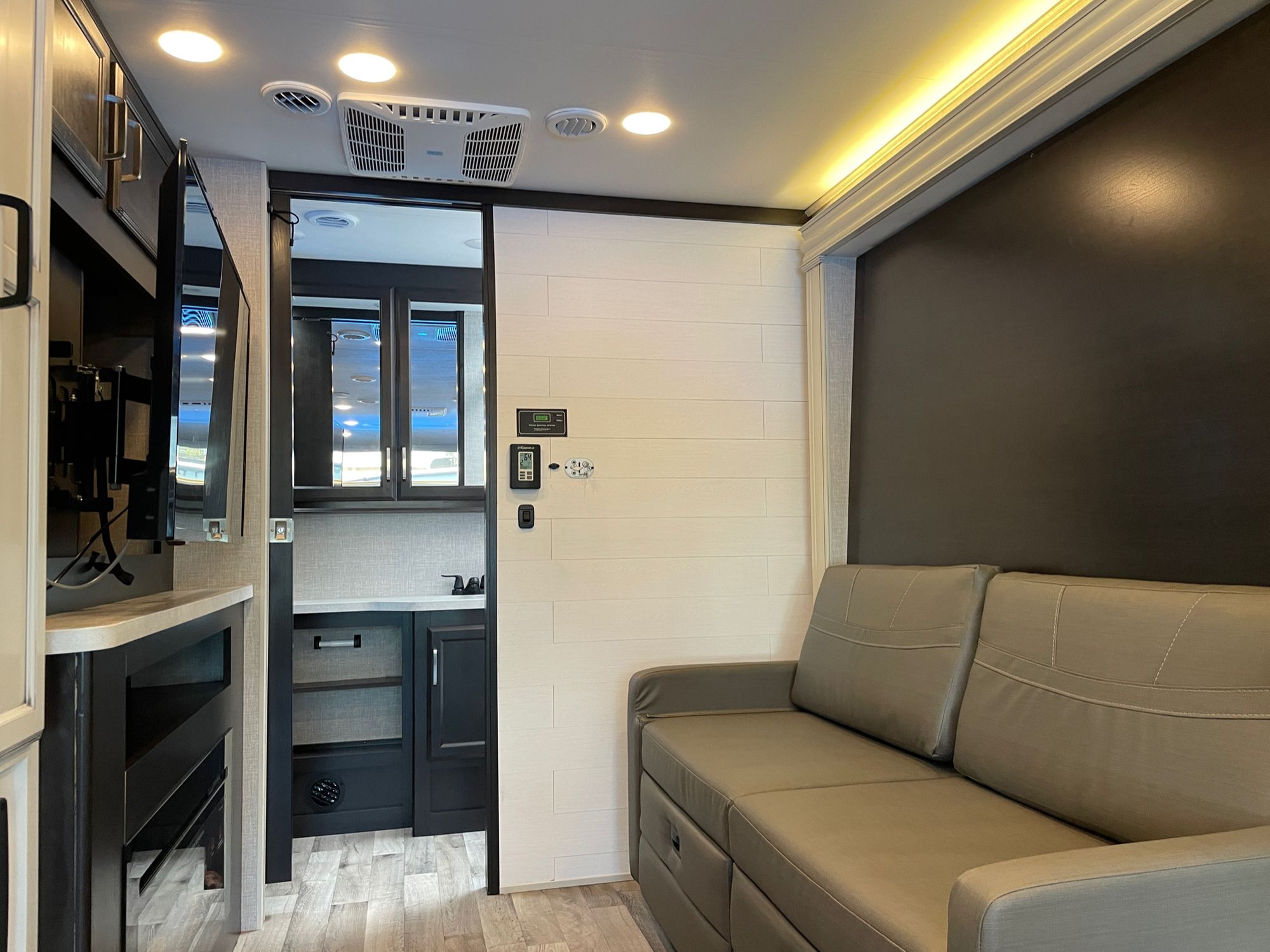 Winnebago Travato 59KL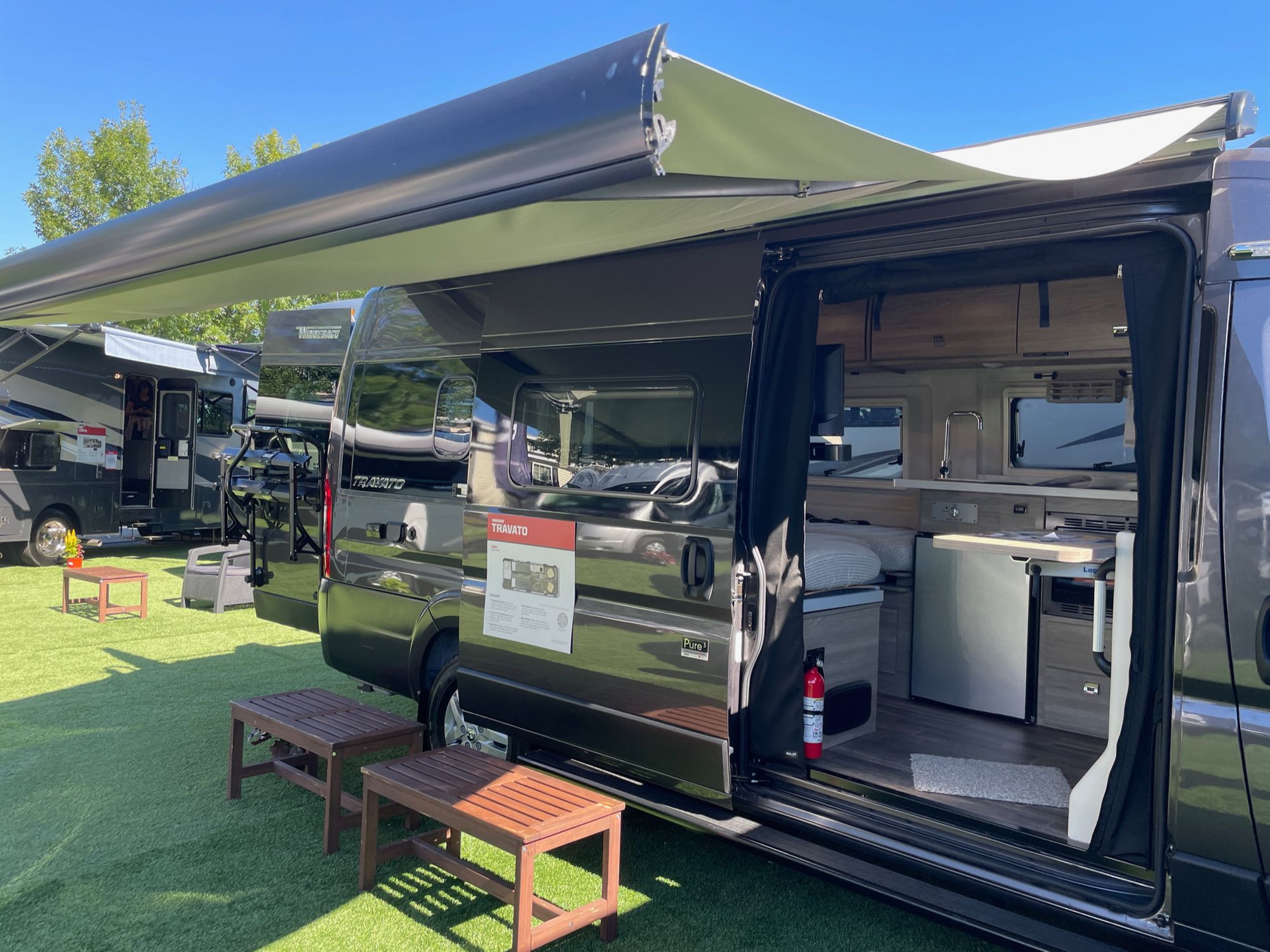 When people visited our booth, the most common type of RV they asked about is the easy-to-drive Class B. We found several rigs we hoped to feature, but we decided that the Winnebago Travato 59KL was our favorite Class B at the show. Why? We loved the configuration and off-grid capabilities. The Travato 59KL has a rear bathroom and a twin bed configuration. Inside, the van felt more roomy than most of the other vans we toured. Two of us fit comfortably, which isn't an easy feat when you're tall. The more we learned about the Travato 59KL, the more we liked this RV. I can see one of us buying the Travato in the near future.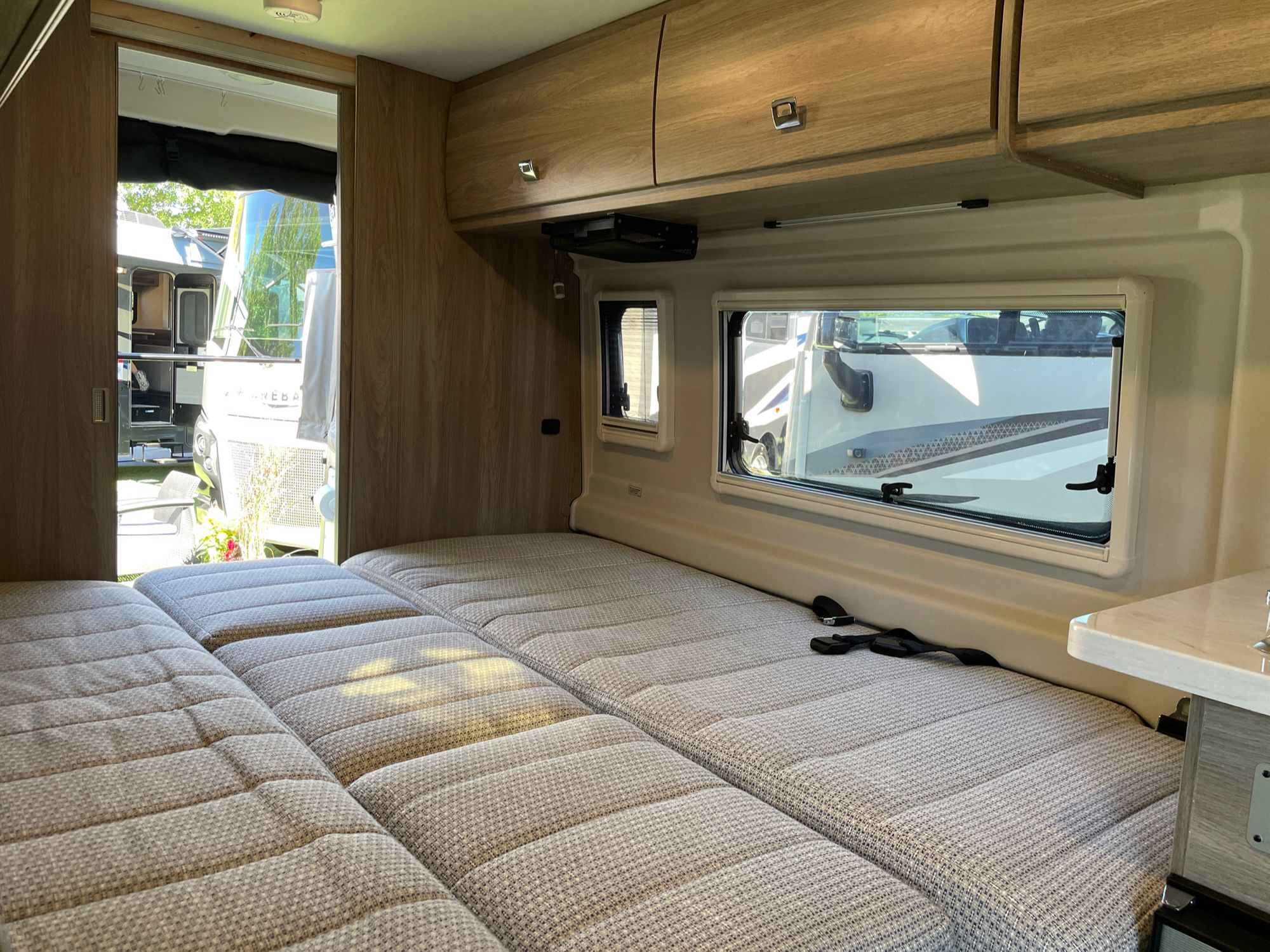 Highlights
21' long.
Ram ProMaster, 3.6L V6 gas engine chassis.
24-gallon fuel tank.
18-gallon freshwater tank.
12-gallon gray water tank.
12-gallon black water tank.
Twin beds with a flex sleeping area.
Awning with a wind sensor.
215-watt solar panels and lithium batteries.
Rear wet bath with deployable shower curtain for outdoor showers.
Four-season camping.
Removable, swivel Lagun table.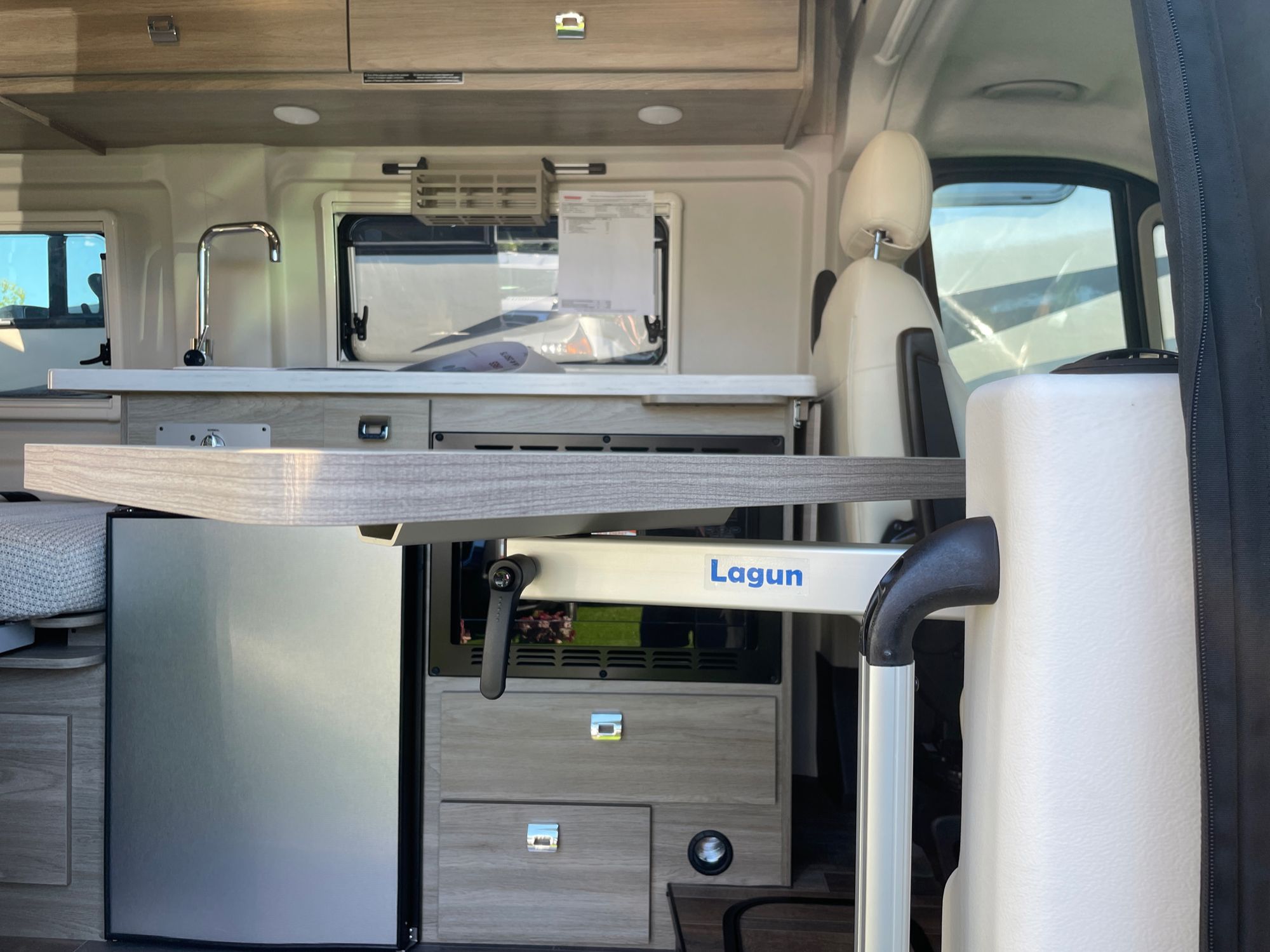 Northern Lite 9-6 LE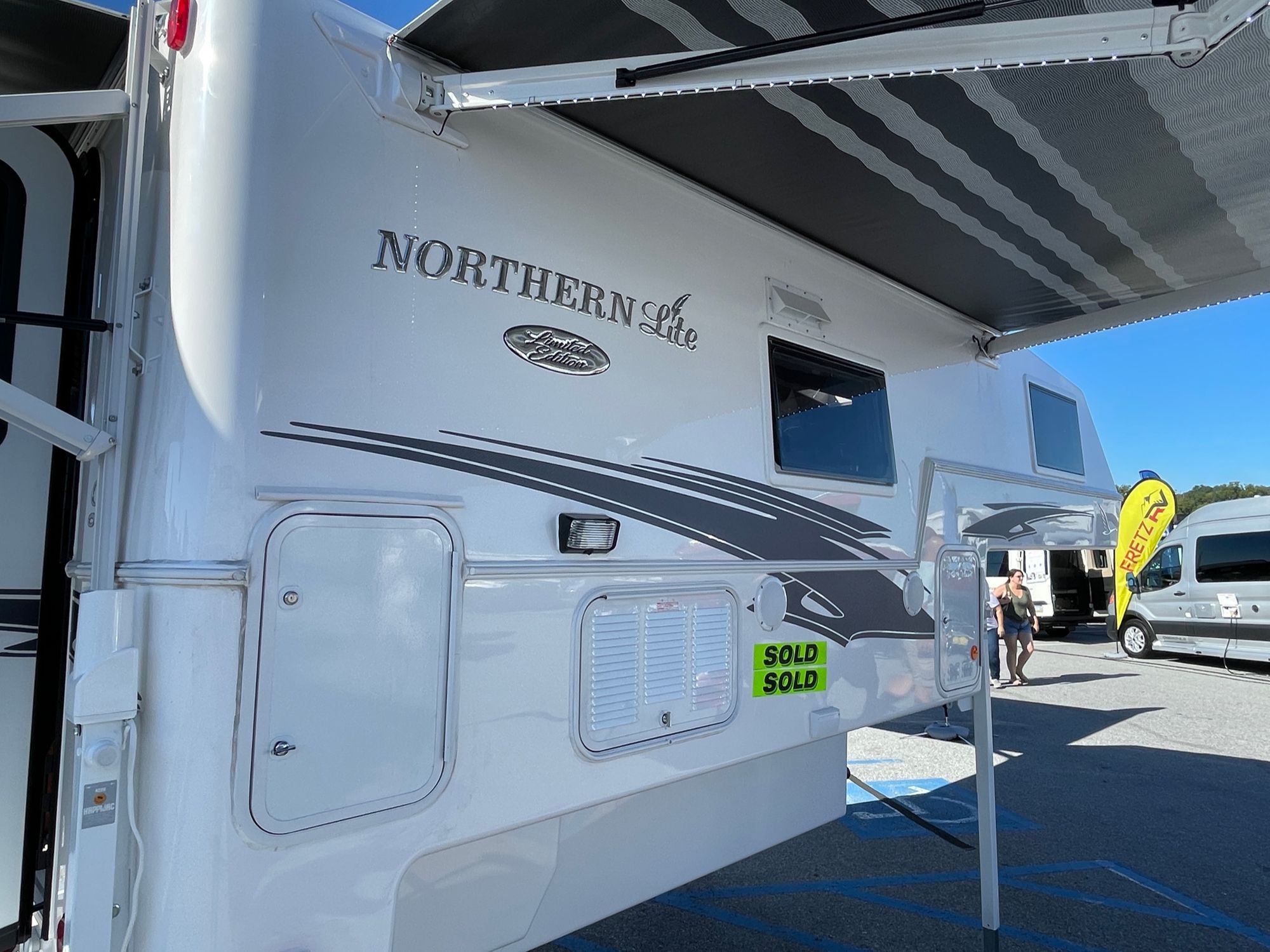 Northern Lite is known for its high-quality, lightweight fiberglass truck campers. The Northern Lite 9-6 LE is a limited edition with luxurious touches and upgrades not typically found on most truck campers. Glampers who aren't ready to spend days off the grid can now be rugged and comfortable at the same time! The 9-6 LE fits on long box three-quarter-ton and one-ton trucks and comes standard with a wet bath, microwave, air conditioner, and solar panels.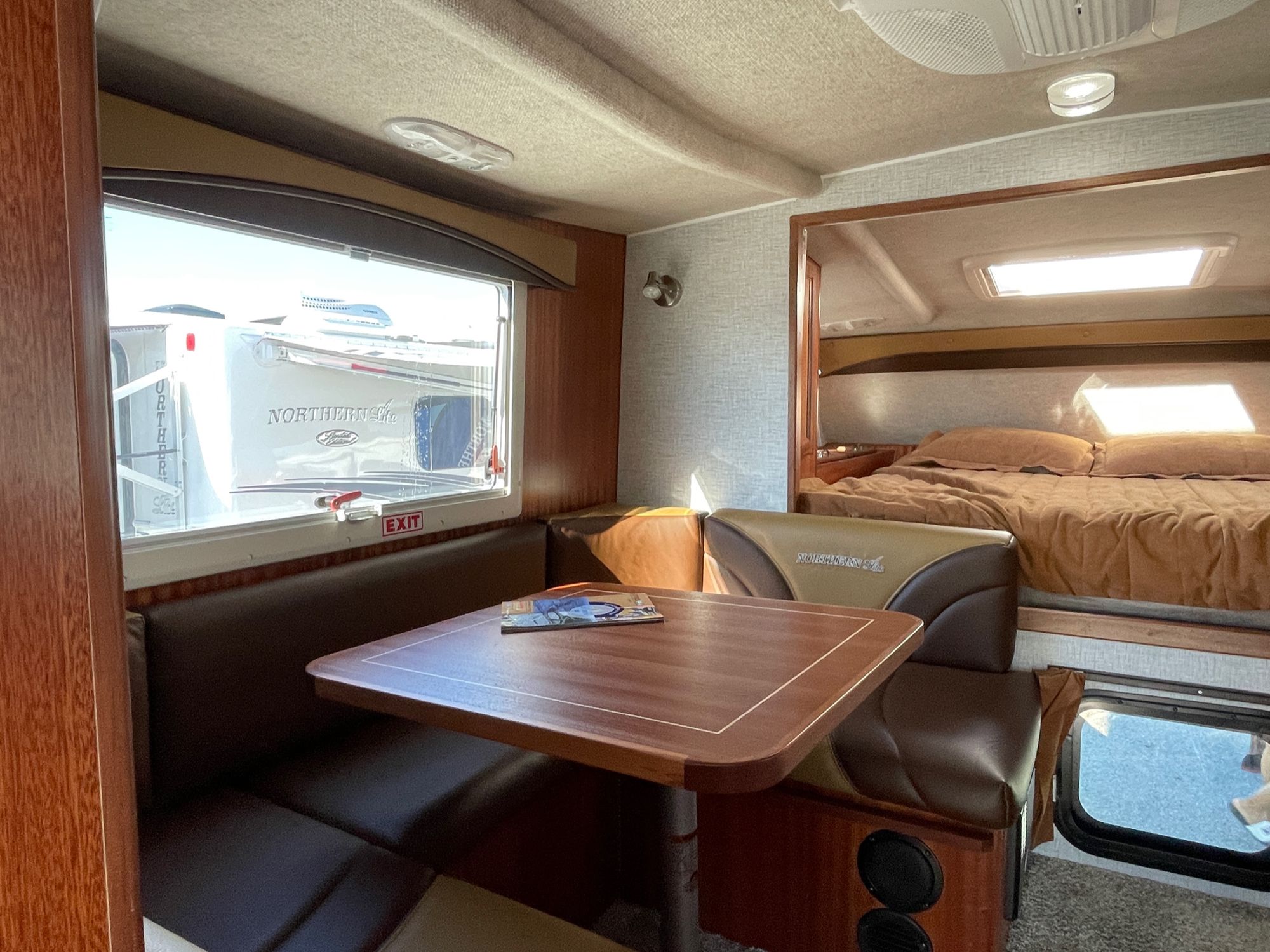 Highlights
98" wide x 198" long.
2,857 pounds dry weight.
33-gallon freshwater tank.
13-gallon gray water tank.
24-gallon black water tank.
Queen mattress.
Power rear and side awnings.
Premium finishes.
Backup camera.
Dual 200-watt solar panels.
Four-season camping.
Generator storage and generator option.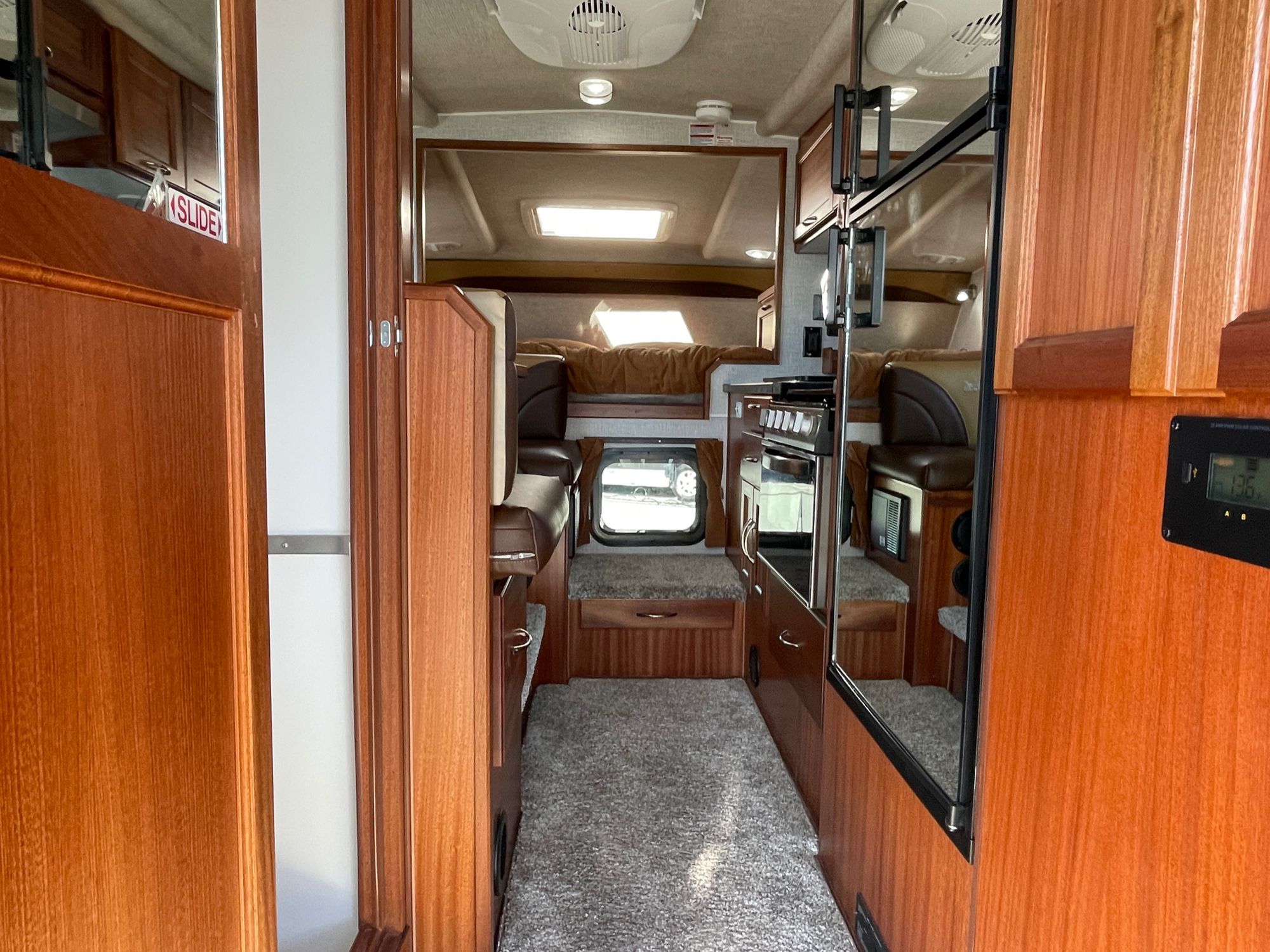 inTech Flyer Explore
The inTech Flyer Explore is a lightweight and rugged micro-lite toy hauler designed to go off-road to non-traditional campground settings. Small trucks or SUVs can tow the Flyer Explore because of its aluminum frame and lightweight components, and its small footprint makes it easy to fit into small campsites or hard-to-reach dispersed camping areas. Want a few upgrades? Add the Adventure Package, which combines a roof rack, outdoor kitchen, off-road tires, and an air conditioner. Campers can go anywhere with this modular trailer!
Highlights
165" long.
1,450 to 2,020 dry weight.
Prepped for solar.
Toy hauler loading ramp.
30-amp electrical.
Multiple exterior color choices are available.
Pop-out side bed (similar to a pop-up camper).
Tons of storage space inside and outside.
Slide-out kitchen with a two-burner propane stove and a Dometic cooler.
Multiple awning options.
12-volt MaxxAir fan with a remote control.
Entertainment system featuring an AM/FM radio.
Easy-to-clean interior walls and floor.
We can't stop talking about the Hershey RV show
This year, America's Largest RV Show had 61,320 attendees over five days (Pennsylvania Recreation Vehicle and Camping Association). The atmosphere buzzed with excitement, and it was clear that RVing is still one of North America's favorite pastimes.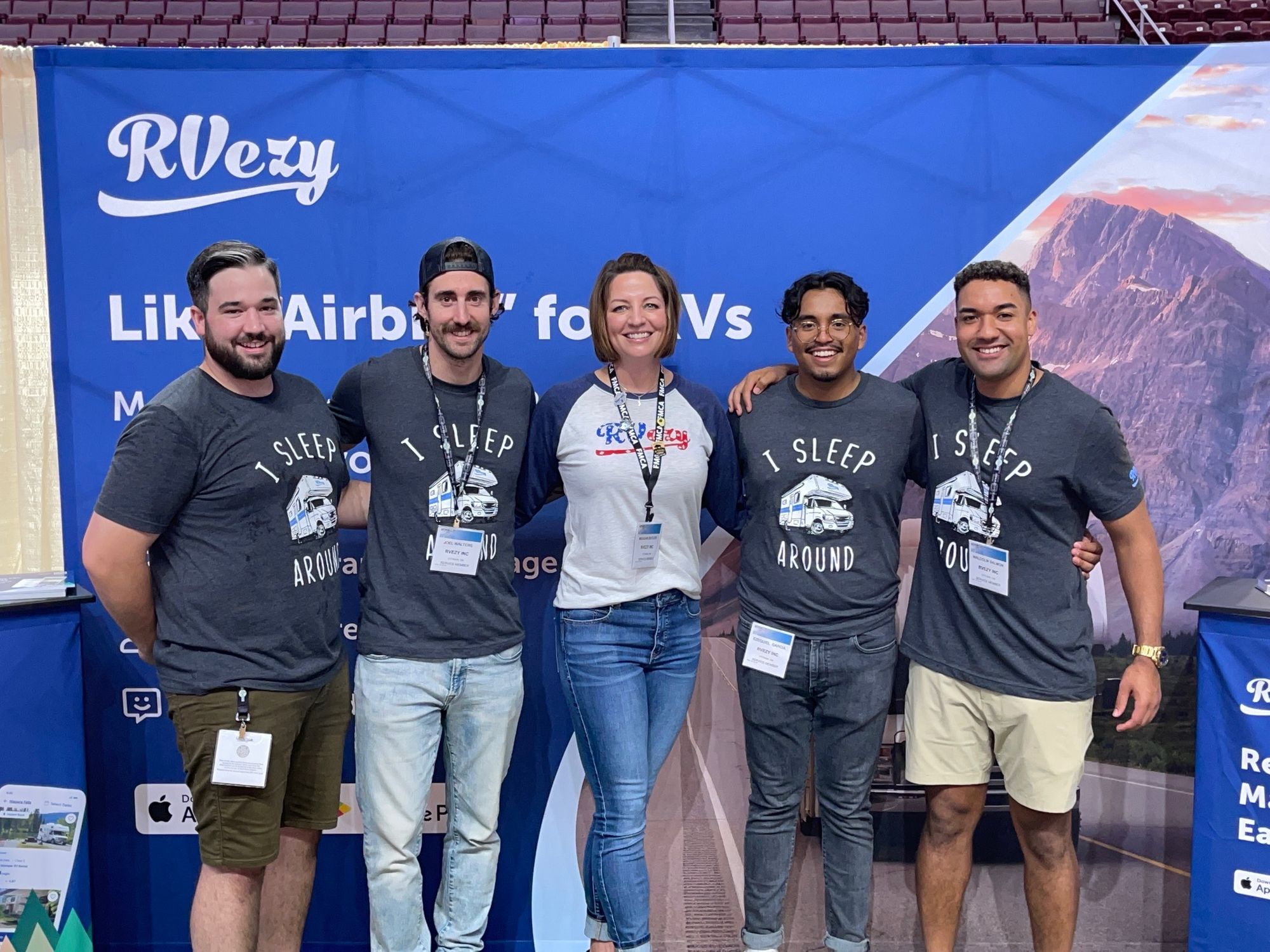 The Hershey RV show was Team RVezy's first show in the United States, and we can't stop talking about how much fun we had touring RVs and meeting new people. Over the five days, we spoke to thousands of RV enthusiasts and learned that prospective RVers were excited to rent an RV from RVezy to try out their dream rig, and RV owners loved the concept of renting their RV to make money. After last week, one thing is certain — we're ready to see these RVs on the road and try them out for ourselves!