Have you ever regretted a large purchase or changed your mind after buying something you just needed to have? There is a reason why many RV owners buy up or trade down within the first few years of owning their first RV.
Before your sign on the dotted line, it's always a good idea to consider the pros and cons of RV ownership and to rent out your RV model out before you committing to it for the long haul.
Even if you're just looking to rent an RV with no intention of purchasing, these tips will help you choose the right RV type for your trip.
Which RV is best for me?
Before RVezy conceptualized the peer-to-peer RV rental process, buying an RV was like buying a car without taking it for a test drive. Especially when it comes to RVs, the drive is only a portion of the experience. The real test is how your rig fits with your vacationing style.
You know you are ready to take an RV adventure, but you don't know if the RV that appeals to you visually is the best RV for a first timer or newbie. Understanding the different RV classes is the first step to determining which RV is right for you.
Class A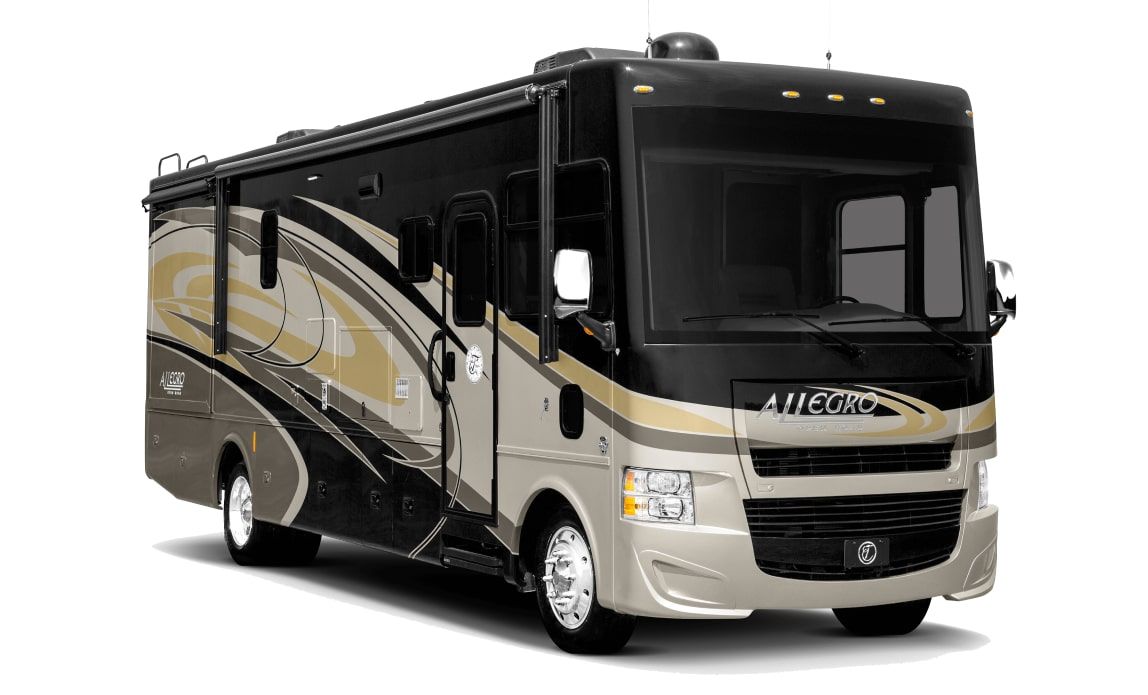 Class A motorhomes are the largest and often most luxurious drivable RVs. Class A motorhomes are commonly built on a commercial bus or truck chassis and have a bus profile.
Pros
Comfortable ride—the driver and front-seat passenger both sit comfortably in oversized, elevated captain's chairs. Many chairs feature adjustable controllers, heated seats, and lumbar support. The large bus windows give people in the front seat an extended view and often have automatic shades to help filter out the bright sun. Passengers in the back of the rig also have comfortable seating options on the convertible dinette or couch.
Residential atmosphere—most Class A motorhomes have residential-sized refrigerators and convection ovens. Some even have dishwashers and a washing machine and dryer on board. The restrooms are typically large and have big showers and construction-grade fixtures. Most Class A motorhomes have queen or king beds, and some offer reclining seats and theatre-style entertainment in the main living area.
A home on wheels—most Class A motorhomes have sliding walls in the main living area, the kitchen, and the bedroom. When parked, a Class A can feel like a home on wheels. The extra room the slides provide gives you more space to work and play without bumping into one another. The storage in Class A motorhomes is extensive, making it easier for you to bring everything you need whether you plan a two-week or a two-month trip.
Cons
Difficult to drive—driving a Class A motorhome might feel daunting to some drivers. The high profile, vehicle length, and turning radius takes some time to get used to. Because Class A motorhomes are constructed on a commercial truck or bus chassis, the driver sits over the front wheels. Drivers have to acclimate to lane space and overall size, which does not feel natural when you first learn to drive a Class A.
Poor gas and diesel mileage—larger motorhomes guzzle more gas and diesel because they have more weight to move. Class A motorhomes have large fuel tanks that hold, on average, 100 gallons of fuel. The average miles per gallon ranges between seven and thirteen miles per gallon, depending on driving conditions.
Separate vehicle needed—most people who buy or rent Class A motorhomes will want to have a different vehicle for city driving and exploring. Small parking lots in popular camping destinations like national parks or monuments fill up quickly, making it a challenge to find parking. Plus, it's just easier to drive and find oversized parking inside cities or populated areas with a standard-size car, so that's why you see so many Class A motorhomes towing a vehicle behind them.
Class B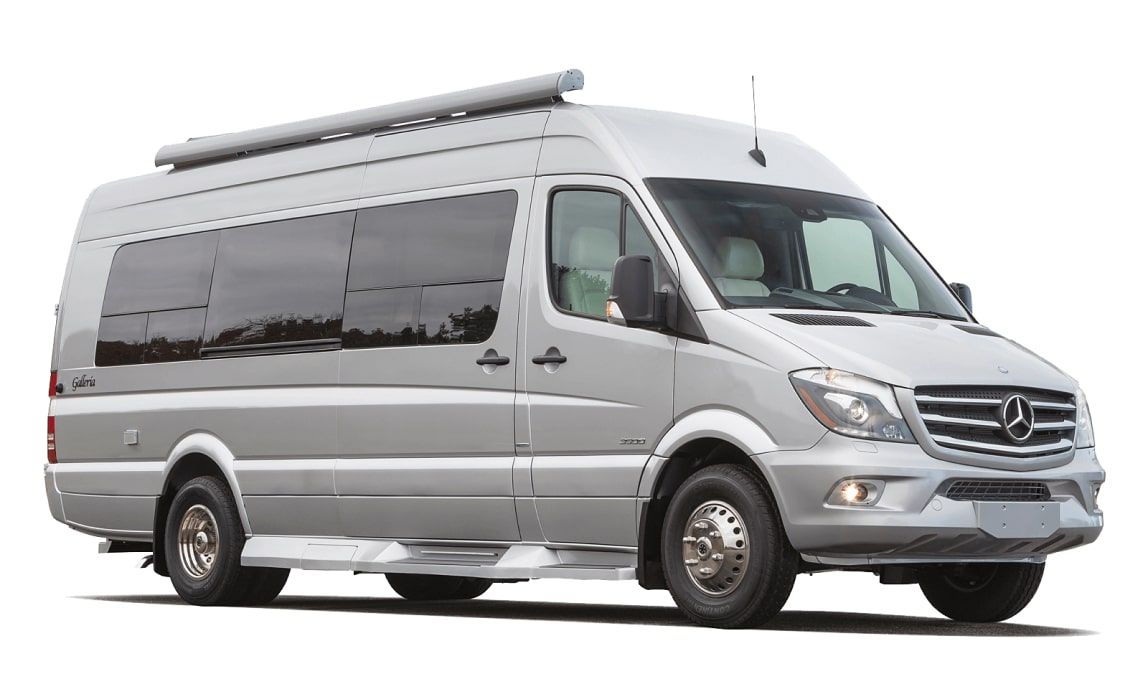 Class B RVs are the smallest drivable motorhomes. Class B motorhomes, characterized by their van profiles, are built on a van chassis. Conversion vans and campervans also fall under the Class B category.
Pros
Easy to drive—Class B motorhomes are the easiest-to-maneuver drivable RVs. Because the RV is constructed on a van chassis, driving a Class B feels like operating a passenger vehicle.
One car fits most—because of its size, you won't need a towed vehicle or rental car to access most areas in your Class B campervan. Almost all Class Bs fit in standard parking spots, so it's easy to explore and camp with a campervan. Keep in mind that Class B motorhomes often have a higher profile than most passenger cars and trucks, so it's important to pay attention to height restrictions when driving under bridges, in covered parking, or other height-restricted areas.
Better for national park campgrounds and boondocking—a campervan can get you almost anywhere you want to camp, whether it's a dedicated campground or a boondocking area. Most state, national, and provincial parks have length restrictions for campgrounds and park roads. The little Class B is agile enough to drive, camp, and park in smaller spaces.
Cons
Small living space—Class B motorhomes don't have a lot of extra space for living or storage. Often, campervans have convertible living spaces that transform into sleeping areas. People who have large pets or small children might feel cramped inside the van once all of the gear and equipment is packed inside along with its passengers.
Wet bath or no bathroom—Class B motorhomes almost always have a wet bath when equipped with a bathroom on board. A wet bath is a small space that has both a shower and toilet in one area. The tight quarters often require adults to sit and shower since it's not always possible to stand inside a wet bath. Sometimes, to save space and weight, Class B motorhomes don't come with a bathroom. Campers will need to use public toilet facilities or set up a portable potty tent where permitted.
Outdoor living space needed—since the Class B is small inside, some people carry pop-up shelters or add-on living areas to give them more room at the campground. People who drive Class B campervans often spend the majority of their time outside.
Check out the top 10 Class B RVs for 2022.
Class C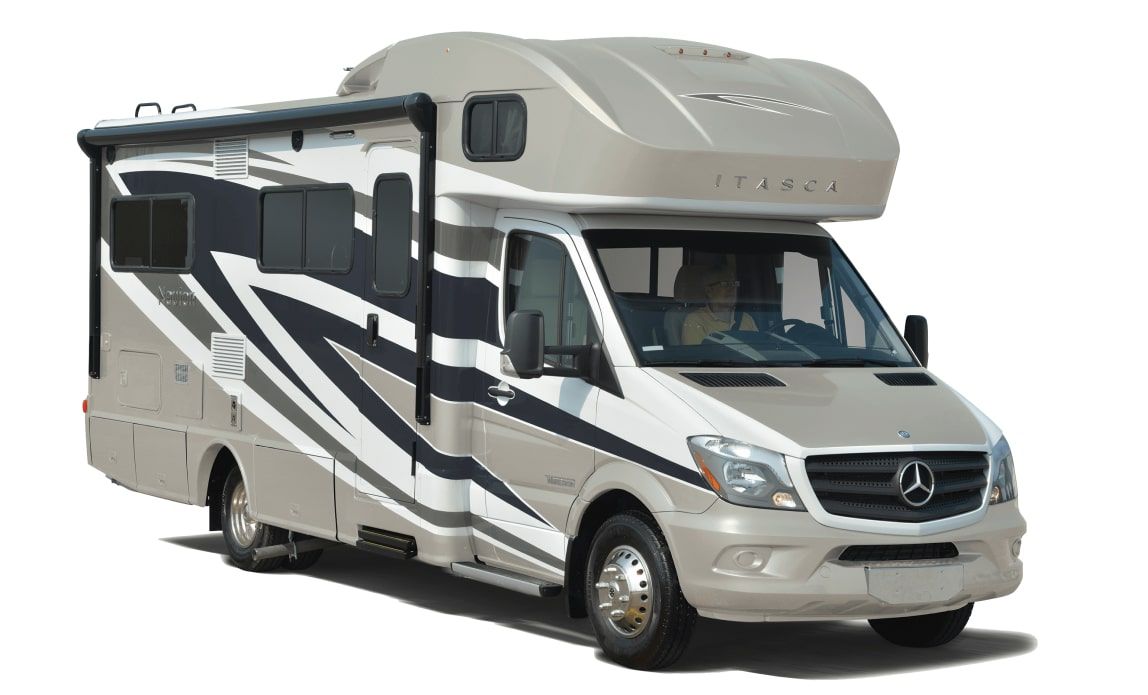 Class C drivable motorhomes are the younger siblings to Class As, and they are often just as luxurious inside. The Class C is built on a van or truck cutaway chassis and has a distinctive over-the-cab bunk profile.
Pros
Comfortable drive and ride for drivers and passengers—Class C motorhomes are drivable RVs that offer comfort to both the driver and the passengers. The captain's chairs up front typically have adjustable bucket seats with some padding. Passengers in the back of the rig ride on the sofa or the convertible dinette, and almost always, large windows make stunning views for everyone in the rig. The van or truck chassis makes driving a Class C almost like driving a passenger vehicle. The learning curve is minimal, and most drivers feel comfortable handling the RV almost immediately.
Ample indoor living space—the inside of a Class C motorhome is spacious and roomy, especially when the RV has one or more slides. The over-cab area often has a bed, so small kids or adults can have a dedicated space to sleep and relax once the RV is parked. Manufacturers try to make ample storage inside, so it's easier to have a dedicated storage area for most of your items.
Comforts of home—Class C motorhomes give solo RVers and families ample room and come with many residential comforts. Some Class Cs have large refrigerators and big televisions as well as plenty of sleeping areas. Depending on the model, some Class Cs may have upgraded showers or separate sink and toilet areas.
Cons
Smaller Tanks—Class C rigs are more compact and have smaller fuel and holding tanks than Class As. Smaller onboard capacity means that you'll have to fuel, fill, and dump more often.
Less storage space inside and underneath—Class C motorhomes have a lot of space, but when you compare the storage between a Class A and a Class C, there is a difference. Class Cs don't have giant storage bays that run the rig's length, and sometimes the storage bays are small. A smaller footprint inside means less storage space for clothes and food inside as well.
Separate vehicle needed—sometimes people want another vehicle for exploring or driving in the city. Small parking lots in popular camping destinations like national parks or monuments fill up quickly, making it challenging to find parking, even for smaller Class C motorhomes. Oversized parking inside cities is often limited, so some RVers opt to tow or rent a car to make daily travel a little less complicated.
Tiny towables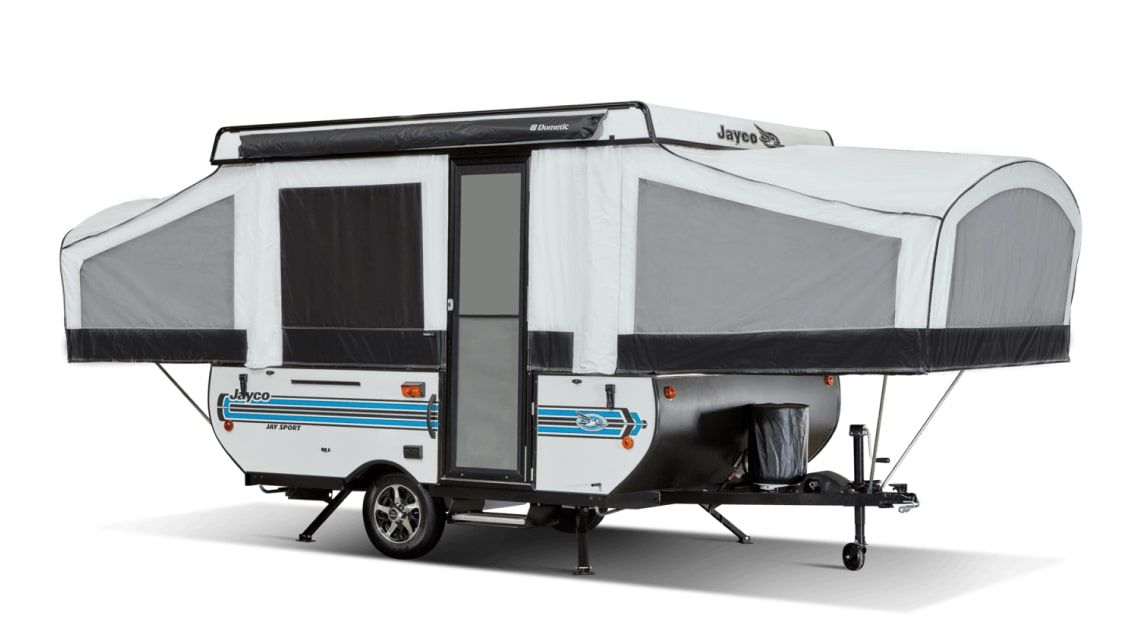 Tiny towable trailers are lightweight and attach to the hitch of a bumper. Many light-duty trucks and larger SUVs can tow small travel trailers and tiny towables.
Pros
Comfortable drive and easy to tow—when you pull a tiny trailer, the ride feels a lot like it would without a camper behind you. Lightweight campers are easy to maneuver in most fuel stations, and typically, the smaller trailers are almost unnoticeable behind your truck or SUV.
Some tiny towables are self-contained—self-contained trailers make camping a little easier. Why? Everything is inside, and you can cook, eat, sleep, shower, and use the restroom inside your little abode. Some campgrounds don't have on-site amenities and require self-contained RVs, so even a tiny teardrop would fit those requirements as long as it has everything you need inside.
Park it and leave it—the tiny towable is easy to get in and out of the campground. Once you set up camp, you can park it and forget it while using your primary vehicle for all of your off-site activities.
Cons
Tow ratings matter—not all vehicles have an adequate rating to tow a trailer safely. Anyone who tows a trailer should understand both their vehicle and trailer limitations. Besides having the appropriate class rating on the hitch, you should also factor in your hitch's tongue weight and gross vehicle weight rating (GVWR).
Not all tiny towables are self-contained—as cute as the clamshell teardrop trailer might be, the outdoor kitchen eliminates the self-contained rating since campers must cook their meals outside. Some tiny towables don't have toilets or showers on board, either, which would classify the trailer as something other than self-contained and might restrict you from visiting some campgrounds.
Outdoor and supplemental storage needed—tiny towables are small. Even if you are a minimalist, you will need to allow space to pack your living and camping gear. Most people who have tiny towables use their truck beds or SUV storage areas to store water hoses, leveling blocks, camping chairs, awnings, and side tents. Some small trailers only have sleeping space inside, so people opt to bring clamshell pop-up tents or custom add-on tents to extend the living area.
Large towables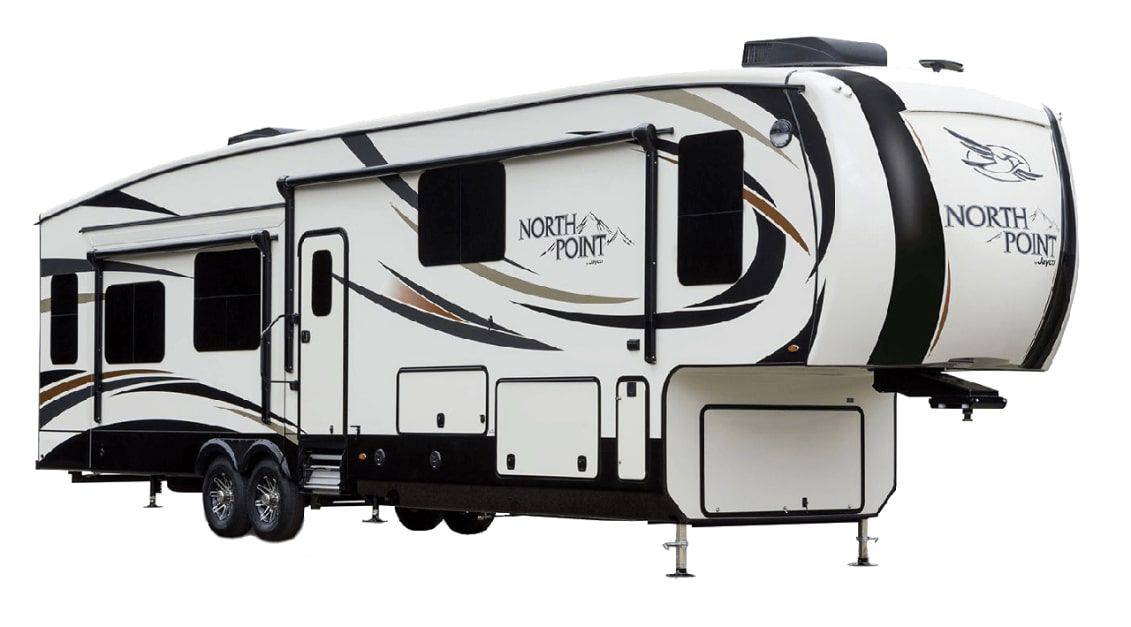 Trailers in the large towable category include fifth-wheel travel trailers and bumper-pull travel trailers. Fifth wheels attach to a hitch inside a truck bed, while larger travel trailers attach to a bumper. Most large towables require heavier-duty trucks with higher towing capacities.
Pros
Comfortable drive—like the tiny towables, your drive is comfortable when you tow a large travel trailer or fifth wheel because you get to drive or ride in your truck or large SUV. For creatures of comfort, that means you can use your heated seats and enjoy your audiobooks, all on a relatively quiet ride.
Large living space and underbelly storage—large travel trailers and fifth wheels are known for their big living spaces and ample storage areas. The larger the trailer, the more space you will have. If you have toys like motorcycles or all-terrain vehicles, you can sometimes take those along in the back of your trailer if you choose a toy-hauler travel trailer or fifth wheel. Large families love bigger travel trailers or fifth wheels because they have slide outs and plenty of space for everyone. Got kids? Check out a bunk-house model!
Park it and leave it—since you pull your trailer with a truck or SUV, you can leave your rig in the campground and use your vehicle to get out and about once you set up camp.
Cons
Tow ratings matter—not all vehicles have an adequate rating to tow a trailer safely. Even owners of heavy-duty trucks and high-capacity tow vehicles should understand both their vehicle and trailer limitations. Besides having the appropriate class rating on the ball or bed hitch, you should also factor in your hitch's tongue weight and gross vehicle weight rating (GVWR).
Backing up a trailer—when you tow a trailer, you should prepare for back-in campsites. Even when you book pull-through sites, you might need to back up your camper in a parking lot, gas station, or storage area. For some people, backing up a trailer is second nature. For others? Backing up is challenging. Depending on the size of your trailer, backing up might be easy or difficult. Practice makes perfect!
Large size may limit where you can camp or drive—large travel trailers have parking and driving limitations, just like some drivable motorhomes. Before you head out on a road trip, note your trailer's height, weight, and width. Some roads, underpasses, bridges, tunnels, and campgrounds prohibit oversized vehicles.
Did you know? RVezy's marketplace provides RV buyers with exclusive prices on a large selection of new and used RVs.
A Final Tip for First-Time or Newbie RVers
Our best tip for first-time or newbie RVers is to get out there and have fun. The more you hit the road, the easier it is to know what you like about the RV lifestyle. Each trip, you will learn something new and become more comfortable with the ins and outs of RVing.
Renting an RV through RVezy makes it easy for first-timers and newbie RVers to test out different RVs without worrying about long-term commitments. Now, it's easy to figure out which style of camping you like best because you can try everything from off-grid camping in a Class B or luxury camping in a decked-out Class A. Best of all, you're renting RVs from expert hosts who can give you tips on what RV will fit your needs.