Once you've joined Canada's biggest RV sharing platform, you'll want to make sure you are getting positive ratings when you rent out your RV. This can be one of the most important factors in how a renter sees your listing and how often they choose to rent your RV.
That's why we've teamed up with Ivey Business School to dive deep into what motivates our renters and what affects their reviews. Their study has helped us pinpoint what you need to do to make sure you always get a glowing review!
One of the most important points to take away from Ivey's study is that trust and reliability are far more important than the age of the RV or the amenities it offers. Establishing trust early is the most important step to getting a 5 star review.
This is very important for any RVezy owner because building trust early on with your renter will ensure they have a good experience even if there are issues along the way!
Here's the five keys to getting a glowing 5 star review every time you rent out your RV on RVezy!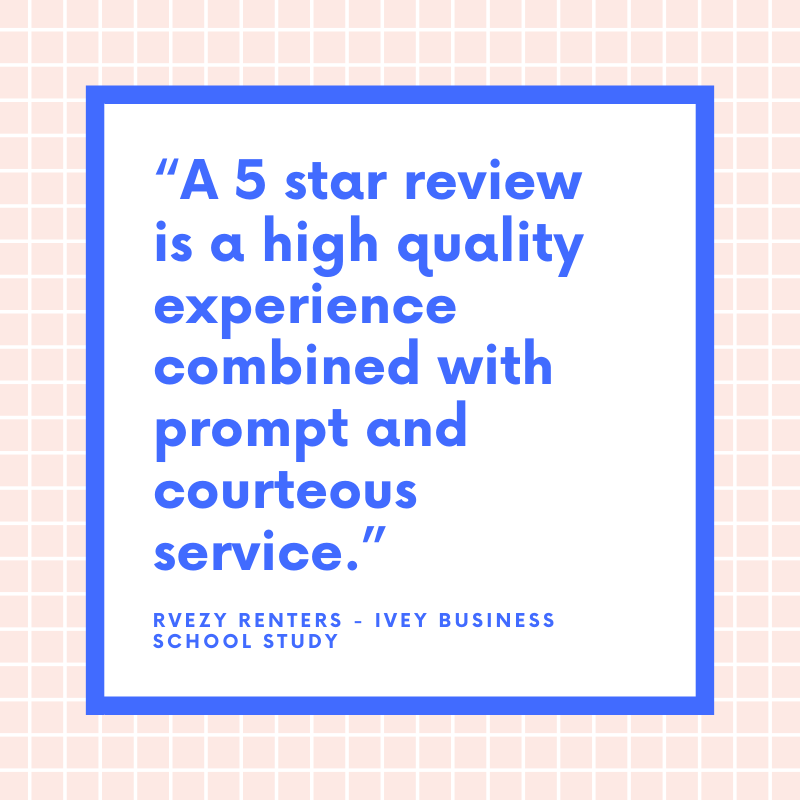 Communication
Responding quickly from the first inquiry or message and throughout the trip is really important to breaking through any risk or doubt the renter might feel. If you respond to their inquiries and guide them accordingly without them having to wait, they are much more likely to place a deposit on your unit and leave a great review.
Honesty
RVs have lots of components, parts, and appliances that may break or need some explanation for first timers. Your best bet as an owner is to be open and honest about these things: if anything is not working as it should, or should be used a specific way, you want to let your renters know from the start.  Having this clear upfront will prevent a renter from deducting points in their review for something they were not aware of, and will gain you points for being straightforward and trustworthy.
Attentiveness
Going the extra mile is the best way to get a 5 star review. This can mean lots of things: some owners choose to leave a welcome gift like a bottle of wine in their RV to go that extra mile, or spend some extra time with the renter making sure they are comfortable driving, setting up, and packing up the RV.  Attentiveness is all about making sure your renters have everything they need, especially with first timers!
Preparation
One of the biggest issues that lead to lower ratings are unplanned delays.That's not to say that delays are preventable, things happen, but it is very important to do everything you can to make sure your renters can pick up the RV on time. The best way to do that is to give yourself enough time in between rentals to set up the unit for the next traveller, and if there are delays caused by the previous renter, you can add a cleaning fee or late fee to compensate your work.
You can also manage these types of things by communicating with your renter; if they are aware of delays or issues as they come up they are far more likely to be understanding and accommodating.
Renter Expectations
Renters, in general, do not like the idea of giving a bad review - they want to give a five star review that corresponds to their expectations being met.
The best thing you can do with renters is to manage their expectations - many first time renters are not familiar with things like managing power or tanks on an RV, and can feel their expectations of comfort and convenience are not met if they cannot manage these things on their own.
You know your unit better than anyone, so it's very important to walk through the unit's features and amenities with the renter, explain how to best use them, and be clear about any feature of the RV that may not be available depending on the weather or the RV's condition.
Simply put, you want to avoid any surprises for the renter. As long as your listing clearly shows what is available on your RV, you can avoid renter dissatisfaction.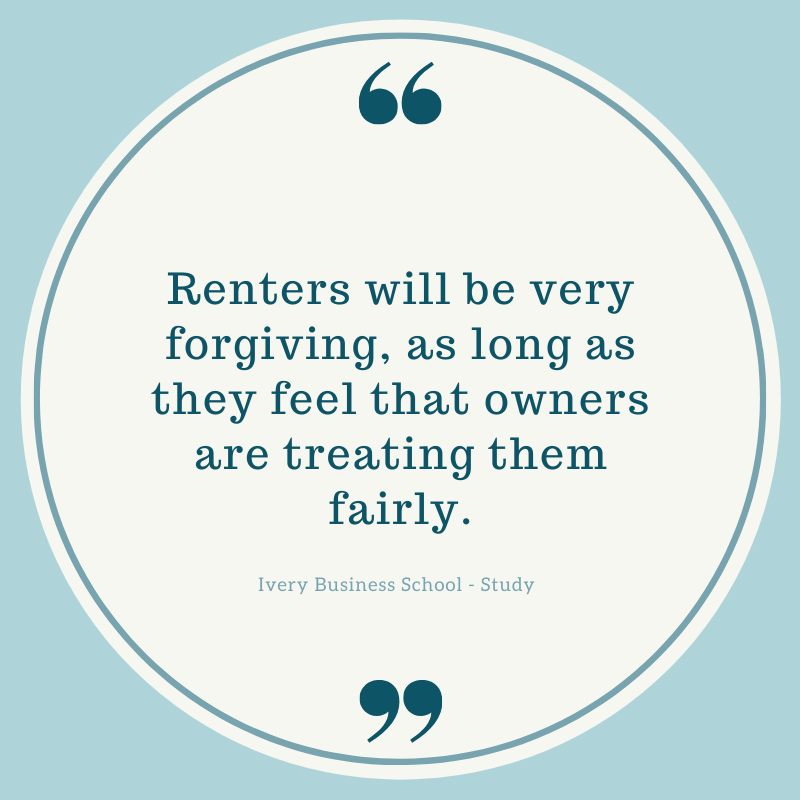 Here are some more of the key highlights from Ivey's study into what drives reviews on RVezy:
The Condition of the RV vs. Owner's service
Renters are far more likely to give a negative review when their think they've received bad service than when something is wrong with the RV, provided it does not affect their trip too much and they have ample notice. Renters are even likely to give a 5 star review despite minor technical issues if they feel they were giving attentive service by the owner of the RV.
The vast majority of owners on RVezy are perceived to be trustworthy based on communicating well with the renter and facilitating a smooth pick up and drop off.
The most important drivers in a 5 star review:
Cleanliness
Overall trustworthiness
Value
RV quality (state of repair)
"A 5 star review is a high quality experience combined with prompt and courteous service."
"An RV doesnt need to be brand new or luxurious, just well maintained and in good repair."
"Availability and willingness to help are VERY important."
Roadside assistance - If your renters need to use roadside assistance, it's very important to remain available to answer questions or provide remote troubleshooting.
First time uses feel a much higher risk, building trust early is very important for a successful owner.
Being attentive includes being available to answer calls or texts, showing concern for renters, and seeing issues through to resolution. These actions can help the owner move a 1 or 2-star rating to 3 or 4 stars.
Cleaning before every rental. This seemingly simple step can help move a 4-star rating to 5 stars.
Renters will be very forgiving, as long as they feel that owners are treating them fairly.
The importance of providing clear and detailed directions for renters, especially when they are relatively inexperienced with RVs. This type of support is very much appreciated, and can be the difference between a 4 or 5-star rating.

Want to learn more about RVezy.com and how it works? Visit our Knowledge Base!