It's official! The New England Patriots and the Los Angeles Rams will compete in Super Bowl LIII. You know what that means? Now you have to prepare to have the biggest party of the year! Whether you like football or not, Super Bowl Sunday is something you have to enjoy in an RV.
Super Bowl Sunday is even more exciting when you have an RV to tailgate. Why, you ask? Well, you still get the same vibe that everyone else does while tailgating, except you can go inside to warm up, use the washroom, eat, or even take a nap if you want! There is nothing like tailgating for the Super Bowl, short of front row seats.
So now that you're planning your RV tailgating party, you're probably thinking about all the things you need to do. Well, that's what I'm here for! From recipes to things you can't forget to be prepared for any weather, these tips will save you.
Be Clear on the Team You're Cheering For
You don't want people guessing what team you're cheering for. The LA Rams just had a major uniform change, so you'll definitely be able to pick out specific decorations depending on the colours of your teams jerseys. The LA Rams have a royal blue uniform with yellow accents, and the New England Patriots uniforms are navy blue, white, and red. It would definitely be hard to mix these two up.
Here are some ways that you can announce the team you're cheering for:
Wearing the teams jerseys
Decking out your area with signs, logos, and posters
Face makeup
Cups, tablecloths and utensils in the teams colours
Blankets with the teams logos on it
Of course, all of these are just suggestions. But if you really want to show who you're cheering for, then it's a great idea to deck out your area. And a little pride for your team never hurt anybody!
Get Your Food Ready!
Let's be real. One of the best parts of a tailgating party is the food. While you can easily cook up hot dogs and hamburgers on a grill, remember that you're going to be there for hours. You'll probably get sick of eating just that, which means you need options!
You and your friends and family will be hungry, cold, and will have massive appetites after spending your energy cheering for the team. The best way to cure all of that? Tons of tasty food! Here are some great options that everyone will love, and that you can make ahead:
All of these options can be left inside of your RV to keep warm, and you can even reheat them in the microwave if they get cold. You could also serve these food options with hot chocolate, caesars, or beer!
Prepare Ahead of Time
All the food I just mentioned? Yes, you can prepare all of that ahead of time! You don't want to miss half of the game because you're not done making food or hanging up decorations. Doing all of these things ahead of time or hanging up the decorations right after you get to the tailgating party is key.
So how can you prepare ahead of time? Luckily, you can spend the day before Super Bowl Sunday preparing these meals, or even a couple of days in advance. The snacks are easy to put together that morning, and whatever can be frozen, like chili, can be defrosted a few hours before! All you need to do is prep the meals, put them in the freezer and you're good to go.
Don't have enough time for this? Don't worry. A ton of restaurants do catering, and you can do that if you don't want to cook. All you would have to do is prepare the snacks, drinks, and pick up the food on the way to the party! Your also sure to find some food stands at any good tailgating party.
Choose a Busy Tailgating Spot for the Experience
Tailgating isn't really the same if you just go to a random parking lot near your house. While tailgating parties usually are just word of mouth, you can find a ton of tailgating parties on Facebook. This is perfect if you want that real Super Bowl tailgating experience. Of course, the best tailgating will be outside the stadium, so an RV trip down south to catch the party might be a great idea!
Now, a lot of tailgating parties for the Super Bowl cost money. Not all of them, but the ones that do are very intense and for a good reason. Even just Googling Super Bowl tailgate parties near you will allow you to narrow it down to the one you want to attend and prepare for, looking at the size and crowd expected.
Don't be shy! If you can't find a tailgating party, and one of your friends is a huge football fan, then they probably know one; there are tons of places where fans gather to watch the game on big outdoor screens. This is a great way to broaden your horizons and experience something totally different than just a regular Super Bowl party at someone's house.

Don't Have an RV? No Worries!
Renting an RV is actually easier than ever. While some people just bring along their cars and trucks, having an RV with you will give you the ultimate tailgating experience. It's also great for not just tailgating, but storage, places to keep food, and to get out of the cold.
On RVezy, you can rent an RV at any time and that includes right before the Super Bowl. If you're looking to boost your tailgating experience then you'll definitely want to rent an RV. Since you'll just be renting it for a few nights, you really won't believe how inexpensive it is!
To make it even less expensive, everyone you're going with can pitch in! Since you'll all be using it to go to the washroom, go inside to warm up, and even just to get away from the madness, you'll be glad you rented from RVezy.
There are some amazing options on the website, such as trailers that are under $100 a night. If you rent it for two nights, then that only comes out to around $260 with taxes. That's only $26 dollars per person if you have 10 people in your tailgating group. Check it out: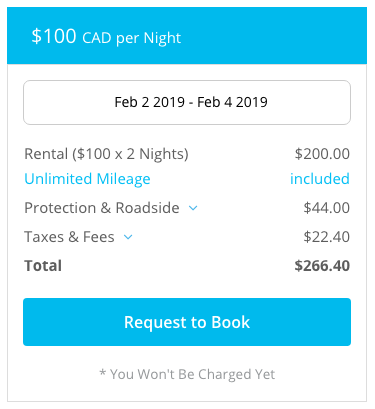 To rent an RV with this good of a price, click here.
Be Prepared for the Weather
The only thing that is not fun about the Super Bowl is the fact that it's in the dead of winter. That means it's a little harder to prepare for the weather. You'll need layers, blankets, and even a little heater. Warm food will do wonders too!
One way you can prepare for a snowstorm, rain, or even just flurries is to keep extra jackets, blankets, and heaters in your RV so you're ready to go. You can always bring a change of clothes with you as well, so if you get too cold you can layer or if you get too hot, you can switch it out!
February is a brisk month no matter where you are in Canada, so stay warm, wear scarves and mitts and dance around if you need to. Cheer loud and let them know who you support!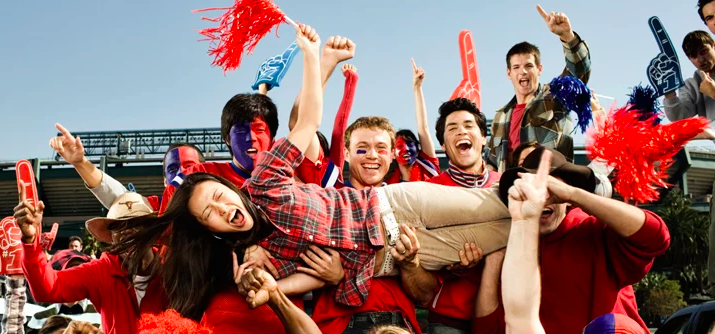 Invite Your Friends and Family Along
Inviting friends and family to your tailgating party will make it so much fun. You want a big crowd, after all, for a good party. You get to cook for everyone, or everyone can bring a dish, and you can cheer on whichever team you want! This way, things are more fun, cheaper, and you'll make memories for a lifetime.
A Super Bowl party is not something to stress over, however. Inviting your friends and family will make it easygoing and relaxing, so you can just enjoy the game without tension or rowdiness. RV tailgating is a great way to make memories with friends and family, especially those that are football enthusiasts!
Don't Forget to Clean Up!
After the party is the cleaning party. If you're tailgating in a parking lot, then it's good to remember that you can't leave behind garbage. Leaving without your garbage is definitely not a nice thing to do: it will just make other people's life harder and our shared space uglier.
You can avoid having to do a huge cleanup by cleaning up throughout the night and making sure you have a good garbage bin. Having garbage bags on hand and even recycling bins will keep the cleanup super easy. All you'll have to do at the end of the night is pack up!
Another great thing to do is bring containers so everyone can take some food home. You may not be left with a lot of food but, realistically, you don't want to bring all of it home with you. Packing it up for everyone is not only a nice thing to do, but it will avoid the cleanup of having leftover food in your fridge for days.