This article breaks down everything you need to tow a travel trailer safely.
From the tow vehicle to the required equipment, we'll explain how everything works in simple terms with visuals so you can feel confident the next time you decide to tow.
Let's get towing.
Towing capacity
Before determining what components you'll need to tow, you'll want to know your vehicle's towing capacity (the maximum weight you can safely tow). Refer to the tow vehicle's owner manual to locate your towing capacity.

It's important to understand that towing capacities differ depending on the vehicle's year, make, model, and trim.
Want help calculating towing capacity or learning more about the importance of GVWR? Our visual guide, WTF is GVWR, breaks towing terminology down for you.
Towing capacity vs. GVWR
Towing capacity is not the same as GVWR (gross vehicle weight rating) because towing capacity is how heavy of a trailer your vehicle can tow, and GVWR is your vehicle's maximum weight before attaching a trailer.
Trailer hitch
The trailer hitch is part of the towing system mounted to the vehicle's rear underside. If your vehicle doesn't have a factory towing package, you must have a hitch professionally installed to tow a trailer.

Hitches are vehicle specific and rated by class (how much weight the hitch can handle). The higher the class, the higher the towing capacity.
Receiver tube
The receiver tube* is the square part of the hitch that extends from underneath the vehicle and receives (or fits in) the ball mount.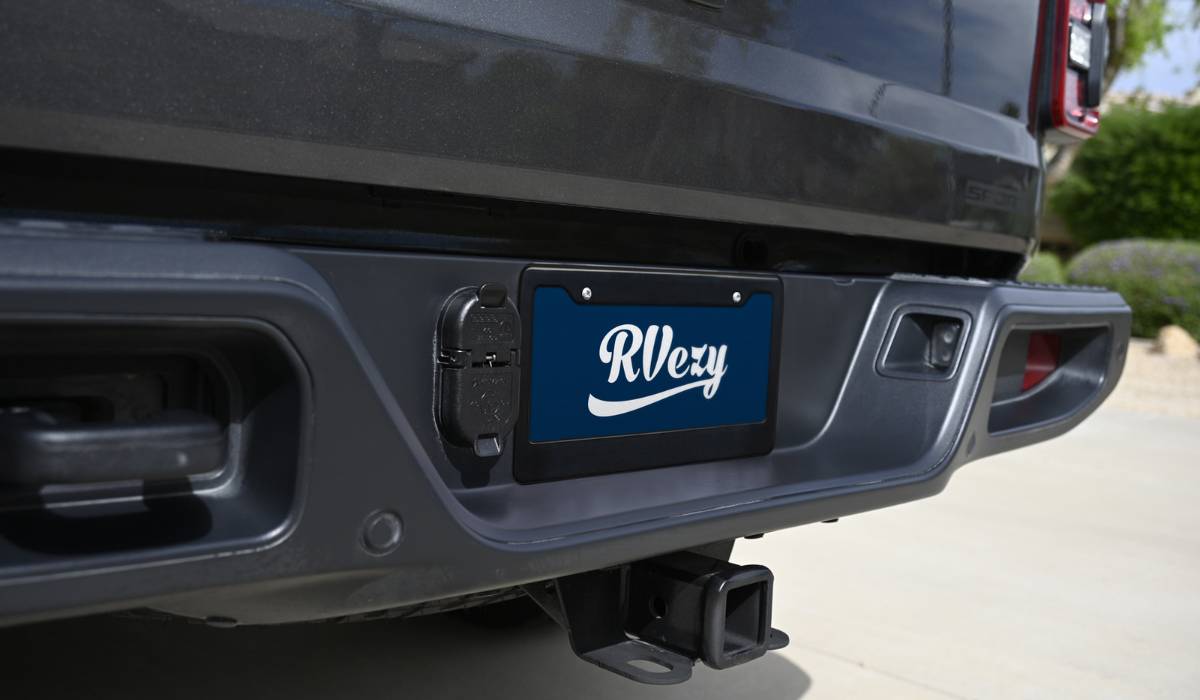 *The words receiver hitch and receiver tube are used interchangeably.
Hitch classes
Not all hitch classes are available for every vehicle. You'll need at least a Class II hitch or higher to tow most travel trailers on the market today.
Class I
Made for light-duty cars and crossover vehicles.
Gross vehicle weight rating: Up to 2,000 pounds.
Tongue weight capacity: Up to 200 pounds.
Receiver tube size: 1 1⁄4 inch.
Class II
Made for light-duty cars, crossovers, and minivans.
Gross vehicle weight rating: Up to 3,500 pounds.
Tongue weight capacity: Up to 350 pounds.
Receiver tube size: 1 1⁄4 inch.
Class III
Made for medium-duty crossovers, vans, SUVs, and trucks.
Gross vehicle weight rating: Up to 8,000 pounds.
Tongue weight capacity: Up to 800 pounds.
Receiver tube size: 2 inches.

Do you want to tow something heavier than your vehicle can handle, or don't have the proper towing equipment? Ask an RVezy host to deliver and set up your trailer rental at your desired campground.
Class IV
Made for medium-duty SUVs and trucks.
Gross vehicle weight rating: Up to 10,000 pounds.
Tongue weight capacity: Up to 1,000 pounds.
Receiver tube size: 2 inches.
Class V
Made for heavy-duty SUVs and trucks.
Gross vehicle weight rating: 16,000 to 17,000 pounds.
Tongue weight capacity: 2,000 to 2,550 pounds.
Receiver tube size: 2 inches.
Ball mount
The ball mount is the hitch accessory that fits into the receiver. The ball mount is made up of a shank and trailer ball platform.
The size of the ball mount must match the receiver tube and hitch class.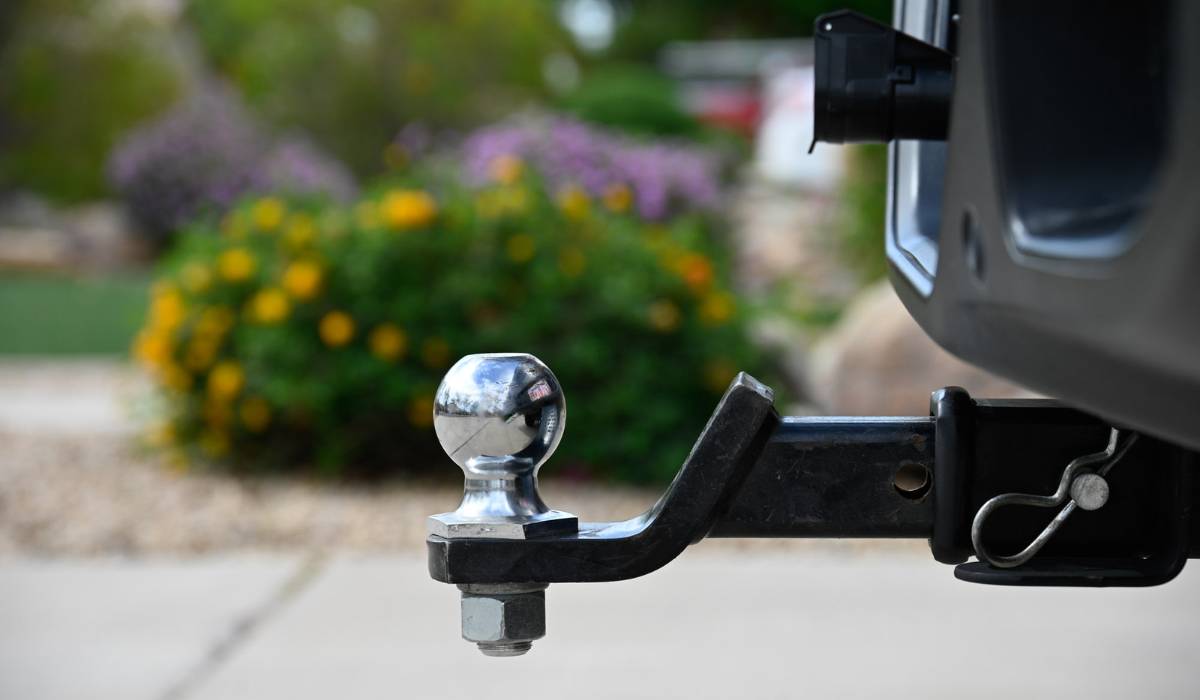 Hitch ball
The hitch ball (sometimes called the trailer ball) is the connection point between your tow vehicle and the trailer. When the hitch ball connects to the trailer's coupler, it makes driving, turning, and maneuvering smoother.
Renting a trailer from RVezy? Review the towing details on the RV listing or reach out to the host to find out which hitch class and hitch ball size you must have on your tow vehicle before submitting the booking request.
Hitch ball sizes
Hitch balls come in different sizes and correspond with the trailer's gross vehicle weight rating (GVWR). The 2-inch ball is the most common size hitch ball.

GVWR 2,000 to 3,500 pounds 1 7/8-inch ball.
GVWR 3,500 to 12,000 pounds 2-inch ball.
GVWR 6,000 to 30,000 pounds 2 5 ⁄16-inch ball.
GVWR 30,000+ pounds 3-inch ball.
Hitch pin
A hitch pin is an L-shaped metal rod that keeps the ball mount from sliding out of the hitch receiver tube. The hitch pin is inserted through the hitch receiver and locked into place with a hairpin-shaped clip.
Pro tip. Replace the hitch pin with a locking hitch pin to add a layer of security to your towing setup.
Coupler
The trailer coupler latches onto the hitch ball and connects the trailer and the tow vehicle together. The size of the trailer's coupler must be the same size as the trailer ball to operate safely.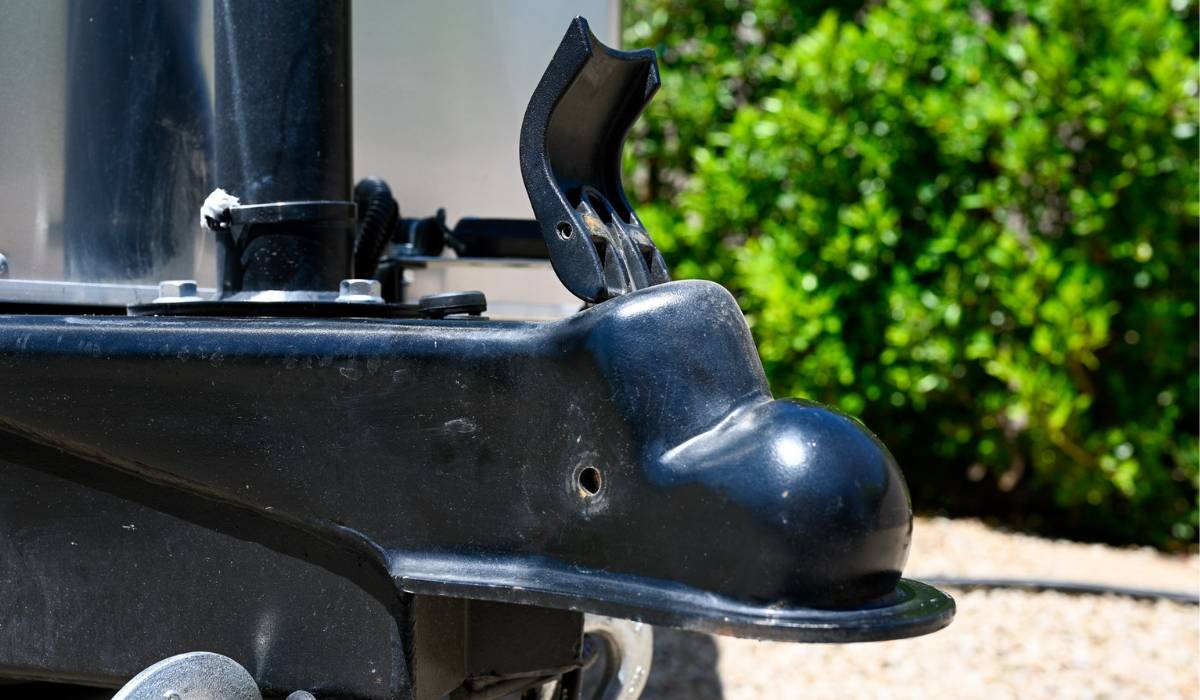 If your tow vehicle's equipment isn't rated for the trailer's GVWR, coupler, and ball size, your tow vehicle won't be compatible with the trailer.
Safety chains
Safety chains keep the trailer from disconnecting from the tow vehicle should the two ever come apart. Safety chains are fixed to the trailer tongue and use hooks to connect to the tow vehicle's trailer hitch.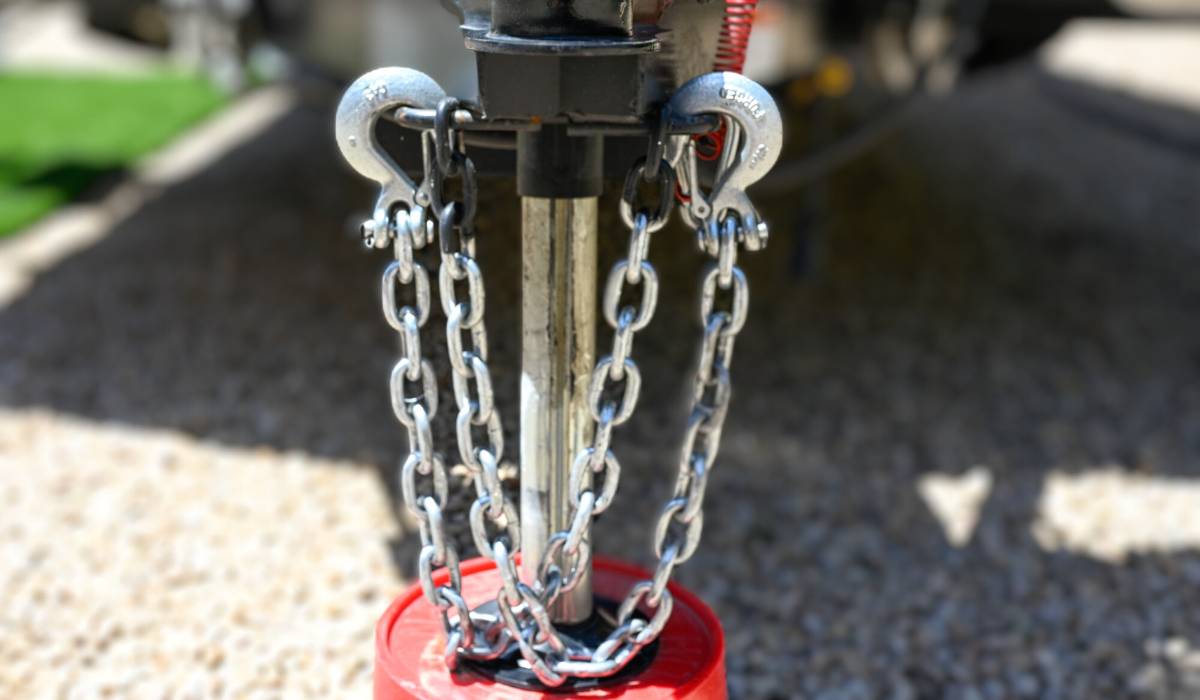 Pro tip. Always cross the chains when connecting the trailer to the tow vehicle. The crossed safety chains will act as a cradle and keep the trailer from disconnecting or dragging on the ground should the trailer separate from the tow vehicle.
Wiring harness
A 7-pin trailer connection is a heavy-duty wire that supplies power to a trailer's tail lights, turn signals, brake lights, electric trailer brakes, reverse lights, auxiliary lights, and the 12-volt battery.
The less common 4-pin trailer connection only supplies power to the trailer's taillights and turn signals. If your trailer has electric brakes, you will also need a brake controller installed on the tow vehicle.
Brake controller
A brake controller is a device that allows drivers to monitor and activate a trailer's electrical brake system from inside the tow vehicle. You need a functional 7-pin connection and a brake controller to operate the trailer's electrical brakes.
Learn more about the weight requirements for towing with a supplemental brake system where you live.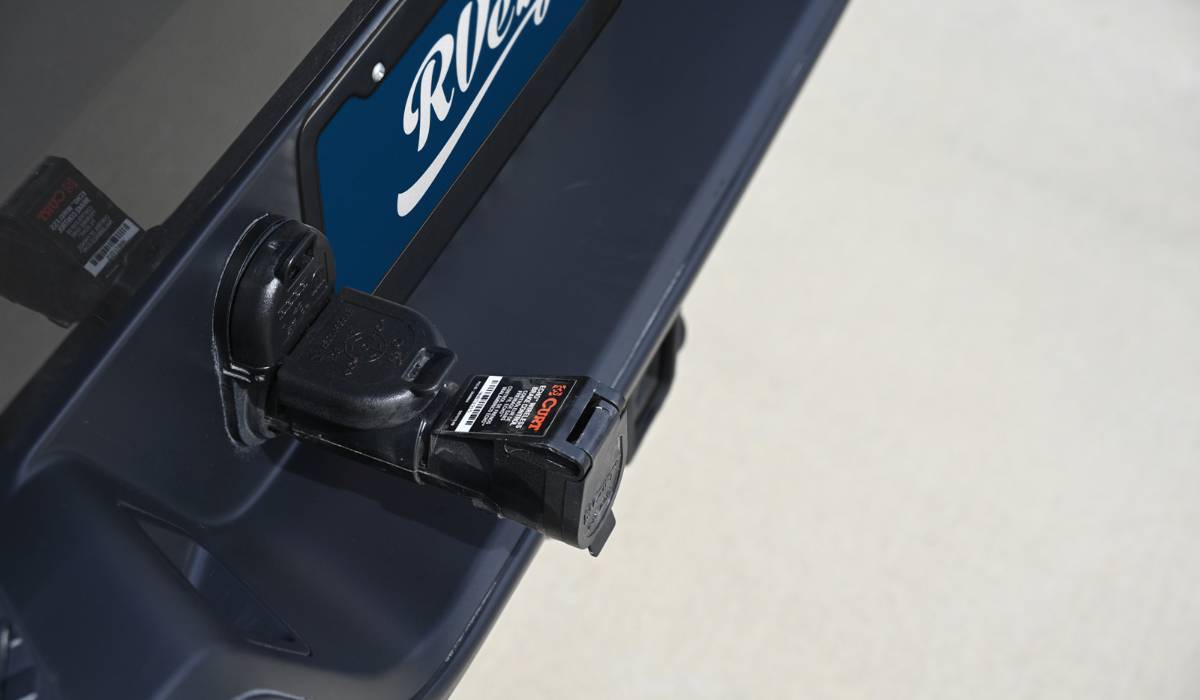 Many heavy-duty trucks or large SUVs come standard with a factory-integrated brake controller. If your tow vehicle comes from the factory with a tow package, you'll most likely have an integrated brake controller as part of the towing equipment. If you don't have one, you can install a third-party brake controller in your vehicle or use a Bluetooth-enabled brake controller.

Renting a towable RV? You can use the weight filters to search for RVs you can safely tow behind your tow vehicle.
Tow mirrors
Did you know that some states and provinces require you to use tow mirrors when you tow a trailer?
Tow mirrors widen a driver's field of vision on the left and right sides of the tow vehicle and trailer. If your vehicle comes with a factory tow package, there is a good chance you'll have extendable side mirrors. However, don't worry if your vehicle doesn't have extendable tow mirrors. It's easy to clip universal tow mirrors to your existing mirrors to widen your view while you're towing.
Final thoughts
Knowing how towing components function is just one piece of the safe-towing puzzle. Towing components go hand-in-hand with RV weights; together, both will make your towing experience safe and enjoyable.
If you're ready to rent a travel trailer and know your towing capacity isn't sufficient to tow the trailer you want to rent, don't let towing capacity deter you from renting a heavier trailer. Many of RVezy's hosts will deliver and set up a trailer for you. All you have to do is search for a deliverable RV rental and ask the host about the delivery options described on their listing.
Simple Guide to RV Driver's License Requirements in the U.S.
Simple Guide to RV Driver's License Requirements in Canada
The Beginner's Guide to RV Classes