So, you want to remodel your RV? Maybe you want to rent it out or you want a beautiful change. You do not have to break the bank to do so. Get crafty and do it on a budget while making your RV look brand new!
From repainting cabinets to replacing the carpets, whatever you choose to do will make your home-away-from-home more stunning than before. Modern RVs are all the rage these days, and you deserve to travel in style. So, if you are looking to remodel your RV while saving a few bucks, then keep on reading.
Create A Colour Scheme
Choosing a colour scheme is very important. Most modern RVs incorporate wood in their decor. However, that does not mean you have to follow suit. Some colours that are always in style are grey, black, and cream, which you can always accent with a few pops of colour.
When choosing a colour scheme, it is important that it remains consistent throughout the RV. Incorporate a pop of colour into your RV to really spice things up. Whether it is navy, a light pink, or maybe even a turquoise, adding a burst of colour to your RV can help to make it feel more welcoming by breaking up the darkness from all of the wood and neutrals. This can be achieved with coloured pillows, pictures, and other decorative accents.
Redesign The Cabinets and Floors
A lot of the time, RVs come with a standard colour for the cabinets and floors. Take your RV interior to the next level by updating the wood and customizing the cabinets to suit your taste. Wood comes in many different colours from grey to cherry to mahogany - you can always find something that you like.
Alternatively, paint the cabinets white to give them a more open feel and keep the wood for the floors. The great thing about renovations is only your taste matters. Brand new floors and cabinets will give your RV an updated look that will make it look and feel new. Choose from tile or laminate wood flooring to save on costs.
Put In New Countertops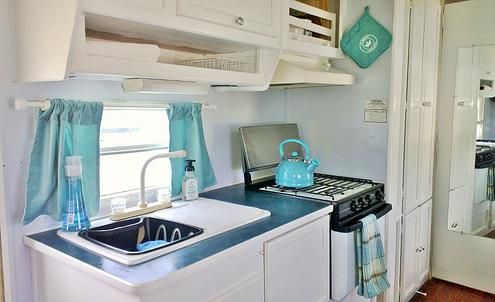 Do your counters need a refresh? Since counter space in an RV is limited, it will not cost much to replace. You could go for a marble dupe counter that will give you a very expensive look, or you could go for a plain colour if that is the look you want.
There are many options for countertops, all of which can completely change the look and feel of a space. It is important to make sure the countertops match the overall theme of your RV. That way, you can ensure that it looks sleek and on a minimum budget.
Update Your Appliances
Even the smallest details can make a huge difference. Changing the design of your fridge or replacing the handles on your cabinets can make your RV look and feel so much more modern. Maybe you are going for a silver accent theme. This would be a great way to incorporate silver handles and put in some stainless steel appliances. This is not a necessity, however, especially if you are on a tight budget.
Make A New Living Room Space
Sometimes an RV living room consists only of a booth and a table, and other times it has a full couch. If there is a couch, there is an opportunity to replace it with something that matches the overall colour scheme you have chosen.
There are still several options if you have a booth. For example, replace it with a couch or refurbish the booth and table to make it look more modern. Many RV dining booths have patterns on them that may not match the theme you are going for. If so, cover the seats with a seat cover that better matches your theme.
This is where you can get creative. A couch or a booth can make your RV look completely different, especially depending on what material you use. Choose something that will match your taste, and more importantly, will show off your personality.
That being said, if you are on a budget, it is more cost effective to remodel whatever you have. For example. the best idea may be to keep the booth and change the style by repainting it.
Make The Living Room Feel Like Home
If you are willing to spend a little extra money, add a faux-fireplace and a flatscreen TV to make your RV more modern. TVs for RVs can be anywhere from $100 to $300. Alternatively, buy a smaller flat screen TV on Kijiji with a wall mount, which will let you watch TV from anywhere in the living room for a fraction of the price. These additions will add a nice touch to your renovations.
Make The Bedroom Like A Master
You should not feel like you are away from home even though you are. Make the master bedroom match your overall colour theme by changing the bedding, the curtains, the pillows, and the closets. Add mirrors to the closets, make the curtains flow, or change the bedding to match what you have at home. If your colour scheme is cream and grey, then it should be brought into the bedroom as well.
If the RV has multiple beds (including bunk beds), follow the same rules throughout as well. Bunk beds can be harder to upgrade, but you can always change up the bedding. Add a curtain to block off the bunk beds. It will keep your RV looking clean and offer the some privacy.
Add In Fun Accessories
Adding accessories will improve the overall look of your RV. Bring some of the outdoors inside with fake plants. Place a rug in front of the couch to give the RV a warm vibe. No matter what small change you make, it will make the RV look like a whole different place in the end. All of these accessories are super affordable at places like Dollarama and Ikea, and you will be able to find something no matter what your vibe is.
---
Remodelling does not have to be expensive. You can buy most of these items at stores that offer low prices. Here are some key examples:
Kijiji
Maybe you are looking for certain pieces that can be added to your RV: kitchen tables, chairs, a couch, etc. Kijiji is a great place to look for discounts. Refurbish whatever you buy by painting it or adding new fabric to give it a new look. Kijiji has both used and new items, which will make great staples in your new and improved RV.
Winners
Winners is a great place to find accessories. Whether you are looking for pillows, blankets, or even little nick-nacks, you are bound to find it at a great price at Winners. They have everything you could want and more, and a lot of the time their products are on sale. If you are looking to make your RV look homey and comfortable, then definitely head to Winners.
Ikea
Ikea is the go-to for a lot of things but you can find great options for curtains, rugs, dishes, and storage. If you are redoing your kitchen, you may be able to find inexpensive pieces like handles, faucets, countertops, and more.
Amazon
Amazon has everything you could ever need and more, even when it comes to your RV. If you are looking to put in a fireplace and a TV, you can find some affordable options on Amazon. This is also a great place to get a wall mount for the TV and other tech stuff you may need for your RV.
Lowes
For an entire week each year, Lowes has an anniversary sale. If you are looking for new furniture or any kitchen supplies, you can find it here or you can wait for the sale to get a good deal. If you are looking to get new floors, they always have great sales on their flooring, which can save you a lot of money while still getting the exact look you want.