Installing pet-friendly RV mods is a great way to make your dog or cat feel at home while on the road.
Whether you're modifying your RV for your pets or looking to make your rig a more attractive rental option for pet owners, this article showcases the best permanent and temporary RV mods to help pets and their owners travel in comfort.
Let's get started.
The benefits of pet-friendly RV modifications
Pet-friendly RV modifications and add-ons work two ways.
First, they give pet owners a sense of security, and second, they help pets adjust to a new environment and feel part of the family on the road and at the campground.
The best permanent RV pet mods
Permanent pet modifications are perfect for people who travel with their pets frequently. These modifications help protect your RV from pet damage and keep your investment looking newer for longer.
Stain-resistant furniture and flooring
Outfitting your RV with stain-resistant furniture and flooring will help keep your rig clean and in good condition. Vinyl or faux wood flooring is easier to clean than carpet, and because these types of floors are scratch resistant, they're popular choices with pet owners.
Fabrics like faux leather, microfiber, and even canvas are excellent choices inside the RV. These materials don't pick up as much fur and are less likely to be ruined by sharp claws and muddy paws.
Washable rugs
Consider buying washable rugs if your pet is particularly messy or accident prone. Having machine-washable carpets and rugs inside your RV makes your space welcoming while adding an element of simplicity should you need to wash your rugs frequently.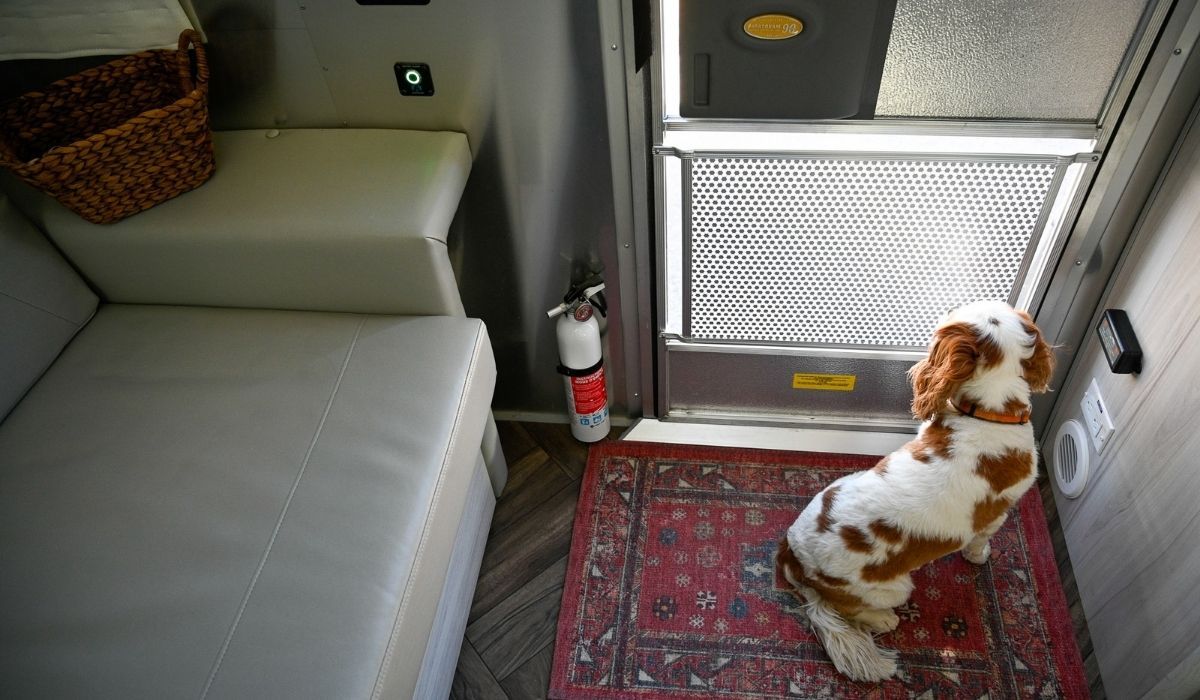 Sturdy RV screen door
An RV screen door lets you and your pet get some fresh air while keeping out annoying insects. If your dog claws at a flimsy screen door frequently, it could become damaged.
When picking a screen door for your RV, opt for one made of aluminum with a thick mesh. A sturdy screen door will let you air out your RV without your pet causing any damage.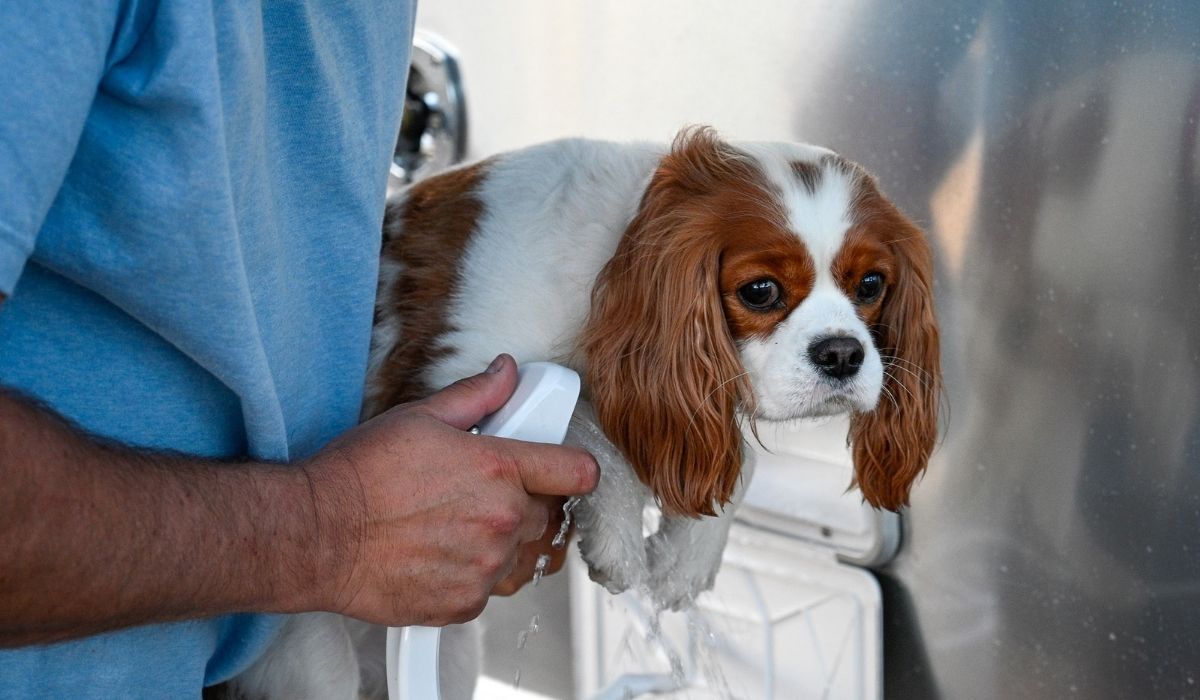 Outdoor shower
An outdoor shower is an excellent addition to any rig. If you spend a lot of time visiting parks and beaches while on the road, outdoor showers let you wash mud or sand off your dog before they enter your RV.
Outdoor showers aren't just for bathing your dog — they can also be used to hose down the outside of your RV, wash off dirty shoes, and clean dishes if you're dining al fresco.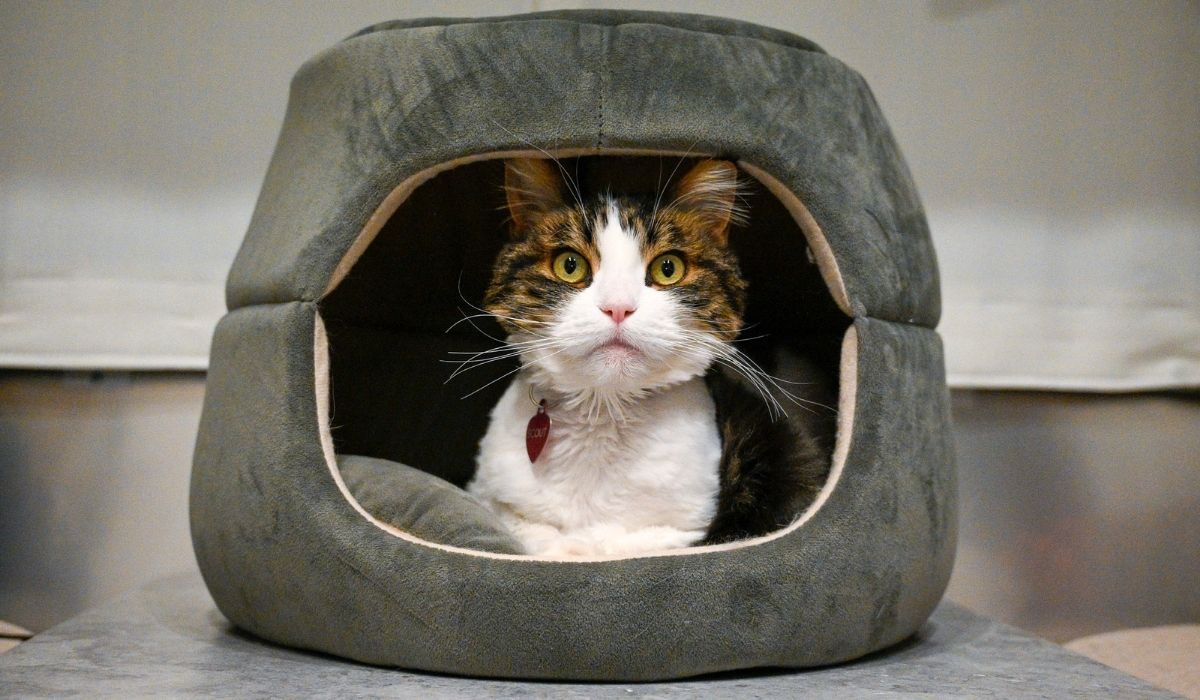 Built-in cat den
Cats need a quiet space to go and decompress in order to thrive in an RV. Building a cat den where a cat can go to make a nest and relax will appeal to many campers with pets.
Great places to build a cat den include underneath a dining table or bed. Alternatively, buy a removable cat tree if you're not keen on permanently modifying your RV. Many cat trees come with built-in scratching posts, which will help keep your RV's upholstery from being scratched.
Built-in pet crates
It's much easier to travel in an RV with a pet that's been crate trained. Crate training means your pet will have somewhere to go if they feel stressed or tired. Crate training is also helpful if you have to leave your pet alone in an RV.
Outfitting your RV with one or two built-in crates means campers with pets will have a sturdy spot for their pet to go when they feel overwhelmed by life on the road.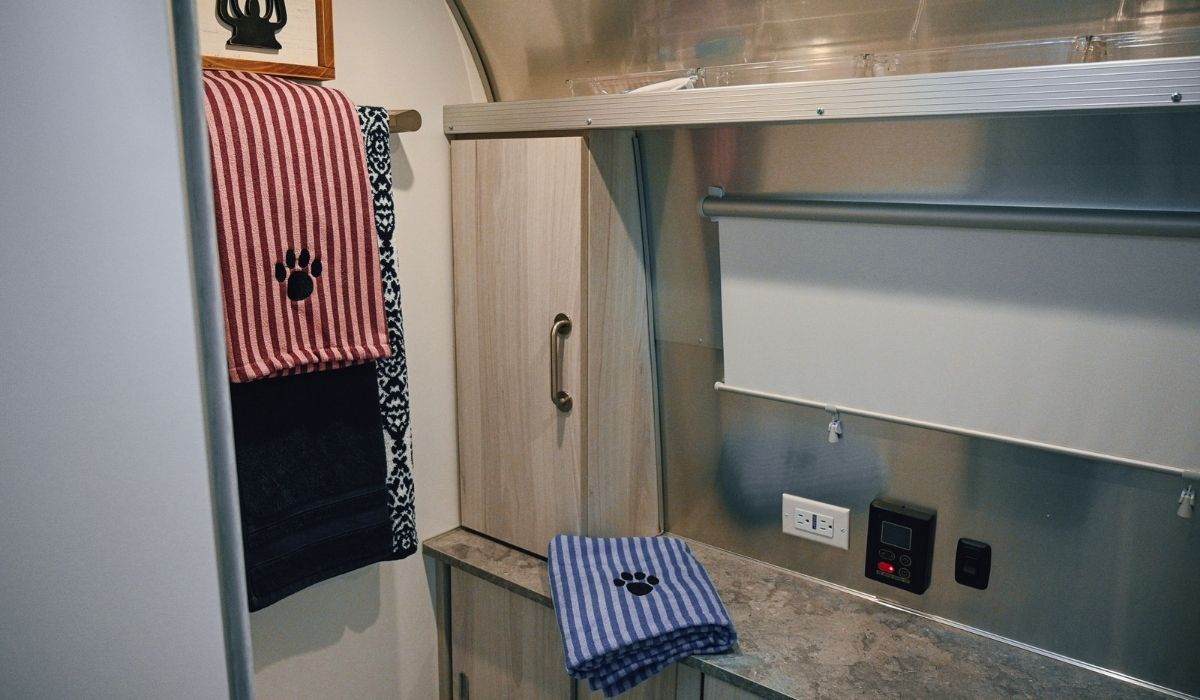 Paw cleaning station
After a day exploring a nearby park, muddy paws can be a real problem. Consider installing a paw cleaning station to avoid paw-shaped stains on your RV's furniture.
Place a towel rack with some dog-themed towels to remind pet parents to clean their dog's paws. You could also provide a dog paw washer, which will gently brush and wash off any stuck-on mud.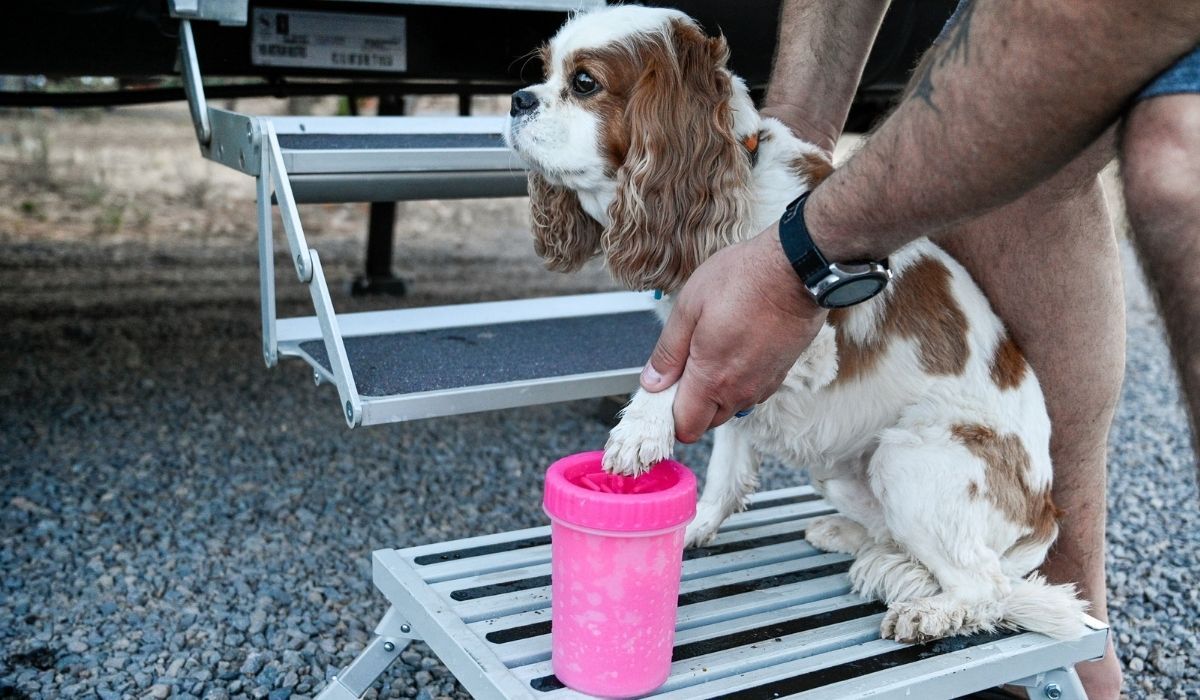 The best pet-friendly RV add-ons
Pet-friendly RV add-ons help accommodate your pet while saving you money on permanent RV mods. You can also make extra money from these add-ons if you rent out your rig.
Here are a few of the best pet-friendly RV add-ons to help keep your pet happy and healthy.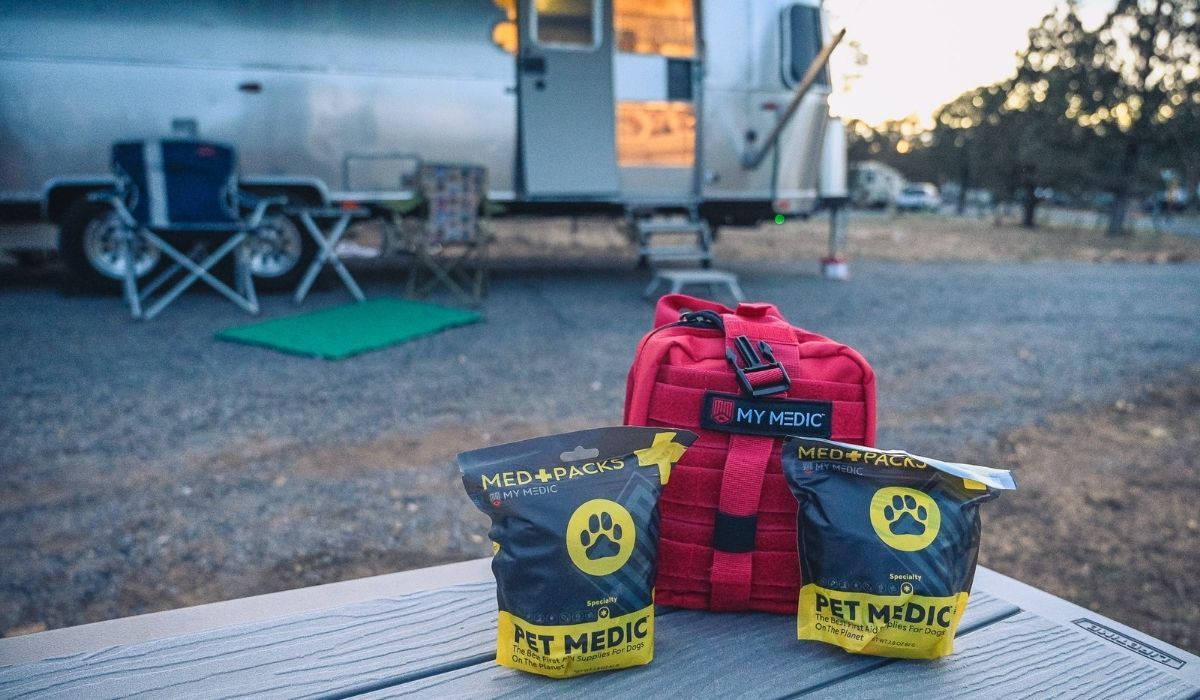 Pet first aid kit
There's always a chance a pet could get injured or sick while on the road. Offering campers a pet first aid kit will keep pets safe on the road while showing their parents you've thought of their pet's safety.
Pet first aid kits are inexpensive optional extras you can provide campers. Pet first aid kits contain everything from thermometers to tourniquets to antiseptic pads.
Pet temperature monitor
Pet parents may need to leave their pets in their rig when they attend an event or attraction that isn't pet-friendly. Leaving a pet behind in an RV can be worrisome, especially when concerned about sudden temperature changes.
Providing campers with a pet temperature monitor will give them peace of mind while their pet is alone in an RV. Pet monitors, like Waggle, allow pet parents to monitor the temperature and humidity of their RV on their phone, with updates every 15 minutes.
Pet gates
Is there an area of your RV that you don't want pets to access? A pet gate is a thoughtful way of stopping dogs and cats from sticking their noses where they don't belong.
Consider a retractable pet gate, so it doesn't take up too much space in your rig or get in the way.
Pet camera
Some pet parents may want to keep an eye on their pets when they're left alone in an RV. You'll find dozens of pet cameras on the market that will let RVers see what their pets are up to while they're away.
Many of these webcams have unique features which will appeal to pet parents. For example, some come with built-in microphones, while others dispense treats to keep pets happy.
No-spill pet bowls
Cats and dogs get thirsty on the road. If you want to keep their water bowls full but keep the water from sloshing everywhere while you're driving, use a no-spill pet bowl.
No-spill water bowls will prevent slobber and water from splashing on your RV. No-spill water bowls range from floating disk designs that reduce drinking speeds to lipped rims that prevent spilling.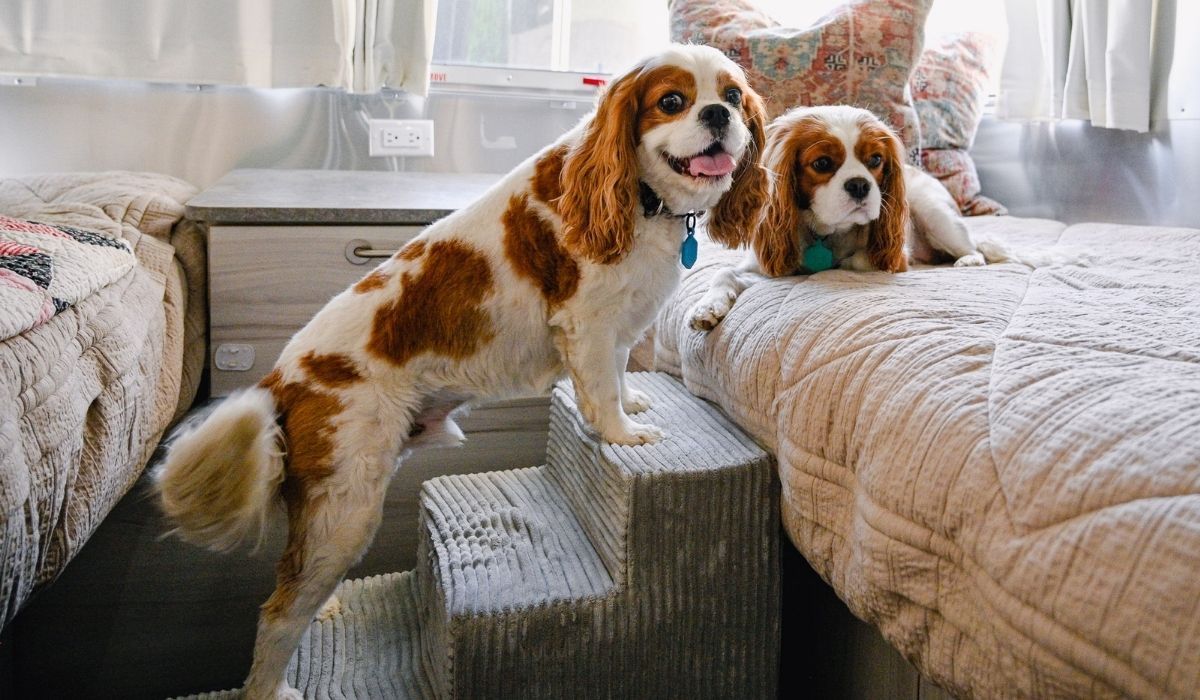 Pet ramp
Some campers with pets consider a ramp an essential modification. For example, if you have an elderly pet with mobility issues, a pet ramp will make your RV more accessible.
You can also place pet ramps (or steps) inside an RV if a pet bed is high above the floor. Pet ramps don't just aid elderly pets but will help avoid any scratches to the exterior and interior of your camper when a pet is jumping in and out of the RV.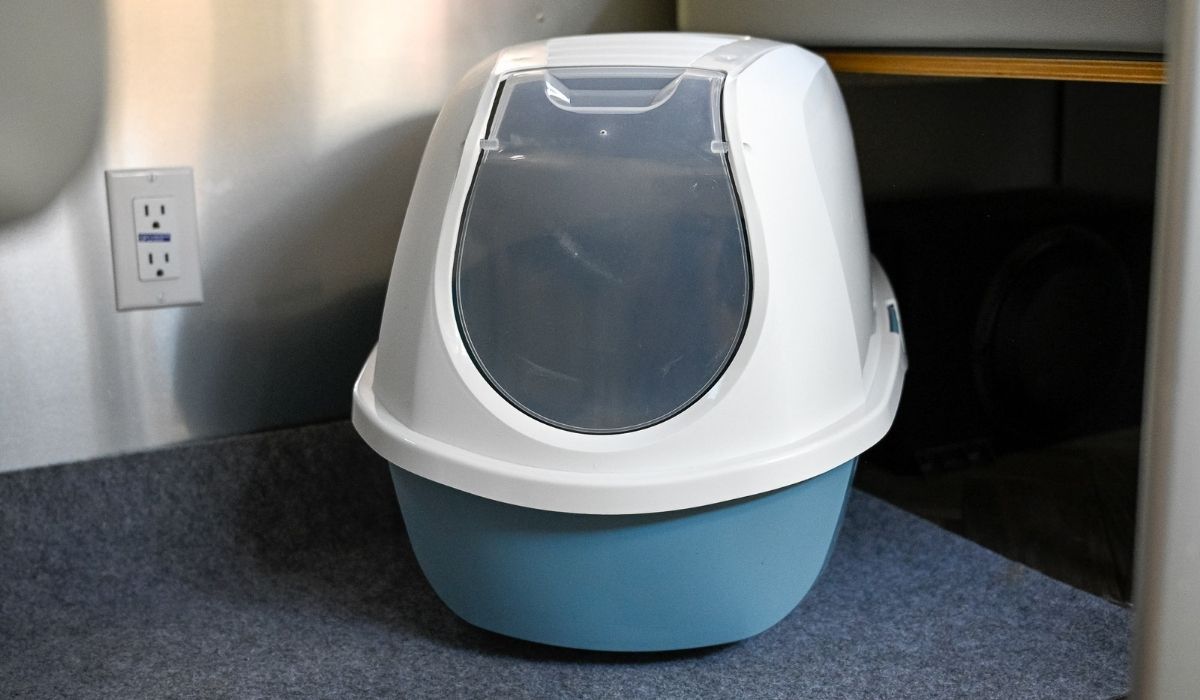 Discreet litter box
If you have limited space in your RV, a hidden litter box is a clever addition. Litter boxes can be bulky, smelly, and messy, so keeping a litter box in a discreet location out of the way will help campers make the most of your rig.
Installing a litter box under the stairs or below a bed in some dead space ensures you maximize the space in your RV. Plus, an enclosed litter box reduces any odor and mess.
The benefits of owning a pet-friendly RV rental
Pet-friendly RVs make more money
Pet-friendly RVs appeal to a wider audience than rigs that don't allow pets. As well as attracting more business, more amenities for pets mean you can charge more money for your rental.
Many RV mods for pets, like litter trays, beds, and crates, are removable, allowing you to offer these amenities as optional extras.
Removable pet-friendly mods let you earn extra money from a rental while also giving renters flexibility over which mods they want in their RV.
Get better reviews of your rental
RV modifications make happier campers. The better equipped your RV is for campers with pets, the more likely you are to receive 5-star reviews of your rig.
Positive reviews help you earn more repeat business and better visibility on RV rental marketplaces like RVezy.
RV mods help keep your rig in good condition
Pets can be unpredictable and could damage the interior of your rig. Installing mods, like a scratching post or a paw cleaning station, will help prevent damage from canine and feline campers.
Not only will mods make you some extra money, but they'll also keep your RV in good condition, minimizing the need for repairs.
Summary
Traveling in an RV is a great way to create lasting memories with your pet. Adding modifications to an RV rental ensures pets and campers can make the most of their time on the road.
To keep your pets healthy and happy on your next camping excursion, download the Wag! app to chat with a veterinary professional 24/7, book overnight pet care, and so much more.