NOTE: We've updated this blog to help you pick the best towing options, looking at some of the newer and cooler models coming out on the market. Make sure to read below for lots of information that is still relevant to your search.
Looking to buy your very own pick up, or upgrade to a tougher model? Here's what you should be looking at when it comes to towing trailers and fifth wheels:
Ford Super Duty F350
2019's Ford Super Duty may be the best truck for the coming year, boasting an incredible towing capacity of up to 27,500 pounds. Its ideal for any type of trailer or 5 wheel, with 6.7L V8 to make uphill towing or even towing at high altitudes easy and safe. It also comes with incredible features like trailer sway control, hill start assistant smart trailer connectors and trailer brake controllers. There are a ton of feature and design improvements, check them out here.
Silverado 3500
With 445 horsepower at 2800 rpm, 910 lbs of torque per foot, and towing up to 23,100 pounds, the 2019 Silverado 3500 is an incredible option for taking on any towing job for RVing and trailer camping. It relies on 6.6L Turbo-Diesel V8, an sweet 6-speed Allison automatic transmission and has an optional crew cab perfect for the whole family. IT has an impressive Toy Hauler mode, trailer sway control, digital steering assistant and a very comfortable, slick interior. Check out the specs here.
Is there any better dream than driving off into the sunset, with a large shiny travel trailer in your rear view mirror coming along for the ride?
To make that dream a reality, there is one key factor. You need the right truck for towing the trailer, otherwise, your trailer is not going anywhere! The best truck for towing a trailer varies for everyone.
In this article, we provide our top five picks [in 2018] for the best truck for towing a trailer, all of which are vehicles that can tow 10,000 lbs plus! We also provide a pickup truck towing capacity comparison table.
If your vehicle is not suitable to tow the travel trailer you own, the one you want to buy, or the one you want to rent, there can be issues with safety, insurance, warranties and even the law! However if you get the choice right, you open up an unlimited variety of safe, and enjoyable travel trailer adventures!
The Best Truck For Towing A Trailer
Here's our top five contestants for the best truck for towing a trailer:
Ford F-450
Ram 3500
GMC Sierra 3500
Nissan Titan
Toyota Tundra
We've selected this list from the leading pickup manufacturers to provide a range of vehicle options, some of which provide extremely high towing capacity, while others provide less towing capacity, but a more affordable price.
Here is an overview of each vehicle.
Ford Super Duty F-450
The Ford F Series has been known as high class towing vehicles for decades. The 2018 F-450  is no different, having a higher tow rating than any other pickup. In recent years, Ford made a number of game changing updates to the F-series. Namely, Aluminum panels to reduce weight, a stronger steel chassis, and greater steering responsiveness which aids the towing experience.
Ramtruck 3500
The Ramtruck brand only emerged as a stand alone division in 2009, but has quickly risen shoulder to shoulder with the long standing industry leaders like Ford and GMC. The Ram 3500 is Ford's main rival in terms of towing capacity, and is only a couple of thousand pounds shy of the Ford's towing abilities. However, the Ram pulls ahead in torque, with the 2018 version registering the highest ever torque rating for this class of pickup.
GMC Sierra 3500
The GMC 3500HD can't match the Ford's or the Ram's towing capacity, but it is no slouch, and is still a heavy duty towing specialist. Its advantage is that it is the lightest and most maneuverable of the heavy duty pickups.
Nissan Titan
The Nissan Titan XD is a step down from the first three picksups in terms of heavy duty towing capability. It is a mid range pick as opposed to a real heavy duty unit like the aforementioned vehicles. However, it is still a great towing vehicle for most travel trailers, and comes at a more affordable price.
Toyota Tundra
The Toyota Tundra is the main rival of the Nissan. It is a mid range pickup, and capable of towing similar sized travel trailers.
The Best Truck For Towing A Trailer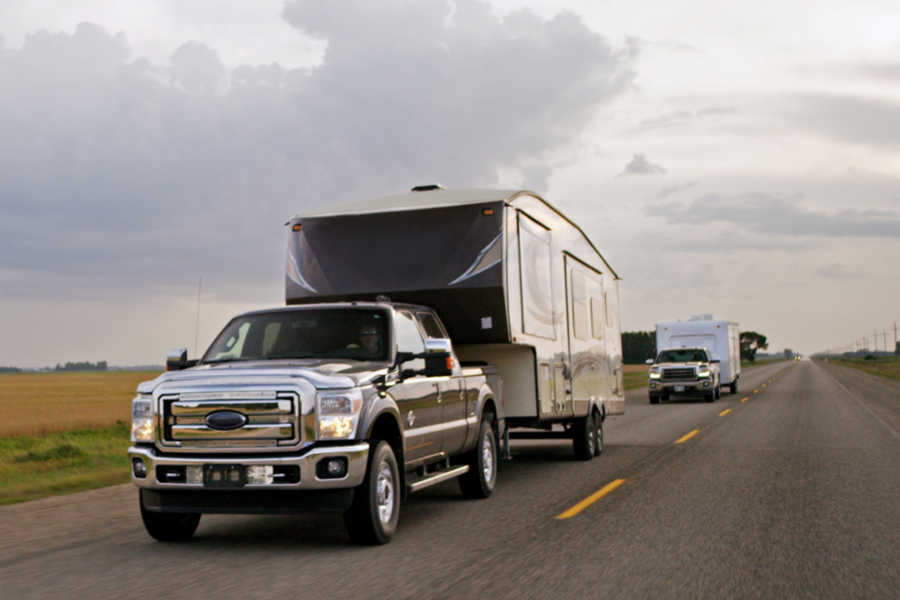 The values in the following table refer to single cab models with 4x2 drive train, long wheel base options, and the maximum tow rating hitch available from the manufacturer. All vehicles come with a larger cab option, and a swathe of different engine and running gear options, all of which can add to the base price.
Towing Conclusions And Recommendations
If you are looking to tow the heaviest trailer possible, either the Ford or the Ram is the best truck for towing 5th wheel options. However, the GMC is close behind. Your final decision will likely come down to price, and the other features you want or need with the vehicle. Just remember that the best truck for towing a trailer is not necessarily the highest towing capacity, but the one which best suites your towing needs.
When investigating your options, diesel engine variants will provide the most torque to pull a large trailer along behind, so factor this into the price. Also, inquire about your tow hitch options, because if you want to tow very large trailers you may need the fifth wheel hitch, which will further add to the base price. Even the best  standard tow bar hitches aren't able to tow much past 20,000 pounds.
The Nissan Titan and Toyota Tundra are a step down from the Ford, Ram and GMC, but will still make great towing vehicles for the average sized travel trailer. The big advantage is, in general, a lower price tag, and better fuel economy making for an all round cheaper traveling rig.
A final tip to mention is that most vehicles will come with, or have the option to add towing sway safety measures and a range of extra towing specific gear. So if towing is your main goal, it's a good idea to have the manufacturer add as many towing extras as possible before you register the vehicle for the first time. Accessorizing a vehicle after first registration can be much more costly.
Have a look at the huge range of travel trailer options available through our easy RV sharing system!