This summer, we've been busy working to make RVing in Canada more accessible, enjoyable, and affordable for every body.

We are incredibly grateful for all of the support we've gotten from our community, and feel lucky to be a part of the RVing community at large. We've changed a lot over the summer, and it's been all an effort to make RVezy better!

Here's how RVezy has changed in 2019:
2.1 - A New Look
We've given the site a complete new look and improved it with new functionality, better loading, and more control for users!
This includes improved messaging, better search functions, a cleaner look, an updated calendar for daily pricing, a crisp new dashboard, and much more!
The RVezy App
We've released our mobile app to make renting or managing your listing easy and convenient! Do anything you need to do from anywhere you have an internet connection, with access to all of the features available on your dashboard!
Custom Quotes
Owners can now provide potential renters with customized quotes, allowing them to provide discounts and customized dates to make renting easier. This is a great way to get more bookings by tailoring your offer for families, groups of friends, long trips, weekend rentals, and much more. You can watch a video tutorial here.
Digital Checklists
An essential part of the process, our pre and post departure checklists are now available through the app! They will now appear on your app dashboard on the day of your rental. They are also still available on our site and sent to you via email before every rental.
Instant Booking
We've rolled out a new instant booking feature which allows renters to book your unit quickly by paying up-front. This makes for very fast booking requests. While still in the early stages, this will be a great way for owners to stay booked throughout the year and really speed up last minute bookings.
Look for the Instant booking lightning icon in RVezy listings to book quickly!
Industry Leading Insurance
We are incredibly proud to be among the first companies to offer an industry leading insurance package in Nova Scotia for motorhomes! This is a huge step forward for the peer-to-peer rental industry, and will allow Maritimers to take full advantage of our platform.

We're working hard to expand our amazing insurance policy and coverage, so stay tuned for more announcements soon! Learn more here.
SMS Notifications
We now use SMS messaging to make sure you're up to date and fully informed on important updates. You can rest easy knowing you'll never miss an important notification about your RV or your trip when you don't have an internet connection!
RVezy Knowledge Base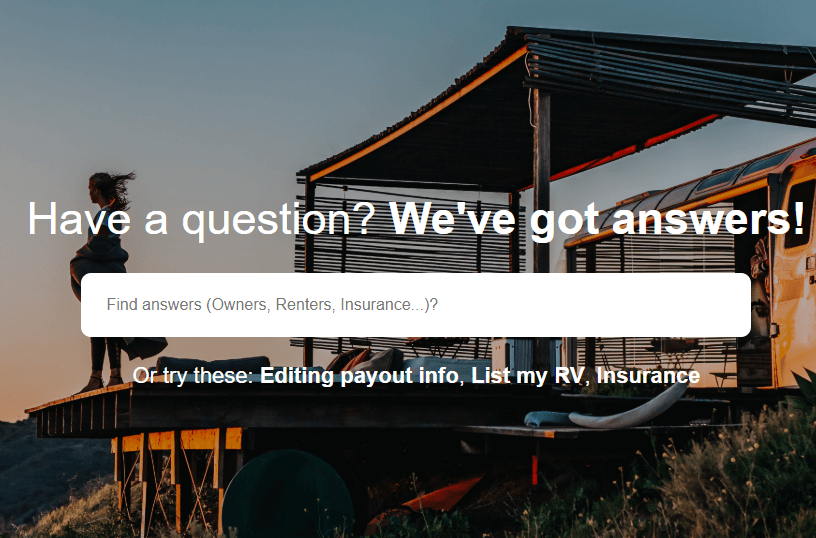 We've also brought together all of our instructional materials and information in once place, and made it easy for you to search or browse everything about RVezy, our process, and our terms of service. Can't find an answer to your question? Contact us and let us know!
Video on RVezy's YT
Check out our YouTube page for new videos all the time! We cover everything you need to know about being successful on RVezy, how renting an RV works, our origin story, and much more!
You can also check out some cool RV lifestyle videos, our appearances at festivals and concerts, cool interviews, as well as announcements for giveaways, contests, and special announcements!
---

We're super proud of how far we've come with your amazing support, and we promise we'll keep working to make RVezy Canada's best way to explore, discover, and travel in an RV!