Fall is right around the corner and just because the temperatures are dropping, doesn't mean that you have to say goodbye to camping. While most people associate camping with summer and the warm weather, the fall season provides the perfect backdrop for an outdoor adventure. Fall camping, although different from summer camping, is an unbelievable experience and a hidden gem that you and your family should take advantage of.
Camping in the fall is a great way for you to continue to enjoy outdoor activities well into the cooler months. The air is crisp, the leaves change colour, and the Canadian fall scenery is spectacular.
Here are our top 6 reasons to embrace the beauty of the changing season by camping in the fall:
1. Smaller crowds
The fall season means children are back to school, summer vacation is over and hockey kicks into full gear. Taking a weekend or two in the fall is a great way put aside the busy schedule and enjoy the beautiful outdoors. With summer vacation over, campgrounds tend to be a little less crowded making a more serene atmosphere, prime for relaxation. Provincial and national parks provide a beautiful setting in the wilderness. You can enjoy the outdoors in a peaceful setting and are likely to catch a glimpse of the Canadian wildlife.
Less travelers means that you are often able to book those desired campsites that are generally not available in the summertime. Booking online using the provincial parks booking system is painless, easy and you will have the pick of the litter for the best locations.
2. Less expensive
Renting an RV is less expensive during the fall season as well. Most RV owners offer low-season rates, which are usually much more affordable than those offered in the high season. Many owners on RVezy make it even easier to enjoy the RV lifestyle by offering delivery services. Most owners will deliver and set up an RV at the location of your choosing making it simple to get outside. Linens, dishes, BBQ's and outdoor games are often included allowing you to just arrive and enjoy.
3. No more bugs
While camping in the summer is a lot of fun, dealing with the bugs is not. Keeping them away while you are on your camping trip can be a monumental task, especially in the summer months. From mosquitoes, black flies and spiders, these bugs can be a nuisance and can also leave some nasty bites.
The cooler fall nights in Canada mean that these pesky bugs will no longer be a concern allowing some beautiful nights available bug free.
When you don't have to worry about the bugs bothering you, you have the ability to put a greater focus on enjoying your family camping trip without any distractions.
4. Great hiking weather
With the changing colours of the fall season, hiking trails become one of the most picturesque and peaceful places that you can visit during your camping trip. The landscape starts to take on a reddish-orange hue as the leaves change colour, which provides one of the most breathtaking views. There is no better time to go exploring the trails and take in the magnificent sights around a campsite than when the colors begin to change in the fall. Provincial and National parks have many groomed hiking paths leading to spectacular look-outs. Many describe these views as surreal that can not be justified with a camera.
The cooler weather also allows you to go on longer and more comfortable hikes. Fall temperatures provide the ideal environment for active daytime adventures that won't leave you burning in the heat. There are also a wide number of activities available to partake with your family, such as apple-picking, bird-watching and even leaf collecting!
5. Indulge in your favourite comfort foods
Fall is the perfect season to enjoy hearty comfort food. Just because you are away from home, doesn't mean you have to forego delicious food! With the weather turning a bit cooler, you can comfortably sit by the fire and enjoy some fresh fire-cooked food (including s'mores!). Fall is the perfect time to dig up your Dutch oven and start simmering those comforting soups and stews that disappeared over the summer. You can get creative with your fall camping recipes by spicing up traditional fall recipes as well. Preparing a fresh batch of chili and warming it up over a campfire is both delicious and nostalgic.
Enjoy fall classics such as pumpkin soup, caramelized butternut squash, hearty beef stew or whatever your family dish may be. Fall camping allows you to indulge in delicious comfort food while enjoying the company of family and friends.
6. Sleeping is a lot more comfortable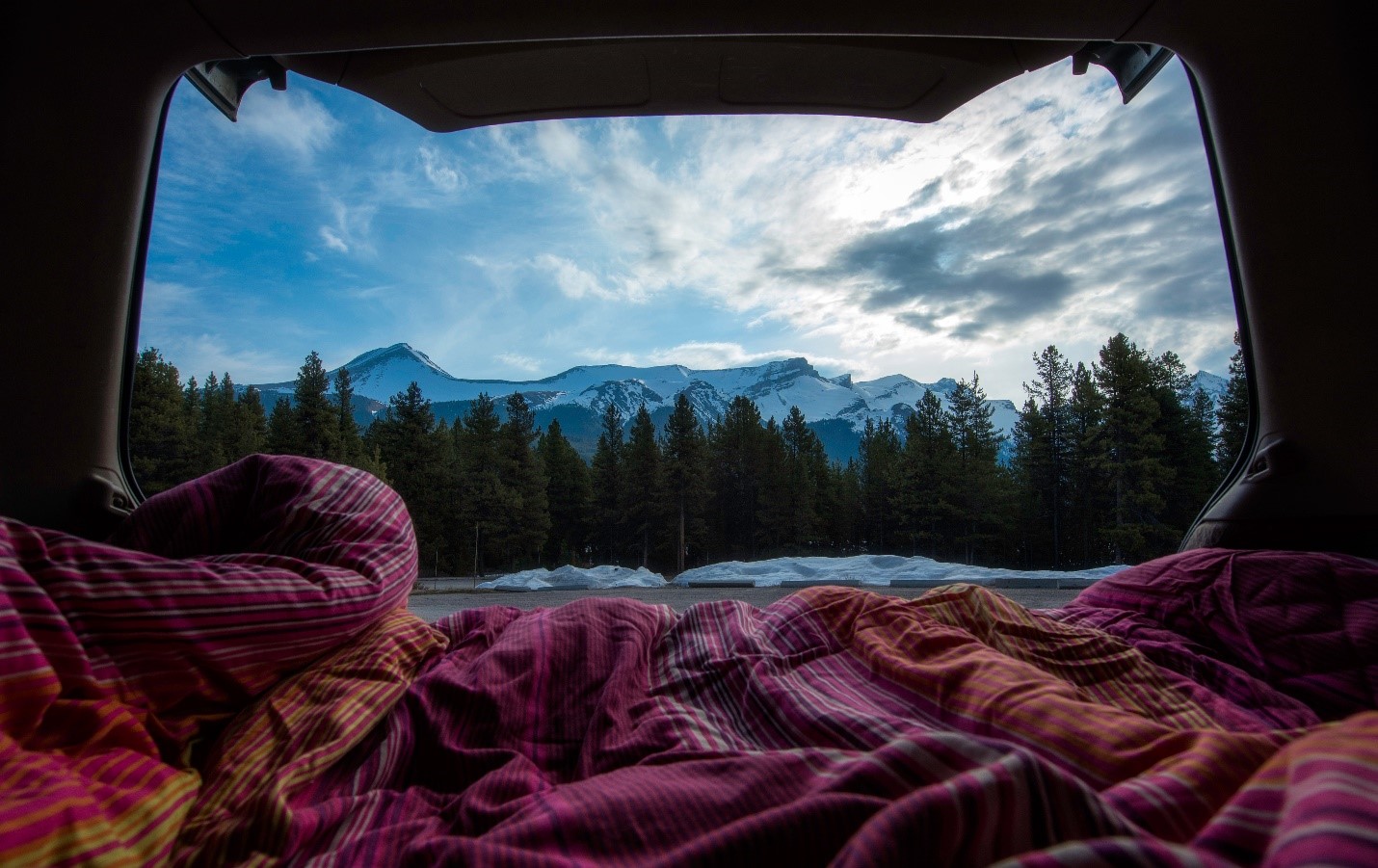 One of the main goals of going camping is to rest so that you can get back to your regular life refreshed and rejuvenated.  In the fall, the crisp air and late sunrise allows you to have a more comfortable sleep and stay in bed longer, letting you have some much needed rest.
When you wake up to fresh air, the sounds of birds chirping and a nice hot cup of coffee, it may be just one of the best ways ever to start your day!
---
So, there you have it. Fall camping in Canada is one of our hidden gems. Quiet campgrounds, family and friends and nostalgic experiences. Enjoy the cooler weather which is perfect for hiking, some warm comfort food and some restful sleep.
Are you convinced yet? Rent an RV for your next adventure today!