By now, you're probably aware that you can rent homes, cottages, and private rooms on Airbnb.
But did you know that Airbnb also offers a variety of unique stays like treehouses, houseboats, and RVs?
Yes. You can rent RVs on Airbnb.
Since RVs have wheels, you might wonder how it's possible to host a camper or RV on Airbnb since recreational vehicles typically move from site to site.
Here are a few important things you need to know before renting out a trailer or motorhome on Airbnb.
Let's get started.
Can you rent out your RV on Airbnb?
Yes. If you have an RV and a dedicated place to park it, you can list your RV on Airbnb just like you would a house, condo, or bedroom.
To rent out your RV on Airbnb, you'll need to meet the company's requirements for becoming a Host, which means you'll need a place to park your RV since RVs listed on Airbnb require a stationary location.
How does renting an RV on Airbnb work?
Renting an RV on Airbnb is similar to renting a house or bedroom, but instead, you'll narrow your search field for camping or camper when it's time to choose which type of accommodation you want.
How to search for a camper or RV on Airbnb
Using the Airbnb app or a desktop browser, determine the location where you'd like to stay. Airbnb has flexible search options, and if you have flexible travel dates, you may be able to see more RV or camping availability in the area you hope to visit.
Step 1. Choose your location, dates, and guests
Choose your location and then enter in your flexible or concrete travel dates along with the number of guests coming along.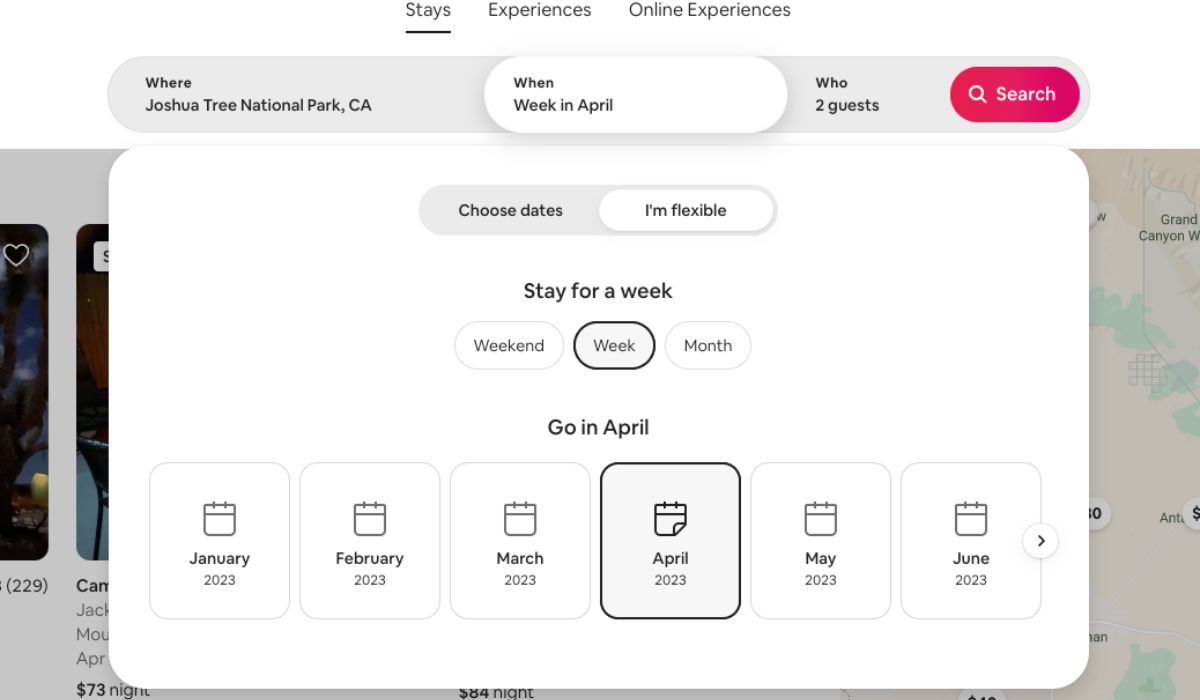 ---
Step 2. Filter your search by selecting camping or camper
Next, apply the camping or camper filter depending on the icon that's visible in your search location. To see all available properties, avoid adding additional filters.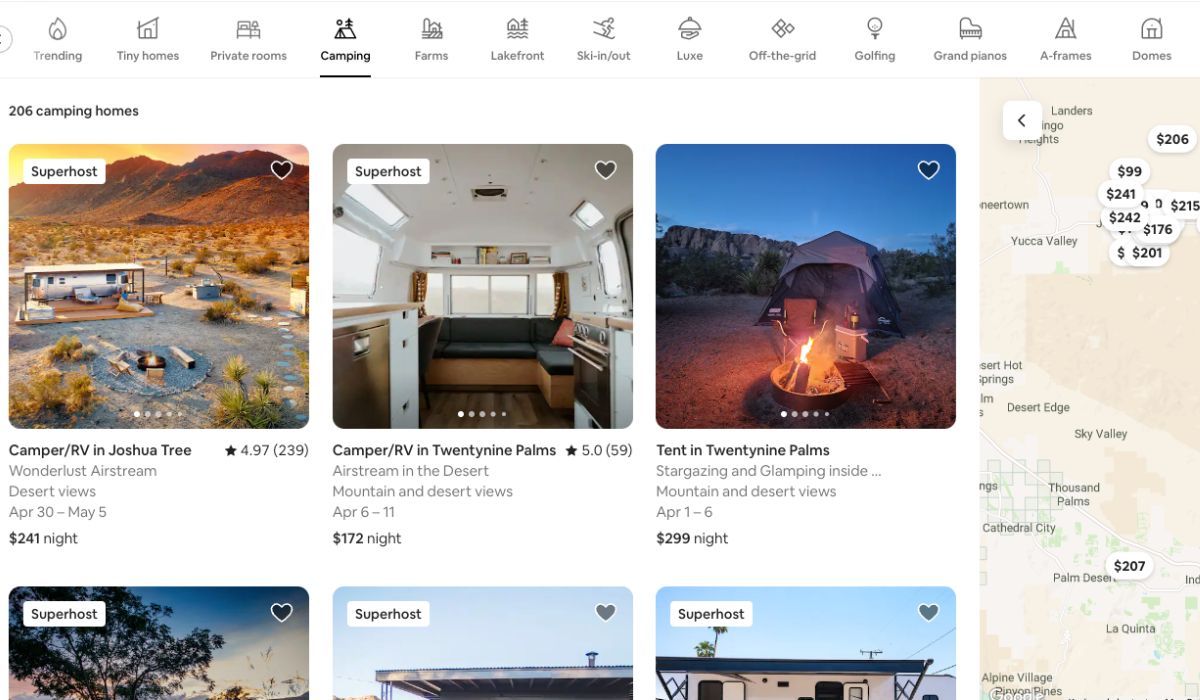 ---
Step 3. See what's available
The more filters you apply, the fewer properties you'll see. Once you see the available RV rentals, start adding the filters to see if any properties meet your needs.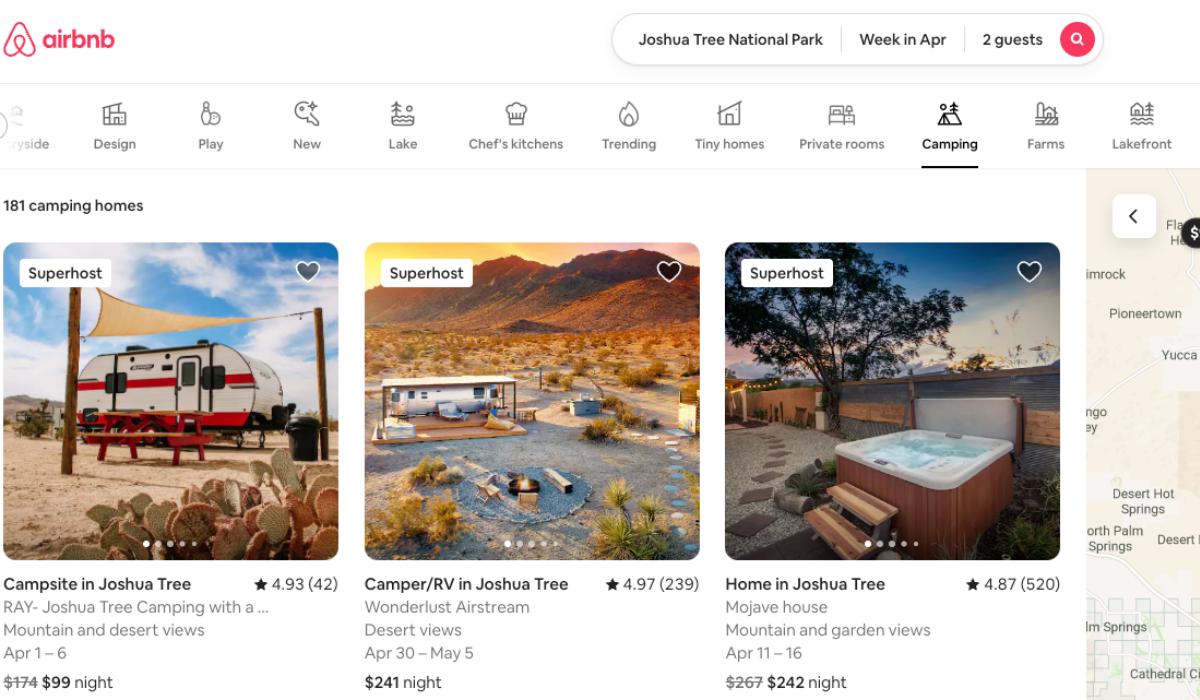 ---
How much do RVs rent for on Airbnb?
On Airbnb, RV rentals function just like any other rental. Camper/RV rentals prices are often dependent on location, time of year, local events, and amenities. In regions with periods of high demand, expect to pay more for your RV rental.
Want to know how much it costs to rent an RV on Airbnb? Check out these listings near Joshua Tree National Park.
Limited or basic
The average rental price for a stationary RV parked in a location with limited or basic amenities runs between $97 to $199 a night.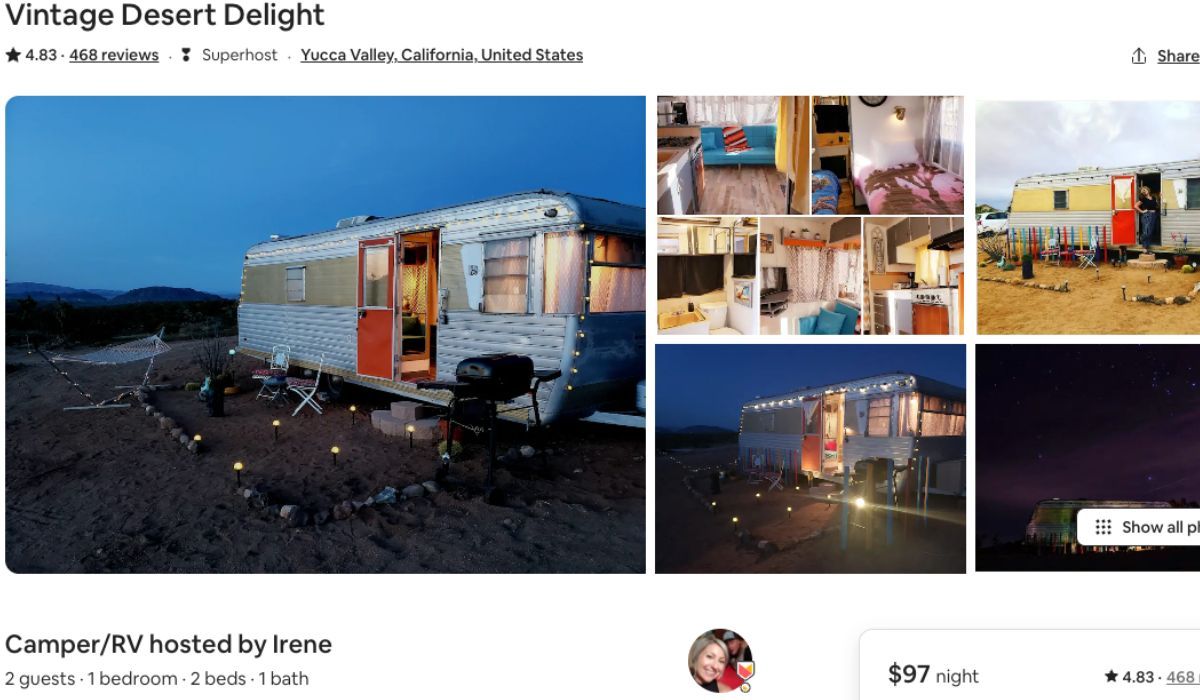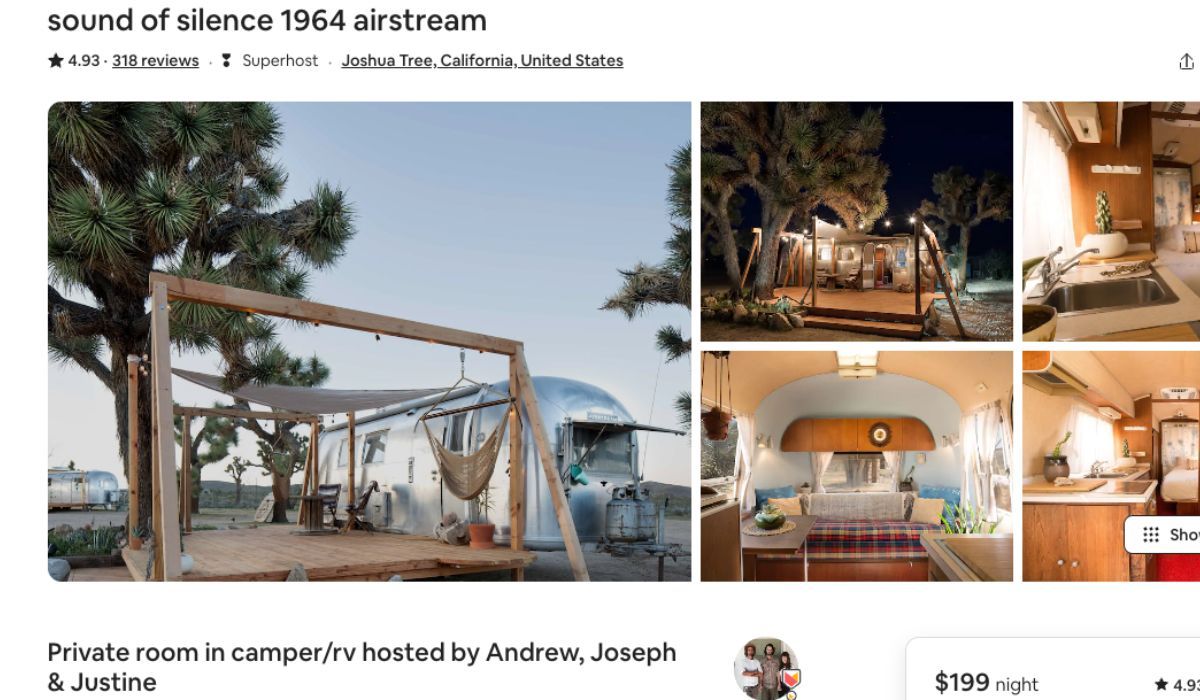 Unique or luxurious
The average rental price for a stationary RV parked in a location with unique or luxurious amenities runs between $346 to $403 a night.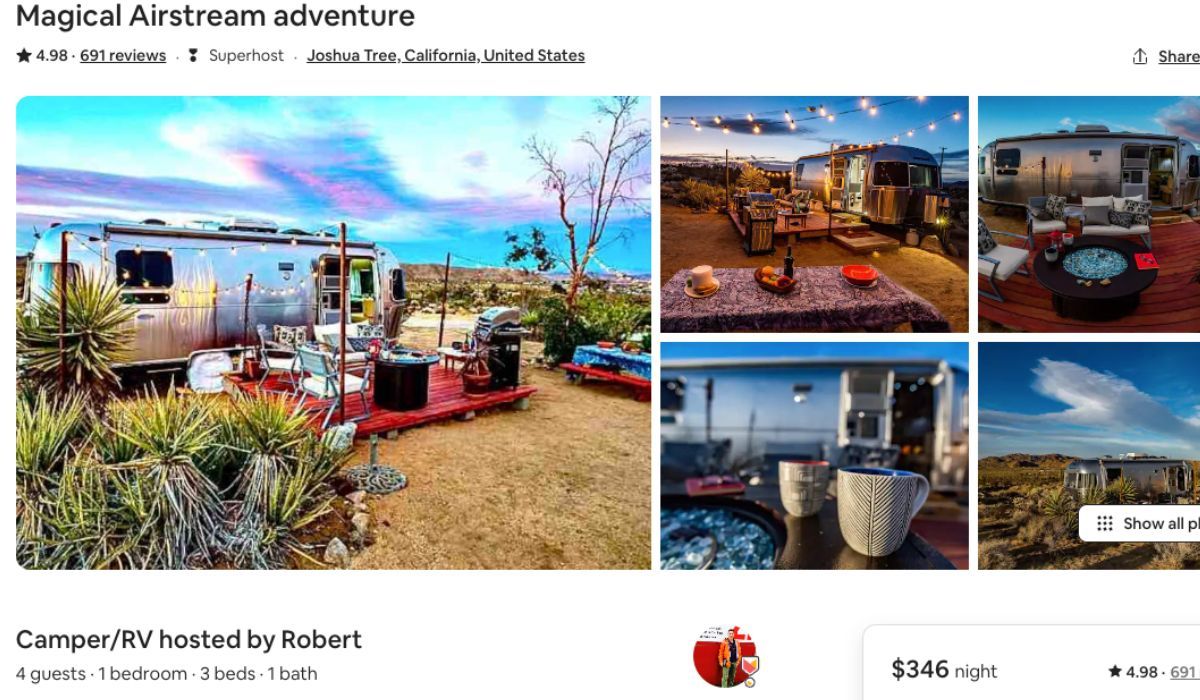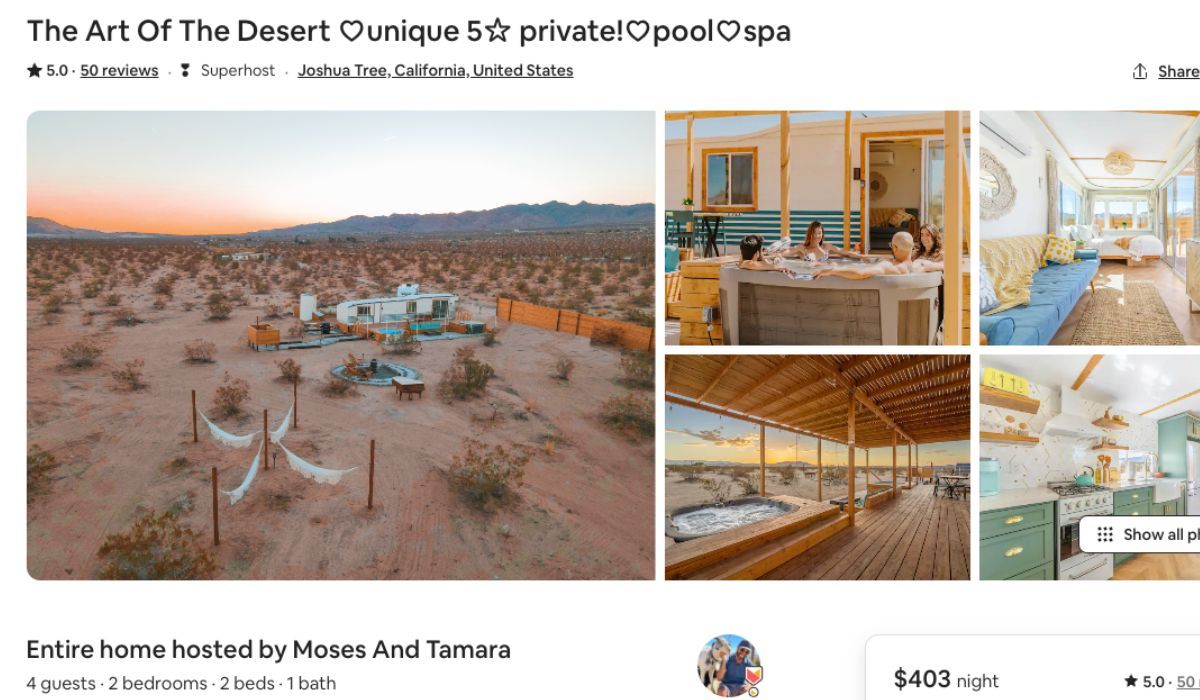 What types of RVs can you rent out on Airbnb?
Hosts can list any type of stationary RV on Airbnb, as long as it meets Airbnb's Host requirements.
Most RVs listed on Airbnb are travel trailers and fifth wheels. The most popular model? The iconic Airstream. With its awe-inspiring aluminum body, the Airstream is both a symbol for RV vacations and the subject of many Instagram shots.
Why are there not more motorhomes on Airbnb?
Motorhomes are made to move. It's easy to park a trailer on your property, build a casita, patio, and outdoor grilling area, and make it look like a permanent establishment. But, when you park a motorhome permanently? It takes away from the very reason you have a motorhome — to drive.

If you're looking to rent out your motorhome, sites like RVezy offer a much better option for earning top dollar while allowing renters to experience the joys of the open road.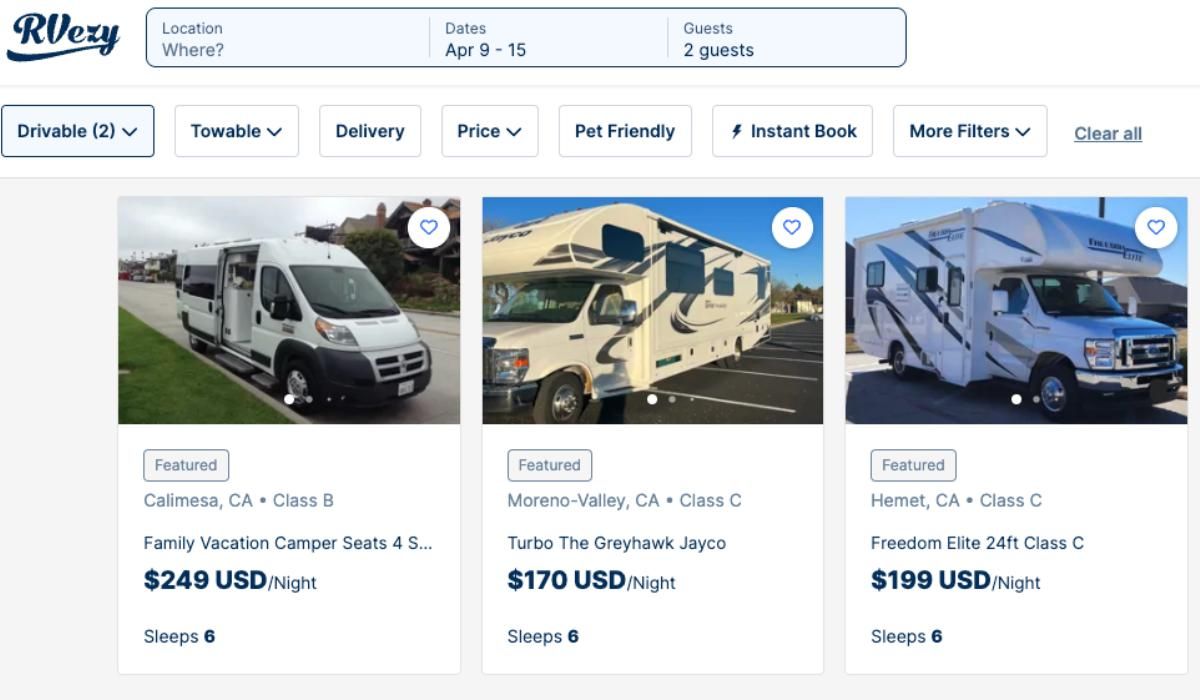 What are the best alternatives to Airbnb RV rentals? If you have a motorhome, listing your RV on another platform might be a better option. Why? Read more below.
What coverage does Airbnb offer RV owners and renters?
Airbnb doesn't differentiate renter protection from one type of property to another. The company does its best to build a level of safety and trust for all renters and owners on the platform. Security features such as background checks, secure payment features, and account protection help safeguard Hosts and Guests against potential problems.
Like most peer-to-peer rental platforms, Airbnb offers its AirCover for Hosts, which protects the property and belongings. Hosts who want more coverage can also add a Host Protection Insurance liability plan or a security deposit to their standard offerings. Want to know the finer details? Check out Airbnb's terms and policies for inclusions and exclusions for campers and RVs.
What are the best alternatives to Airbnb RV rentals?
Whether you're an RV owner looking to make some extra money by renting out your RV or a traveler looking to go on an RV adventure, it's always a good idea to know what Airbnb alternatives are available.
Many RV rental companies have perfected the rental process, and they know how to help renters experience an authentic piece of the RV lifestyle. Peer-to-peer, corporate, and fleet RV rental companies dominate the RV rental market because they understand what it takes to give renters an RV road trip adventure.
Although RV rentals have been around for decades, the peer-to-peer marketplace, with its personalized twist, has quickly become the standard for authentic RV rental experiences. RVezy, often referred to as the "Airbnb of RVs," is one of the top-rated peer-to-peer RV rental marketplaces and a popular option for RV owners and renters.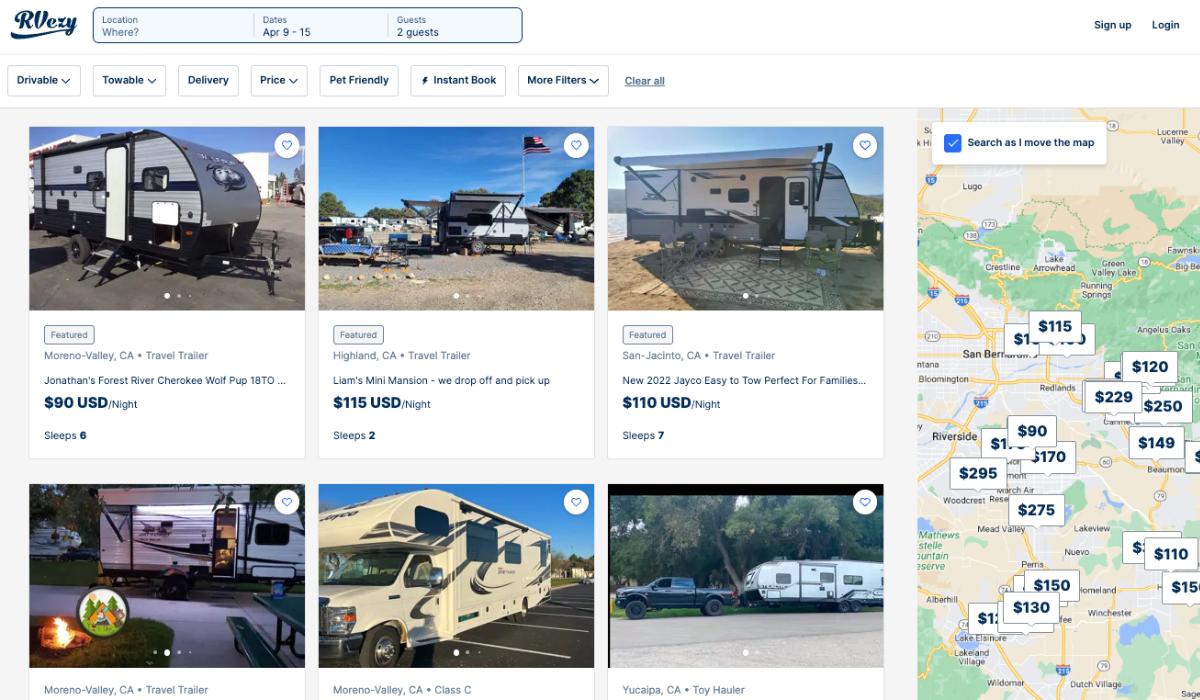 Airbnb vs. RVezy?
Airbnb
Airbnb is the best choice to create a stationary glamping experience. Because campers and RVs listed on Airbnb stay in one location, the sky's the limit when it comes to an upscale and luxurious camping experience.
The cost to stay in a stationary RV rented through Airbnb can be expensive because you're paying for the property's amenities, not necessarily the RV's amenities. Remember that stationary RVs are still recreational vehicles, and they won't have the plumbing or brick and mortar amenities like a house or hotel may have. Most likely, you'll still have limited water resources and will have to empty or fill your tanks during your stay.
RVezy
RVezy is the one-stop-shop for everything RV related and the best choice for an authentic RV experience.
When you rent an RV on RVezy, you have more RVs to pick from, and you get to determine what kind of RV experience you want. You can drive or tow your RV rental or rent a rig that's parked in a fixed location (RV cottage). If you want a combination of a moving or parked RV, have your RV rental delivered to the campground of your choice.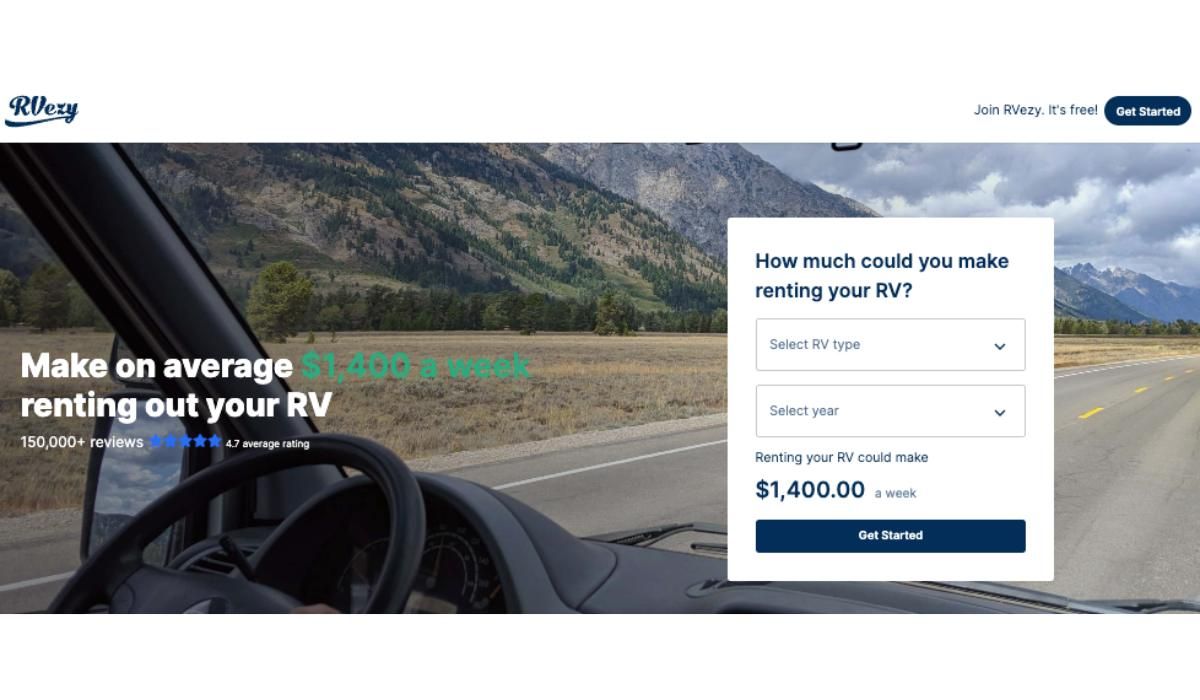 Want to list your RV and have it rented out? On RVezy, you'll have total control over your listing. Depending on the type of RV you own and the add-ons you create, you can customize your listing however you see fit. Motorhome owners will make more money on RVezy than on Airbnb because they can be driven and renters are willing to pay more for that experience. You can expect to make $1,400 or more per week and get access to RVezy's best-in-class insurance and 24-hour roadside assistance.
Ready, set, rent
Since RVs are meant for the road, once you try a camper rental with Airbnb, there is a good chance you'll be ready for something more authentic. Ready to feel the wind in your hair? Check out some of RVezy's hottest RV rentals near you.