The Trans Canada Highway is one of the world's longest national roads. It runs from Vancouver Island in the west to Prince Edward Island in the east, for almost 8000 kilometres!
It passes through each of Canada's 10 provinces.(not including its three northern territories), and crosses a few major cities, but for the most part is amongst natural and rural environments.
To make the most of the Trans Canada Highway experience, it's always a good idea to plan ahead. For example, have a few 'end of day' options ready each afternoon. That way, if you're making good time you can choose to cover more ground, or, if it's been a big day, stop short and relax for the afternoon.
In this article we provide 10 great camping areas to stop along the way. We have spread our selection out among the provinces, and picked camp areas which provide access to some of Canada's best scenery and outdoor activities. Prices vary between $20 and $60 for an RV site, but are subject to change, so it is best to check each individual website for up-to-date prices.
Top 10 RV Trans-Canada Highway Stops
These 10 RV Trans Canada Highways stops go from west to east, at a comfortable days drive apart, and could be used as an RV Trans Canada Highway itinerary to base your cross Canada road trip and camping experience.
Brookside campsite
This Trans Canada Highway camping area is in the heart of British Columbia. It is two minutes from the major junction of Highway 1 (the Trans Canada Highway) and Highway 97, and just north of Elephant Hills Provincial Park. It's a gem in the desert with all the RV facilities you will need like RV hookups, free showers, fire pits and it provides access to Cache Creek for some fishing opportunities. It is closed during the winter and reopens April 1st each year.
Website: https://brooksidecampsite.com/
Tunnel Mountain Village 1 Campground
This camping area is located just over the British Columbia border in Alberta (Banff National Park), only five kilometres east of Banff and only a few minutes south of the Trans Canada Highway. This camping area provides some of the most beautiful mountain scenery available on a cross Canada road trip. It is a government maintained campsite with fire pits, flush toilets, showers and RV dump sites, while providing a real grass roots camping experience. To book ahead you can use the National Parks online reservation service.
Website: https://www.pc.gc.ca/en/pn-np/ab/banff/activ/camping/tunnel1
Crawling Valley Campground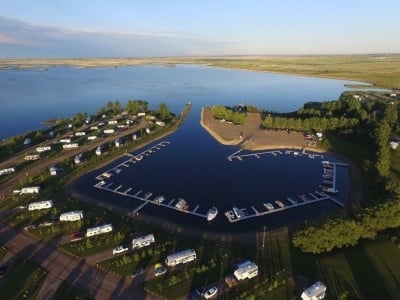 Image source: Crawling Valley Campground website
Located in Alberta and approximately 150 kilometres east of Calgary, Crawling Valley Campground is situated right on the banks of Crawling Valley Reservoir. It is around nine kilometres north east of the Trans Canada Highway.  It provides all the RV facilities you'll need, as well as a small marina on the lake. It is open from May 1st to September 30th each year.
Website: http://www.crawlingvalleycampground.ca/
Indian Head Campground
Located in Saskatchewan, it is right in the town of Indian Head, and less than one kilometre north of the Trans Canada Highway. It has free hot showers and a heated swimming pool, with the full suite of RV facilities needed. It is closed in Winter.
Website: http://www.indianheadcampground.ca/
Whitemouth River Campground
This camping area is located in Manitoba, 115 kilometres east of Winnipeg. It is just over one kilometre south of the Trans Canada Highway. It is situated in the Sandilands Provincial Forest, and right on the Whitemouth River which provides some great opportunities for boating, kayaking and fishing. The camping area has the full suite of RV services, with a max trailer length of 36 foot. Multi season camping is available.
Website: http://www.whitemouthrivercampground.com/
Rossport Campground
Located in Rainbow Falls Provincial Park, Ontario, and five kilometres east of the town of Rossport. It is on the banks of Lake Superior, only a couple of hundred metres south of the Trans Canada Highway. The camping area has flush toilets and laundromat, plus kayak and canoe rental nearby. It is open May 18 - September 16.
Website: https://www.ontarioparks.com/park/rainbowfalls/camping
Flat Rapids Camp
Also located in Ontario, it is approximately 90 kilometres south of Sudbury and seven kilometres west of the Trans Canada Highway.  It is situated in the French River Provincial Park. Facilities include toilets, fire pits, showers and BBQs. Great fishing is available right on the French river.
Website: https://www.flatrapidscamp.com/
Camping Trans-Canadien
Image Source: Camping Trans-Canadien website
Located in Quebec and approximately 70 kilometres west of Montreal city centre, it's only one kilometre east of the Trans Canada Highway. It provides the full range of RV facilities, and is outside the hustle and bustle of Montreal, right near the Ottawa River!
Website: http://www.campingtranscanadien.com/#
Camping Transit
Also located in Quebec, it is approximately 40 kilometres east of Quebec City, and on banks of St Lawrence River. It has all the RV facilities you will need, and you may even spot some Beluga Whales which the region is so well known for! Check out our recent article about Quebec whale watching for more information.
Website: http://www.campingtransit.com/
RiverRun Campground
Our last campsite is located in New Brunswick, right on banks of Canaan River. With a full rage of facilities, and open from May long weekend to the end of September, it provides an ideal stop over near the east coast.
Website: http://www.riverruncampground.ca/
Summary Trans-Canada Highway Camping
These are just a few of the best camping areas which could be integrated into an RV Trans Canada Highway road trip. There are many others to choose from with a huge range of facilities and activities to suit anyone!
Driving and camping across Canada along the Trans Canada Highway will be an experience you will never forget. And if you're wondering what is the best vehicle to do it in, have a look at RVezy's huge range of motorhomes and travel trailers!