When you rent out your RV during the times you are not using it, it's not just a great way to make extra cash - it's a rewarding experience that allows you to connect with fellow RV enthusiasts and travellers, to help bring to life their next RV adventure! With the fall season fast-approaching, it is time to start thinking about how you can boost the demand for your RV rental as the weather starts to cool down and the kids start to head back to school.
Before you start boosting your RV listing on RVezy, please make sure that it is up-to-date with clear photos, a detailed description, accurate add-ons and updated availability calendar.
Post your RV listing on Kijiji
Why? This will give you direct access to a large pool of potential renters who are looking for RVs to rent in your area!
Kijiji is Canada's largest site for classifieds, with millions of ads posted on a daily basis across a wide range of categories including housing, jobs and – you guessed it- RVs! Over 16 million Canadians use Kijiji each month, making it a great starting point for you to get more of the right eyeballs on your RV listing, as Kijiji will put your ad in front of a hyper-targeted pool of potential customers.
1. Register your profile
1. Register a profile on Kijiji here: https://www.kijiji.ca/t-user-registration.html
2. Create an ad
After you have confirmed your account, you can start creating your ad. Begin by crafting an attention-grabbing title for your ad. Make sure that you specify that the RV is FOR RENT, as Kijiji places a focus on buying and selling. This will help prevent you from receiving requests from people who are looking to buy an RV.
3. Select a category
Usually Kijiji will pick up from your title that the right category for your ad is "RVs and Motorhomes". If not, don't worry! You can easily select the category manually.
You can do this by selecting "Cars and Vehicles" in the drop-down list. Click "RVs, campers and trailers" and choose either "RVs and Motorhomes" OR "Travel Trailers and Campers", depending on the kind of RV you have.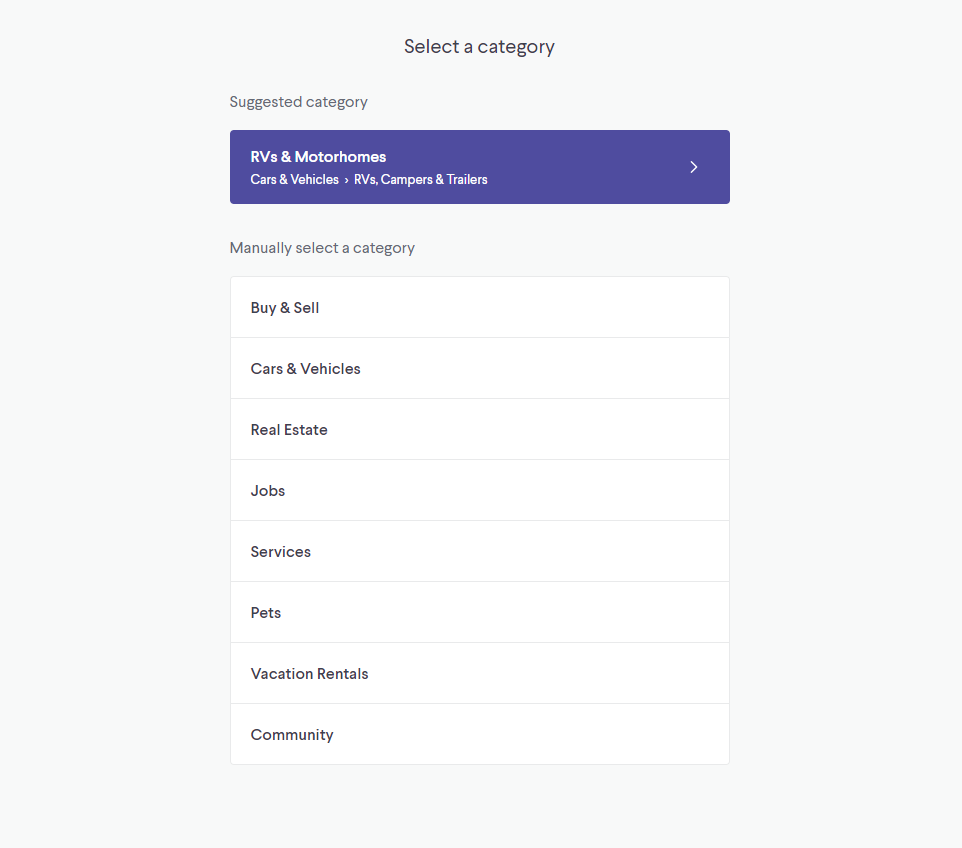 4. Add details
Now this is where the fun begins! Add your nightly price for the RV. Make sure you pay attention to your high-season and low-season rates at the time you are posting your ad, so you can be sure to post the correct price and avoid frustrating your renters.
Select "For Sale By Owner". Although it is not mandatory, you can include information on the Colour, Year and Kilometers on your RV as some renters may be looking for that information when they view your listing.You can modify your ad's title as well if you so wish.
If you are aggressively looking to secure bookings for your RV, you can make use of Kijiji's "Reduced" feature for $10.95 for 10 days. It is not compulsory, but it is good to keep in mind that ads with the red Urgent or Reduced banner stand out from all others because of their different look.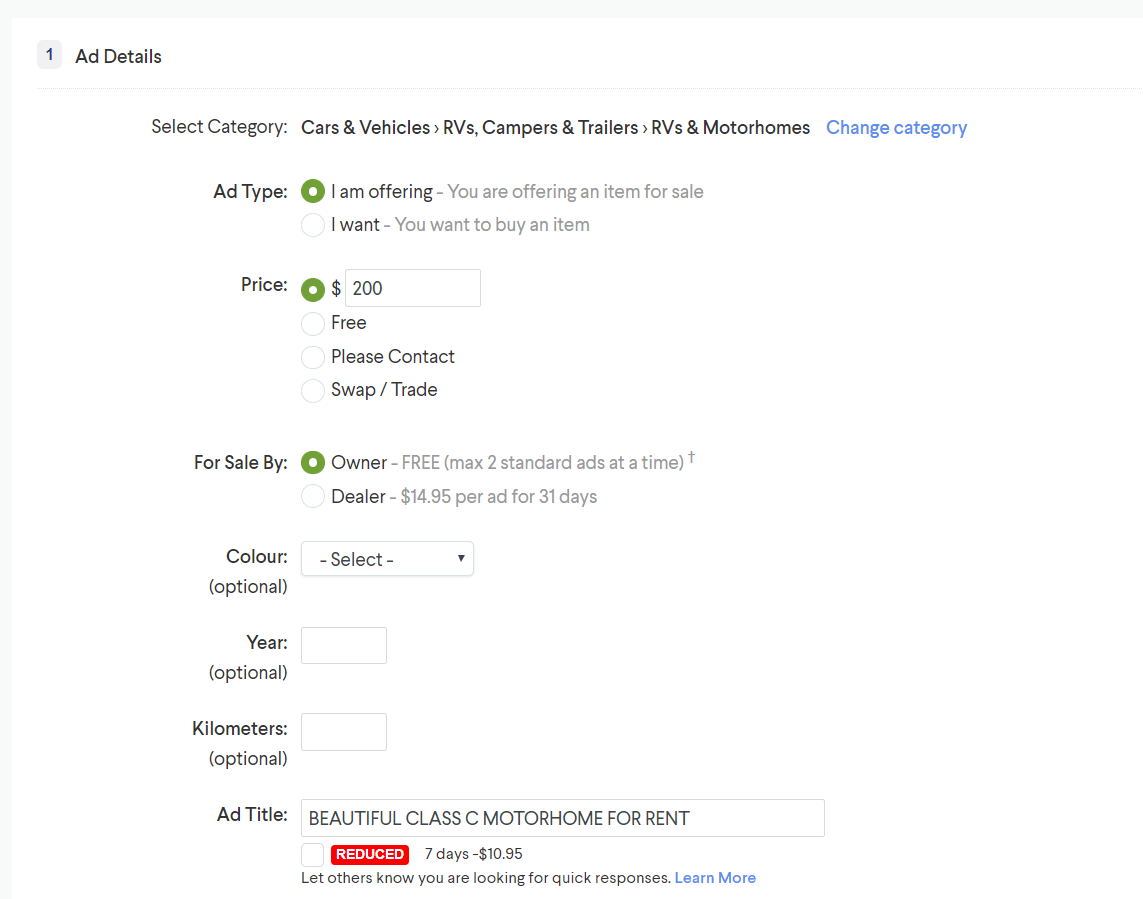 5. Add description
Next, you will need to start working on your ad's description. It is best to start off your description with the link to your RV listing on RVezy. E.g. "To check availability, make inquiries and request to book, please visit: https://www.rvezy.com/rv-rental/mylistingurl".
Ensure that you clarify that the price listed on your ad is the nightly rate for renting your RV.
Next, describe your RV. This is here you can give your RV the opportunity to shine! Tell potential renters why your RV is the best option for their trip and how it will meet all of their needs. Talk about all the things that make your RV unique and what about it will make their trip an unforgettable experience. Be sure to also address some key points that renters may want to know about, including the number of kilometers available per day (if limited on a motorhome), the number of seat belts available the in RV and how many it sleeps, for example.
Basically, all the key information you would include in your RVezy listing - add it here as well.

6. RV photos
Now it's time to add photos of your RV! Be sure to add clear and attractive photos that really show off the best qualities of your RV. Select photos that will make your RV irresistible. You can add up to 10 photos here, so it is up to you to add as many photos as you would like. Keep in mind that the more photos you provide, the more likely it is that renters will choose to rent your RV over other available options.
If you have a YouTube video of your RV, you can also add it here.
7. RV location
We're almost there! The next step is for you to add the location of your RV. This is an important step because it will help renters who are looking to rent an RV in your area find your listing. Be sure to add the accurate location so as to prevent renter frustration and to prevent logistical headaches for you later on. Kijiji will ask you for the area code of the RV's location so add that in this section.
It is also optional for you to add your phone number, so you can add that here only if you are comfortable with it.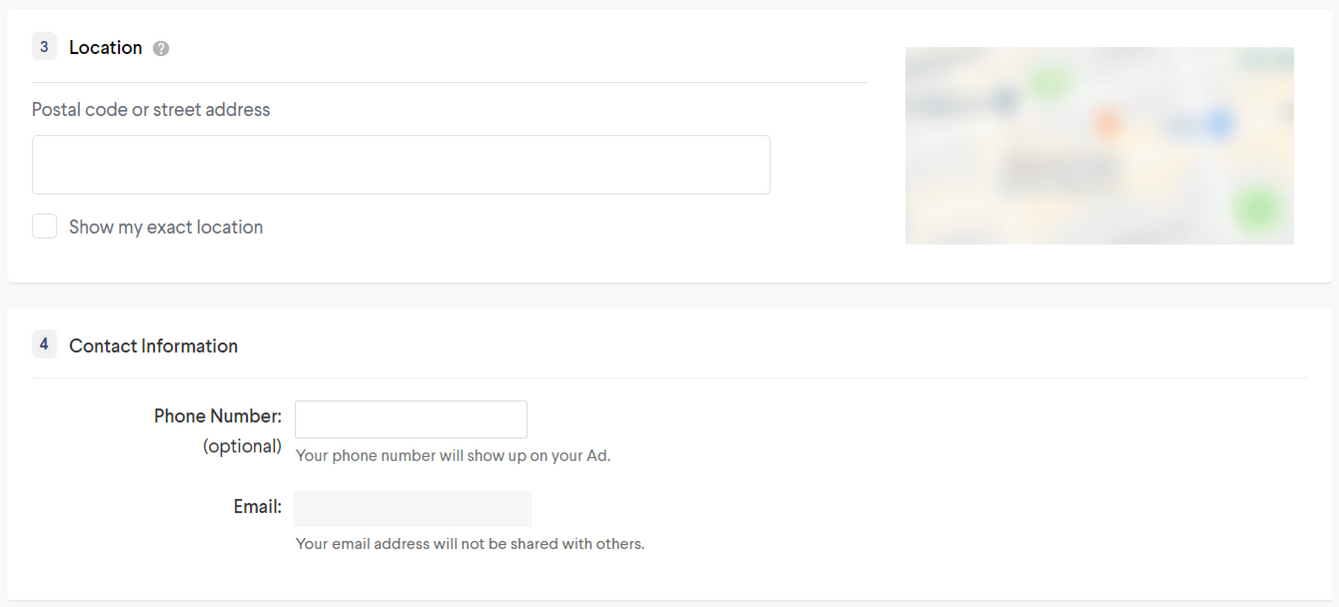 8. Publish your listing
And that's it! Are all good to publish your listing! All that is left is for you to wait for the inquiries to start rolling in - both on Kijiji and RVezy.
Try to give your potential renters timely responses in order to retain their interest. If renters don't receive a response from you, they will look elsewhere! Make sure you keep checking both your RVezy ad Kijiji accounts regularly, so you can stay on top of all of your messages.

You can also promote your RV rental listing on other classifieds sites, like Craigslist, LesPAC and Used Everywhere to maximize exposure for your listing.
Now go out and share your listing with the rest of the world and get ready for back-to-back RV bookings this fall!
---
Note: It is important that you process all transactions for your RV rentals through RVezy to ensure that you are protected by our insurance policy and that all your renters are verified by our system. Processing payments through RVezy instead of getting cash on Kijiji allows us to protect your booking with our $2M insurance that will protect your RV in any eventuality.
If you would like to learn more about RVezy's insurance policy, click here.