Searching for tips on how to clean your RV?
You've come to the right place. RVezy's cleaning tips will help you create a cleaning routine that works best for your RVing lifestyle.
A word of caution — consult your RV owner's manual for cleaning recommendations before trying a new cleaning tool or product. You don't want to scratch your surfaces or destroy your fabric because you tried social media's latest RV cleaning hack.
Let's explore the best tools, products, and tips for keeping your home on wheels clean.
Clean sooner rather than later
The easiest way to keep your RV clean is to promptly remove the dirt, bugs, oils, minerals, and other buildups that make your rig dirty and age your investment. When left untreated:
Road grime destroys the underbelly of an RV.
Bugs disintegrate exterior paint.
Dirt and rocks scratch floors.
Leather and vinyl surfaces absorb dirt and body oils and break down materials.
Hard water stains are tough to remove. Wipe down the shower or tub after each use to keep hard water stains from forming.
Do you rent out your RV on RVezy? Instead of cleaning your rig after every rental, consider hiring a professional cleaning service to help simplify the turnover process. Treat your RV as a vacation rental, and use your cleaning fee toward the cost of hiring a professional cleaner. To get started, search for vacation rental cleaning services near you.
Keep cleaning supplies in your RV
Save yourself time and money by keeping your RV stocked with the cleaning supplies you'll likely need during your road trip. Avoid extra trips to the store and prepare yourself for any cleanup on the road.
Microfiber towels and cloths clean almost any surface without scratching or smudging. Believe it or not, some microfiber products use only water to clean. Keep a set of microfiber towels for both the interior and the exterior of your RV. Don't forget to buy the glass polishing cloth. Your windows and mirrors will thank you later!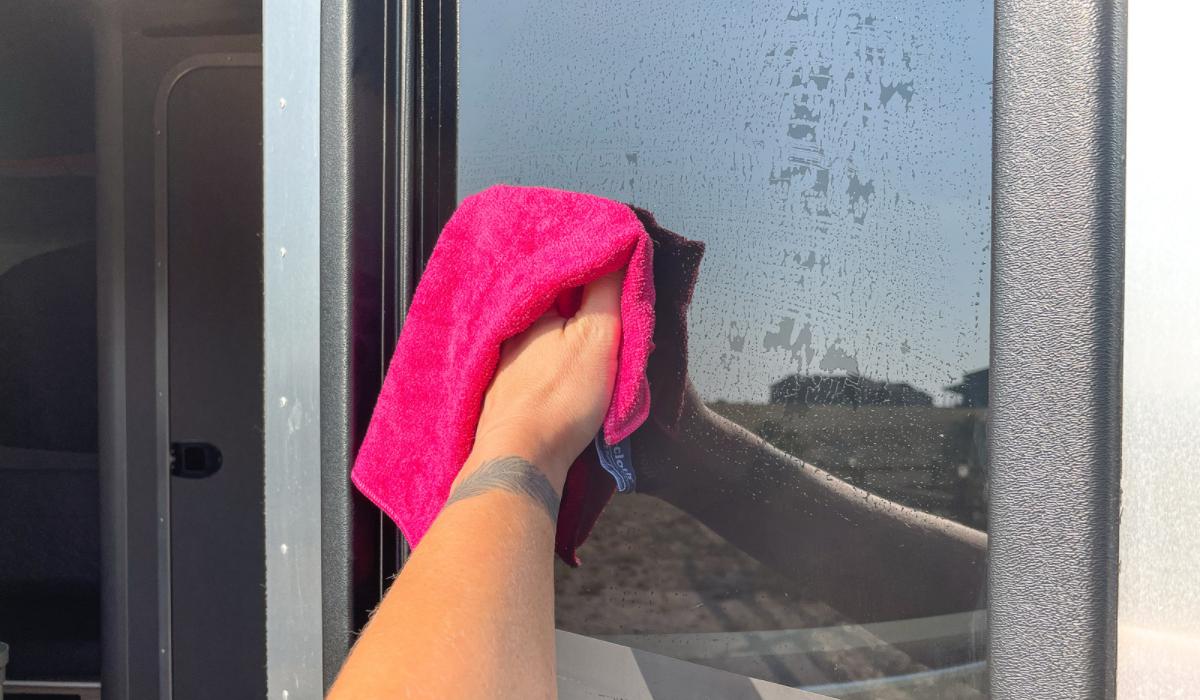 Folding handle broom and dustpan. Forget the hand-held brooms and opt to store a long-handled broom in your RV. Brooms sweep everything from your outdoor rug to your pop-up screened-in rooms.
Small cordless vacuum. Cordless vacuums pick up small particles and debris that brooms might miss. Store your compact, cordless vacuum in almost any cubby, and use it to pick up things like pet hair and food crumbs.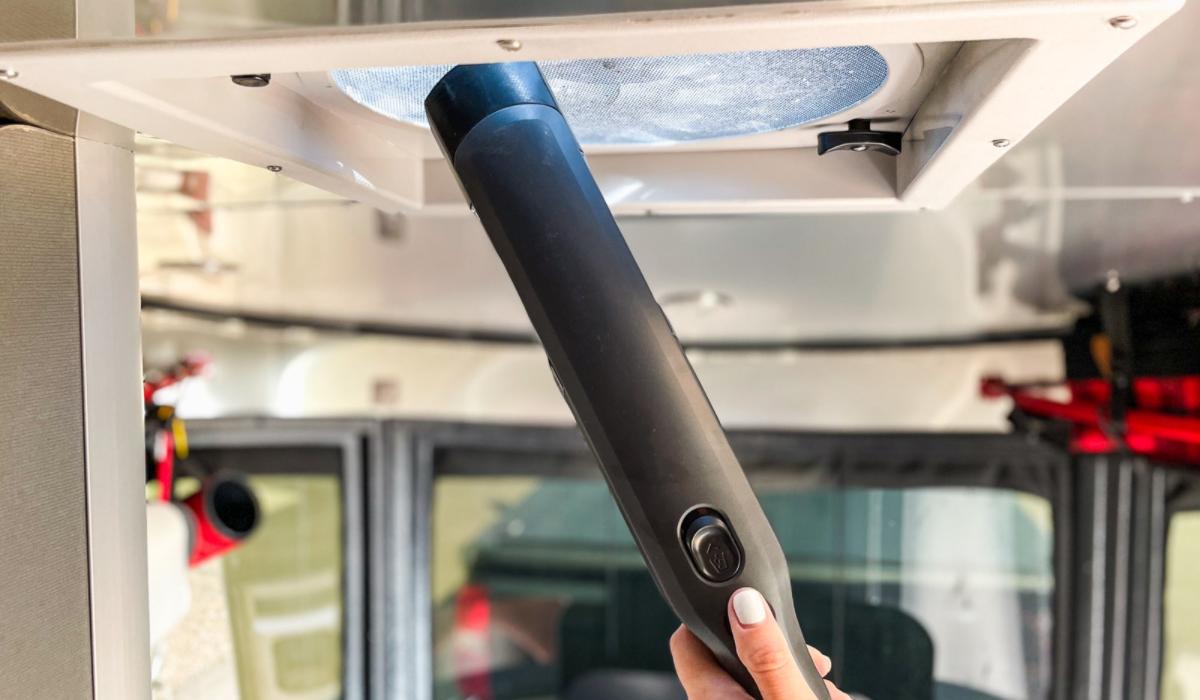 Kitchen scrub brush. Don't buy a long-handled toilet brush to clean the commode. Save yourself space and use a kitchen scrub brush to lightly brush the inside of your toilet when it's time to clean. Use a permanent marker to label your brush, and keep it stored in the bathroom. You won't want to mistake your toilet brush for a dish cleaner. Gross!
Wet and dry mop. A microfiber wet and dry mop has interchangeable heads and uses water to clean. Instead of storing wet wipes that dry out and take up space, use a microfiber mop to clean and dust your RV floors.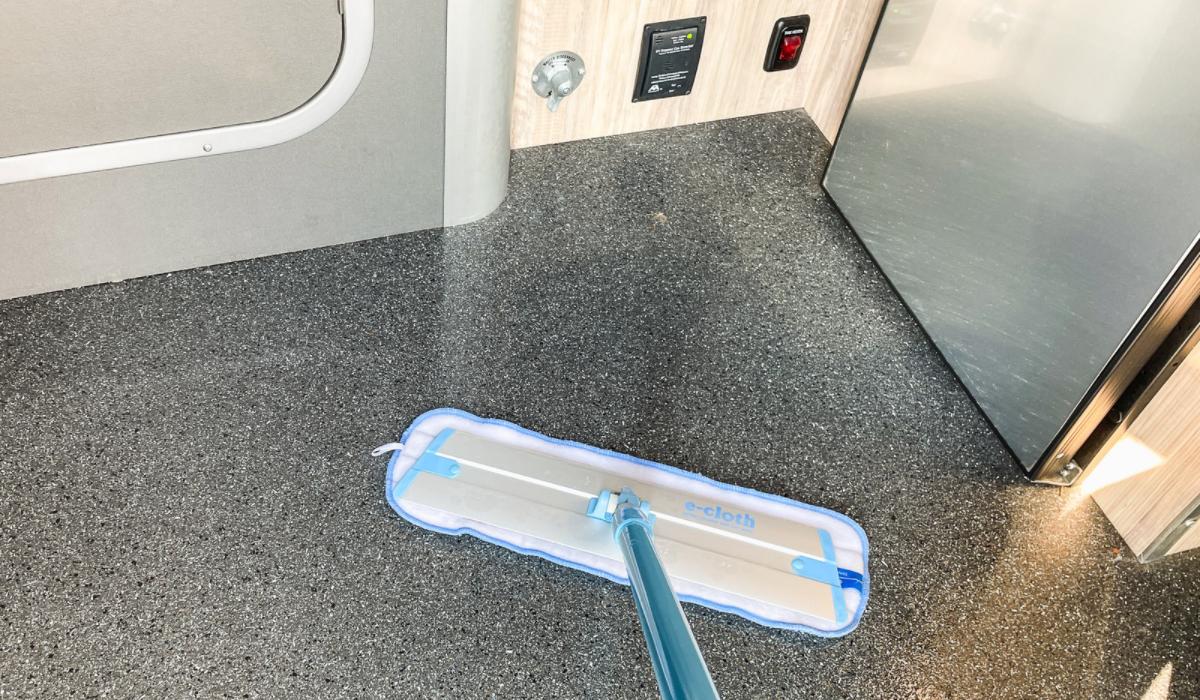 Squeegee. Hang an all-purpose squeegee near the bathroom for quick access. Squeegees remove excess water off the shower walls and floors, making it almost impossible for hard water and mineral deposits to build up. Squeegees also come in handy when it's time to clean the RV's windows. Do you have a tall RV? Attach your squeegee to a telescopic pole to get to the hard-to-reach spots.
Pet hair remover. Are you traveling with pets? Keep one or two pet hair removers in your rig to remove the fur on your clothes, bedding, and carpeted surfaces.
Step ladder. A lightweight, folding step ladder will help you reach high places safely. Even though a telescopic pole and squeegee will help you clean your RV's windows, a ladder will help you stabilize yourself and get to the toughest areas to reach. Aside from cleaning, a step ladder will help you change a lightbulb or reach the top of an awning.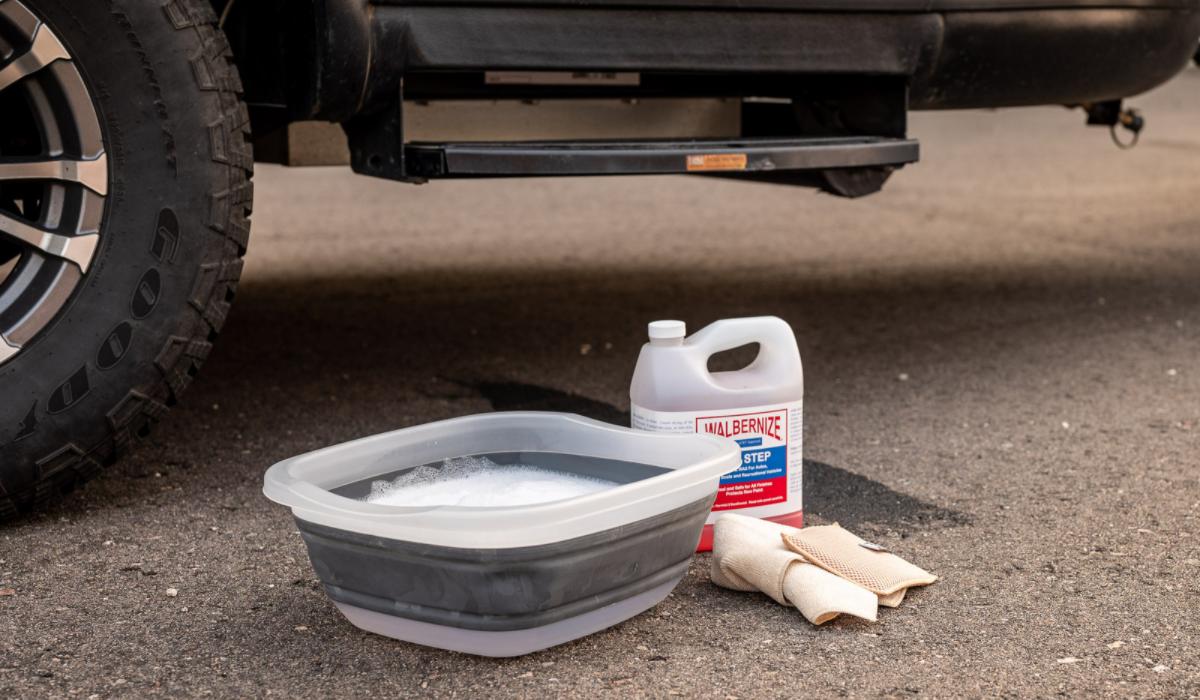 Collapsible tub. Always keep a collapsible tub with a handle in your RV. Here are a few quick camping hacks: use the tub to clean off sandy feet or carry food to your neighbor's campsite.
Large trash bags. Whenever possible, carry your waste to the dumpsters in thick bags. Thicker trash bags eliminate messes and help to keep the campground clean.
Clean with non-abrasive multi-surface cleaning products
The general rule of thumb for RV travel is that less is more. Save yourself storage space and buy multi-surface cleaning products. Make sure you read the labels. Abrasive cleaners can scratch or mar your home on wheels.
RVezy owner's tip: Are you renting out your RV? Leave scent-free and natural-based products in your rental unit for the renters who are sensitive to smells.
Here are some of the top-rated non-abrasive soaps and detergents recommended by RV owners and manufacturers: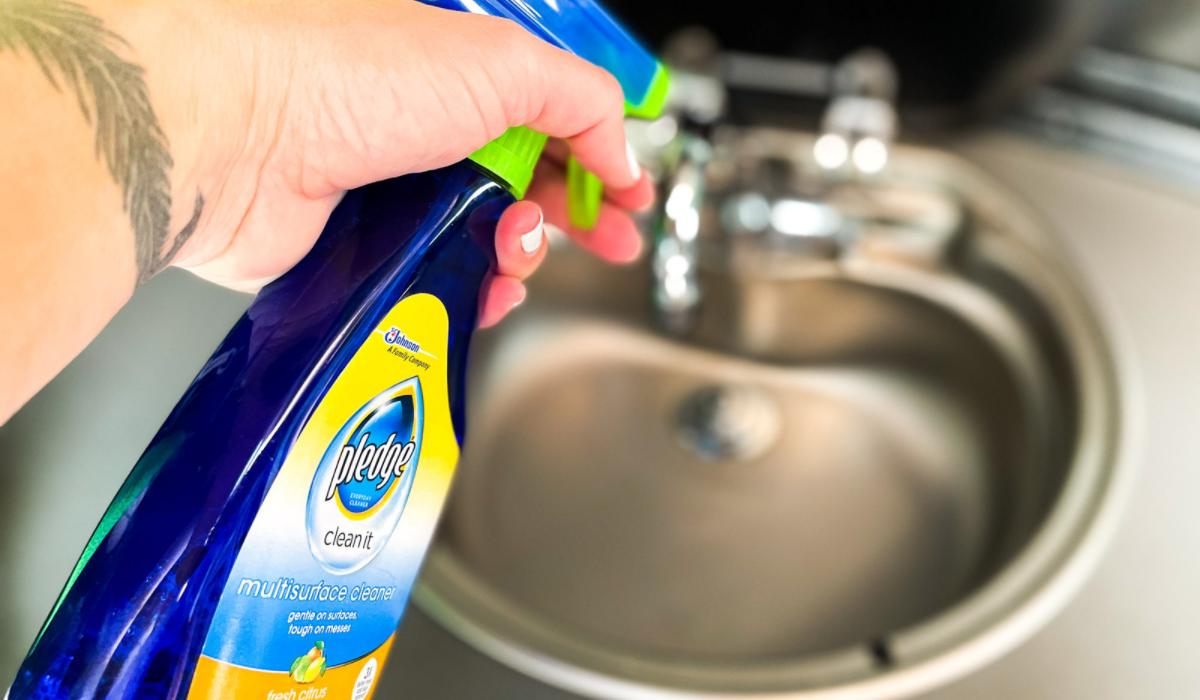 Clean from the top-down and from side to side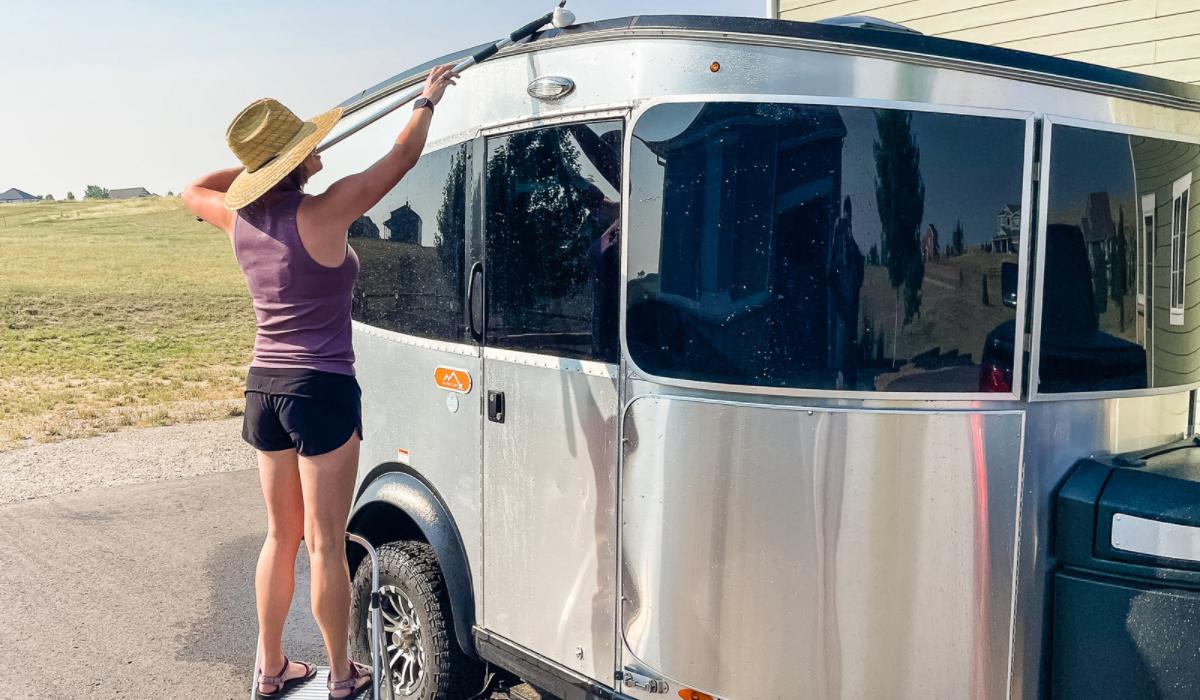 Wash the outside of your RV's exterior from the top down. This method prevents the dirty water from passing over the clean sections. If you have an Airstream or another RV made with a grained surface, make sure you also wash from top to bottom and from side to side to avoid damage or scratches.
Don't skip the roof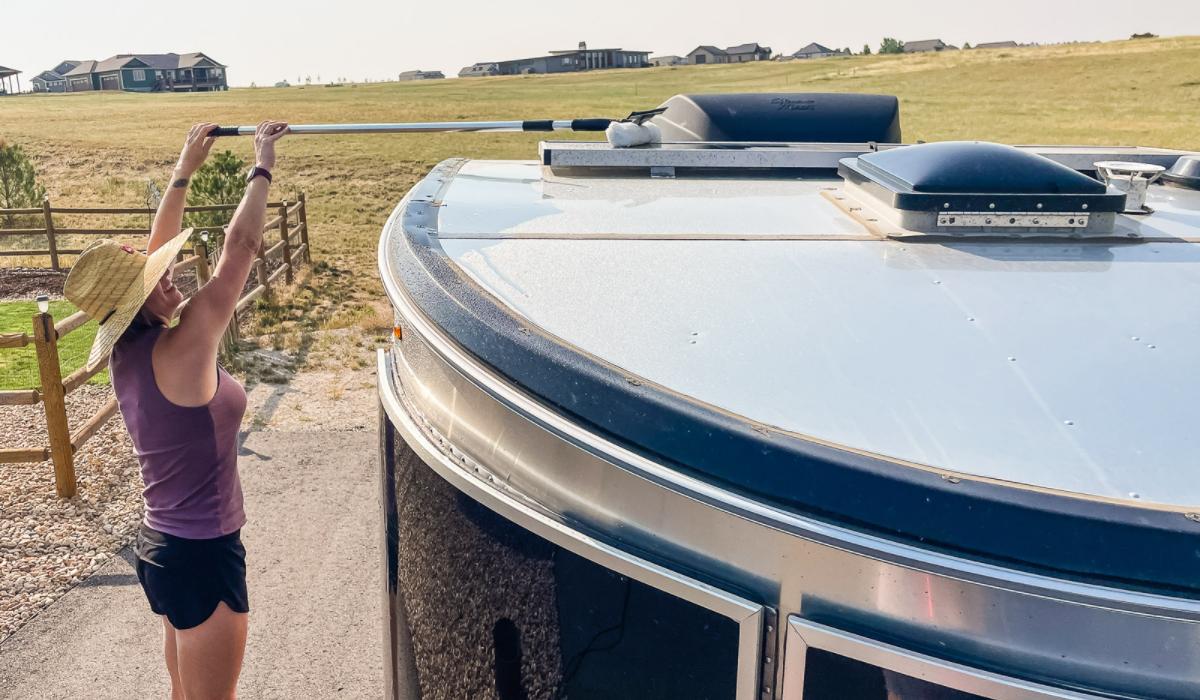 Don't forget to wash the roof of your RV. It's not necessary to clean the roof every time you bathe your rig, but washing it a few times a year will give you a chance to clean off any dirt and debris and allow you to inspect your seals at the same time. Do you have solar? Make sure to wash your solar panels while you're up on the roof. Dirt buildup can decrease the sunlight's absorption rate, making the panels less effective.
Clean and ventilate areas where you keep food
Cleaning and ventilating your RV while it's not in use sounds simple enough. Before you park your RV for more than a week or place it in storage, make sure you wipe down your refrigerator and cupboards and look for any leftover food that might have shifted during travel. If you're turning off your refrigerator, leave the door open or place a towel over the opening to allow for some ventilation.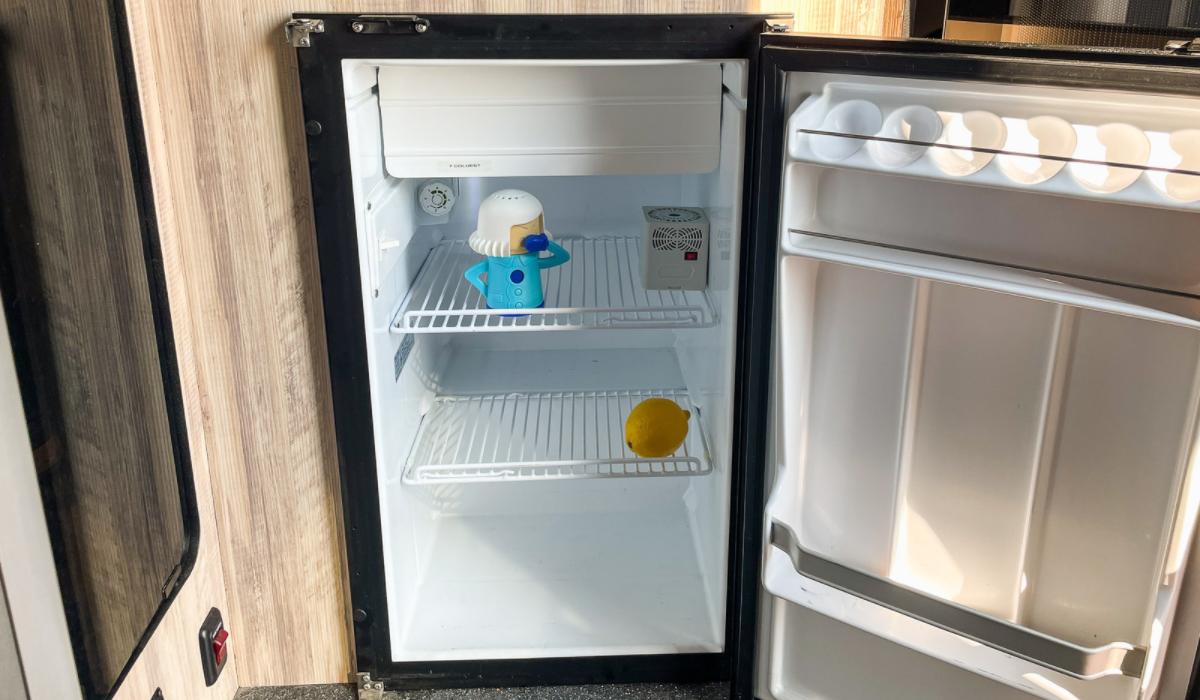 The consequences of leaving fruit or meat behind are unforgettable. Rotting food smells terrible and attracts critters like rodents and maggots. While the graphic description might make your skin crawl, imagine what it's like to come back to your RV with bugs crawling around your refrigerator? Yuck!
Use an RV-friendly car wash
Most RV parks prohibit campers from washing their RVs in the campground. If you need to clean the outside of your RV, consider taking it to an RV-friendly truck wash like Blue Beacon Truck Wash. You can specify what kind of wash you want to avoid damaging your RV's clear coat. If you prefer to wash your RV yourself, look for a DIY car wash with tall truck bays.
Detail your RV at least once a year
Just like cars, RVs should be washed and waxed at least once a year. Detailing your RV protects your clear coat and keeps your RV looking good for longer. If you don't want to tackle the job yourself, hire a professional mobile detailing service. Mobile RV detailers bring the car wash to you — at home and in the campground. Even though most RV parks and campgrounds prohibit washing, they will allow mobile detailers. If you think you want your rig washed, talk to the people at the office about your options.
Looking for someone to help you clean your RV regularly? Most mobile RV detailers clean only the outside of the RV, and they price their service by foot. The longer the RV, the more expensive the fee. If you're looking for someone to help you clean the inside of your RV, a professional housekeeping service, similar to the kind you'd use at home, might be a better option.
Avoid using fabric softeners
Microfiber is the best material to clean your RV because it's soft and doesn't scratch delicate surfaces. However, if you don't take care of your microfiber, it will lose effectiveness and break down more quickly. To extend the life of your microfiber, avoid using fabric softener or dryer sheets. Even powdered detergent with fabric softener granules will ruin your microfiber, so it's best to avoid it altogether.
Did you know? Wool dryer balls remove wrinkles and soften fabrics without chemicals. After placing your wet laundry in the dryer, toss in a set of all-natural wool dryer balls instead of using a dryer sheet. Dryer balls soften fabrics naturally and will keep your microfiber cloths in tip-top shape.
Clean towing components
Are you towing a travel trailer, fifth wheel, or a vehicle behind your RV? Don't forget to clean and care for your towing components. After each trip, wipe down the different parts using a grease rag. If you need to, use a water-soluble cleaner to help degrease and remove dirt and road grime. Once everything is clean and dry, it's safe to apply a dirt-repelling lubricant.
Maintain metal or rusted surfaces
Periodically inspect your RV's metal surfaces for rust. If you find rust, clean the rusted area and apply paint or spray, like Rustoleum, to protect and prevent further rusting. The spots on an RV that are most vulnerable to rust are the stabilizers, jacks, the frame, joints, hitch components, and the undercarriage.
Don't skip the undercarriage
After inspecting the undercarriage for rust, were you disgusted by all of the dirt, mud, and road grime you found? If you don't want to clean the undercarriage yourself, check around to see if any DIY car washes have a setting to clean the undercarriage or take your rig through a Blue Beacon Truck Wash and ask about an undercarriage rinse.
Clean your awnings and slide toppers
Cleaning your RV awning isn't as hard as you might think! All you need is some liquid dish soap, a hose, water, bucket, telescoping brush, and a step ladder:
Open the awning and brush on a mixture of soap and water on both sides.
Retract the awning for five minutes and wait.
Extend the awning again and rinse off both sides.
Keep the awning extended until it's dry.
If you have slide toppers, use a broom to lightly brush off any leaves or dirt that might have collected. When the toppers are dirty, clean them the same way you clean your awning, but keep your slides extended the whole time.
Ready, set, scrub!
Now that you know about the top cleaning tools, products, and tips, and you have a framework for cleaning your RV, it's time to get to work. Whether you get all the grime off yourself or hire someone to clean for you, cleaning will ultimately increase the longevity of your investment.