Are you ready for a winter RV adventure, but you don't know where to begin?
We've got the answers to your top questions about winter RVing.
Break out the snow shovels because it's time to dig in!
Can you use your RV in the winter?
Yes, you can RV in the winter. But before you hitch up your trailer or load up your motorhome, you'll need to prep your rig for the cold.
Most RVs aren't made for four-season travel, and that's why people typically winterize their RVs or head to warmer climates when the weather turns cold.
The good thing is, it's not impossible to enjoy your RV all year. Plenty of people use their RVs to go on winter adventures. With a bit of preparation, you can enjoy your camper or motorhome during the winter.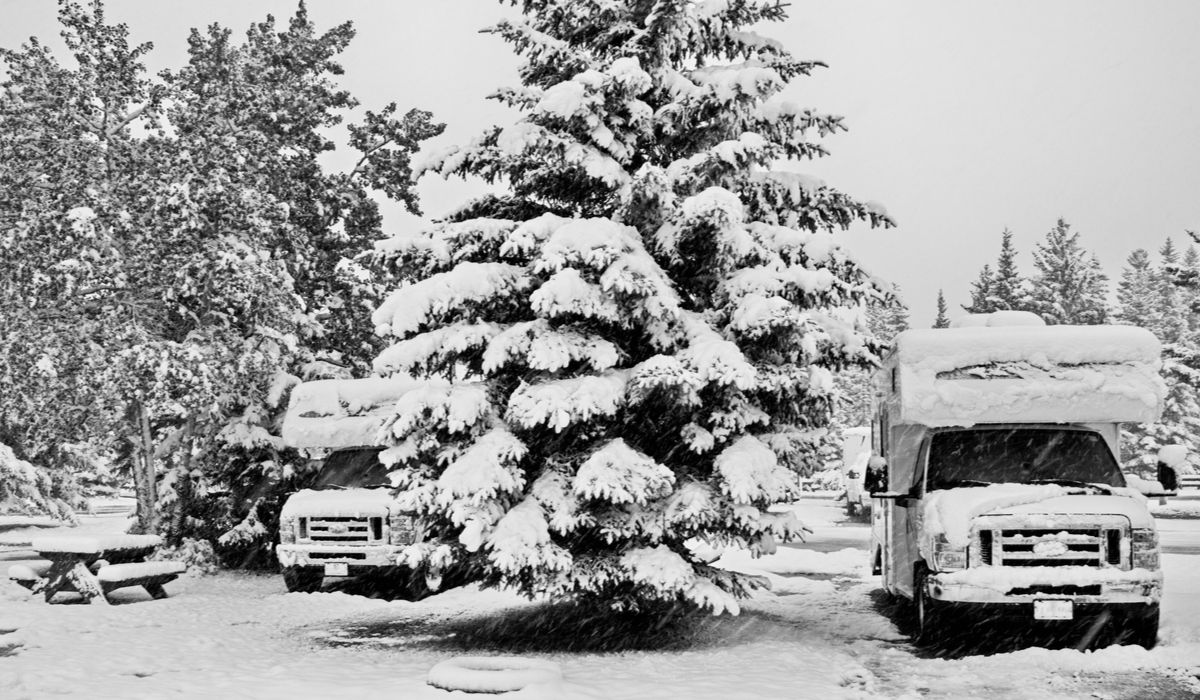 What do you need to know to plan a winter road trip in an RV?
Planning an RV road trip in the winter is a lot like planning a road trip in the summer, except that you'll need to be more mindful of snow and freezing temperatures. To prevent any weather-related surprises, download some of the best apps for RV road trips to help plan your route and stay ahead of the storms.
How do you keep your RV warm inside?
You'll need to have a supplemental heat source and several items to help keep the inside of your rig cozy and warm if you plan to RV when the temperatures drop.
On board furnace. The primary source of heat inside your RV should be your furnace. Almost all RV furnaces operate on propane, and even though propane heat is efficient, the colder it gets outside, the more propane you'll burn. If you expect to camp for more than a day or two in the cold, take along extra propane.
Pro tip: Make sure your carbon monoxide detector has fresh batteries before taking an RV trip in the winter. Carbon monoxide, produced by devices that burn fuel, is a toxic odorless and colorless gas that can accumulate to dangerous, often deadly levels. Want to know more? Learn how you can protect yourself from carbon monoxide poisoning inside your RV.
Supplemental heat sources. Invest in a small electric heater or, if you have one, use your electric fireplace to help regulate the temperature inside of the RV. Don't use too much supplemental heat, though. If the inside of the RV is too warm, the thermostat won't turn on the furnace, which also helps keep your water pump and pipes from freezing. If you get cold when you sleep, consider adding a heated mattress pad or blanket to your bed for extra warmth on those super cold nights.
Window coverings. Thermal curtains or reflective foil insulation window coverings help keep RVs warmer during the winter and cooler during the summer. Both options are inexpensive and easy to customize and help maintain a comfortable temperature inside your home on wheels.
Draft dodgers. Place draft dodgers along the inside of your doors, slides, and windows where you feel a draft. These fabric tubes, filled with beads, sand, or other weighted material, wrap around corners and prevent air from coming in or out.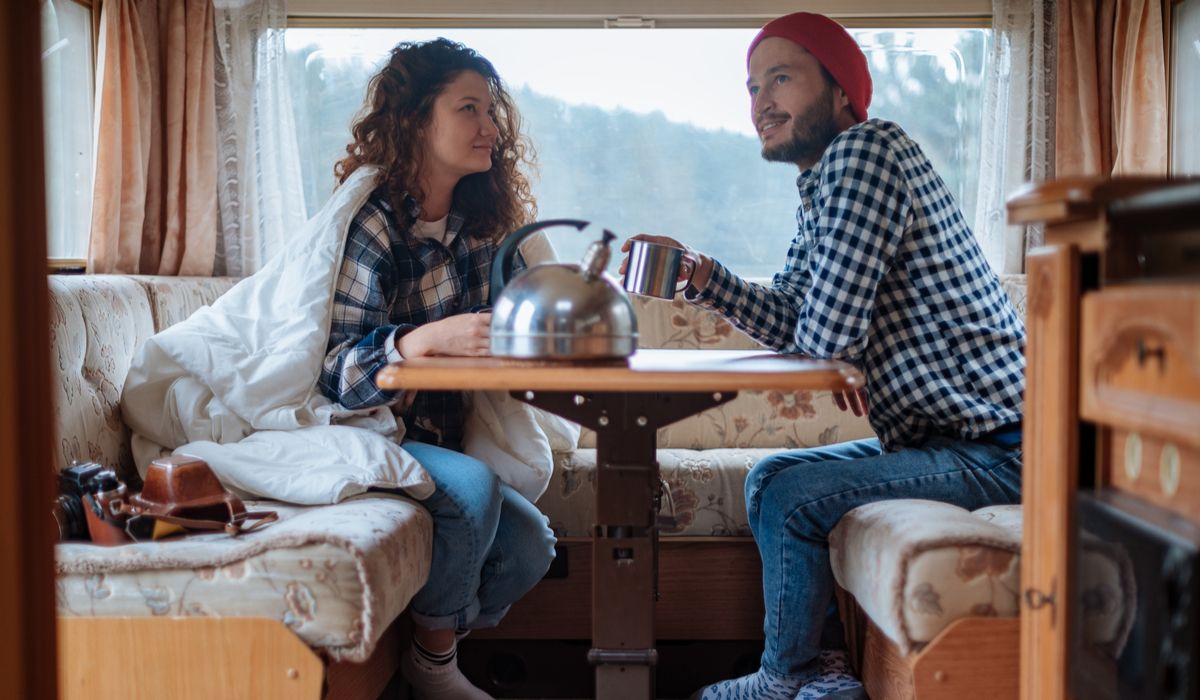 How do you keep warm inside your RV during the winter?
When it's cold outside, the best way to stay warm inside your RV is to bundle up. Wearing layers of clothing made of merino wool or fleece will help insulate, instead of trap the heat, around your body. The same goes for your bed. Add a few extra layers to your bed, and you'll be toasty warm.
If your RV has hard flooring like vinyl, strategically place rugs around the areas where you spend most of your time. The rugs will help your toes feel less chilly when you don't have shoes or slippers on.
Pro tip: Keep a portable or renewable dehumidifier in your RV in the winter to help combat condensation and lower humidity levels.
When do you need RV skirting?
You should add RV skirting any time the temperature drops to 32 F (0 C). RV skirting will prevent air from flowing underneath your motorhome or trailer and create warmth by insulating the underbelly.
You don't need custom RV skirting to keep your rig warm. Whether you make DIY RV skirting or use a lightweight and easy-to-store product like Airskirts, protecting the underside of your RV will help keep your pipes from freezing and keep the inside of your rig warmer.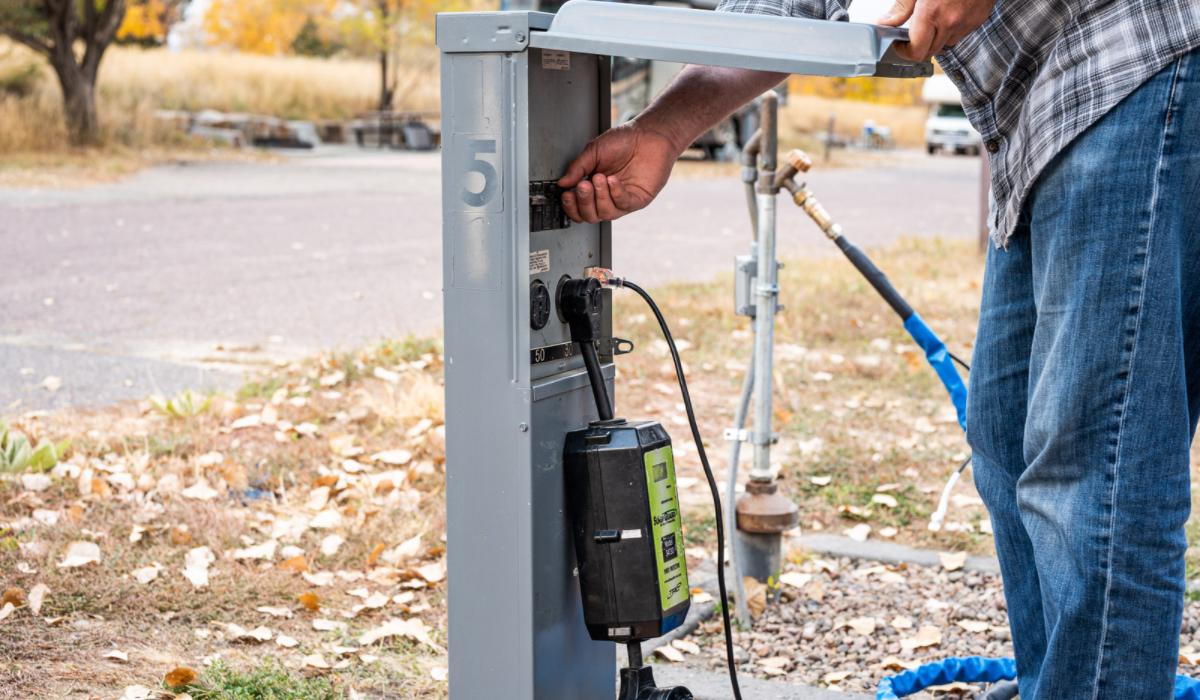 How do you keep your RV water pipes and holding tanks from freezing?
If you want to live or camp in your RV in the winter and skip the winterization process, you can keep your RV water pipes and holding tanks from freezing by insulating and warming the exposed surfaces.
Holding tank heating pads. Install DIY holding tank heating pads to help keep your freshwater, black water, and gray water holding tanks from freezing. Holding tank heating pads have a built-in thermostat that switches on when the temperatures get close to freezing and turn off once temps rise again.
Heated hose. If you plan to use city water in freezing temperatures, you'll want to invest in a heated hose. Heated RV hoses help prevent water from freezing between the city water connection and your RV. Heated freshwater RV hoses come in different lengths and are made for potable water.
Insulated heat tape. Even when you use a heated hose, the exposed part of a water spigot can freeze because it's not heated. To help keep the water from freezing at the spigot, wrap the exposed sections with insulated heat tape to keep the components warm and your water flowing freely.
RV antifreeze. It's always a good idea to have one or two bottles of RV antifreeze on hand when you RV in the winter. In a pinch, dump RV antifreeze into the black and gray holding tanks to help prevent icy dishwater and frozen sewage.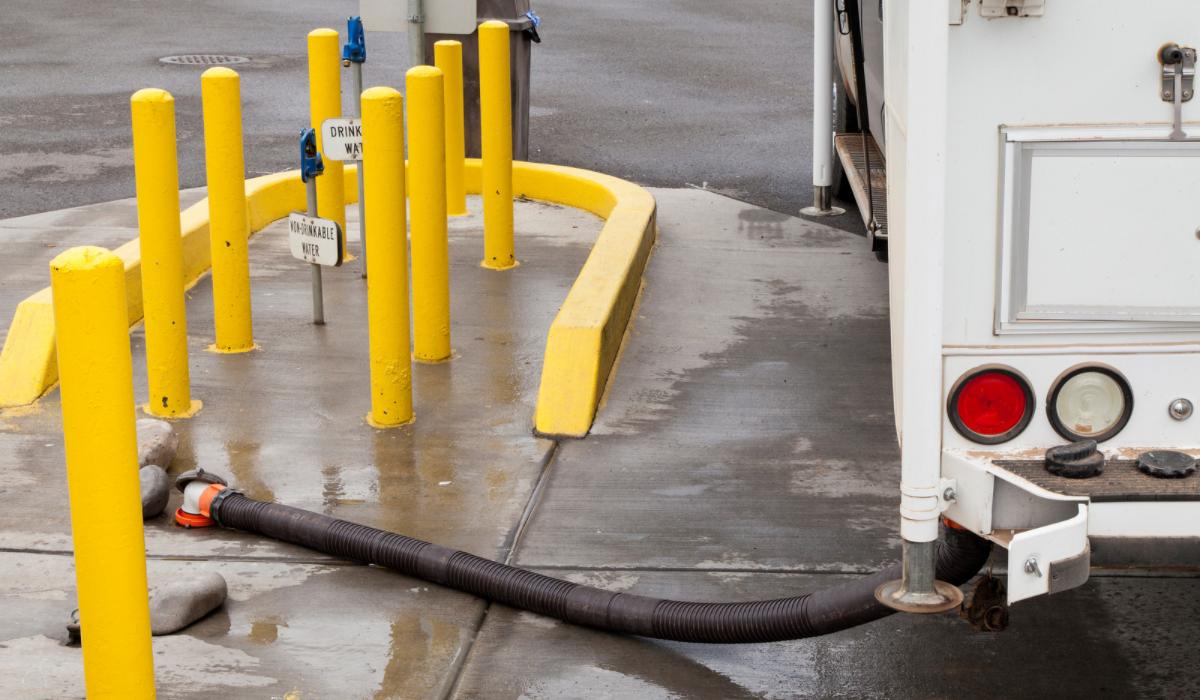 How do you keep your RV's sewer hose from freezing?
RV skirting and insulating exposed connections will help prevent your valves from freezing, but how do you keep your sewer hose from freezing into a poopsicle?
Heated pipe cable. Buy enough heated pipe cable to wrap the entire length of your sewer hose tightly.
Electrical tape. Use electrical tape to secure the heated pipe cable onto the sewer hose.
Pipe insulation. Cover the hose with pipe insulation after wrapping your sewer hose with the heated pipe cable and electrical tape. Don't forget to wrap the elbow connection attached to your site's dump station.
Waterproof tape. Wind weatherproof tape tightly around the hose, making sure that the hose isn't exposed. The waterproof tape will keep the heated pipe cable and pipe insulation in place and block rain, snow, ice, or condensation from coming in contact with the hose and freezing the contents inside.
Can you rent an RV in the winter?
RVezy has RV rentals across the United States and Canada, and many owners offer off-season discounts, which means you might be able to save money by booking a trip during the winter. If you have questions about camping in the snow or winterization, reach out to the owner before booking your RV to learn more about the rental and winter camping.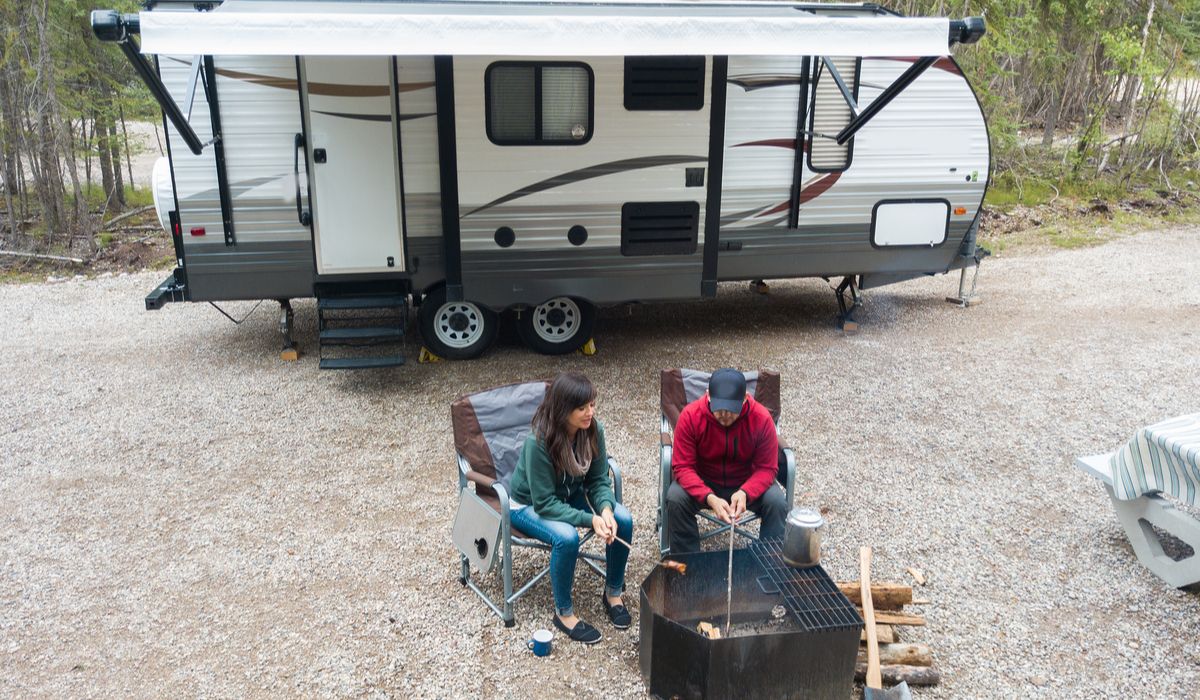 Quick tips for winter RV camping
Keep plenty of extra water with you during the winter. Fill dromedary bags or refillable water jugs with water and keep them inside the RV where they won't freeze. If your systems freeze, you will have drinking and cooking water, and if your freshwater tank or city water lines freeze, you can flush your toilet by pouring water into the bowl.
Conserve water by skipping a shower and wiping down your dishes. Venture Wipes come in individually packed pouches and clean everything from stinky feet and muddy paws to sticky fingers and dirty dishes.
Keep extra propane, batteries, and waterproof matches with you in case you get snowed in and can't get to a store. If the power goes out, consider having a solar-powered generator as a backup to operate and recharge your devices.
Store a folding emergency snow shovel and tire traction mats in your RV to help dig your rig out of a snowy campsite.
Brush heavy snow off your slide outs and scrape ice off your windshield with a telescoping all-in-one brush, squeegee, and ice scraper.
Keep a portable emergency power kit to jumpstart your vehicle, air your tires, and charge your devices.
Open up the cabinets under the sinks in your RV when you are parked to help keep your pipes warm.
Always travel with two days worth of dehydrated backpacking food or an emergency food supply kit.
RV camping in the cold
Camping or living in an RV in the winter can be fun as long as you're prepared for chilly weather.
Book a site at a local campground to give winter camping a try. Spending a few days in a campground close to home will give you a chance to test out your systems but still be close enough to home if you need something.
Want to know more about winter camping? Check out more tips for RV winter camping.