Renting an RV is one of the best ways to explore beautiful places — especially if you're traveling with your pet.
Unfortunately, not all RV rental companies offer pet-friendly rigs.
Thankfully, at RVezy, more than half the RVs offer pet-friendly accommodations.
But before you decide whether to take your fur baby with you, let's review the pros and cons of RVing with your pet.
Pros of RVing with pets
From having company on long drives to saving money on pet care, there are many positives to bringing your pet along on your next RV rental.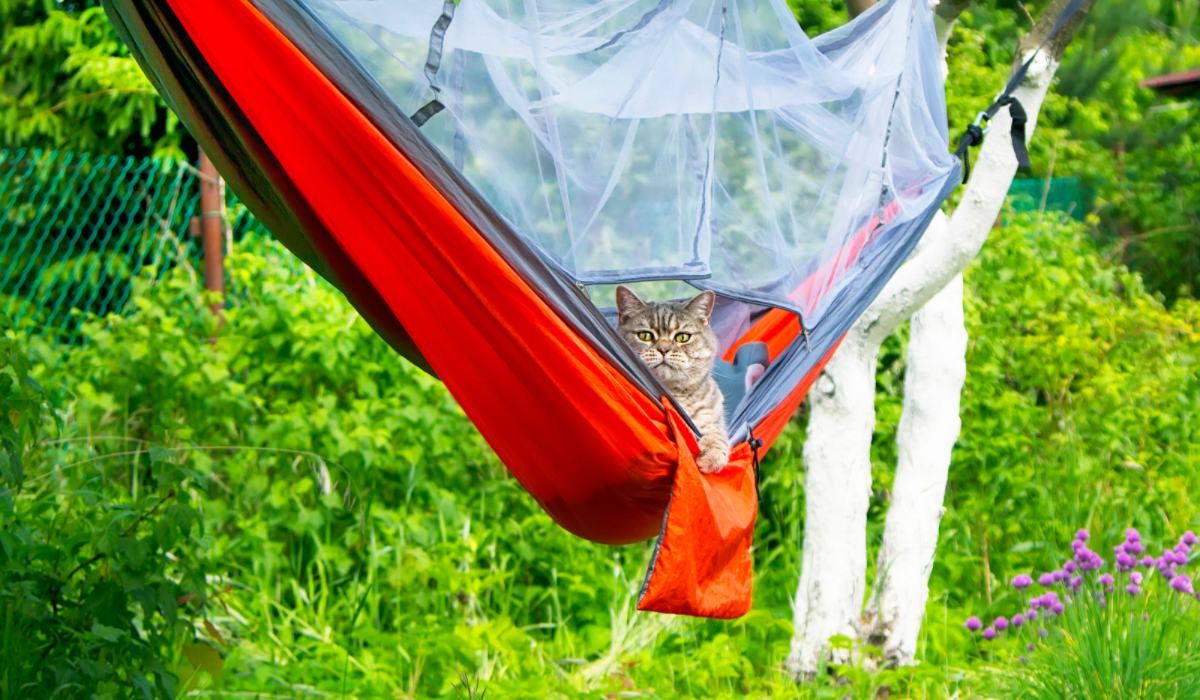 Make lasting memories with your pet
One of the best reasons to take your pet away with you on your next road trip is to create memories. Pet-friendly RV rentals allow pet parents to take their animals for walks through beautiful parks and bustling cities all on the same trip.
A pet-friendly road trip also lets your pet experience new sights, sounds, and smells they're sure to enjoy. Unfortunately, our pets won't be around forever — all the more reason to take your pet along with you and your next adventure.
Renting a pet-friendly RV is easier than ever
Peer-to-peer RV rentals have made it easier than ever to rent a pet-friendly RV.
On RVezy, you'll find a wide range of pet-friendly motorhomes and trailers to suit the needs of both you and your pet. The easiest way to book your RV is to download the free RVezy app and search for your location with the pet-friendly filter applied.
Save money on pet care
Taking your pet on an RV road trip is like putting money back into your pocket.
Imagine what you could do with the cash you save by renting a pet-friendly RV. Instead of paying for a kennel or hiring a pet sitter, you can upgrade your RV rental, stay at a top-rated RV resort, or extend your trip a night or two.
Will you have to pay extra to bring your pet along? On RVezy, RV owners determine their own cleaning and pet fees. While some RV owners don't charge a fee for bringing your pet, some charge a small amount which is still much less than boarding your pet.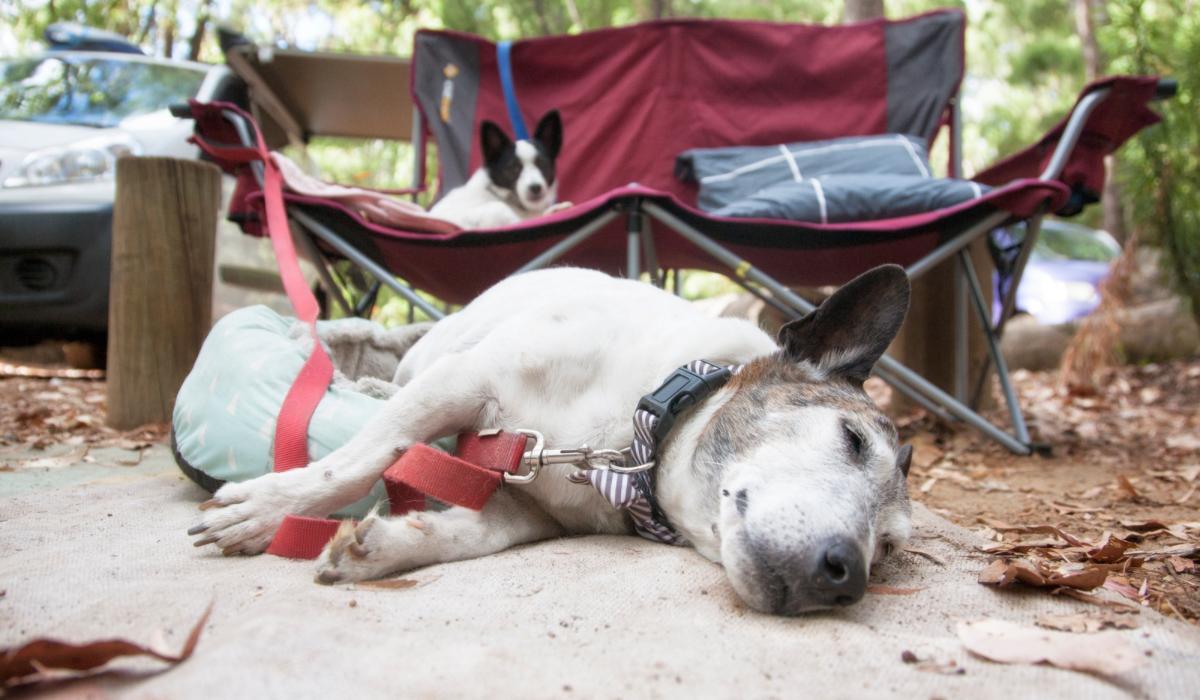 Rest easy knowing your pet is safe
Pet parents taking their pets on their next vacation can rest easy knowing their dog or cat is happy, healthy, and safe. Some pets suffer from separation anxiety and will be much happier by your side than with a pet sitter.
Taking your pet along your next RV rental means that you can manage any of your pet's health concerns and dietary needs without worrying about a pet sitter following your instructions.
Some RVers set out on long solo road trips across North America. Spending long hours on the road can get lonely, so bringing a pet along can offer some much-needed company.
Pets don't just keep solo campers company but help them feel safer. Even if your dog or cat is more likely to lick or run away from an intruder than provide protection, their presence alone will help deter intruders.
Cons of RVing with pets
While taking your pet along with you during your next RV rental seems hassle-free, you might encounter a few hiccups that could unhitch your dream vacation.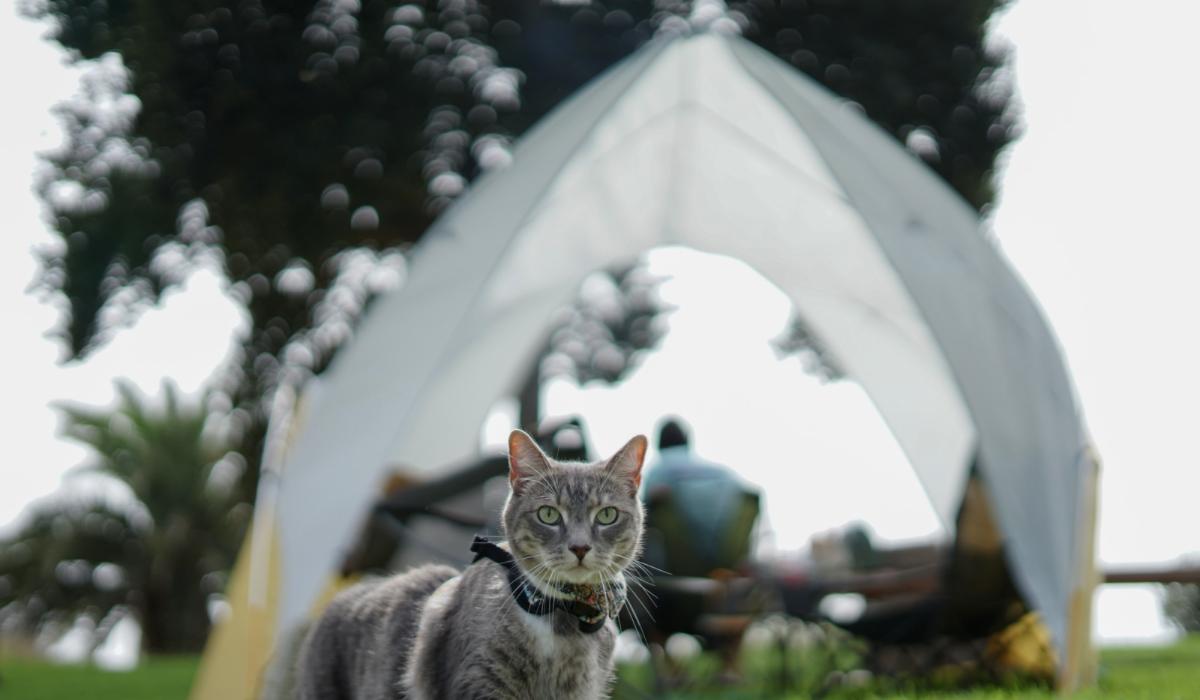 Expect strict pet policies at some campgrounds
One of the main obstacles pet parents face is strict campground rules. These rules are put in place to keep pets and their owners safe and happy during their stay.
No two campgrounds have the same pet policies, and some policies may be tricky to understand. For example, many campgrounds permit no more than two pets per RV, while others have breed restrictions and nuisance and barking rules. Some campgrounds may even ask campers to leave early without a refund if the pet owners don't follow campground rules.
You can keep your pet and your campground neighbors happy by ensuring your pup has plenty of stimulation during your stay. For example, giving your dog a puzzle toy filled with treats is a great way to keep them busy, which should help prevent boredom-induced barking.
Potential RV rental damages
There's a chance your pet will damage your RV rental during your next road trip. A cat could use the furniture as a scratching post, and a dog's muddy paws could stain the upholstery.
If you're not careful about your pet's actions when on the road, you could lose a portion of your security deposit.
Looking for ways to avoid any damage to your rig? Bring along a portable scratching post for your cat. Also, a dedicated paw-wiping towel will help keep the RV's upholstery clear of paw prints.
Most hosts on RVezy request a refundable security deposit between $500 and $1,000 per trip. Learn more about RVezy's security deposits.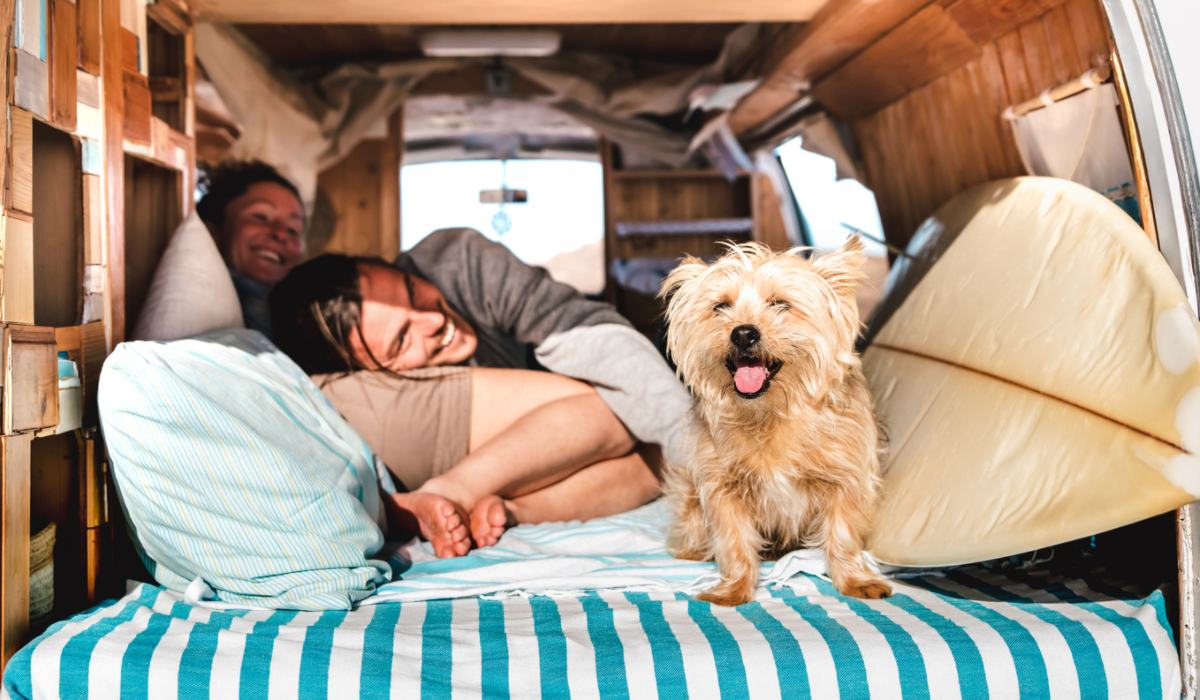 Traveling long distances could cause stress for your pet
Spending several hours a day in a moving vehicle doesn't suit some pets. Dogs and cats thrive on routine, so taking them on the road could cause anxiety and stress.
Thankfully, there are several steps you can take to ensure your pet is well-adjusted to travel. Before your road trip, take your pet on several shorter car rides to help them adjust.
Start with just a short drive to a nearby park, and then, the next time, travel a bit farther. It may help if you work on your commands and use crate or obedience training to help your pet be the perfect travel companion.
Missing out on attractions that aren't pet-friendly
Leaving your dog or cat alone is an issue for pet parents traveling in an RV. If you're visiting a local attraction that isn't pet-friendly, it isn't easy to know the best course of action.
Leaving your pet alone in a rig can be risky, especially in extreme temperatures. Additionally, it's dangerous to leave a pet in a rig while camping in bear country. Your dog's scent and bark could attract a curious or hungry bear to your RV.
The laws on leaving a pet in an RV differ from state to state, with many states saying it's illegal if a pet's well-being is in danger. Campgrounds usually have policies on leaving pets unattended, so check with management before leaving your pet alone.
Summary
RVing with your pets can be an incredible experience when you take the time to plan ahead. By booking pet-friendly RVs, campgrounds, and activities, you will be able to enjoy the best of the RV lifestyle alongside your furry companions.
And, if you ever need a break to go explore attractions or attend events that don't allow pets, consider booking overnight pet care through the Wag! app to make the most of your vacation.