If you're looking to rent a small RV for your next vacation, you've come to the right place. In this article, our team of RV experts shares everything you need to know about the small RV category, including:
What's considered a small RV?
Small RVs versus large RVs: which type is best for you?
The different types of small RVs (drivable and towable).
Tips for traveling in a small RV.
Where to rent small RVs near you.
What types of RVs are considered small?
As a general rule of thumb, motorhomes of 26 feet or less and trailers of 20 feet or less are considered small. So while you might be asking yourself why those specific lengths are the cutoff point, there's a logical explanation.
Reason #1 — The average-sized camping spot in state, provincial, and national parks is 27 feet. If you're driving or towing anything longer, you might find it challenging to find a campground to stay the night.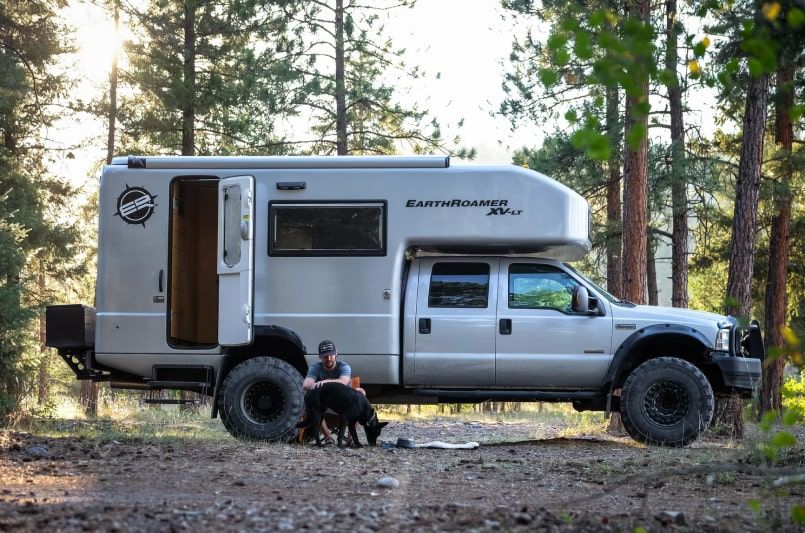 Reason #2 — Most Americans and Canadian families looking to rent a trailer have an SUV at home. A 20-foot trailer typically weighs between 3,500 pounds (1,587 kilograms) and 5,000 pounds (2,268 kilograms) which is the maximum tow rating for most mid-to-large SUVs.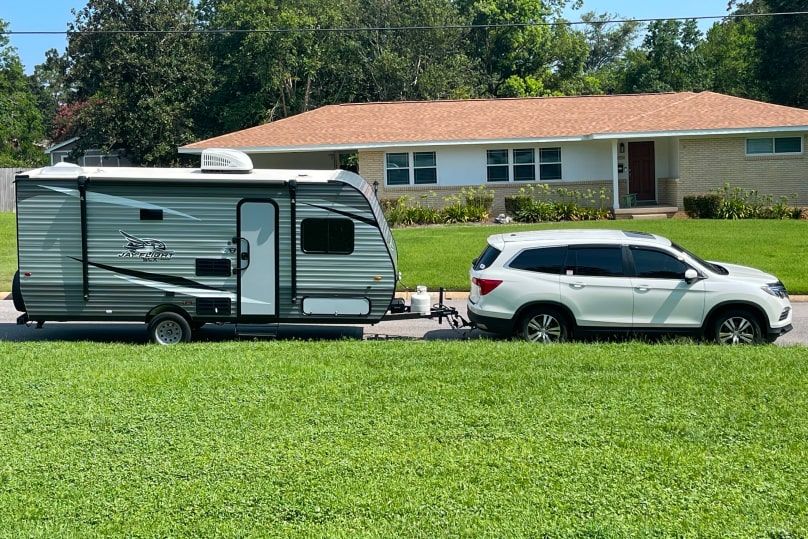 Reason #3 — Class B (campervans) and Class C motorhomes are built on a van or truck chassis similar to a moving van, making them easy to maneuver and an excellent choice for first-time RVers. All campervans are shorter than 26 feet long, and most Class C manufacturers offer models ranging between 20 to 26 feet long.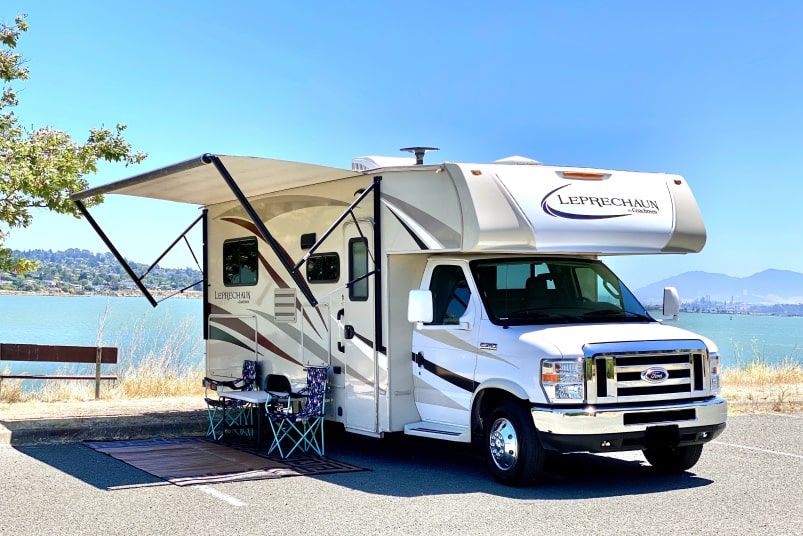 Small RVs versus large RVs: which one is for you?
There are many reasons to rent a small motorhome or trailer when planning your road trip. While compact living spaces have downsides, the benefits of a small RV might be enough to convince you to try one out.
Benefits of small RVs
Accessibility to parks, campsites, and remote areas.
Easier to drive and/or tow.
Easier to find parking in city centers.
No need to rent a tow vehicle.
Lower cost to rent.
Better gas mileage.
Easier to maneuver in a gas station.
Some small class Cs have slide outs making them feel much bigger.
Can offer full amenities (kitchen, bathroom, dining table, etc.).
Sleep up to six people.
Downsides of small RVs
Smaller rooms, especially the bathroom.
Can't sleep as many people comfortably.
Less room for storage.
Fewer features and amenities.
Smaller tanks and batteries for off-grid camping.
Not as good in bad weather (ex: wind).
Pro tip: Did you know you can have your RV delivered and set up at your campsite? Delivery is a great option if you don't want to drive or tow your RV rental.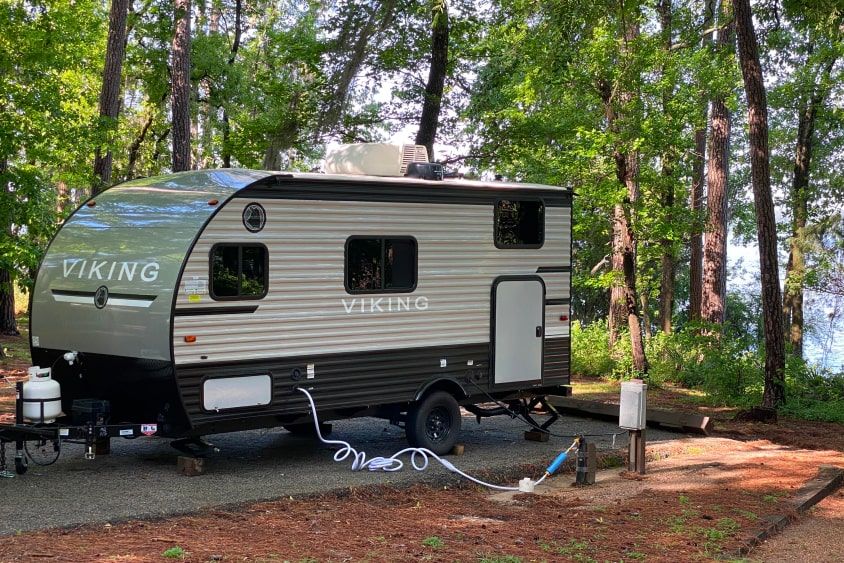 Different types of small RVs
Six types of RVs fall into the small category, three are drivable motorhomes and three are towable RVs. Here's a quick overview of each RV type to help you choose what's best for you.
Motorhomes
Class B motorhomes / campervans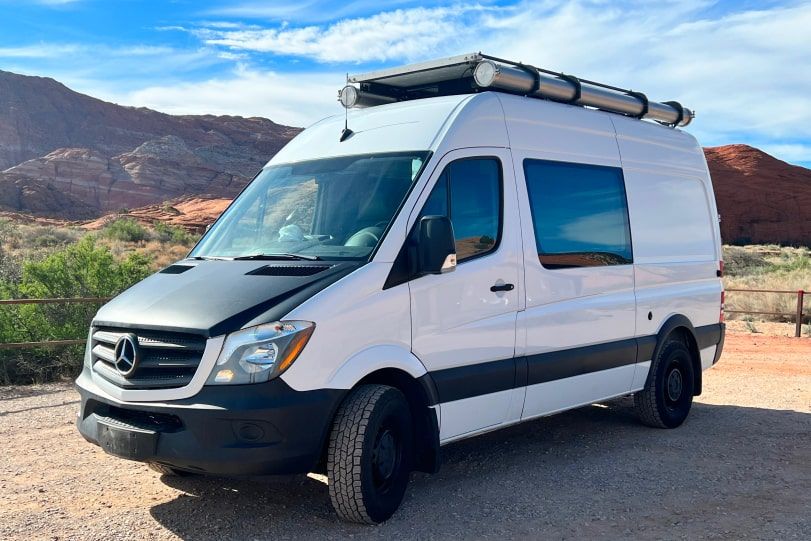 All Class Bs and campervans are considered small RVs. They look and drive like a van and are best suited for one to two people. Despite their compact design, most models offer an area for cooking, eating, sleeping, and access to an on board shower and toilet.
Length: 18 to 24 feet.
Sleeps: up to three people.
Price: $150 to $300 per night.
Truck campers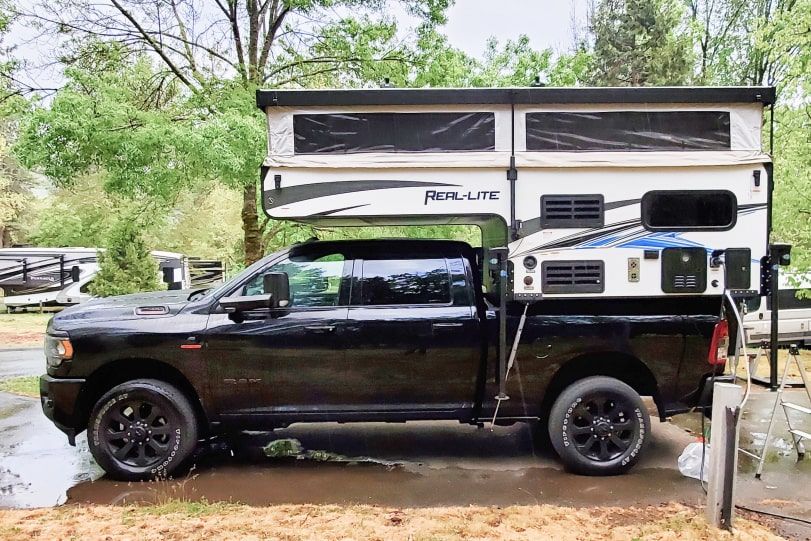 Truck campers mount directly into the bed of a pickup truck. Most rentals will come with the truck and can sleep between two and four people. While truck campers are a popular choice for navigating rugged terrain and exploring remote areas, they are not the most common RV rental type.
Note: SUV tents, where an SUV offers a tent attachment, are also categorized as truck campers on most RV rental sites.
Length (with truck): 16 to 25 feet.
Sleeps: up to four people.
Price: $125 to $250 per night.
Class C motorhomes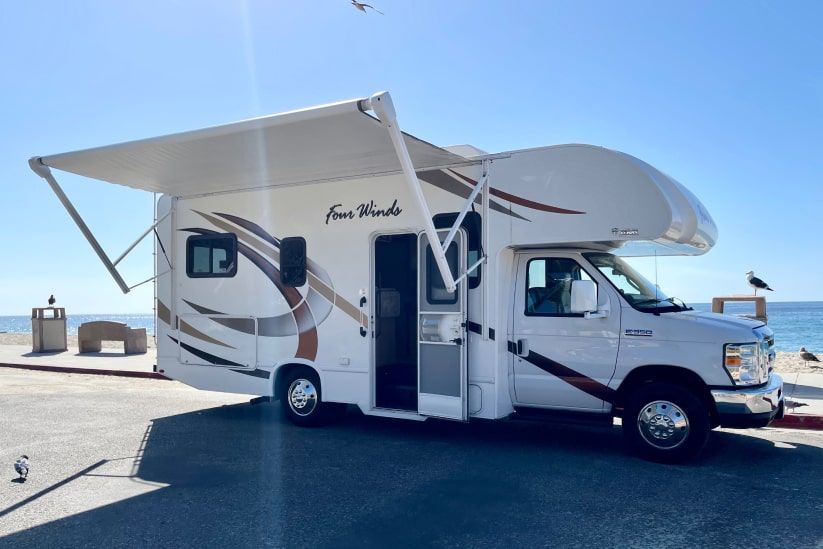 Most Class C motorhomes offer bunk space above the cab making them a great option if you're traveling with a larger group. While most Class C motorhomes are not considered small, you can find models in the 20- to 26-foot range that are easy to drive and can fit into most campsites. Many Class Cs also offer slide outs making them a popular option if you're looking for a small RV with a ton of space.
Length: 20 to 32 feet.
Sleeps: up to six people (26 feet or smaller).
Price: $175 to $300 per night.
Search small Class C motorhomes
Towables
Micro trailers
As the smallest RV type, micro trailers are best suited for minimalist travelers looking for a place to sleep while having access to a few basic amenities and storage. A micro trailer rental can be a great option if you're new to RVing or looking to upgrade from tent camping. Micro trailers are lightweight and can be towed by most cars and even some motorcycles.
Length: 10 to 15 feet.
Average weight: 800 to 1,800 pounds.
Sleeps: up to two people.
Tow requirements: car, van, or small SUV.
Price: $50 to $100 per night.
Pop-up campers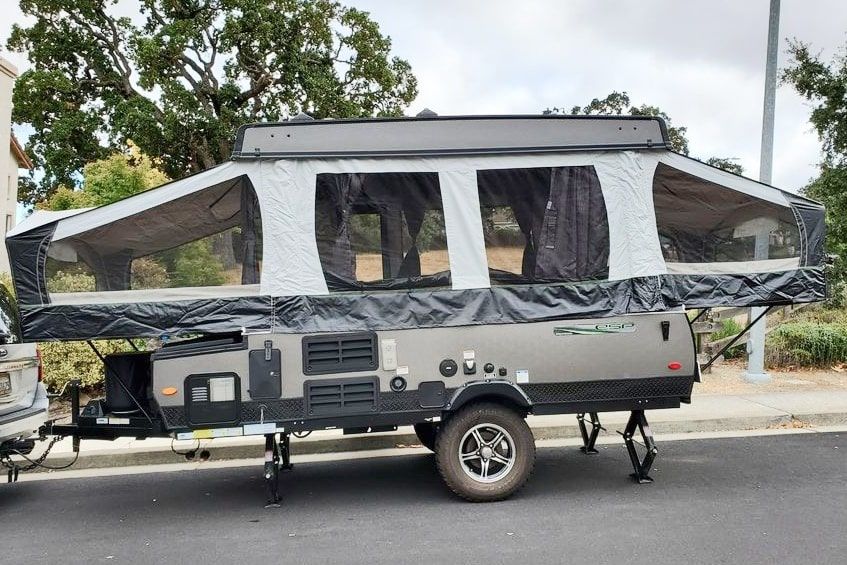 Pop-up campers, also known as tent trailers, have a collapsible top that folds down when towed. Most pop-ups are made with soft materials like a tent making them lightweight and easy to tow for most vehicles. Pop-up rentals are affordable and offer large living spaces that can sleep up to six people. However, it's important to note that pop-ups need to be set up and taken down, which can be inconvenient, especially in bad weather.
Length: (when towed): 8 to 16 feet.
Length: (when expanded): usually double tow size.
Average weight: 1,500 to 3,000 pounds.
Sleeps: up to six people.
Tow requirements: van or SUV.
Price: $50 to $100 per night.
Small travel trailers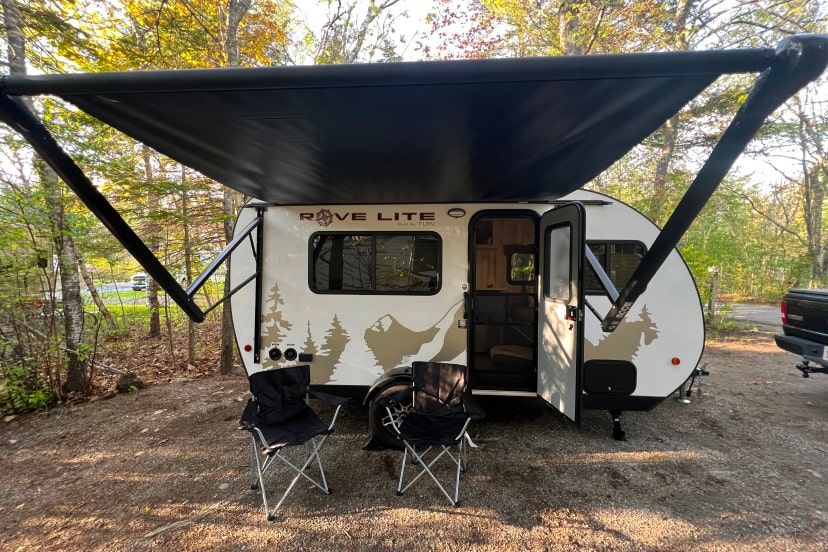 Travel trailers come in various sizes and offer the same amenities you'd find at home. Finding a trailer you can safely tow with your vehicle is critical unless you're getting your trailer rental delivered to your campsite. If you're looking for a small trailer, you will want to find something around 20 feet or less. While you need to be mindful of length to ensure you'll fit into your campsite, weight is the most important factor when looking for a trailer. When renting through RVezy, you can filter RVs for length and weight under "more filters."
Length: 16 to 36 feet.
Sleeps: up to four people (20 feet or smaller).
Average weight: 2,000 to 4,500 pounds (20 feet or smaller).
Tow requirements: van, truck, or large SUV.
Price: $100 to $200 per night.

Looking for something else? Learn about all nine available RV types
Tips for traveling in a small RV
Plan and prepare. When planning an RV road trip, preparation is key. Whether booking your campsites and activities ahead of time or making lists of what to bring, a well-planned trip will make for a smooth and enjoyable experience. Don't forget to check the weather and prepare accordingly — not all small campers are great in bad weather.
Book shaded campsites. While most small RVs have air conditioning, they can be noisy and a nuisance to run for long periods. If you're booking in the middle of the summer, it's best to book a shaded campsite.
Pack lightly. When camping in a small camper, it's best to bring only the essentials, as storage can be challenging. You probably won't need three extra pairs of shoes and two sets of clothes per day. It's best to focus on packing things like sunscreen, bug spray, water bottles, and comfortable clothes for lounging and outdoor activities.
Take your time. Even the smallest RVs are bigger than most standard cars or SUVs, and the additional weight and length require more time for stopping and switching lanes. You'll have better control over your RV if you reduce your speed and maintain a safe distance between other cars. Slowing down will also help you save on gas! As such, you should always plan some extra time when traveling.
Arrive before dark. If you've ever had to set up a campsite after the sun goes down, you'll realize why this tip is so important. Keep in mind that fellow campers will be much more inclined to help you set up in the early afternoon than after dinner when people just want to relax.
Where to rent small RVs near you
The most popular way to rent a small RV will be through a peer-to-peer platform like RVezy, where you're renting directly from the RV owner. The best part of peer-to-peer RV rentals? They are less expensive than other types of RV rentals, and the RV owner will provide you with a personalized experience where they walk through the operation of the RV and give you recommendations on where to stay and what to do.
Ready to start your RV adventure? Search RV rentals near you.