When you're thinking about a vacation, you usually think of somewhere warm, in the summer, or somewhere you can fly during winter. While all of those options are great, there is truly nothing like packing up the RV and taking a road trip to a great destination, no matter the season. Whether this is in the winter, spring, summer or fall, it's all up to you!
There is always a bit of a debate on what season is best to travel in Canada with an RV. While you really can't go wrong with any time of the year, there are pros and cons to each. It really just depends on what you're looking for! But if you're really curious, here are the best times to travel Canada in an RV.
Peak Times
I am sure you can guess what the peak times are: from July to the end of August, most campsites are filled because the weather is perfect for camping. If you do not have your own RV, booking about 6 months in advance is a great idea to secure your place, plan your route and lock down discounts.
Of course, the entire summer is a great time to camp in your RV but during July and August the water is warmer, the sun is out more, and it doesn't get as cool at night. Most campsites fill up very fast during those months, so it would be smart to book the RV and campsite you have your eye on sooner rather than later.
If you're not into camping and you want to use your RV to go on a road trip, then the peak times for that would still be anywhere from late May to early October. It really does depend on how long you plan on driving and staying at your destination for, what your ideal weather is, or what the weather will be like when you get to your destination. Some of the best road trips are during fall's foliage change, for example.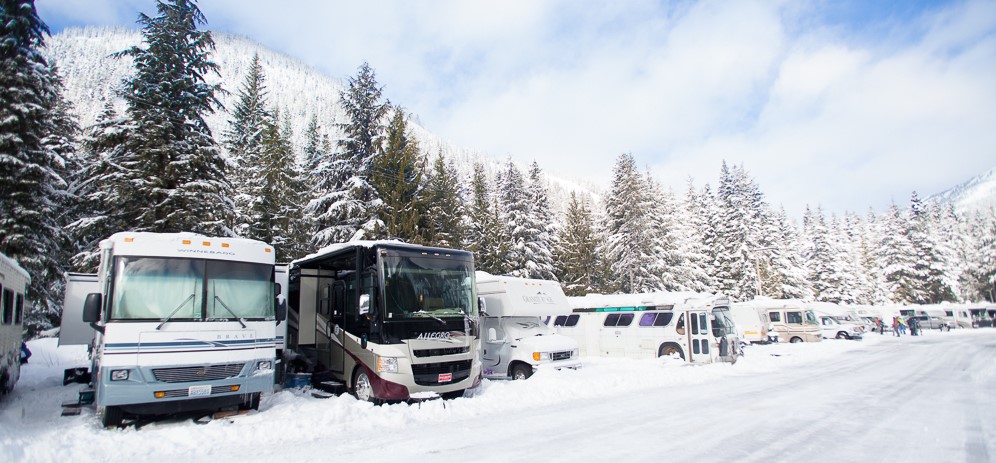 Most Unpopular and/or Cheapest Times
Just because some months are less popular, it doesn't mean they're not good for making amazing memories in an RV! While some people may prefer using a fan to cool them down in the summer, others prefer to use a heater and blankets to warm them up in the winter. It's really all about preference, like skiing or swimming.
If you're looking for a cheaper and different experience while RVing, then late fall to early spring is definitely the right time for you. The campgrounds not as busy, so you may not see a lot of people or none at all. A lot of campgrounds actually close for the winter, but there are some that stay open all year round for people who want to experience winter camping.
Winter camping definitely has it's benefits! While it is colder, you can snowshoe, or maybe even stay near a ski hill where you can ski or snowboard. You can build a campfire outside while staying warm inside with a heater, and you can make a hearty and warm meal such as soup, stew, or any type of casserole.
If you're thinking about prices and when it's the best to book, here is a simple comparison of winter and summer pricing on an average-priced RV in our listings.
You can find units that are cheaper or more expensive according to your needs and preference, but the low season usually brings bigger discounts from owners.
How Do Fall and Summer Compare?
Summer is prime time for camping, but fall camping is close behind it. The difference between summer and fall camping is really the scenery, the weather, and the activities you would be able to do. Here are a few things you can do in summer and fall to consider if you're thinking of booking but aren't sure which season works best:
Summer:
Swimming
BBQing
Water activities
The weather is more predictable
More sun exposure
You can use the beaches
Fall:
Cooler weather
Better time to do activities, such as hiking
The fall foliage is beautiful
Less expensive
Less bugs
Less campers
As you'd imagine, summer and fall each have their own benefits depending on what you prefer. If you like sleeping in warmer weather, then it makes more sense to choose summer but if you like sleeping in a cooler climate, then fall is for you!
So What's The Verdict?
Well, the best time to travel in Canada is definitely summer and fall. It may be a busier time of the year, but it's busy for a reason! Whether you're driving cross country or if you're just going a couple of hours away to a campground, you won't have to worry about driving conditions. This will take a large amount of stress off of your shoulders if you have driven an RV for winter camping before.
None of this is to say that winter and spring camping are not great. Each season has it's benefits. If you're more of a winter person, you would enjoy camping in the cold and some places in Canada don't have a lot of snow, so you could easily avoid that part. Winter RVing can also mean getting away form the cold by driving down south.
As for spring, the only down part is you would be looking at the weather report all the time to see if it's going to rain. That can dampen your plans!
The best time of year to rent an RV may also be the most expensive time of year, but if you just plan ahead you will be able to save on costs and ensure you get the best spots and RVs. The most popular time of year to rent an RV and a campsite is from early July to late August, but late May to mid October is definitely the time of year that you'll get the most use out of.
Don't leave your reservations for the last minute, no matter the season - you can jump on the best deals and discounts by booking ahead of time here!