When you're choosing what campsite to settle down at, the options can be exhausting. All of them look amazing and have so many benefits, so which one do you choose? Since you're planning for the best trip possible, whether it's for a month from now or 5 months, it's good to look at all of the options.
When people think of taking an RV trip, they think of either Ontario or driving cross country. And while both of those options are fantastic, we can't forget Quebec. Quebec doesn't just consist of Montreal! There are actually way more spots you can RV and camp outside of Montreal or Quebec City.
Plan your trip today and get out of your comfort zone! Quebec has some spots that you'll want to make a tradition. So cross off any other provinces and get to planning a Quebec RV trip!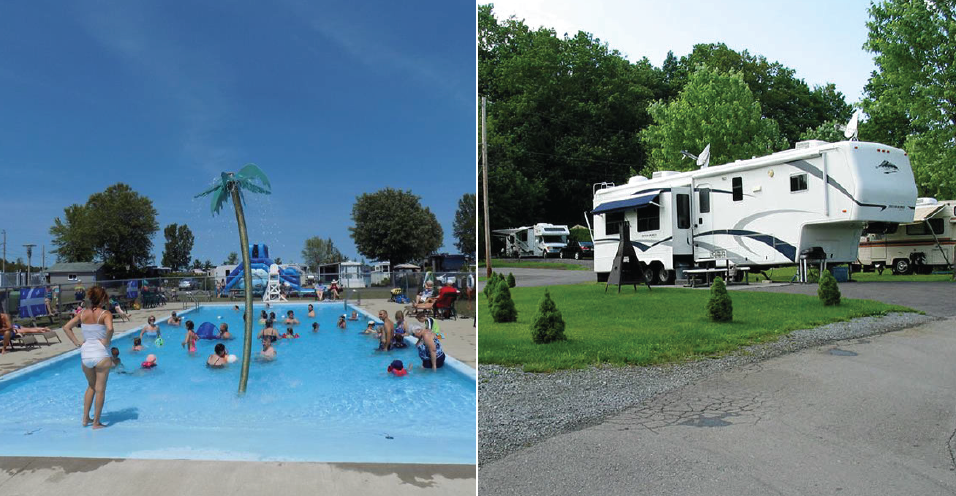 Camping Alouette
Camping Alouette is located in St-Mathieu-de-Beloeil, which is about two hours away from Montreal. Camping Alouette is the perfect spot for your next trip. Not only do they welcome RVs with open arms, there are always a ton of RVs parked there so you can make some new friends in the community!
Camping Alouette is an RV resort, which is definitely a better way to describe the campsite. They also have a ton of activities that you, your friends and family will love - you simply won't get bored. A few of them include:
A heated pool
Driving range
Trails nearby
Strawberry and apple picking
Line dancing
Volleyball and basketball
And those are just a few of the activities they have at the resort! Camping Alouette is open from April 19th to October 20th, which is prime RV travel time. If you're set on booking with this resort, you can visit their website here.
Camping du Phare a Perce
Quebec or Nova Scotia? Honestly, it's hard to tell from the above photos. Located in Gaspésie, Quebec, right on the Gaspe Peninsula, the views here are really, really hard to beat. Book your trip ASAP because this spot fills up quickly. If you're looking to park your RV somewhere totally different than usual, Camping du Phare a Perce is the perfect place.
Camping du Phare a Perce not only has beautiful views, but it has a ton of activities. Aside from the usual playground and sand pit, you can also find yourself on so many adventures. Here are a few that campers love:
Whale watching
Visit Bonaventure Island
Guided tour of the campsite
Visit the lighthouse
If you're looking for a unique campsite that takes RVs, then this spot should be on your bucket list. You'll feel like you've travelled farther than you have, as this spot doesn't look like something you'd see in Quebec. Book your stay at Camping du Phare a Perce here.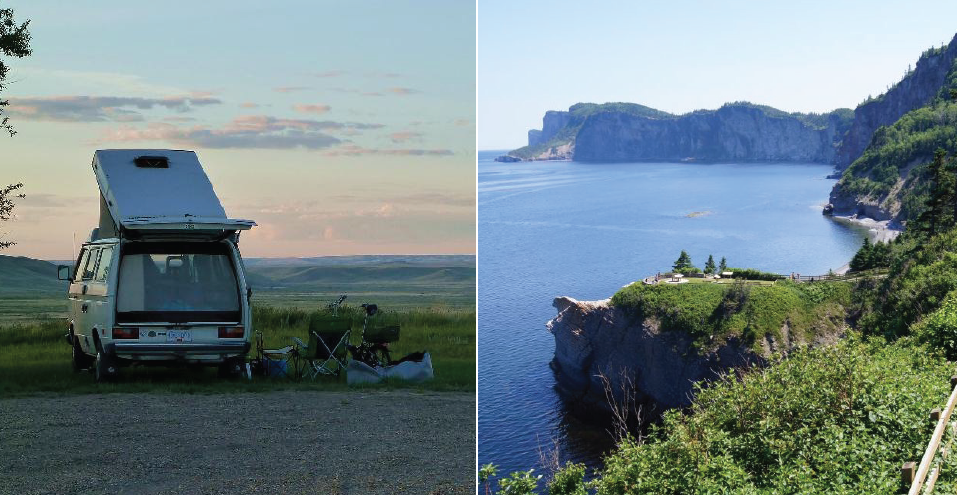 Forillon National Park of Canada
Yes, one of the best spots in Quebec to RV is actually a national park. Forillon National Park of Canada is a gorgeous park that has so much to offer. Especially campsites. They have three major campsites in Forillon National Park of Canada, and they're huge. Planning your trip here will be easy, as you can choose from these two RV friendly campsites:
Petit-Gaspé
South area
Open from June 22 to October 8
101 sites without electricity, 31 with electricity, 35 with water and electricity
Swimming pool
Des-Rosiers
North area
Open from June 1 to August 19
104 sites without electricity, 42 sites with electricity
They do have a third campsite, but that is for tents only. The best part about Forillon National Park is how quiet and peaceful it is. There is also a ton to do such as hiking, swimming, kayaking and more. If you want to switch between campsites on your trip, you can do so here. Book your stay at Forillon National Park here.
Quebec City KOA
Quebec City KOA is more than just an RV campground. Not too far away from this campsite, actually just 15 minutes away, is Old Quebec. Old Quebec is one of the most appealing cities in Canada, as it looks like you got transported to Europe. Old Quebec is one of the most popular spots in Quebec, and it's for good reason. If you want to show your family history, parking your RV at Quebec City KOA and taking a day trip to Old Quebec will do the trick.
If that isn't enough to sell you on booking right now, then maybe these on-site activities will:
Giant chess
Swimming pools
Clubhouse with movies
Golf courses
There is an activity for everyone at Quebec City KOA. It's also the perfect place to join friends that also have an RV. The campground is open between April 29th and October 16th, so get to booking. These spots fill up fast! Book your stay at Quebec City KOA here.
Camping Griffon
Want a seaside camping experience? Camping Griffon is calling your name then. They have 75 campsites, and 20 of them are on a cliff right by the water. Camping Griffon is also near Forillon National Park, so there is a ton of hiking that you can do if that's your kind of thing. On the campsite, there is a staircase that takes you right to the shore. Are you dreaming of summer? Because I am.
Camping Griffon is a great spot to book at if you have a young family. There are so many activities on site for kids such as:
A playground
Sandbox
Horseshoe
Basketball
And there is even a trail in the forest which is right along the water! Camping Griffon is open from May to October, and their busiest dates are in July and August. They encourage you to book ahead of time, and since you're planning your trip now, this is a sign! Book your stay at Camping Griffin here.

With these suggestions, you'll be able to book the perfect RV camping trip throughout Quebec. Make sure to book fast however, as these spots fill up fast!