Camping is a summer essential. It's so much fun to round up your friends, your family, or even take a solo trip by yourself. Whether you decide to take your RV or rent an RV, the experience is so worth it every time. You get to become one with nature, spend time outdoors, and put your phone away to just enjoy the trip!
While camping is amazing, sometimes it can be difficult to narrow down where you want to go. Do you want to travel far to a new destination? Travel somewhere close to home? Stay in your province but explore a new park? The options are endless, but we narrowed down 12 amazing campsites that offer more than just a campground. Fishing, hiking, whale watching and the northern lights are just a few things that these campgrounds offer. So what are you waiting for? Book your trip ASAP!
Sandbanks Provincial Park has some of the best beaches in all of Canada. The beautiful park has over 500 camping sites, many of which are located right in front of the clear water. Hiking, swimming, and canoeing are a few of the activities you can enjoy during your stay.
Northumberland Provincial Park is a great beach located in PEI. It is a very busy park in the summer because all of the campsites are located in front of the beach. See the most beautiful sunsets and put your toes in the red sand at this hidden gem of a park.
This national park is home to Green Point Campground, which is hidden along 22km of sandy beaches. The campsite, located on a ledge, offers amazing views. There are 113 drive-in spots, so it is perfect for those with RVs. Located on the Pacific Ocean, this park offers some wicked waves for all you surfers out there.
This provincial park is worth travelling the country for. Filled with both locals and tourists, it is a must-stay for anybody in the area. The provincial park is home to Point Backcountry Campground, which gives you views of mountains and pristine water. This campground is a three kilometre hike inwards.
If you're never heard of Bon Echo Provincial Park, then you're truly missing out. They have an amazing campground that you can camp at which is Mazinaw Lake. Mazinaw Lake Campground gives you great views of the clear water, and no matter where you park your RV, you'll be able to hike, swim, fish, and so much more.
Forillion National Park will bring you to campground Cap-Bon-Ami and your campsite will be located where there are a ton of wildlife, coves, and cliffs. Not only will you get a clear view of Forillon Peninsula, but the campsite has a ton of beach hikes that you can do. At this campsite you can go whale watching, swim in the beautiful water, or just relax on the beaches.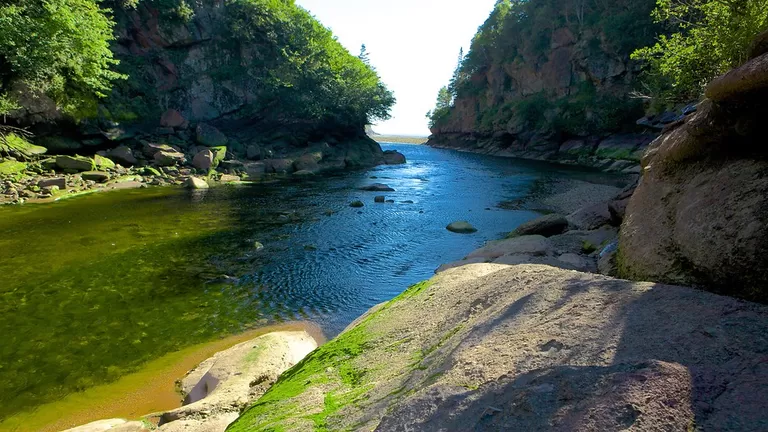 Fundy National Park needs to be on your bucket list. Not only does it have the worlds highest tides, which goes up to 16 metres, but Point Wolfe Campground lets you camp almost right on the ocean. If you love lobster and seafood, this is a great place to eat some of the super fresh stuff. With over 100km of hiking trails, this campground is perfect for those who like to always be on the go.
If you're someone who loves the sight of mountains, then Kathleen Lake Campground at Kluane National Park should be your go-to camping spot. You'll be surrounded by wildlife such as moose, grizzly bears, and wolves your whole trip. How cool is that? This is also the perfect place to relax if you love to fish as Kathleen Lake is filled with all different kinds of fish.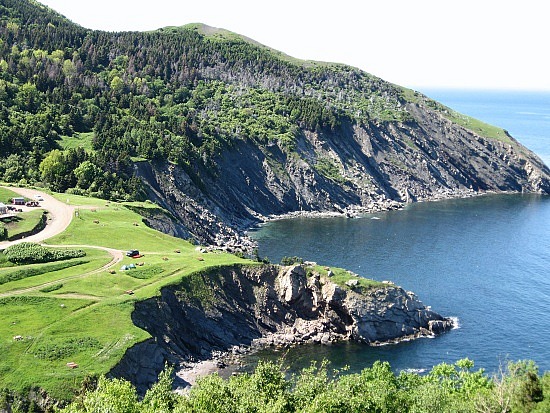 Cape Breton Highlands National Park is home to Meat Cove Campground, which really makes you feel like you're on top of the world. Meat Cove is a small village in Cape Breton that is perfect for camping, and even better, there is an onsite restaurant that sells the most amazing clam chowder. If you're looking for a nontraditional camping experience, this is it!
Nopiming Provincial Park is a great spot for those who want a little privacy. Tulabi Falls Campground only has 36 sites, so it's pretty quiet during the camping season. You have your own beach on one of the routes, and you can catch the northern lights at night. This would be perfect for couples who want to get away for a little while.
Charleston Lake Provincial Park will lead you to so many campsites along the water. This spot is great for families as you can keep an eye on everyone while at your campsite because everything is so close. The campsites are grouped into clusters, and you can either choose from backcountry camping or car camping. They have a ton of hiking trails from beginner to difficult, so if your family is very active, this is the spot for you guys.
Grand Beach Provincial Park is a wonderful place to camp if you want the white sand, clear beach experience. This provincial park is located on Lake Winnipeg, and you'll 100% want to spend your whole day at the beach. If you love laying out, playing in the sand, or playing in the water, then you need to set up camp at one of the 350 campsites they offer.