Are you looking for the best RV trip planner?
You've come to the right place.
With so much talk in the RV community about trip planning, we decided to test out the most popular programs to help you plan new adventures and save you time and money along the way.
We tested each planner in real-world conditions, so you don't have to waste hours of research — and potentially hundreds of dollars — to find out which RV trip planner is right for you.
Let's get going!
Do you need an RV trip planner?
An RV trip planner is a complex tool designed to help you get from one point to another.
We could argue that you won't need anything more than a road atlas and a good sense of direction to plan the perfect RV road trip, but if the technology is available, why not use it?
RV trip planners are the one-stop-shops of RV trip planning, and they're meant to replace most travel apps, external GPS devices, and other trip-planning tools (eventually).
From what we've found, even the best RV trip planners still have a long way to go before they replace our favorite RV travel apps. These platforms are powerful enough to be a solid foundation for your trip planning, and they'll complement your RV travel apps nicely.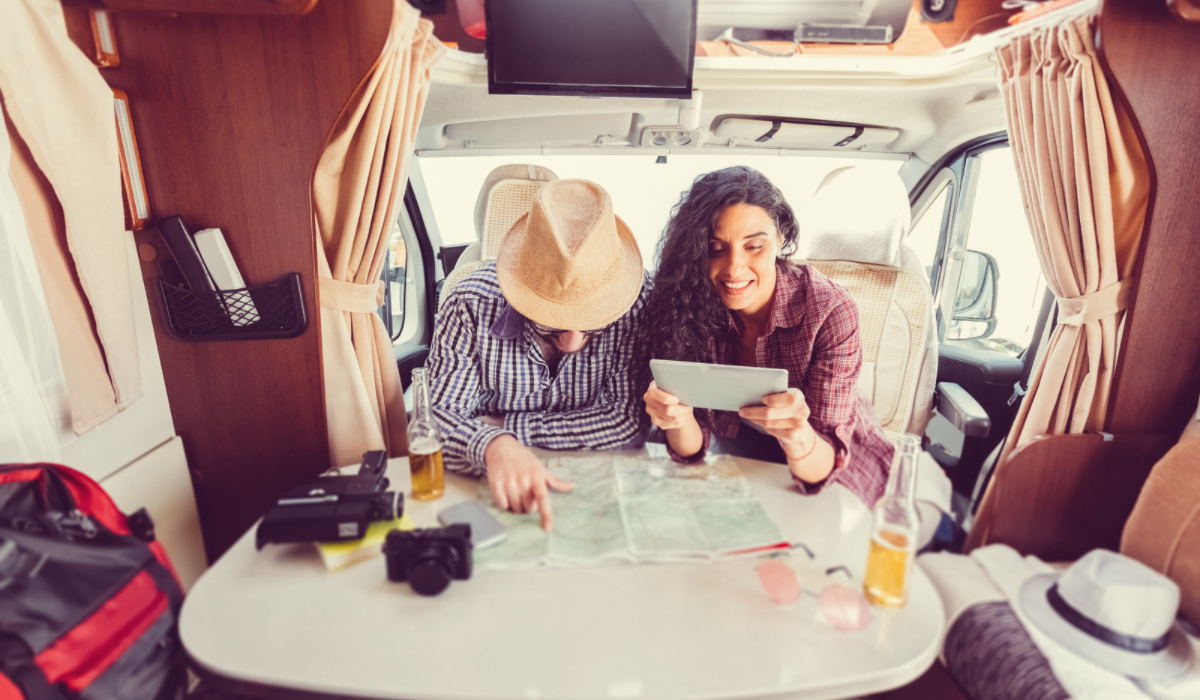 Why you want an RV trip planner
Just because you don't need an RV trip planner doesn't mean you shouldn't use one. RV trip planners help RVers travel safe distances, navigate around low-clearance, narrow, and unpaved roads, and can cut your trip-planning time in half.
An RV trip planner helps drivers visualize the time and distance it will take to get from one stop to the next, locate points of interest, campgrounds, fuel stations, dump stations, free overnight camping, and more. If you're analytical, you'll like the features that help you track your spending, calculate gas mileage, and notify you when and where you'll have to stop for gas.
Since every trip planner has similar features, we've outlined the things we love (and don't like) about the top three RV trip planners on the market today.
Need an RV for your next road trip? Find a rental RV and plan a road trip to remember.
RV Life Trip Wizard
RV Life Trip Wizard is part of RV Life Pro, a freemium platform and app that provides relevant content and RV-friendly tools to the camping community. RV Life Trip Wizard is associated with RV Life Campground Reviews and popular RV communities like Airstream Forums and Winnebago RV Forums.
RV Life Trip Wizard is a paid subscription and single login that gives users access to the free and premium tools on the platform.
Cost: $59 a year after a seven-day free trial.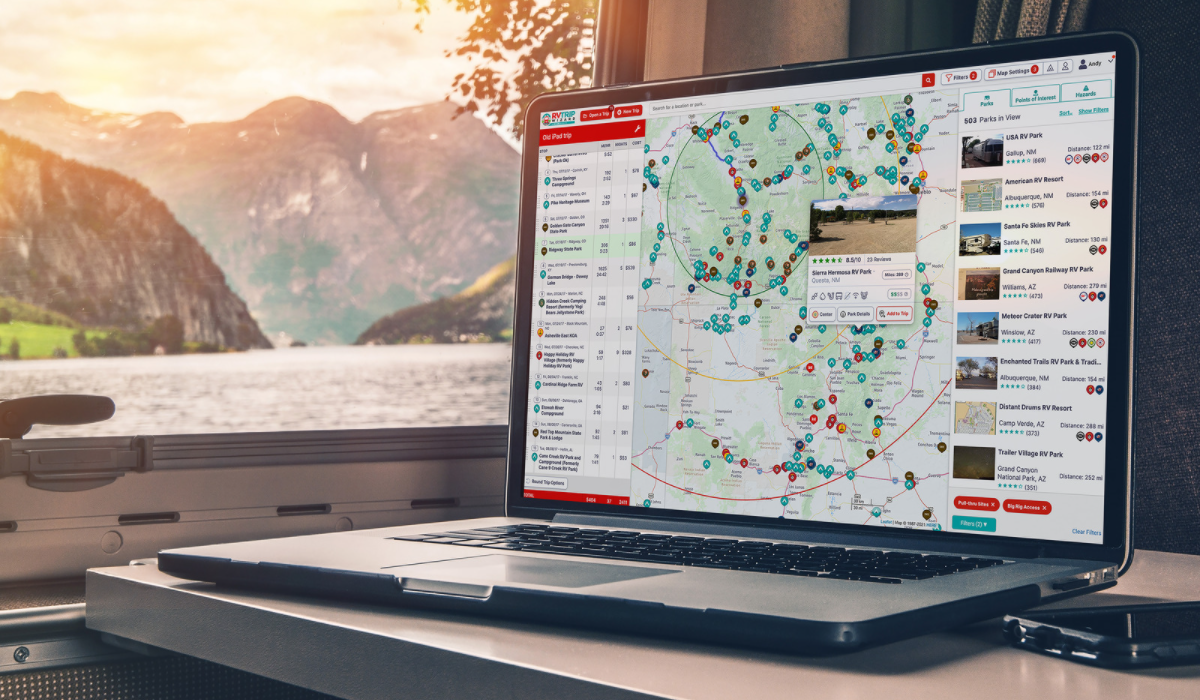 Pros
Works seamlessly between RV Life Campground Reviews, RV Safe GPS, and the RV Life app.
Watch RV Life Trip Wizard's video tutorials to help navigate the trip-planning software.
Input RV specifications, like height and weight, set routing and driving preferences, and create a personalized and safe road trip plan based on your wants and needs.
Visualize your entire trip and find campgrounds, overnight stops, gas stations, and points of interest along your route without ever leaving the program.
The RV Safe GPS turn-by-turn routing is one of the better GPS applications on the market. It provides RV-safe directions, which you can use through the RV Life app or send to select GPS devices.
The RV Safe GPS works with Apple CarPlay.
Customize your routing and driving preferences to get fuel alerts and avoid toll roads, highways, low-clearance areas, unpaved roads, ferries, and tunnels.
Save and label custom locations using an address or a coordinate and see your Harvest Hosts, Cracker Barrel, and other favorite stops in a centralized location.
Track your expenses by logging costs for fuel, campground fees, meals, and even gas mileage for every trip.
Print or export your trip into a calendar, Excel spreadsheet, or compatible GPS and download content into the app for offline use.
Run and log Wi-Fi and cellular speed tests to document real-time internet at every campground.
Cons
The points of interest don't include roadside attractions and other quirky places to see along your route. You'll have to rely on an external app like Atlas Obscura and manually input the address into your trip planner.
The trip planner is a web-based program. You can view trips on the RV Life App, but you can't edit them.
RV Life Trip Wizard is a massive program with tools that some people might not ever use. Because of the detailed RV features, the program comes with a big learning curve.
You can't collaborate with another user unless that user is also a member of RV Trip Wizard. You can, however, share your trip as a visitor for viewing.
You can only import and use your road trip with the RV Life RV Safe GPS or Garmin BaseCamp, Rand McNally Dock, Delorme Street Atlas Plus, TomTom, or Magellan. Even when you can import your trips to an external GPS, it doesn't always work correctly.
You must use a browser to download offline maps. Once you've downloaded the map file to your computer, you can upload it to Google Maps and view it on your cell phone.
If you choose to use a GPS other than the RV Safe GPS, be aware that those programs may not use the RV-friendly routes you created in RV Life Trip Wizard.
The RV Life app doesn't work with Android Auto.
Roadtrippers Plus
Roadtrippers Plus is part of the Togo RV family and connects RVers to the free and paid tools found on Campendium, OvernightRVParking.com, RVillage, Roadtrippers, and more. To simplify access for their growing community, Togo RV created Roadpass and Roadpass Pro, one login that allows users to access all partners with a singular username and password.
Cost: $29.99 a year.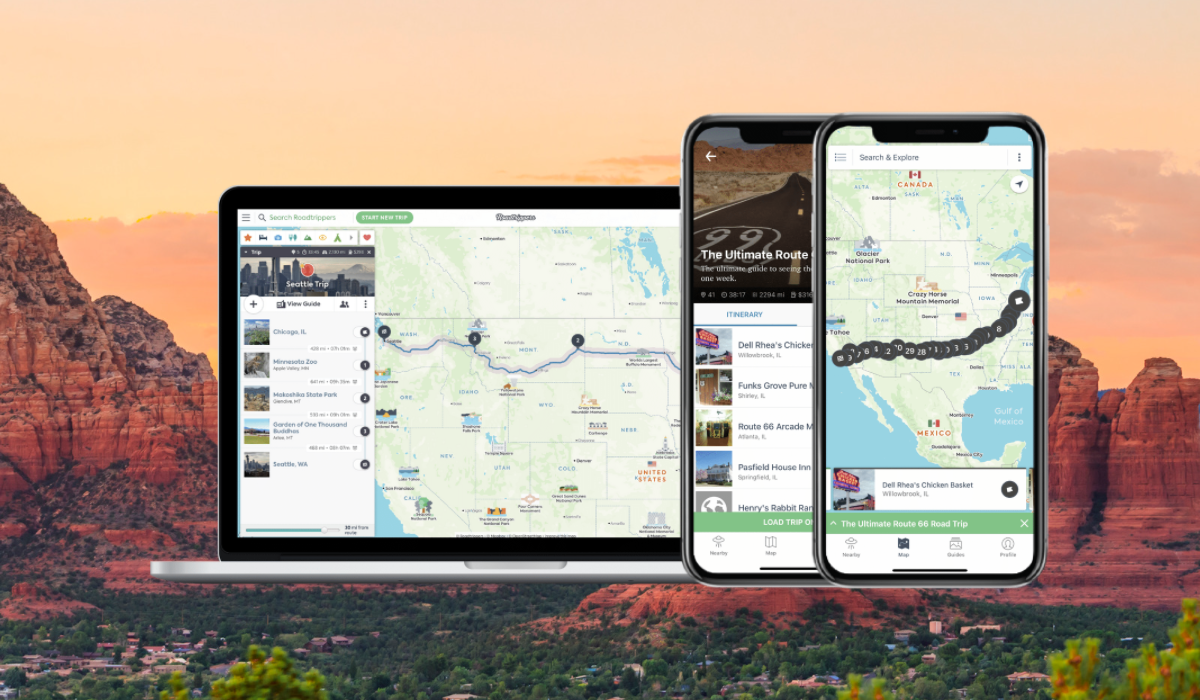 Pros
The map aesthetic is appealing and uses large graphics to indicate points of interest.
Roadtrippers Plus lets you create and edit a road trip in the app. You don't have to be on the computer to design your dream itinerary.
The Roadtrippers app, initially designed for car (not RV) road trips, provides a detailed description of the point of interest and uses a navigation feature to direct you from your current location to the point of interest.
Popular points of interest have tons of user reviews, recent pictures, and often information on oversized parking and access to public restrooms.
A new feature gives drivers the option to add RV height, weight, and length and indicate whether you're carrying propane or want to avoid areas with tolls, bridges, tunnels and bridges, ferries, and dirt roads.
Collaboration allows you to build an itinerary with other people, even if they are not members of Roadtrippers Plus. Collaborators must sign up for the free version of Roadtrippers to use this feature with you.
Roadtrippers Plus gives Togo RV deals and discounts.
Directs you to a campground's reservation system for online booking (if the campground has online booking available).
The app makes it easy to switch between Roadtrippers Roadtrippers guidance, Google Maps, and Apple Maps when you want to change the program you use for navigation.
The road trip guides have suggested itineraries based on the things RVers might like, such as the perfect RV road trip to Olympic National Park or a trip based on the movie Nomadland.
Cons
Roadpass Pro is supposed to simplify the way RVers access the websites and apps owned by Togo RV, but it complicates the login process. Once you set up Roadpass Pro, you can use one login and password to access RVillage, Campendium, OvernightParking.com, Togo RV, and Roadtrippers Plus, but you can't get from one site to another unless you open a new window. Togo owns the sites, but they remain separate brands without interchangeable options.
The offline maps feature doesn't allow you to download and use your personalized road trips; it only downloads preloaded regional maps.
Customized waypoints aren't editable, so you can't find a location using GPS coordinates or an address that doesn't prepopulate in Roadtrippers Plus.
GPS routing is in beta and doesn't take your RV size and weight into account when routing you, even when using RV-friendly routing.
The public camping areas listed are regional or city parks and not BLM or other free camping sites.
If you want to test and document cell phone strength or Wi-Fi speed at your campground, you'll need an app like Speedcheck to test the speed and then use the Campendium to document your findings.
The campground reviews in Roadtrippers Plus are basic and don't link to Campendium's reviews. If you want to do everything from the Roadtrippers app, you'll have to use the in-app reviews or leave the app to use the Campendium app or website.
The Campendium app isn't available on Android. You have to use your browser to access Campendium reviews on your phone.
Campendium, Roadtrippers, and RVillage will all remain separate platforms. Even though Roadpass Plus gives you one login for all of these brands, they don't link together in one app or website.
Doesn't work with Apple CarPlay or Android Auto.
The Dyrt Pro
The Dyrt is a crowd-sourced campground review platform that allows users to upload and share campground reviews with other users. The Dyrt Pro is a premium interface that includes paid tools like the trip planner, gear discounts, and campground discounts at some campgrounds.

Cost: $35.99 a year after a seven-day trial.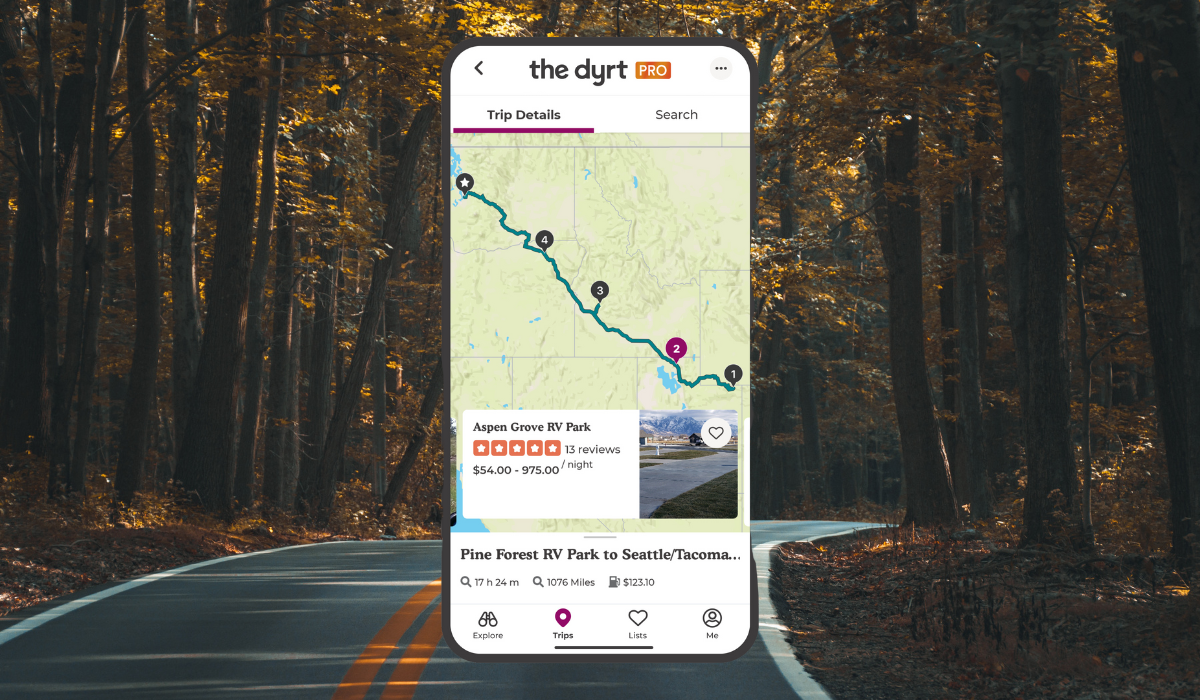 Pros
You can plan and edit road trips using the app or a browser, and the features are the same regardless if you use the app or a browser.
The app is user-friendly and visually appealing. You don't need to have a lot of technical experience to navigate the Dyrt Pro app or website.
Campers can create trips from scratch or use one of the Dyrt's pre-designed road trips.
The map has layers to show where RVers can find free camping on Bureau of Land Management (BLM), U.S. Forest Service (USFS), and National Park Service (NPS) managed land.
Users can download maps and include layers for offline use.
You can share your completed trip with friends using an emailed link or social post.
Campers can submit campground reviews and earn badges and awards for their contributions, and once you've added your contributions, you can show off your badges and status with other Dyrt members.
All users have access to free crowd-sourced campground reviews. These reviews give RVers real-time campground information such as features, connectivity, and advertising accuracy.
Dyrt Pro members don't have to pay extra booking fees when they connect and reserve campsites using the online reservation link found on select campgrounds that already have online booking.
Users can create customized lists and save their favorite campgrounds to the lists for easy reference.
Cons
The Dyrt Pro is not available in Canada.
The trip setting section is basic and doesn't give users many options other than starting and stopping points.
The map's campground icons don't show users any campground information, such as the campground type or facility in the custom trip planner. You have to hover your mouse over the campground icon to find the campground's name, rating, and affiliation.
Friends can't collaborate with you on your road trip. They can only view or export your trip's details.
Although the Dyrt Pro has a feature to enter your RV's specs, there isn't an RV-friendly GPS or RV-safe routing option within the app.
Trips exported into Google Maps must have fewer than 11 stops, and when exported, the route shown on your trip planner may not be the same route Google uses for navigation.
Doesn't work with Apple CarPlay or Android Auto.
The trip-planning features are similar to those you'd find in a free road-trip planning software or RV travel apps and are not fully developed for RVers yet.
Final thoughts
People who want to build RV-friendly road trips and have access to their RV tools all in one should consider adding an RV trip planner to their RV app and map toolbox.
Each road-trip planner has its positives and negatives, and depending on how you want to plan your trips may dictate which planner would be best for your RV lifestyle.