Did you know that it's possible to go camping for free?
In the RV world, all you need is a safe place to park that's both legal and free of charge.
The best part? Finding free camping isn't as complicated as it sounds.
RVezy's team of industry experts has put together some insider tips to help you navigate the world of free camping across the U.S. and Canada.
In no time, you'll be ready to decide if free camping is for you.
Who can RV camp for free?
Free camping isn't for everyone. You don't have to have experience; you just need to be prepared.
Most free campsites are primitive and lack campground amenities like water, electricity, and sewer. If you're comfortable with your RV and have the supplies you need, you'll likely enjoy free camping.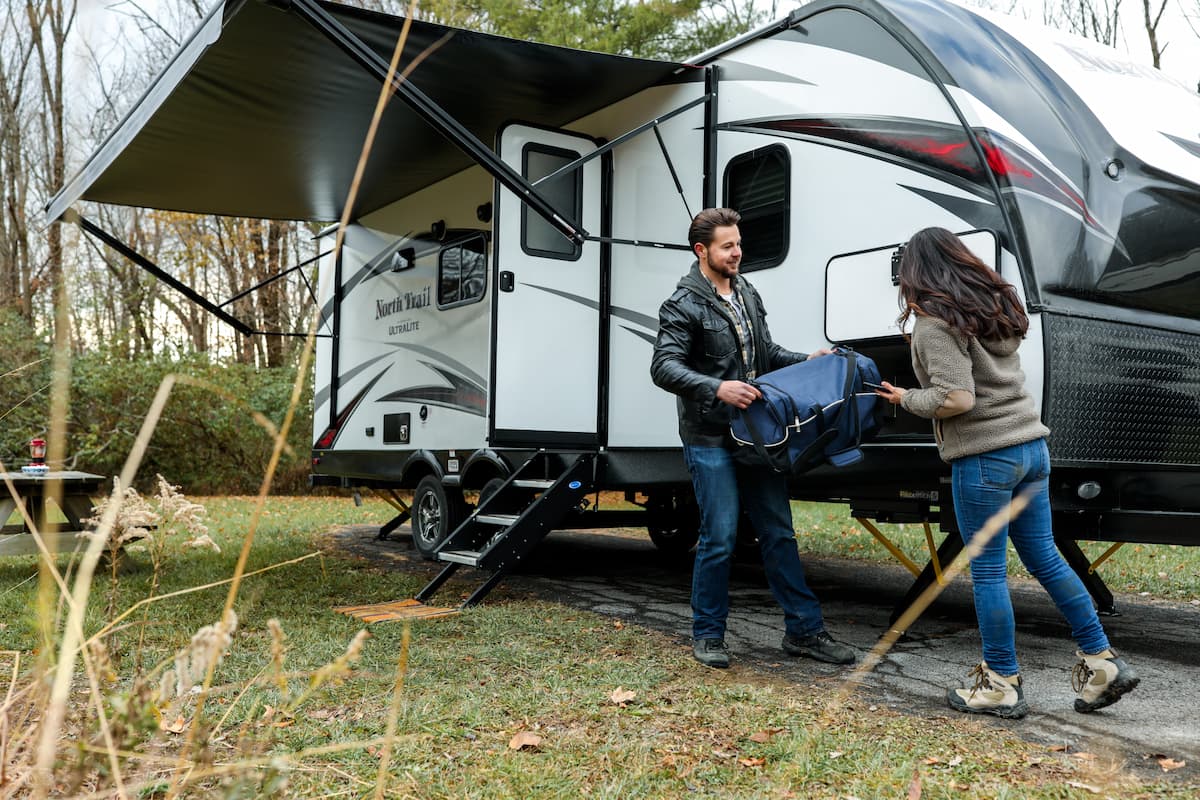 As with any camping, it's important to be aware of your surroundings and recreate responsibly. Keep safety at the forefront of your mind and trust your instincts. If you arrive at a free camping area and something feels off, find somewhere else to camp. It's perfectly acceptable to change your plans at the last minute when you feel uneasy about a situation.
Types of free camping
Boondocking and wild camping
Boondocking and wild camping are broad terms used by RVers to describe free camping without access to campground amenities, water, electricity, or sewer. Most boondockers and wild campers look for remote locations where they can camp off-the-grid away from the general public. Even though remote camping is the preferred option for most boondockers and wild campers, the RV community accepts the words boondocking and wild camping to encompass any RV camping without hookups — parking lot camping included!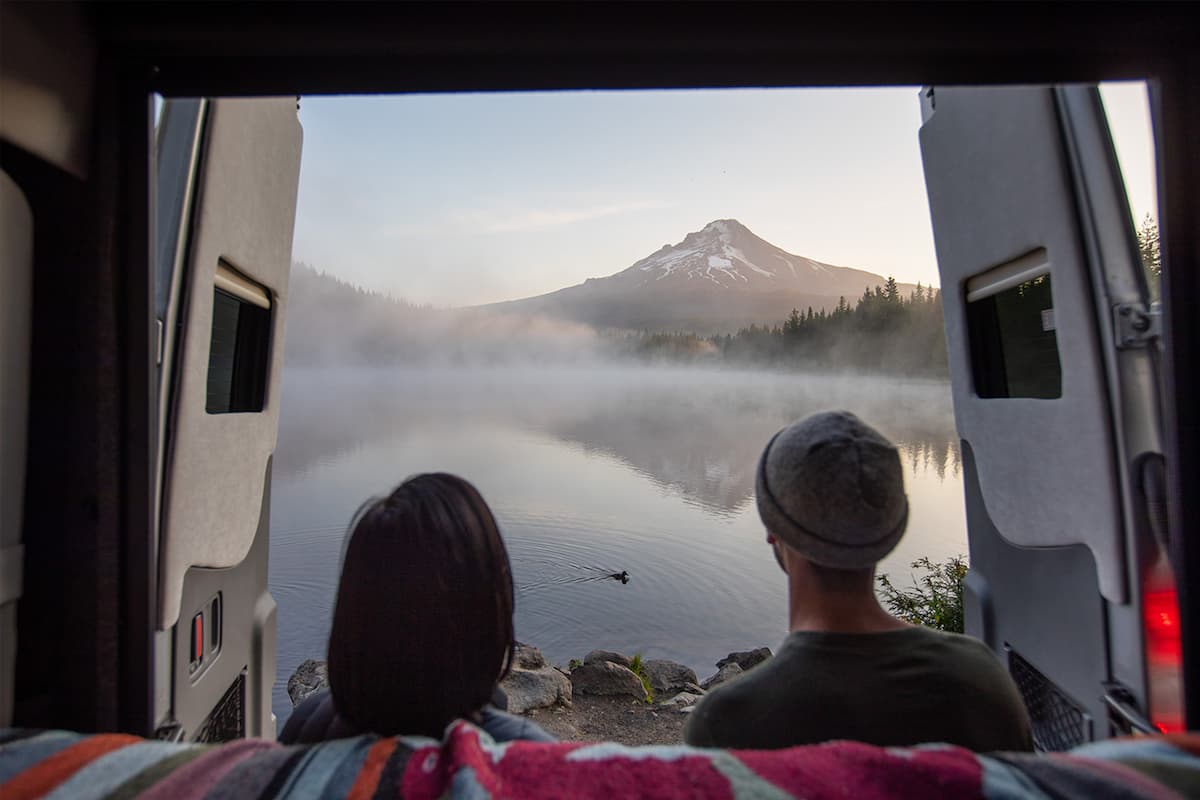 Dispersed camping in the US
Dispersed camping is the official term for free camping on undeveloped land within the U.S. The majority of undeveloped public lands are operated by the U.S. Forest Service and the Bureau of Land Management (BLM). Public land management agencies supported by U.S. taxes and government funding help keep our public lands cared for and recreation, like dispersed camping, free.
Wild camping in Canada
Public lands, also known as crown lands, are administered by the Ministry of Natural Resources and Forestry under the Public Lands Act. In Canada, recreational activities such as wild camping on crown lands are similar to dispersed camping on public lands. Although the government operates crown lands, some wild camping rules vary from province to province.
Parking lot camping
Parking lot camping is a type of free overnight camping, allowed with permission, in the parking lots of some retailers and restaurants. Parking lot camping isn't technically camping since setting up outdoor furniture, cooking equipment, and even opening RV slides is discouraged. Wallydocking — a play on words blending boondocking and Walmart, emerged as parking lot camping at Walmart stores rose to popularity.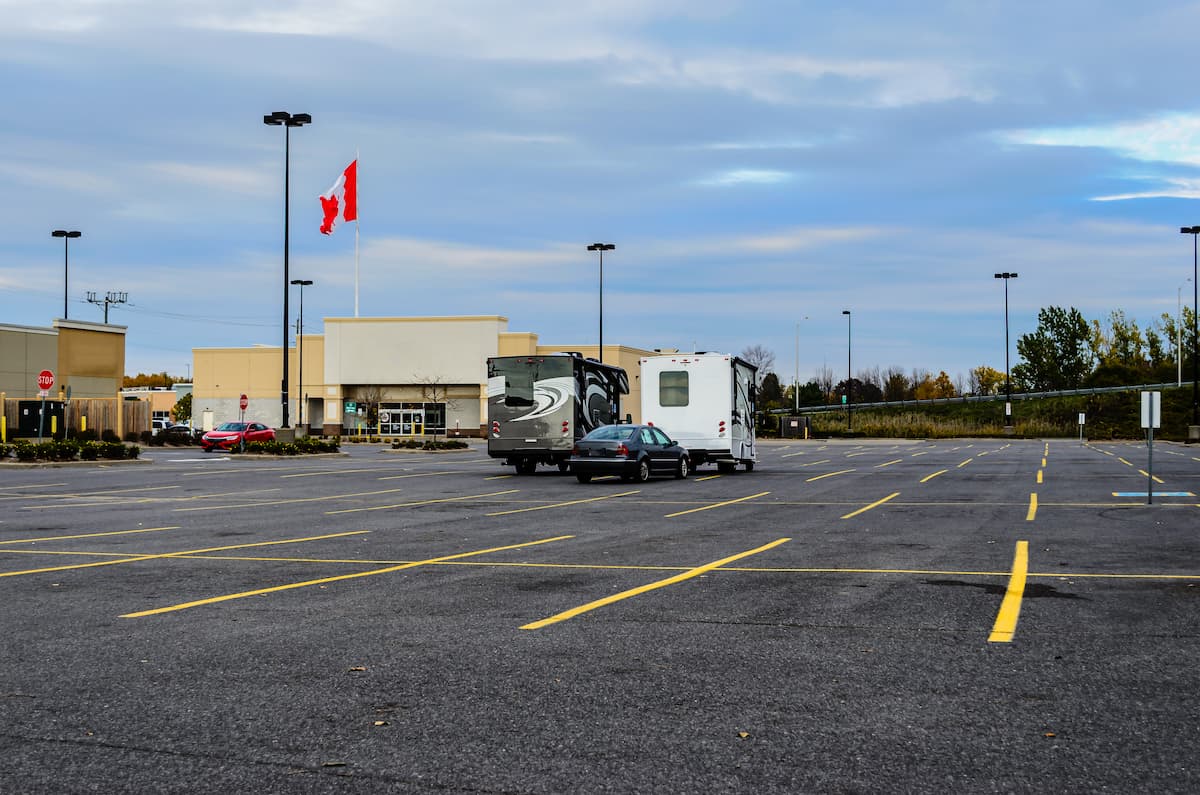 RVezy insider tip: Use an app like Allstays to see other camper reviews before calling the store for permission to park overnight. Sometimes, city or county ordinances prevent RV-friendly stores, like Walmart, from welcoming overnight parking guests.
Rest areas, overnight parking, and picnic areas
Driving while you are exhausted is not only difficult, it's unsafe. Some states, like North Dakota and Texas, permit people to stay overnight in some rest, overnight parking, and picnic areas, giving road-weary drivers a safe and easy-to-access place to sleep for up to 24 hours. Roadside overnight parking is typically reserved for trucks and self-contained RVs, so while sleeping inside your RV is technically camping, it's better to call this free camping option free overnight parking.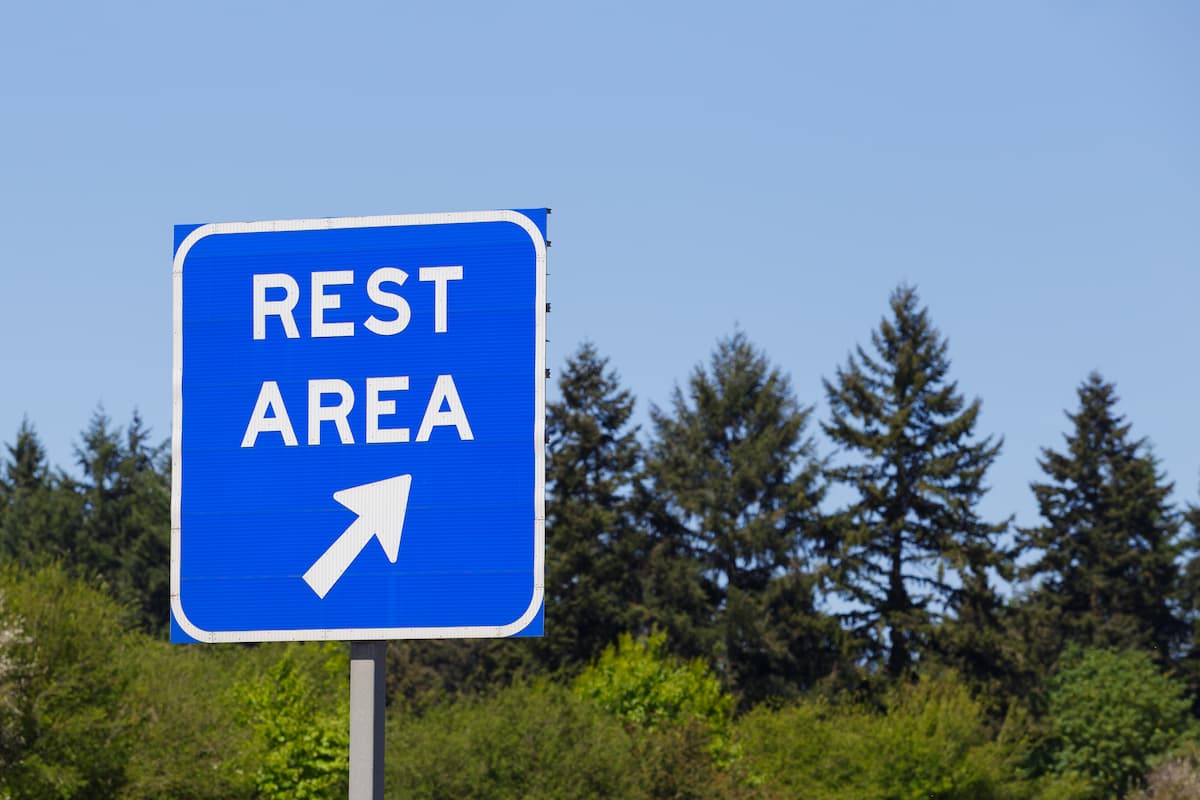 Moochdocking
Moochdocking is Wallydocking's free-camping cousin. Did we say, cousin? We meant aunt, mother, sister, friend, and buddy. Moochdocking is camping for free in the driveways, backyards, and the properties of the people you know. Some people mooch off their friends and family for one night, while others stay for longer. Moochdocking is a lot of fun because it allows campers to have what feels like a hotel on wheels — free of charge.
(Almost) free camping
Free camping isn't technically free. Your tax dollars support public lands and fund the transportation departments that maintain rest areas, overnight parking, and picnic areas. When you stay at a Walmart or Cracker Barrel, management permits your overnight stay because it expects you to purchase something in return.
The same concept applies to membership services like Harvest Hosts. Campers pay a yearly membership fee and then stay for free at any of the network's locations. Each time you stay overnight free of charge, you should purchase something from the business in return for your stay. Who's to say that you can't reach out to a golf course or winery and ask permission to park your RV overnight in return for your patronage? Nothing! All you have to do is ask.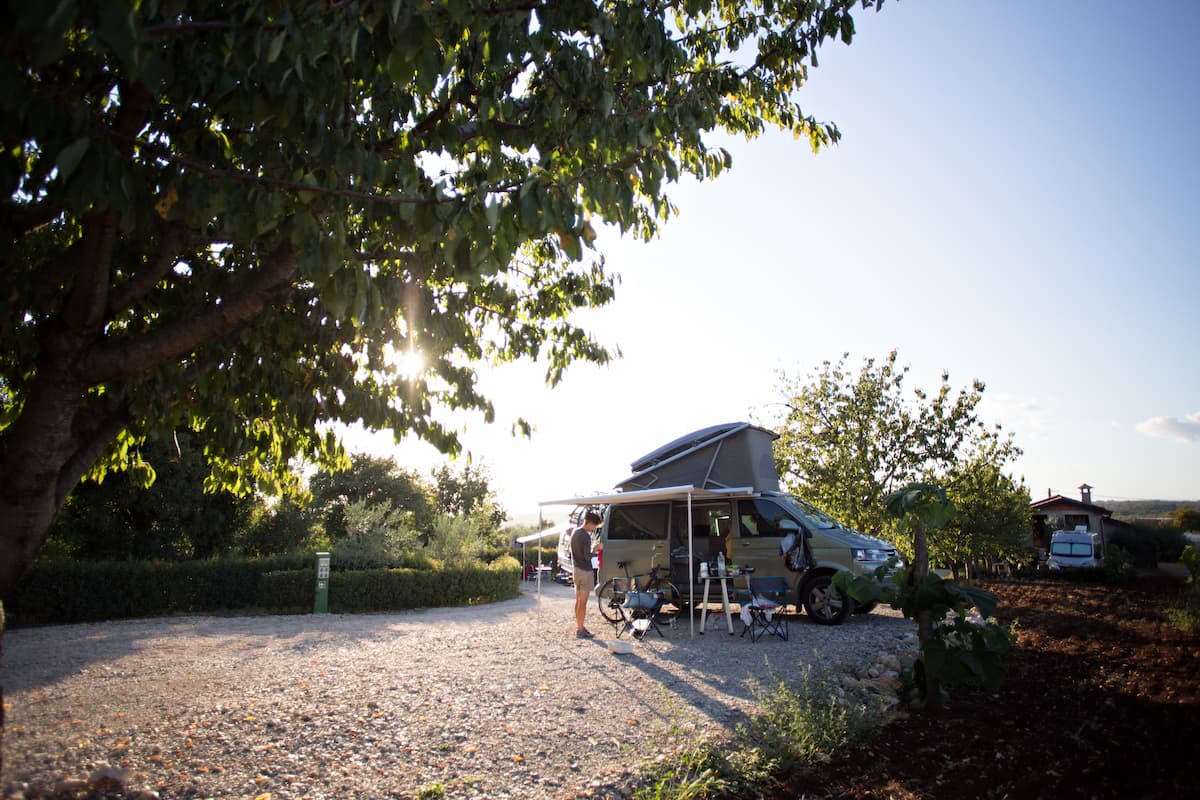 What free camping option is best for you?
The first question you need to ask yourself is: are you parking out of necessity, or are you looking to camp recreationally?
Once you know your camping type, it's easier to find free camping based on your RV, experience level, and the kind of camping experience you hope to have.
Dispersed camping
Overview:
Dispersed camping is camping for free on undeveloped public lands within the United States and Canada.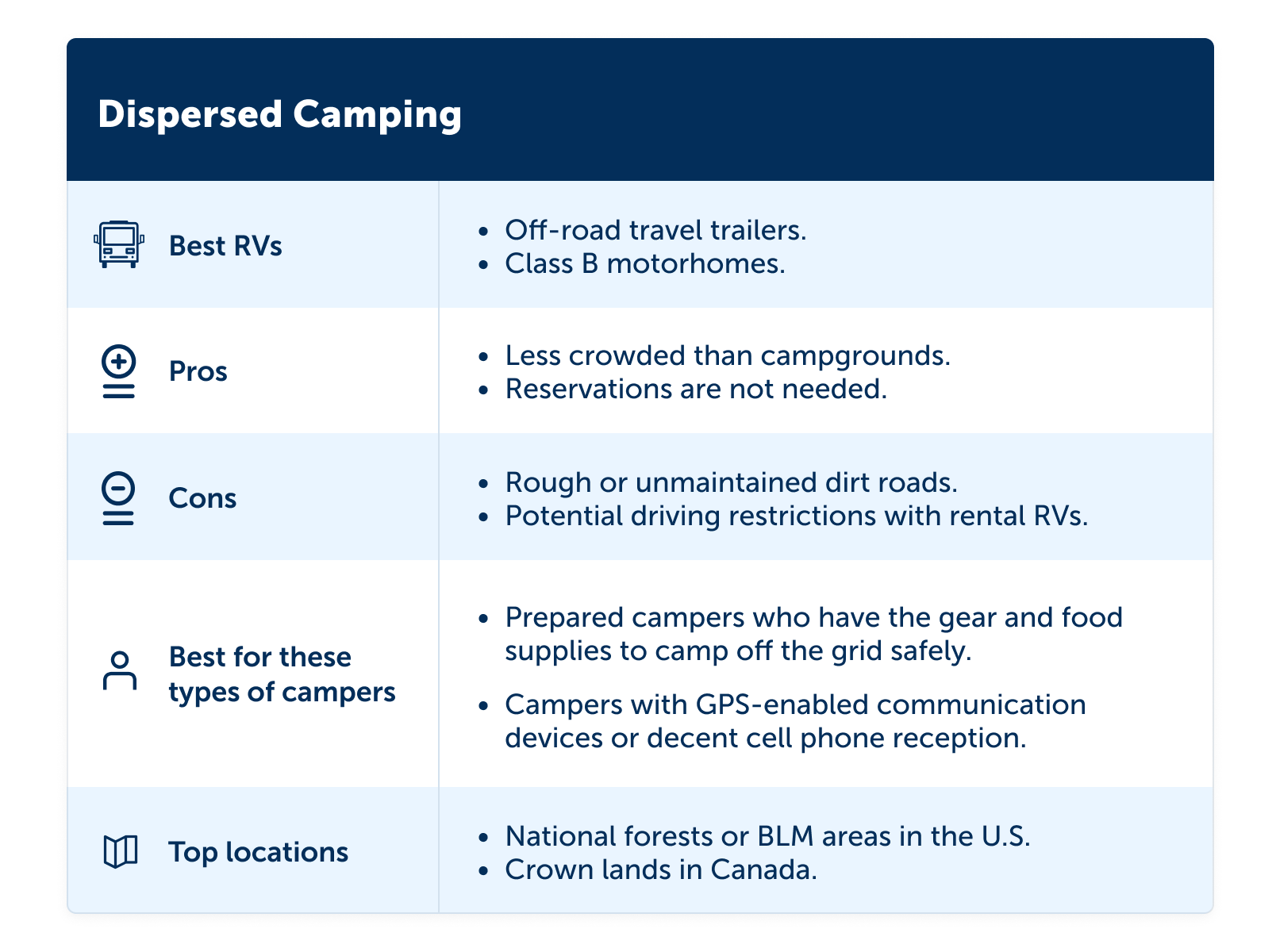 RVezy expert tip: Before you camp in a dispersed camping area, contact the local ranger station for current road conditions and up-to-date information such as current fire restrictions.
Moochdocking
Overview: Camping in the driveways, backyards, and the properties of the people you know.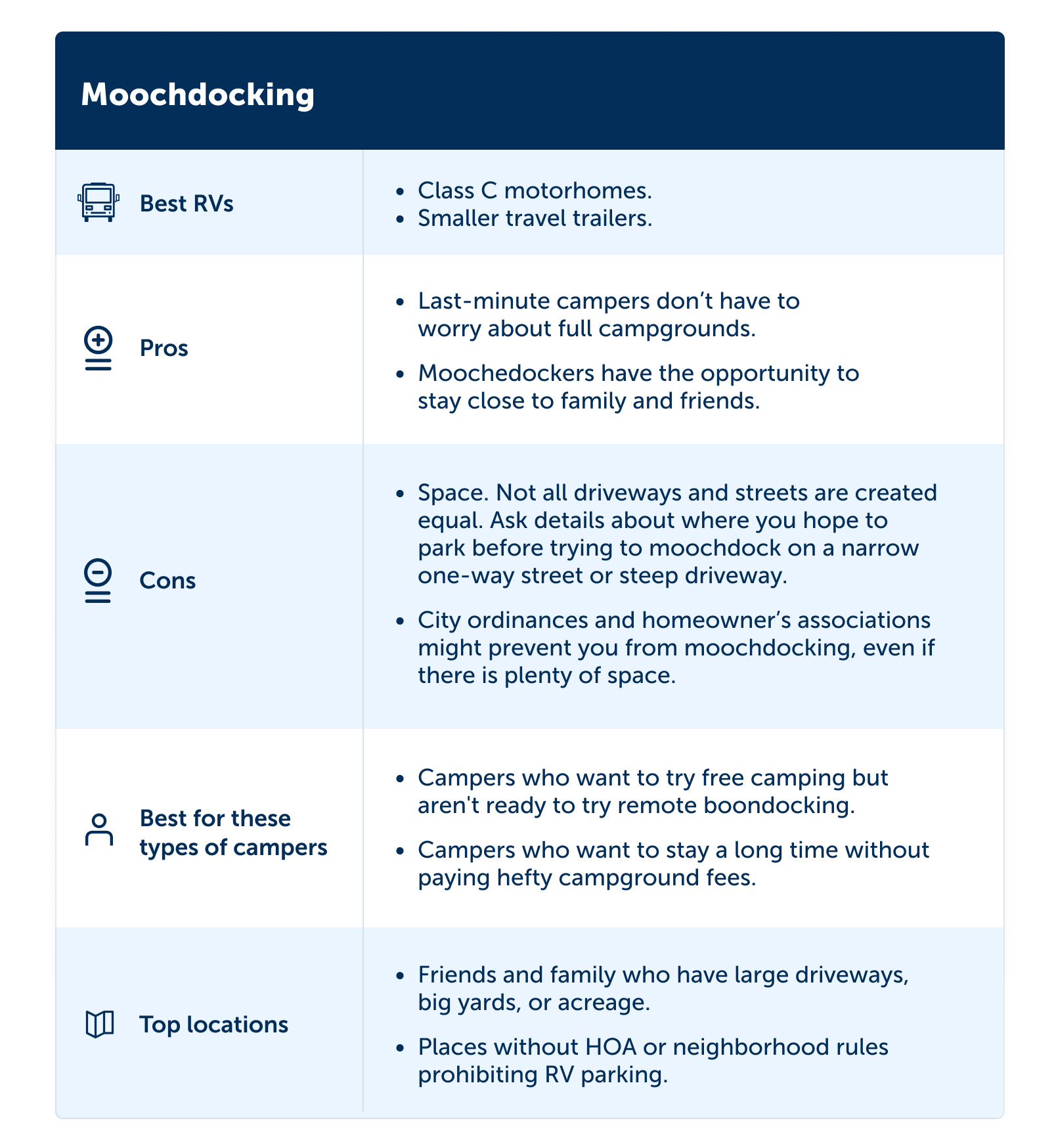 RVezy expert tip: Bring RV extension cords and electrical adapters to use a home's 120-volt electricity. Adapters make it easy to use an RVs 50-amp or 30-amp electrical circuit without any special RV electrical hookups. Be mindful of what systems will run off a smaller circuit. RV systems like dual air conditioning units might not operate when connected to a standard electrical plug.
Free parking for food and rest
Parking lots
Overview: Free overnight camping, allowed with permission, in the parking lots of some retailers and restaurants.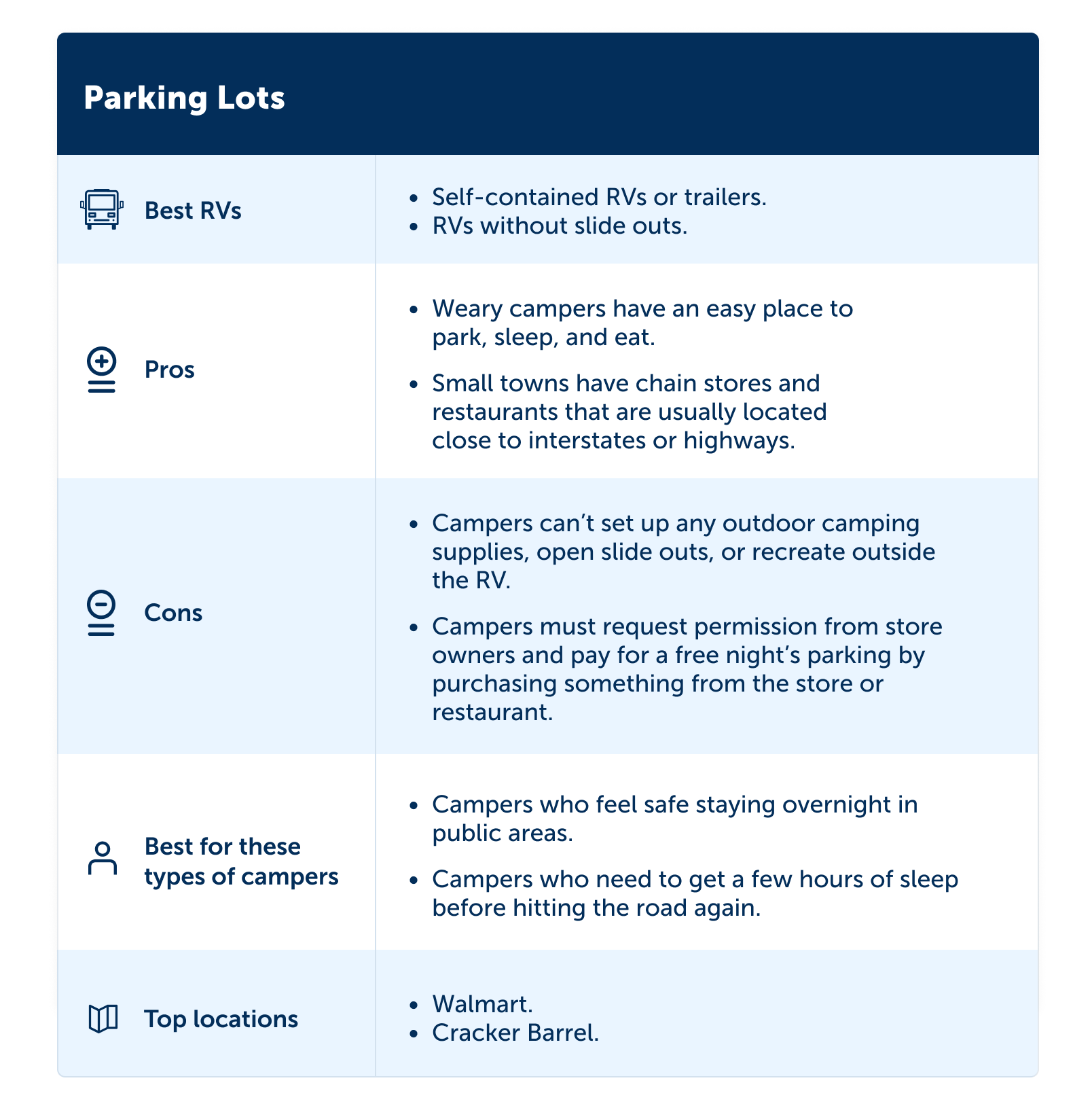 RVezy expert tip: Free overnight parking in parking lots is not free camping. Prepare yourself to have what you need, such as water, propane, and batteries, to keep a low profile while you stay overnight. Avoid any outdoor recreation and refrain from any activities that might disturb other overnight guests or the businesses' patrons.
Rest areas, overnight parking, and picnic areas
Overview: State or provincial-run rest areas, overnight parking, and picnic areas that permit campers to park for free anywhere from a few hours to a day.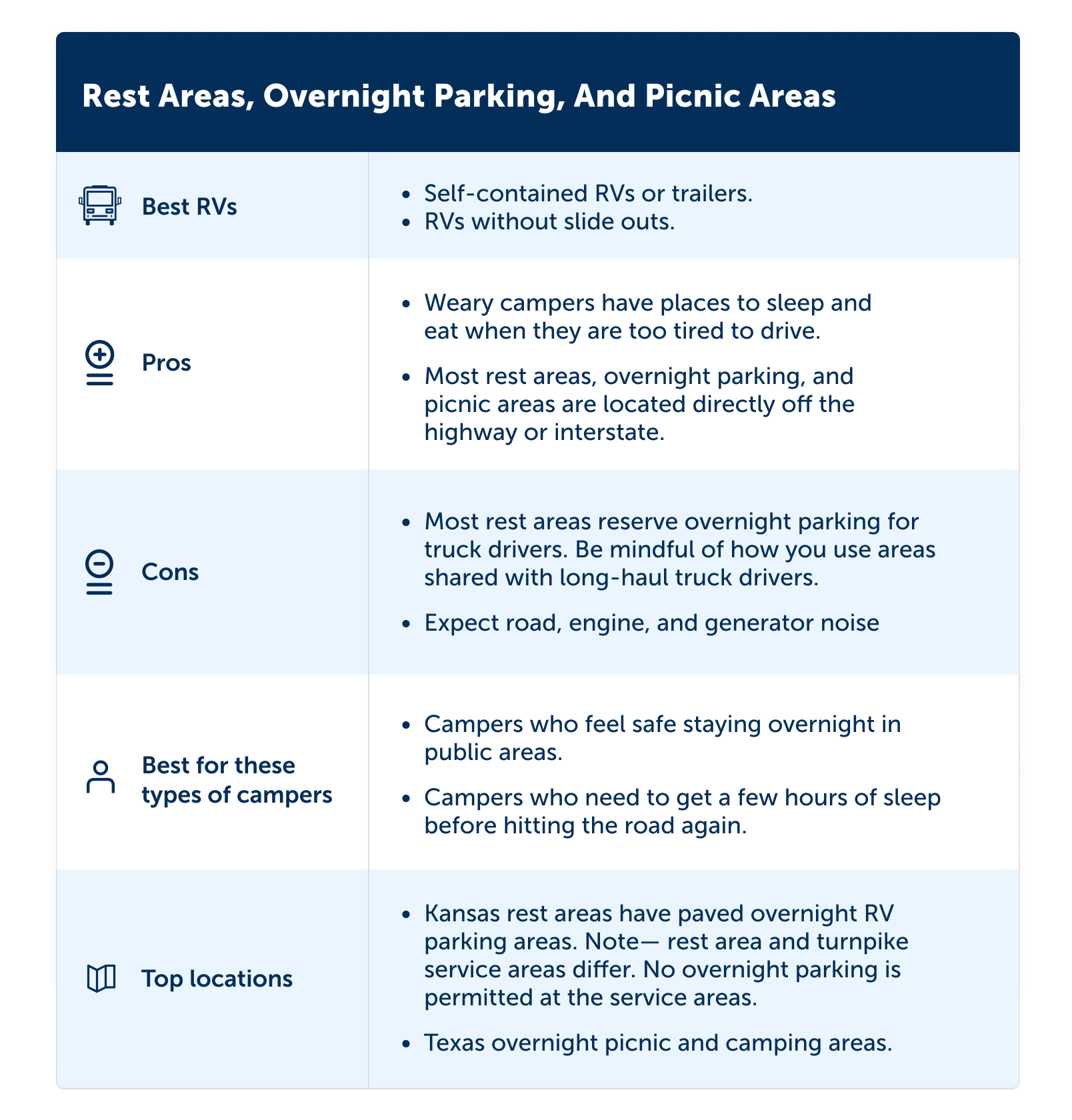 RVezy expert tip: Free parking is not the same as free camping. Locations that permit free parking ask you to avoid recreational activities and stay inside your RV or trailer. Since parking areas can be loud, bring earplugs or noise-canceling headphones to help you get a good night's sleep.
The best gear for boondocking
Boondockers have to prepare themselves differently than those who camp in designated campgrounds. Keep in mind; it's best to be slightly overprepared when boondocking because it's not always possible to make a quick trip to the store.
By packing the proper gear and food, you will be ready to camp unplugged and off the grid.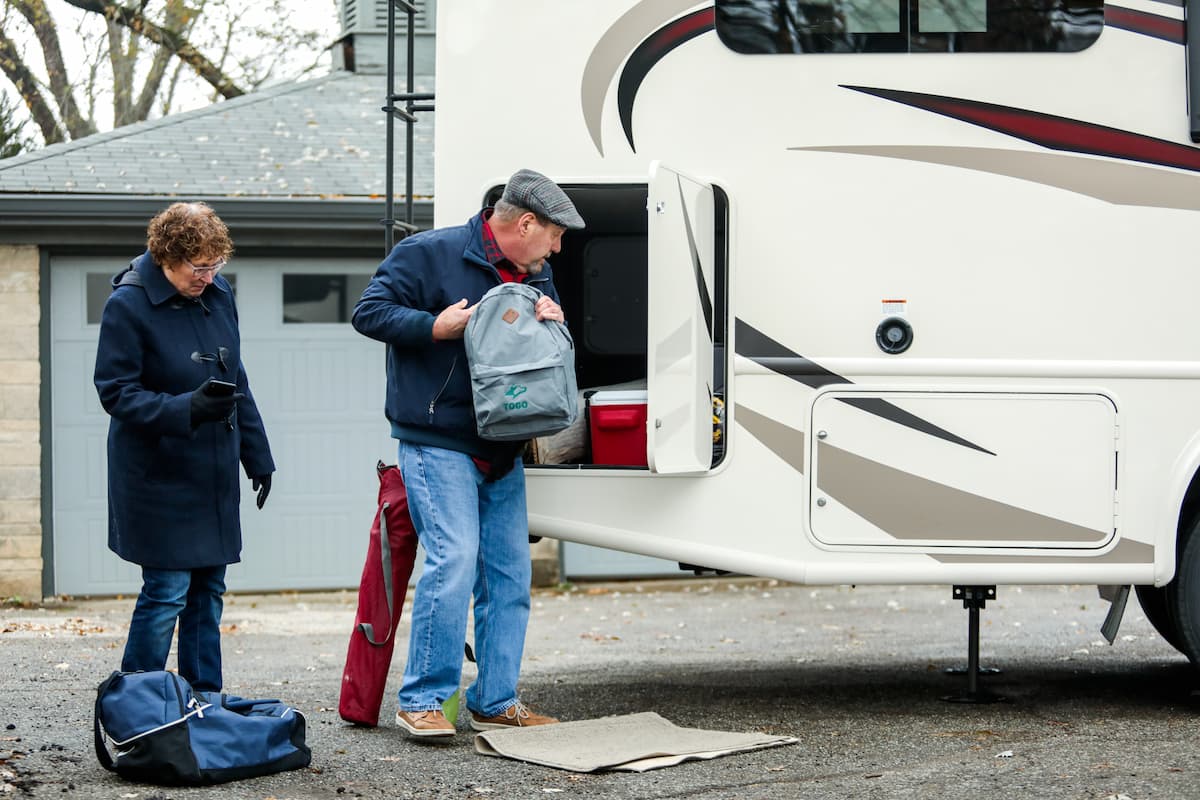 RVezy tip: Check out our best RV camping hacks to upgrade your next RV road trip.
Recommended boondocking gear for your RV
Charged house batteries.
Roof-top solar.
Full propane tank.
Full freshwater tank.
Empty black and gray water tanks.
RV-friendly toilet paper.
External solar panels.
Flashlight, headlamp, or lantern.
Solar or battery-powered lighting.
Propane stove or grill.
Ice chest or cooler.
A hand-held GPS communication device (for remote boondocking).
USB-powered fan.
Earplugs and a sleep mask.
Baby wipes or easy-to-warm shower wipes.
Large trash bags.
Free-camping resources
Bureau of Land Management, U.S. Forest Service, and U.S Fish and Wildlife Service all have comprehensive online search tools that help narrow down free camping by location and recreational activity. The Forest Service also provides detailed and downloadable motor vehicle use maps to help boondockers navigate forest service roads and free camping areas within a specific state or region.
In Canada, each province governs public lands differently. Websites like Free Camping can help campers find free camping on crown land by province.
If you prefer to use an app to find free camping in the U.S. and Canada, check out Free Roam, iOverlander, or Allstays.
The free camping secret
Have you ever wondered why some RVers are hesitant to disclose their favorite campsites? Solo campers keep their free camping locations secret to feel safe camping alone. Boondockers and overlanders keep their favorite campsites secret because they fear land abuse and overcrowding.
As much as we'd like to believe, not everyone in the RV community recreates responsibly. The fear of losing public land access drives secrecy. If people abuse free camping areas, then eventually, everyone will miss out on free public camping.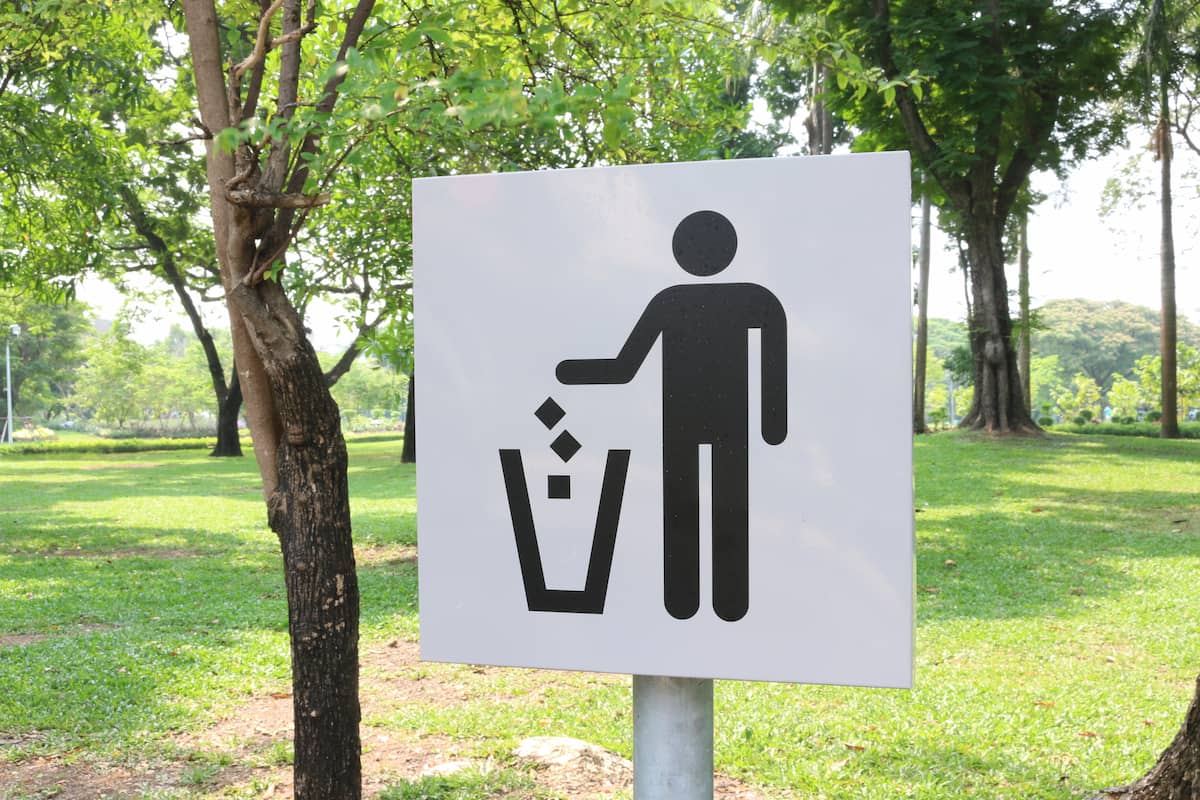 RVers should review and practice Leave No Trace principles and always Recreate Responsibly when camping. Responsible campers who care for our public lands will help keep camping free and help ease some people's hesitancy to share their free camping secrets with others.
Are you ready to camp for free?
When you are ready to try free camping, remember to choose designated camping and overnight parking areas, and always ask permission when needed. Remember, camping or parking overnight in prohibited areas — also called stealth camping — is illegal!
Do you plan on taking your RV rental off the grid? Some RVezy hosts offer boondocking add-ons that might help make your trip even EZYer. Communication with the host is always your best ally when it comes to having a good trip.
If you have any questions about RV rentals, RVezy's customer service team is always here to help.