Are you thinking about your next vacation in Alberta, Canada? Maybe you've never been, and with the cold Canadian weather mellowing out soon, there's no better time to start looking! There are some great places to visit, particularly around the Edmonton and Calgary regions!
Realistically, you can't go wrong no matter which part of Alberta you visit!
These days, the best way to travel and vacation is through an RV sharing system like RVezy.com. You really can't beat the affordable price, service, flexibility and convenience!
Another big draw card is the discount you receive on RVezy rentals of a week or more (and even bigger discounts for a month or more!).
In this article we explain the average price brackets for each type of travel trailer available for rental in Alberta. We use some real life examples to demonstrate how affordable it really is! We also explain all the services you should expect to get with those prices.
The RVEzy Travel Trailer Options
There is no doubt that renting an RV, such as a travel trailer, provides the most affordable vacation option (when compared to hotels and apartments anyway). And it's not just the price that makes them such a good option!
Travel trailers provide a couple of key advantages when exploring and camping around Alberta, including:
You can use your own vehicle to tow it (at RVezy we even have travel trailers available for motorbikes!!!)
You can leave the travel trailer at the campsite while you explore the local region in your own wheels.
Meanwhile, you're fully set up campsite is waiting for you when you return!
These advantages make travel trailers the preferred vacation option in many situations. Convenient and affordable!
But, before talking money, we will clarify what you will get with your travel trailer RVezy rental.
What Facilities Will You Get With A Travel Trailer Rental?

Most travel trailers come with all the facilities of a motorhome, so you dont lose anything at all.
In their simplest form, travel trailer rentals should provide a cozy place to sleep, some basic cooking facilities, a place to sit and eat, and storage space.
As more facilities are included, the price will increase to reflect that.
Age will no doubt have an influence as well. So if you're looking for a more affordable option, older travel trailers can be a great solution! Newer flashy models will inevitably involve a few more dollars, but you get what you pay for when it comes to modern facilities, trimmings and the rest!
IMPORTANT TIP: Always make sure to check your vehicle's official legal towing capacity and payload capacity (often, the payload capacity has to be calculated by removing the weight of your vehicle, from the manufacturer's gross vehicle mass (GVM) specifications, leaving you with it's available payload).
You should only ever rent a trailer that can legally be towed by your vehicle.
What Services to you get with RVEzy.com?
Regardless of the rental price, you don't need to worry about extra hidden maintenance, registration or insurance fees. We handle all that within the quoted price, and still manage to remain one of the most affordable RV sharing systems available in Alberta, and all of North America as a matter of fact!
On top of that, you have all roadside assistance covered 24/7, that includes:
Flat tire assistance
Fuel/Fluid delivery
Battery assistance
Towing
Tire replacement; and
Expert hotline
How To Calculate RV Rental Prices in Alberta
Travel Trailer rental costs in Alberta depend on your vacation requirements, such as:
The style of travel trailer and facilities you need (or want)
Size and length requirements (depending on your vehicles towing limits, and which camping areas you want to visit - some have RV size limits)
The size of your family and sleeping requirements
You really need to factor all these in. We'll touch on these elements now to help you more accurately estimate your travel trailer prices.

Travel Trailer Rental In Alberta: RV Styles And Prices
The broad travel trailer styles in Alberta include:
Let's have a look at each style to see if it suits your vacation requirements, and importantly, your budget limits! All RV rental prices mentioned represent the average, which means you'll probably find even more affordable options on the RVezy website.

Tent Trailer Rental Style And Price
The humble tent trailer. Tent trailers are generally half trailer half canvas hybrids, and are often the most affordable option (probably across all RV rentals, motorhomes included!).
They are a great option for the summer but can be a but exposed to the cold in Winter time. And they usually lack heating options.
Their facilities will either be all set up inside the trailer unit, or for the most affordable option, seek one with foldout facilities like a tail-gate kitchenette.
You can expect to pay around $50 - $125 per night, or $350 - $875 per week for this style of travel trailer, usually sleeping two to six people.
Tent Travel Trailer Current Rental Example
Check out this 2015 Viking 1906 tent trailer for rent in Alberta. It's lightweight, can sleep six people, has a fridge, kitchen, sink, fan and more. All for $75 per night in the low season and $100 per night in the high season.
Hybrid Travel Trailer Options
This style of travel trailer is the next level up from the tent travel trailer. A Perfect summer option, but still a bit chilly in the winter without heating. They range from $65 to $125 per night, or $455 - $875 per week (not including potential discounts). They will generally sleep between two to eight people.
Hybrid Travel Trailer - Current Rental Example
Check out this 2012 Freedom Express 19SQX hybrid travel trailer for rent in Alberta. It can sleep up to five, and has everything you need; showers, microwave, oven, fridge, table, heater and more. It's a real bargain at $65 per night in the low season and $75 per night in the high season. And that doesn't even include weekly or monthly discount!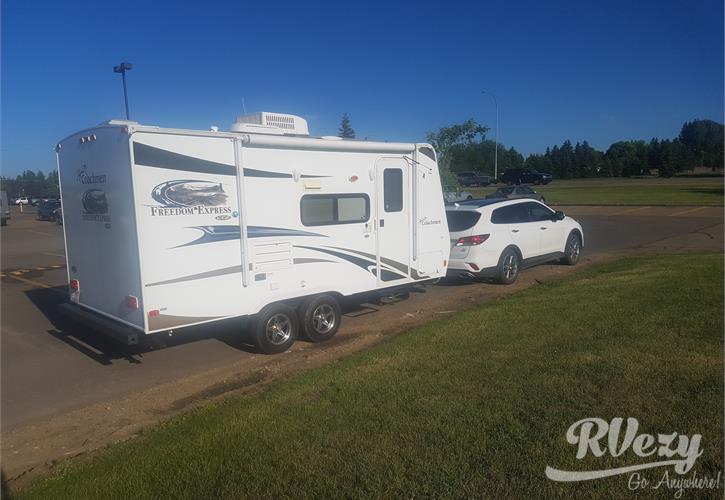 Standard Travel Trailer Rental Style and Price
Also called caravans, these are probably the most common style of travel trailer you will see exploring the country side. Many RV rental options are available all year round with heating and cooling options. Some older models aren't heated and will be a bit cold in Winter!

You can expect to pay around $100 - $150 per night, or $700 - $1050 for a week, for a nice self contained unit sleeping tw to 10 people!
Standard Travel Trailer - Current Rental Example
Here is a 2013 Evergreen Ascend travel trailer for rent in Alberta. It can sleep up to five people, has an internal shower, and everything else you'll need! All for as little as $80 per night in the low season and $100 per night in the high season.
Toy Hauler Travel Trailer Rental Style And Price
Toy haulers are exactly what they sound like, a travel trailer RV which can carry things like bikes, quads and boats in addition to their self contained, often large living spaces. They will sleep up to 10 people depending on the size of the unit. Some rentals offered through RVezy simply cater for those wanting to haul their toys to recreational areas (i.e. not for sleeping in), and these will be the more affordable options.
They range from $75 - $200 per night, and $525 - $1400 per week. RVezy discounts will bring this down even further!
Toy Hauler Travel Trailer Example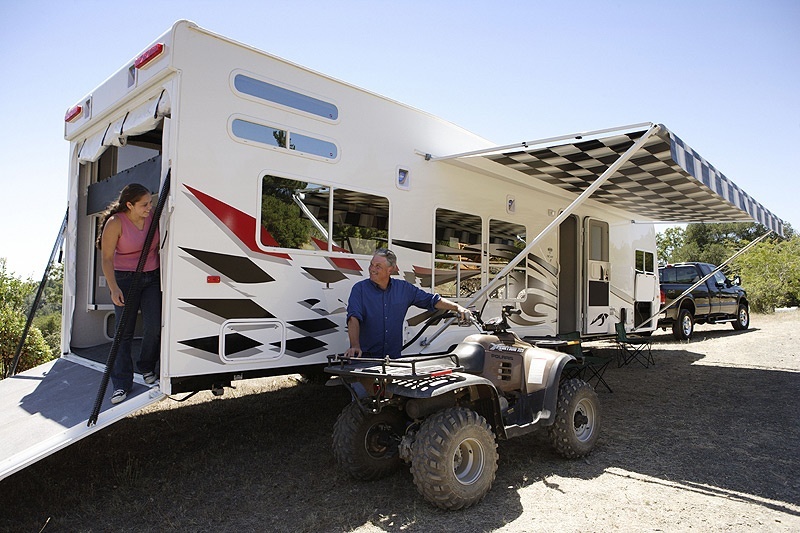 Fifth Wheel Travel Trailer Rental Style And Price
Fifth Wheels are travel trailers which attach to the vehicle by dropping onto the tray of a pickup truck, rather than hooking up to a tow bar or standard hitch. This allows them to be a bit more roomy with the extra space hanging over the pickups tub. Of course your vehicle needs to be capable of towing such a trailer too.
Most are heated and thus great for all season use.
Fifth Wheels range from $100 to $200 per night, and $700 to $1400 per week, sleeping four to ten people. The RVezy longer term rental discount will bring that down a bit too.

Fifth Wheeler Travel Trailer - Current Rental Example
Check out this 2005 Cougar 285 travel trailer for rent in Alberta. It can sleep four people comfortably, and is basically a full home on wheels. It goes for $125 per night in the low season and $140 per night in the high season.
Vintage Travel Trailer Rental Style And Price
If you're seeking to tour in style, then perhaps a vintage travel trailer is for you! You have two main varieties of vintage travel trailers. Some are very old styles which have been renovated by their owners, and some are simply older models which are still going strong (and offer a very affordable rental price!). They will sleep anywhere from 2 to 8!
Many were made before travel trailer heating was a thing so make sure you check (unless they have been retrofitted)!
They range from $75 to $150 per night, and $525 - $1050 per week, sleeping four to ten.
And don't forget weekly and monthly discounts!!
Vintage Travel Trailer Example

Travel Trailer Alberta Rental Price Summary
If any of these styles suit you, start looking for your ideal model at RVezy.com! Remember to plan ahead because the best deals are always snapped up early!
Also, keep in mind that your travel trailer rental price will increase along with the following:
More luxury facilities
Bigger sleeping requirements
Heating options.
Ultimately, your most affordable option will be to link up with a travel trailer owner through RVezy. We'll have exactly what you're looking for!
Let's finish up with this little case study about travel trailer rentals in Calgary.
How Much Does It Cost To Rent An RV For 2 Weeks In Calgary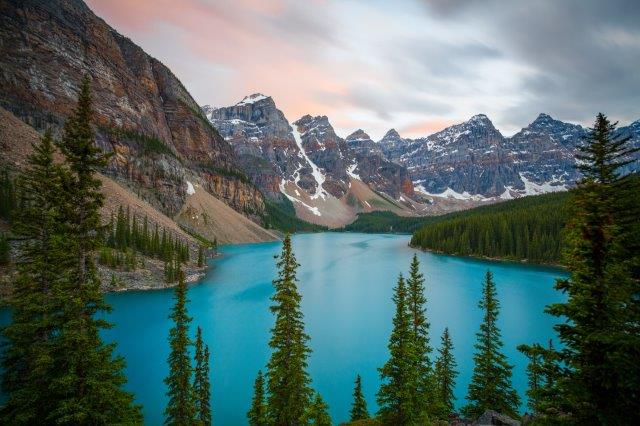 Calgary travel trailer rental is very similar to the rest of Alberta. Simply find the style you want in this article, and check our suggested pricing. If you need 2 - 5 sleeping spots, use the lower end of our weekly predicted price. If you need between 6 - 10, use the higher end of our predicted weekly price.Multiply the predicted weekly price by two, and there's your rough 2 week travel trailer rental price estimate, which you can use to budget into your travel expenses!
Overall, depending on your unique situation and required travel trailer style, a 2 week rental will cost you anywhere between $700 - 1750 for a tent travel trailer, and $1400 to $2800 for a big fifth wheeler or toy hauler.
For more accurate prices, make sure to check out our travel trailer rentals in Alberta. Also check out Calgary's tourism website for some great ideas about what to see and do while RVing around the countryside!