Looking for RV storage?
You've come to the right place. But — we're not just here to help you find the best RV storage near you. We're here to help you find the best type of RV storage for your RV and save you money along the way.
Table of contents
How climate affects stored RVs
Understanding how the weather will affect your RV should be the first thing you do before you begin your storage search.
If you live in an area known for extreme weather and have a motorized RV, your storage needs will differ from someone who tows a travel trailer and lives in a more moderate climate.
High humidity
Choosing a storage location that will protect your RV from condensation or water damage is essential. Excess moisture and poor ventilation can quickly damage the surfaces and the structural integrity of your RV. When moisture accumulates, your RV could:
Warp.
Expand.
Rust.
Mold.
Mildew.
Rot.
Freezing temperatures
When temperatures drop below freezing, your RV is at risk for:
Pipe cracking and rupturing.
Water damage.
Structural problems caused by heavy snow.
Window cracking.
Loose seals.
Rodent or insect infestation.
Decreased battery performance.

Find out how you can protect your RV during the winter in How to Winterize Your RV in 9 Easy Steps
Extreme heat with low humidity
High temperatures and dry conditions can be as destructive as freezing temperatures and high humidity. If you live in an area of the country where temperatures frequently exceed 100 F (38 C), you should choose a storage option that will protect your motorhome or trailer from:
Oxidized or faded paint.
Cracked leather and faded upholstery.
Dried seals.
Warping.
Dried or weakened tires.
Decreased battery longevity.
---
RV storage types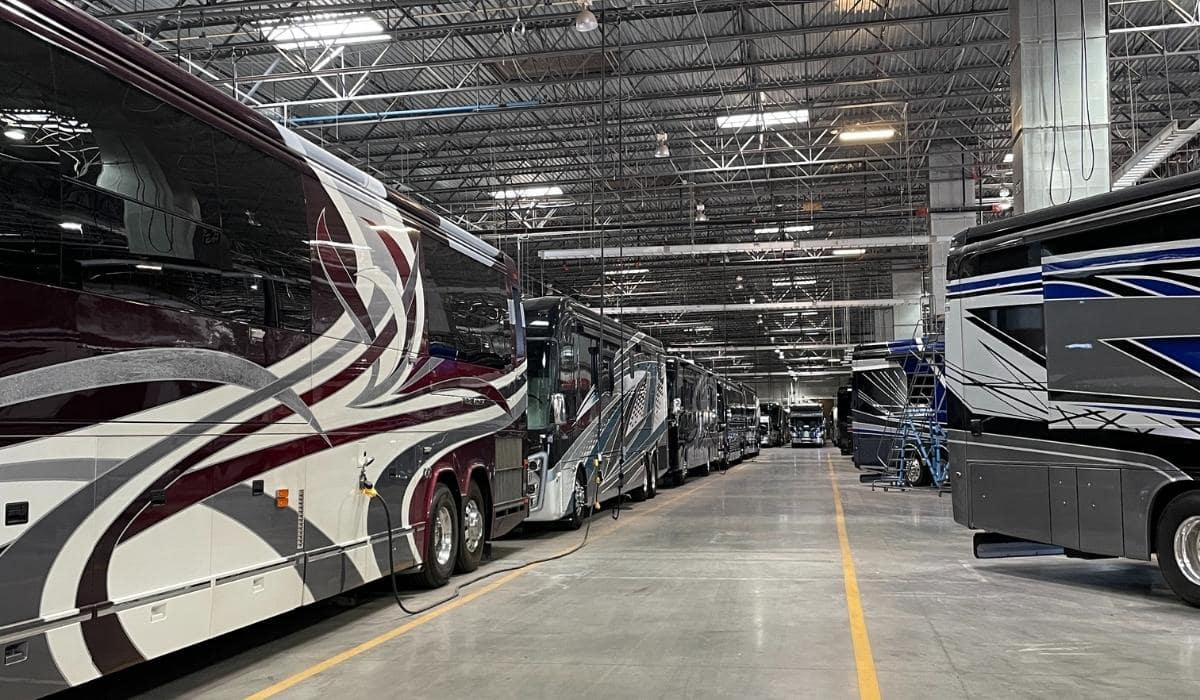 Indoor RV storage
Storing your camper inside can be one of the more expensive storage options for RV owners, especially if you pick a climate-controlled storage facility. However, keeping your RV inside will prolong the life of your RV and help prevent premature or costly damages, eventually saving you money in the long run.
Pros
Electrical hookups
One of the biggest benefits of indoor storage is access to 30- and 50-amp electrical hookups. Keeping your RV connected to an electrical source will help maintain your batteries, regulate temperatures inside, keep your refrigerator cold, and supply power to devices like a dehumidifier.

Climate control
Climate-controlled RV storage facilities keep the storage bays at a comfortable temperature year-round. As a result, you won't have to worry about freezing pipes, heat damage, or any other issues you may encounter when you store your RV outside or without climate control.

Water and sewer
Many indoor RV storage facilities have concierge filling and dumping services. The attendants can fill your freshwater, dump your holding tanks at your request, and have your RV ready for you when you pick it up. If concierge service isn't available, you'll most likely have on-site water and sewer so you can prep and clean your tanks before and after every trip.

24-hour security
Indoor RV storage is more secure than outdoor storage because it's easier to monitor entry points. Most storage sites have security cameras and gated entrances, while others have an on-site attendant or 24-hour security patrol.

Cons
Expensive
A commercial RV storage facility can be an expensive place to store your RV. The base price typically includes your parking space and increases depending on the available amenities. Since your options can vary from basic to all-inclusive, your cost can be anywhere from $200 to $700+ per month.

RV restrictions
Some storage facilities limit the size or RV type allowed to park inside because of low ceilings, narrow streets, and compact spaces.

Availability
Indoor RV storage is in high demand, and sometimes you may have to wait months or years for a space to open up, especially if you live in a smaller city or town.
Accessibility
Increased security and fewer access points may limit you from accessing your RV outside business hours.

Outdoor RV storage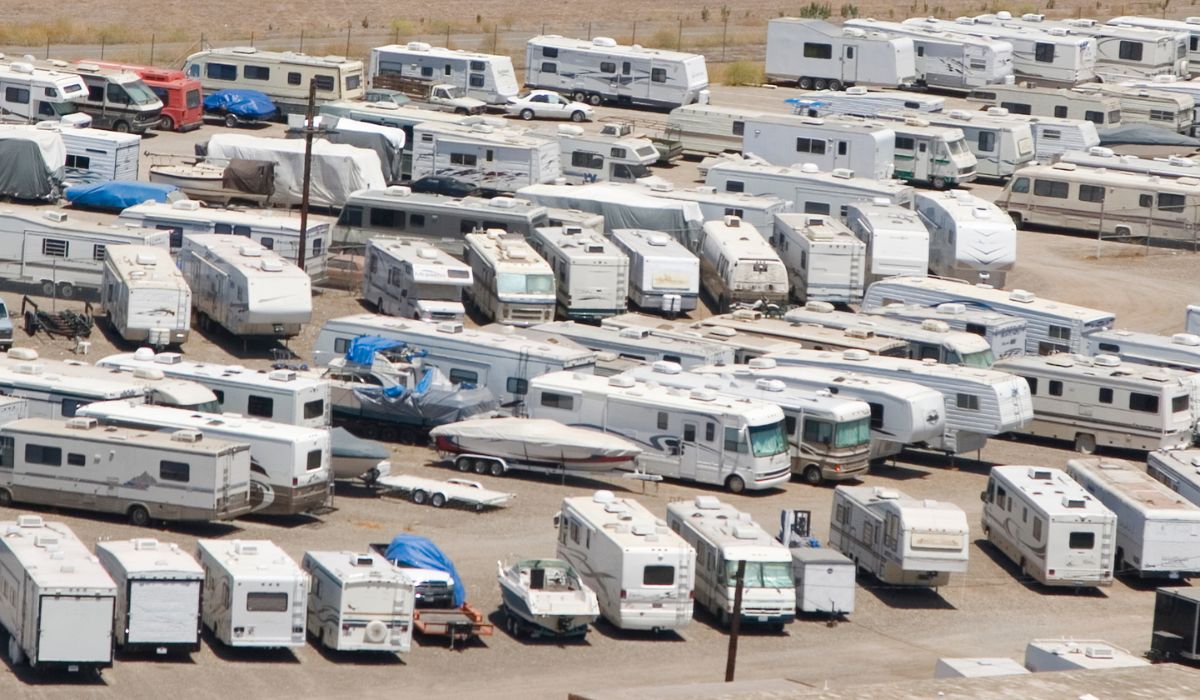 Storing your camper outside can be one of the more cost-effective storage options for RV owners, but the lower storage costs upfront might come with a higher price tag down the road. Outdoor storage can prematurely damage your rig and potentially cost you thousands of dollars in preventable repairs.
Pros
Affordable
Outdoor storage is affordable because you're not paying for extra security, concierge services, utilities, or upgraded amenities. Prices can start as low as $40 per month.

Not type restrictive
If you have a large motorhome, fifth wheel, or travel trailer, you may have better luck finding outdoor storage because walls and ceilings do not restrict the size of parking spaces or the turning radiuses.

Readily available
Lucky RV owners can keep their campers at home or on a friend's property, but unfortunately, home storage isn't an option for everyone. Thankfully, finding an outdoor storage facility is easy because it is less in demand than indoor storage.
Pro tip: Check out Neighbor to find a local host offering inexpensive RV storage close to home.
Partial protection
Look for covered outdoor RV storage to keep your RV partially shielded from the sun and weather. Carports, covered parking, and portable RV covers can give your camper some relief from the elements.
Some security
Look for a fenced-in storage facility with gated access and heightened security so you know your RV is safe while in storage.
Cons
Exposure
Leaving your RV exposed to the elements puts your rig at risk for sun damage. When you don't have shelter covering the tops and sides of your RV, the sun can quickly deteriorate your camper's seals, tires, paint, fabric, and flooring.
Pro tip: Find RV storage with covered parking to give your rig a little protection from sun exposure, heavy snow, or hail.
Parking surface
Parking your rig on certain surfaces can severely damage your undercarriage, frame, and tires. Avoid parking your RV on grass, especially if you live in a humid climate. Grass surfaces hold moisture, which can rust the underbelly and ruin the integrity of the RV's transmission or structural components. A good rule of thumb is to avoid parking on any uneven surface that retains moisture.
Insects and rodents
Parking your RV for any extended period increases your chances of a rodent or insect infestation, especially if you store your RV outside during the colder months when mice or other critters look for places to keep warm.
No security
You significantly increase your risk of theft or damage if you store your motorhome or trailer without enhanced security features.
Wherever you store your RV, it's important to have an RV insurance policy that will cover your RV since most storage facilities are not liable for theft or damage.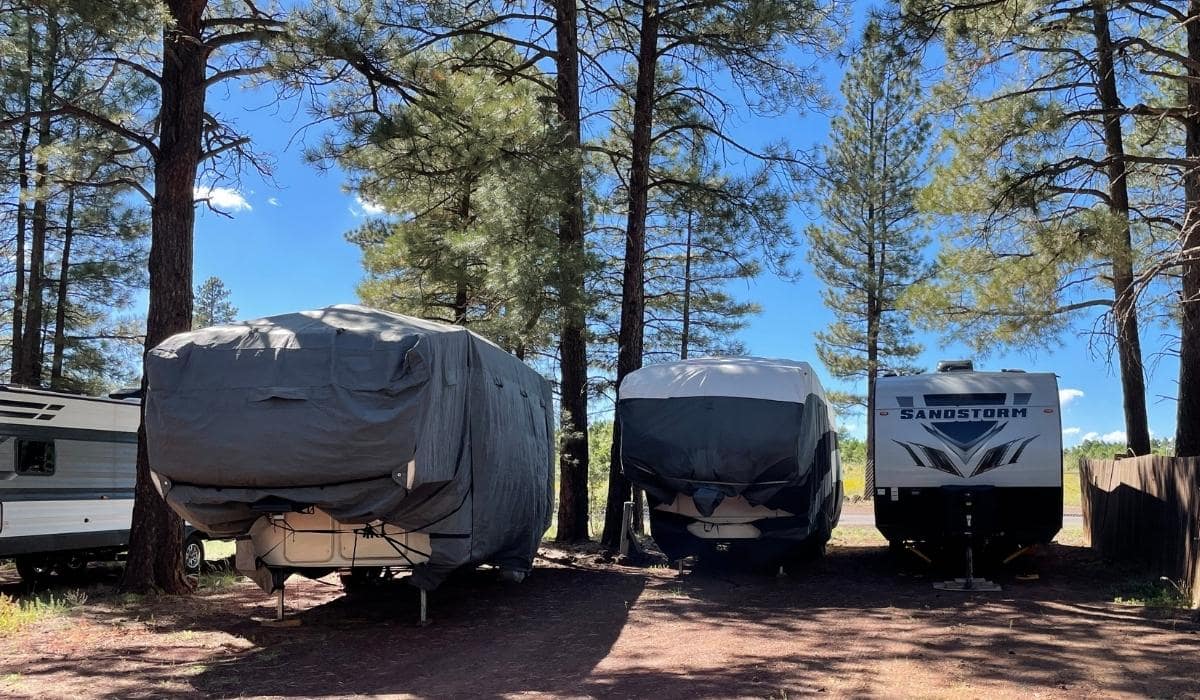 ---
RV storage costs
RV storage rates can vary depending on your location, type of storage, and the size of your RV. Although there isn't a pricing standard for RV storage, many storage facilities use a price-per-foot formula to determine their rates.
We've gathered current pricing for RV storage in Phoenix, Arizona, and Ottawa, Ontario, to give you a general idea of how much it would cost to store a 26-foot Class C motorhome in two locations with different climates.
Indoor storage
Arrowhead Storage (Phoenix, Arizona) $280 per month
Toy Storage (Ottawa, Ontario) $560 per month
Climate-controlled indoor storage
National Indoor RV Centers (Phoenix, Arizona) $312 per month
Toy Storage (Ottawa, Ontario) $420 to $740 per month, depending on the season
Uncovered outdoor storage
HV-RV Storage (Phoenix, Arizona) $115 per month
Toy Storage (Ottawa, Ontario) $40 per month during the summer
Covered outdoor storage
Honey Bee Storage (Phoenix, Arizona) $210 per month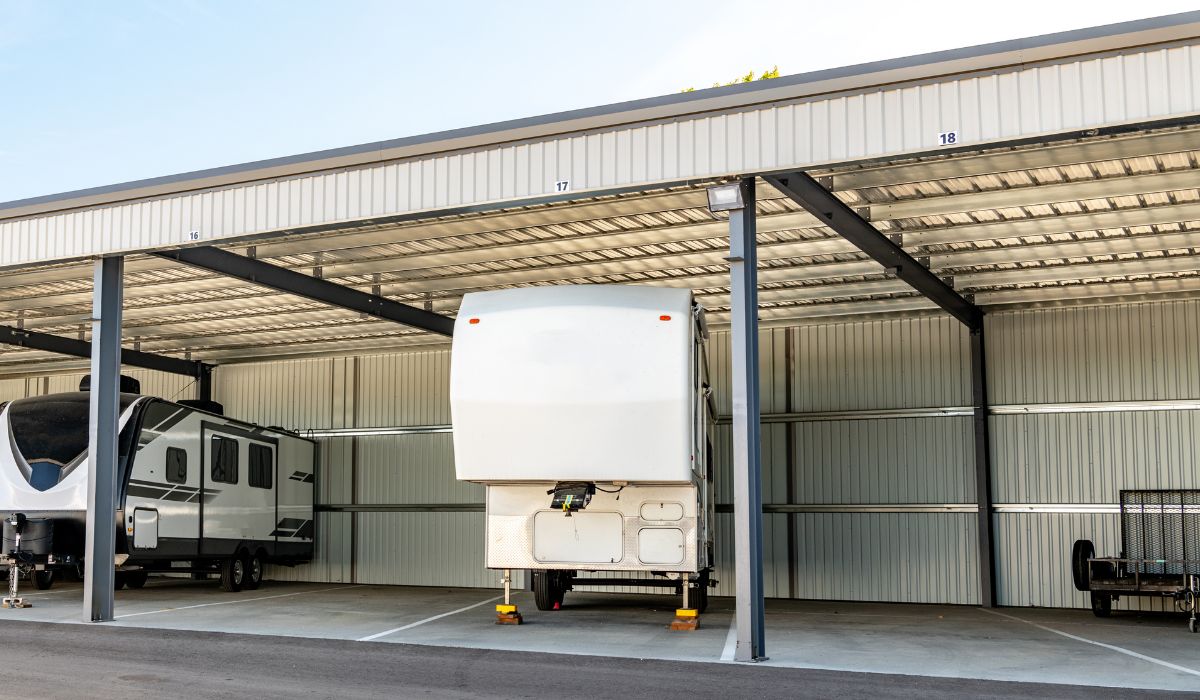 ---
Find RV storage
One of the best ways to find RV storage near you is by asking members of the RV community for recommendations. Join a Facebook group or online message board to connect with helpful people and find the answers to almost any of your RV questions.
You can also search for a storage facility on one of the following websites:
---
How to offset your storage fees
Paying for RV storage is something that almost every RV owner has to do, but it doesn't mean you have to rack up storage fees and let your RV sit when you're not using it.
Did you know that you could rent out your RV, even just a few times a year, and help offset storage prices?
RVezy, the U.S. and Canada's top-rated RV rental marketplace, gives RV owners the opportunity to rent their RV as little or as often as they want. Depending on where you live, motorhome owners make, on average, $1,500 per week, and trailer owners make close to $1,000 per week.