A Canadian RV road trip is one of the best ways to experience the variety of landscapes, cultures, and nature the country has to offer. Vancouver Island highlights the wild and vibrant side of Canada.
However, like many big cities in Canada, accommodations can get quite pricey and have limited availability, especially during the summer. This is why many Canadians turn to RV rentals for their epic road trips across Vancouver Island.
In this article, we take a look at the different free camping options so that you can make the most of your time on Vancouver Island without breaking the bank. The guide includes:
Transporting an RV to Vancouver Island
Vancouver Island is known for its miles of shoreline, old-growth forests, and wildlife. Exploring the island in an RV will give you the chance to visit more populated areas like Nanaimo and Victoria and help take you to more remote destinations as well. Unfortunately, since Vancouver Island doesn't have any bridges to and from the mainland, you'll have to transport your RV from Vancouver to Vancouver Island by ferry or rent an RV near Victoria or Nanaimo.
British Columbia's ferries, operated by BC Ferries, transport people, pets, and oversized vehicles to Vancouver Island. If you decide to take your RV rental from the mainland to the island, be sure to make your reservations in advance, as the wait times may be as much as half a day or longer on weekends and holidays.
Two of the main ferry routes run from Vancouver (Tsawwassen) to Victoria (Swartz Bay) and from Vancouver (Horseshoe Bay) to Nanaimo (Departure Bay). Although prices may fluctuate depending on the size of your vehicle or RV and where you're traveling, you can estimate the cost of a ferry ride using the most common routes traveled between the mainland and the island.
A one-way ferry ticket for a vehicle or RV between Vancouver (Tsawwassen) and Victoria (Swartz Bay) or Vancouver (Horseshoe Bay) to Nanaimo (Departure Bay) will cost:
$59.50 for the first 20 feet.
$6.75 for every foot over 20 (as of August 2021).
The prices provided above are for the fees associated with transporting a vehicle. These ferry prices don't include passenger fares, fees, or taxes.
Are you looking for ways to save money, or do you prefer wild camping and boondocking? When your RV can camp off the grid, you open the door to many free RV camping opportunities on Vancouver Island.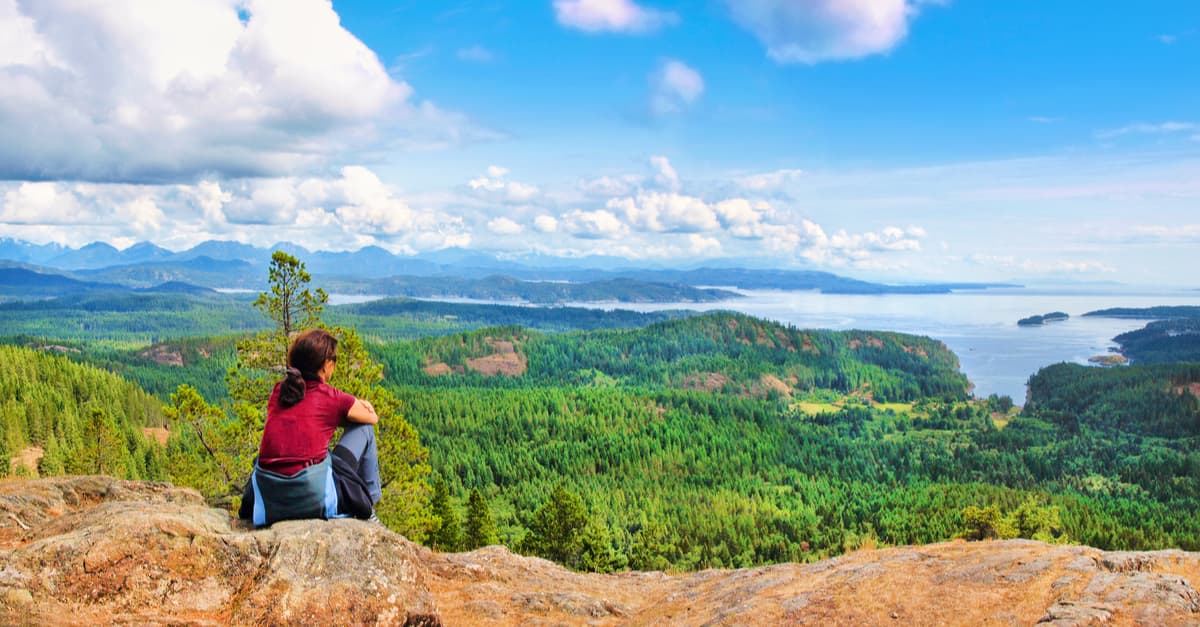 Vancouver Island has an abundance of free camping opportunities if you know where to look. The best free camping on Vancouver Island includes traditional wild camping and locations that permit overnight parking. As with any free camping area, always verify the current operational status and double-check that the location allows overnight accommodations.
Apps
Mobile apps make finding a campsite as simple as touching a button. Several of the most popular RV camping apps use crowdsourcing to help keep the information current. Crowdsourced apps rely on customer input to give users up-to-date details and more reliable information for overnight camping or free overnight parking locations.
The best apps for locating free camping:
Heads up: Cellular service on Vancouver Island may be weak if non-existent in areas outside of bigger cities like Courtenay, Campbell River, Nanaimo, and Victoria. Apps and websites are some of the best resources for finding free camping, but in areas where cell service isn't available, it's a good idea to have a backup plan for accessing campground information.
Websites
Vancouver Island's official tourism website is an excellent resource to find rules and regulations for free camping and fee-based camping on Vancouver Island. Recreation Sites and Trails BC also has a comprehensive database that makes it easy to find free camping. In addition, the website posts information about camping on public (Crown) land, and it displays any important camping alerts.
Although the government-run websites are some of the best resources online, privately-run websites like Free Campsites or Campendium can also help you find a free campsite on Vancouver Island.
Safety first! Before taking your RV to a remote area, check for alerts, closures, and warnings and use the road safety resource to learn about driving along unmaintained forest service roads.
Renting an RV? Remember to read RVezy's terms of service before planning your route. Some gravel or unpaved roads may be classified as unmaintained or logging roads (restricted driving areas).
Need a break? Many of Vancouver Island's official rest areas are open year-round, and depending on the location, some of these rest areas accommodate vehicles over 65 feet (20 metres) in length. There are almost 20 rest areas on Vancouver Island, but before you decide to park your RV overnight, it's a good idea to check the rest area's rules for parking. Find rest area details by visiting the province's interactive website, BC Rest Areas.
Finding places to fill and dump
Camping for free almost always means camping without hookups. To find a place to fill your freshwater tank or dump your gray or black water, use an app like AllStays or iOverlander or a web-based resource like Sanidumps.
Sanidumps can also be used to find RV parks and campgrounds with full hookups or dump stations. So instead of searching for a place to tend to your tanks, make things easy and reserve a paid RV park or campground along your route every few days. That way, you won't have to worry about more stops or extra out-of-pocket dump fees.
Need help with your holding tanks? Our article, 9 Things You Need to Know About Your RV's Black Water Tank, will help you understand the ins and outs of filling and dumping your RV's tanks.
Free RV camping areas on Vancouver Island
Although Vancouver Island has plenty of free camping areas, it's not hard to find less-trafficked places to camp. Woss Lake Campground and Upper Campbell Reservoir Campground are two free camping areas worth checking out. As with any campground, RVers should always practice Leave No Trace principles and leave the space better than you found it.
Woss Lake Campground
The Woss Lake Campground is a free, primitive campground located in the northern interior of Vancouver Island. The campground has pit toilets and beach access. The road leading to the campground is gravel and may become muddy during heavy rains. Visit the camping and recreation page for Western Forest Products for current road conditions and operational status.
Type: Open to the public year-round.
Spaces: 15 campsites.
Recreation: Fishing, paddling, hiking, and swimming.
Maximum stay: 7 nights.
Max RV length: 45 feet.
Location: 50.1864, -126.6217.
Upper Campbell Reservoir Campground
The Upper Campbell Reservoir Campground is a free, first-come, first-served campground managed by BC Hydro. The Upper Campbell Reservoir Campground replaced Strathcona Dam Campground.
Type: Open to the public year-round.
Spaces: 21 formal campsites.
Recreation: FIshing and boating. Those wishing to use a boat must use the primitive boat launch, which is only accessible using a 4 x 4, high clearance vehicle.
Maximum stay: 14 nights.
Location: 49.9652, -125.5809.
Free overnight parking
Before your RV road trip begins, consider stopping at Walmart or Costco if you need to load up on groceries. Both stores have large parking lots and typically welcome RVers. However, if you want to stay overnight, you'll have to contact the store to ask permission. Stores that have historically allowed overnight guests may have recently changed their policies, so it's best to call ahead to see if you can shop and sleep overnight.
Want to learn more about free camping? Explore the different types of free RV camping options available across Canada and the United States.
Time to explore Vancouver Island
Now, all that's left to do is find an RV perfect for your free camping adventure! With RVezy, you can rent an RV from a private owner who can give you insider tips on the best spots to visit on the island. Also, since you've got full insurance coverage and 24/7 roadside assistance, you're all set for an epic road trip.