Looking to hire an RV in the United States of America (USA)?
You've come to the right place.
In this article, we break down everything you need to know about hiring a motorhome or caravan in America. We also provide links to the best booking sites based on your trip type.
Here's everything we cover. Feel free to jump ahead or keep reading.
---
Differences in terminology and currency
Terminology — for hire versus for rent
If you're planning an American RV adventure from the United Kingdom, Australia, or New Zealand, you might be searching for RVs for hire. However, in the United States, people use the phrase RVs for rent. This subtle difference can impact your travel plans as North American companies might appear lower in search results, which can limit how many companies you consider for your trip.
Terminology — caravan versus trailer
If you're looking to hire a caravan in the USA, consider using the term trailer instead, as it will bring up more relevant results. We cover the different types of available trailers for hire in the section below.
Currency
Most RV rental companies in the USA only provide prices in United States dollars ($USD). If you're looking to convert the prices into British pounds (£), euros (€), Australian (AUD), or New Zealand dollars (NZD), you can use sites like Google or xe.com.
---
How much does it cost to hire an RV in the USA?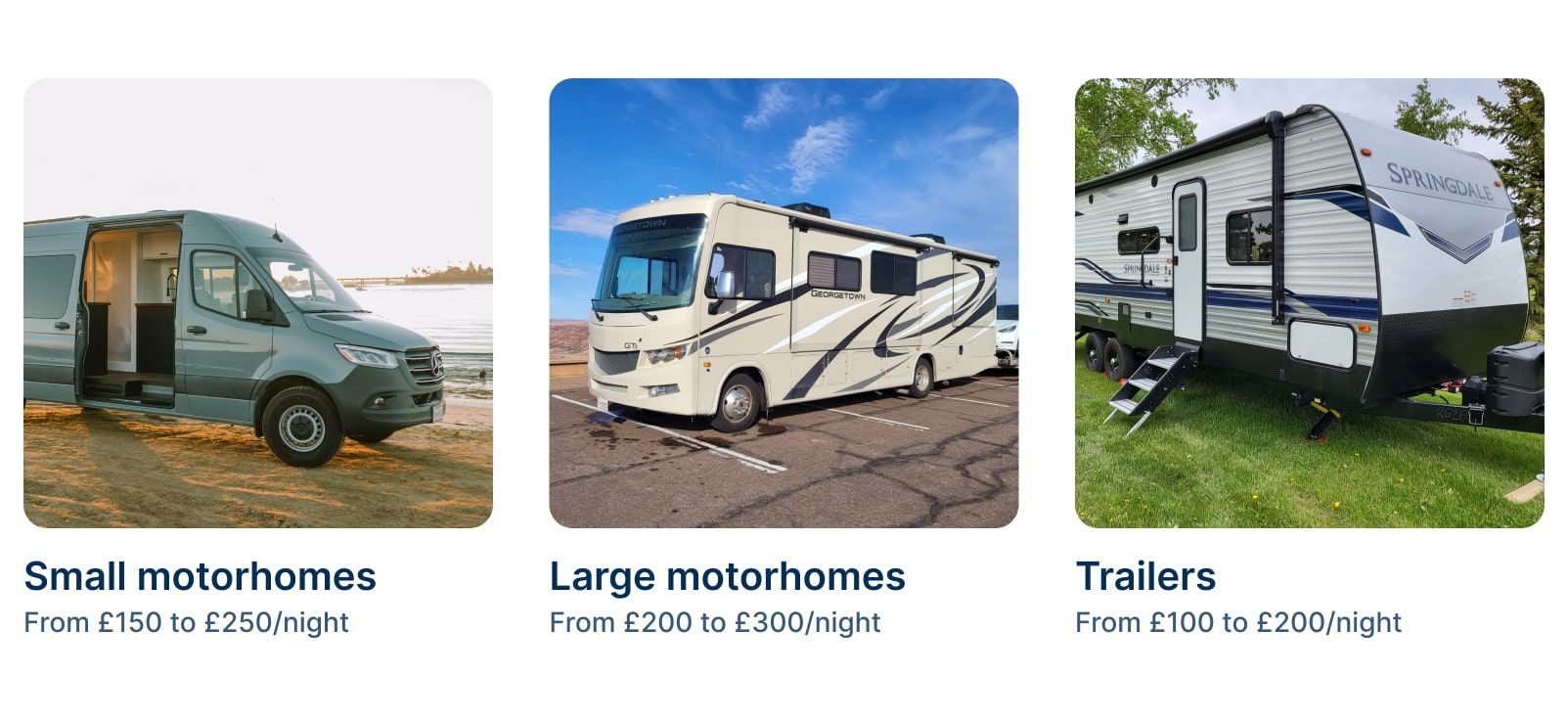 Just like hotel rooms, RV costs vary quite a bit based on the size, type, age, and features of the RV. A small trailer can cost as little as £25/night ($30 USD), while luxurious Class A motorhomes can be well over £400/night ($490 USD).
Here are the average prices you can expect when booking through a North American RV rental company.
Motorhomes
£200/night ($250 USD).
£1,100 /week ($1,350 USD).
£4,000 /month ($4,900 USD).
Trailers
£100/night ($135 USD).
£650 /week ($790 USD).
£2,500 /month ($3,000 USD).
You can expect additional costs depending on the type of RV trip you're taking. For a road trip, the most common extras are gas, mileage, and campground fees. When staying in one location, the most common extras are delivery and campground fees.
For a full breakdown of costs related to hiring an RV, we'd recommend reading How much does it cost to rent an RV?.
---
What type of RV should I hire?
In America, you can hire several types of motorhomes and caravans (trailers). However, for most international travelers, there are only two realistic options for an RV adventure: hiring a motorhome or getting a hired caravan delivered to your final destination.
Since most car and truck hire companies don't allow you to tow a caravan with a hired vehicle, towing an RV is rarely a feasible option.
In the section below, we break down the different types of motorhomes and deliverable caravans to help you find which one is best for you.
Drivable motorhomes
Class A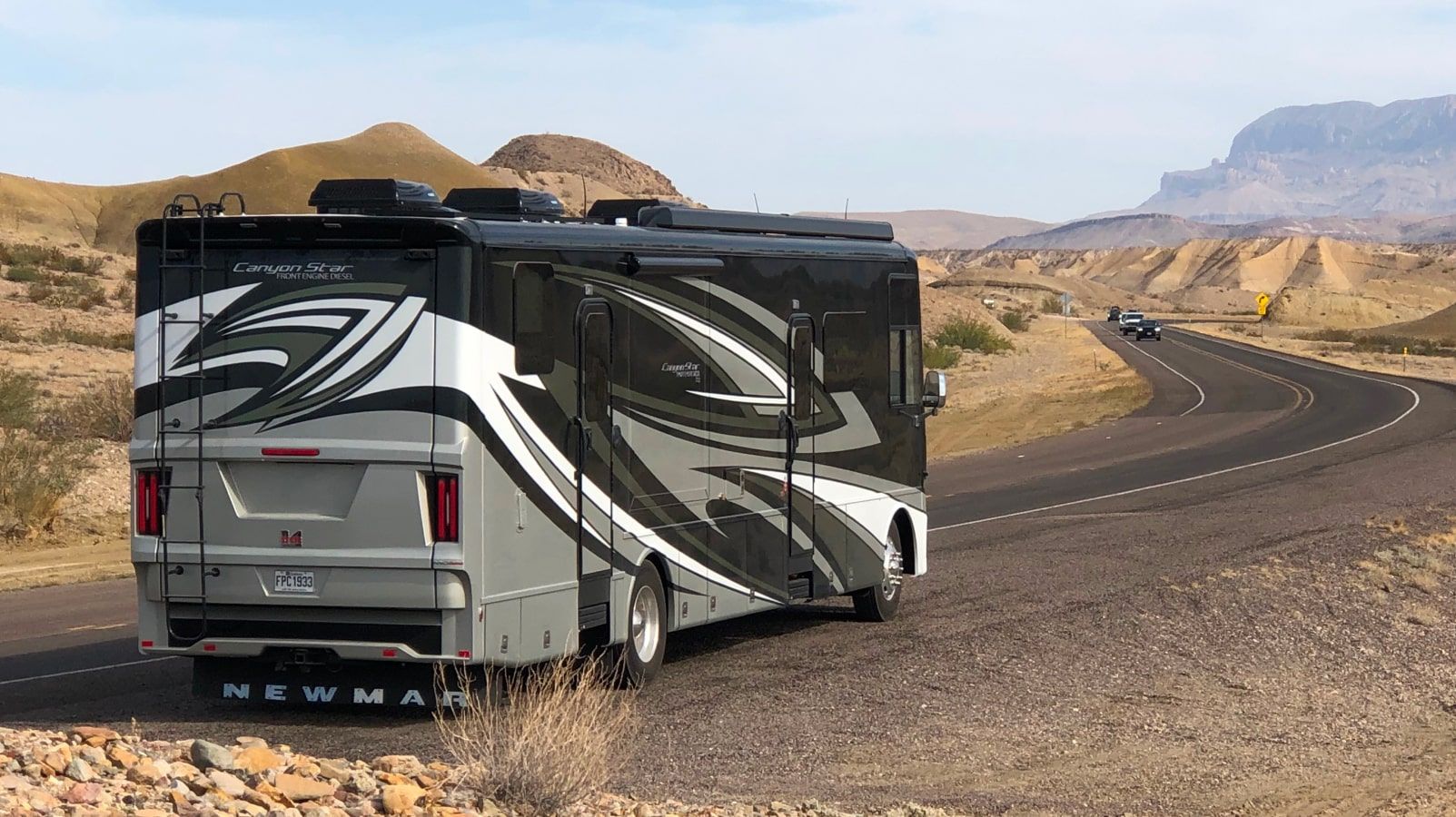 The largest drivable RV type, often associated with luxury and comfort. Best for large families or groups looking for the ultimate glamping experience. Requires an experienced driver who is comfortable handling large vehicles.

Sleeps up to ten people.
---
Class B or campervans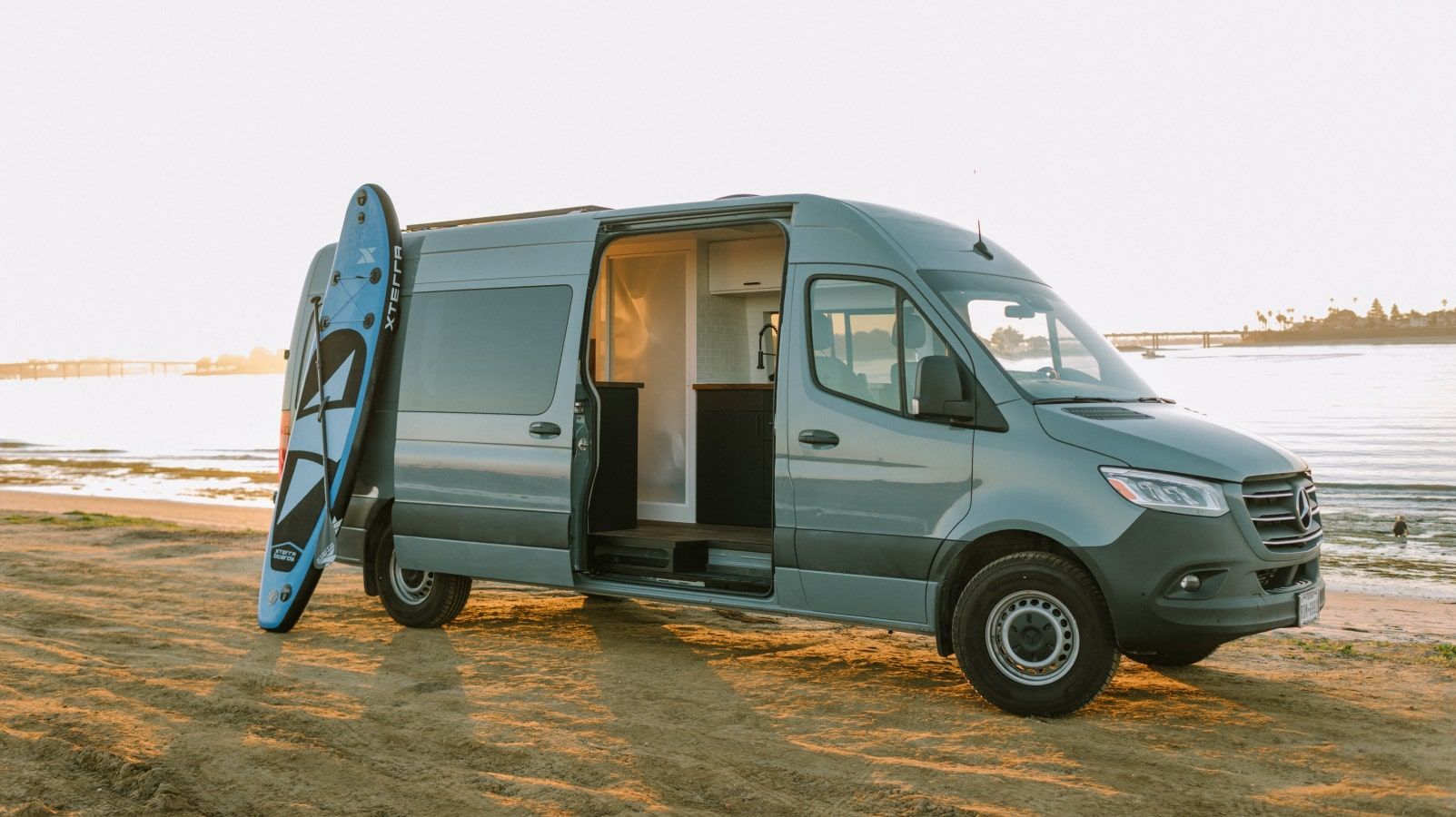 Class Bs, also called campervans, are the smallest drivable RV type. Campervans are best for couples or solo travelers looking for long-distance road trips because of their fuel efficiency and driveability. Campervans are small enough to fit into standard parking spaces but big enough to have a small kitchen, a sleeping area, and sometimes even toilets and showers.
Sleeps two to four people.
---
Class C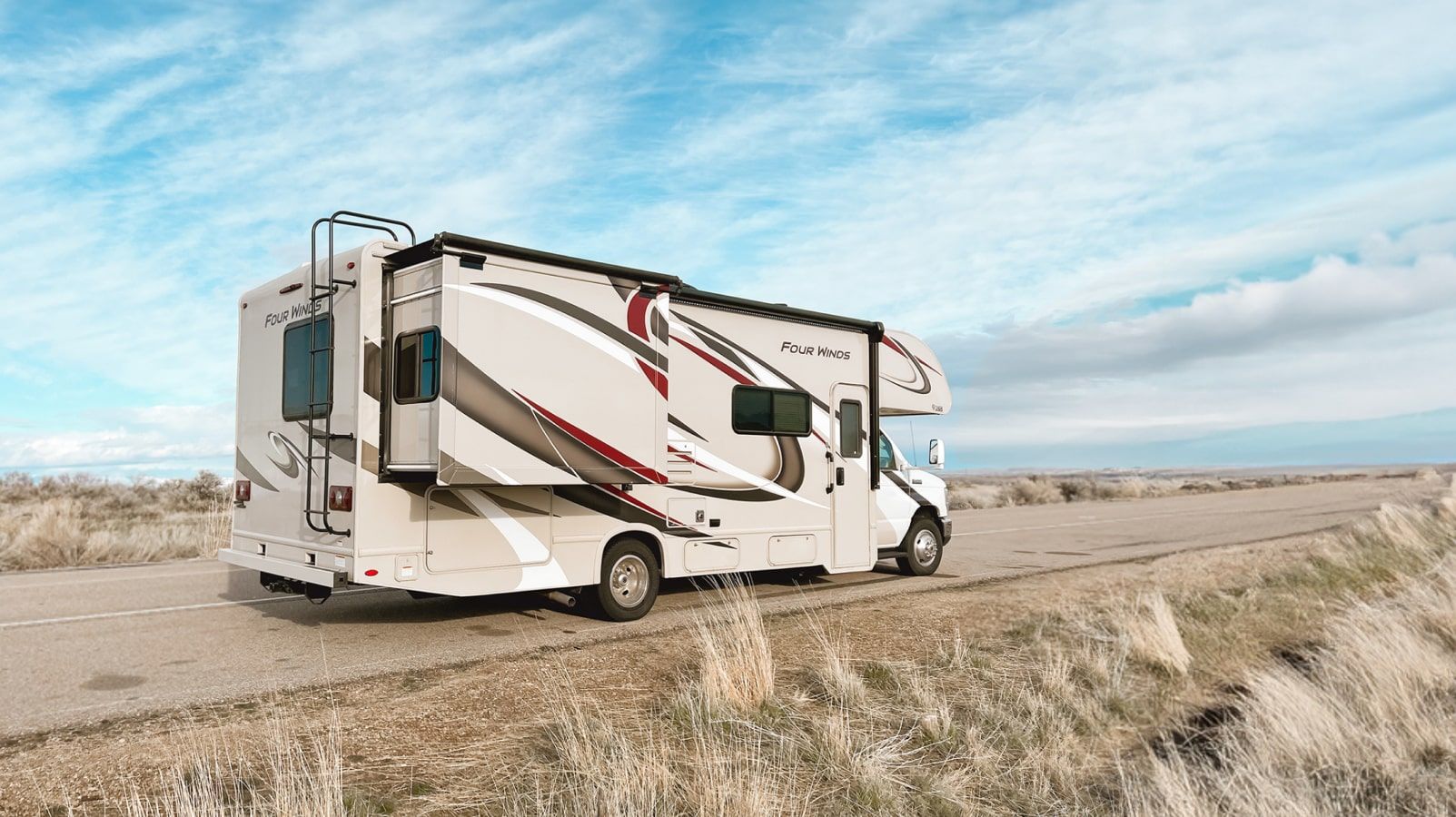 Class Cs are the most popular type of RVs for hire in the U.S. Larger than a Class B and smaller than a Class A, they are the perfect size for families or medium-sized groups looking for a comfortable RV adventure.
Sleeps up to seven people.
---
Delivered trailers (caravans)
If you're staying in one location for an extended period of time, getting a trailer delivered is a great way to enjoy the outdoors without worrying about driving a large vehicle or setting up a campsite. While there are technically six different types of trailers you can hire, there are only two options we'd recommend for delivery: fifth wheels and travel trailers.
Fifth wheels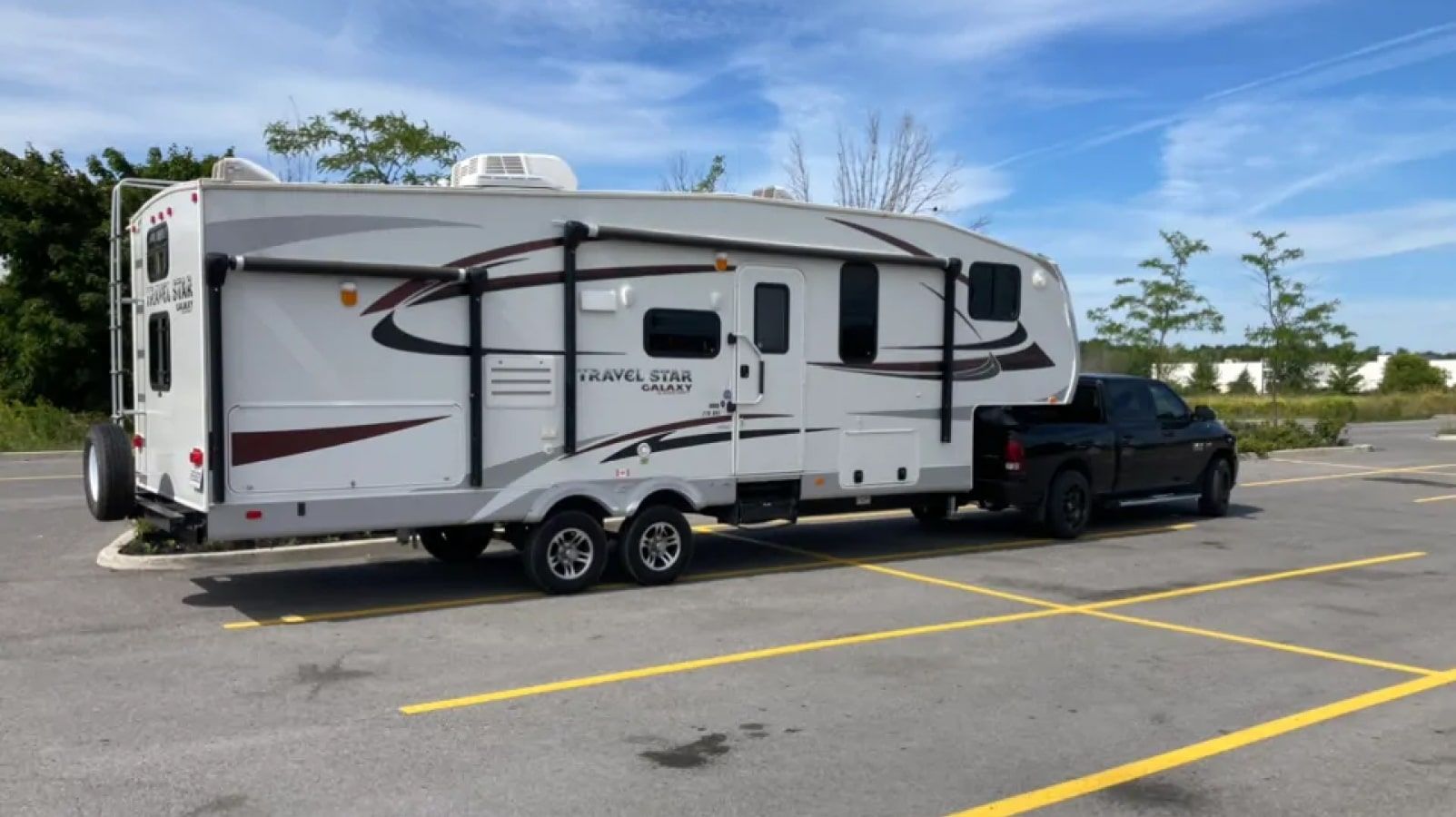 Fifth-wheel travel trailers are the biggest towable RVs and one of the most popular types of RVs for full-time living. Amenities like multiple slide outs, an outdoor kitchen, an extendable patio, reclining chairs, office space, and a kitchen island help make fifth wheels some of the most comfortable and luxurious trailers on the road. Fifth wheel hires are best for large families or groups looking for all the comforts of home.
Sleeps up to eight people.
---
Travel trailers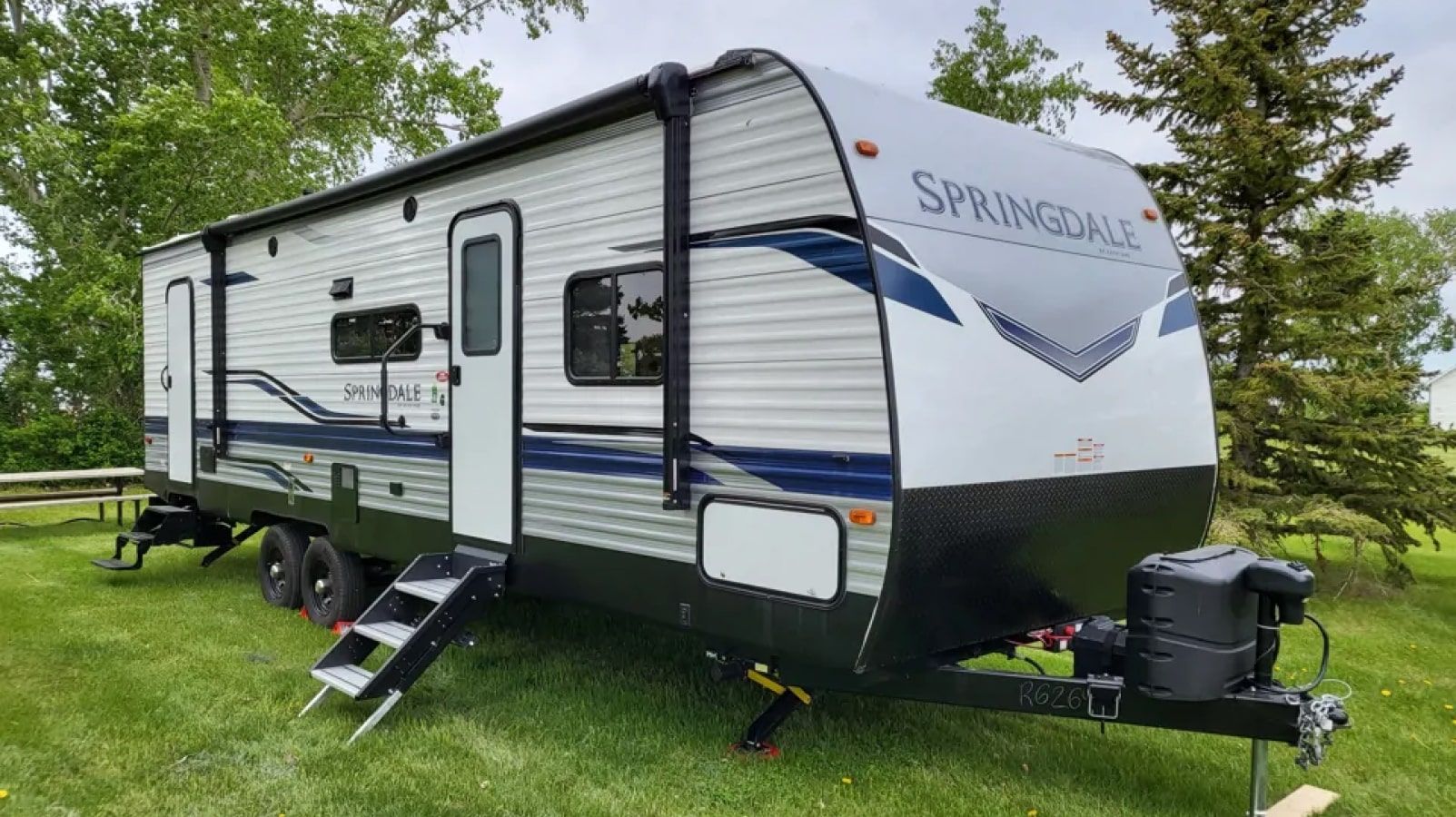 Travel trailers are the most popular trailer type as they are very affordable and can accommodate a variety of group and campground sizes. Whether you're a small family looking to stay in a national park or a large group looking for an affordable stay at an RV resort, there is a travel trailer for you.
Sleeps up to ten people.
---
What are the best RV hire companies in USA?
In the U.S., there are several different ways to hire an RV. You can hire an RV through a peer-to-peer marketplace like RVezy, or an RV with a fleet company like Cruise America. You can also hire RVs through RV dealerships and private listings, but these options are less popular for international travelers.
Peer-to-peer marketplaces
Peer-to-peer (P2P) marketplaces allow you to hire an RV directly from an RV owner while accessing insurance coverage, secured payments, and customer support if something happens during your trip. Here's why P2P is the most popular way to hire an RV for most trip types:
The largest variety of RV makes and models.
Typically less expensive than other hire types.
You can hire from anywhere (not just large cities).
You can get your RV hire delivered anywhere.
RVs come fully equipped — you just bring your clothes.
Your host provides an authentic and personalized experience.
Best for most trip types — RVezy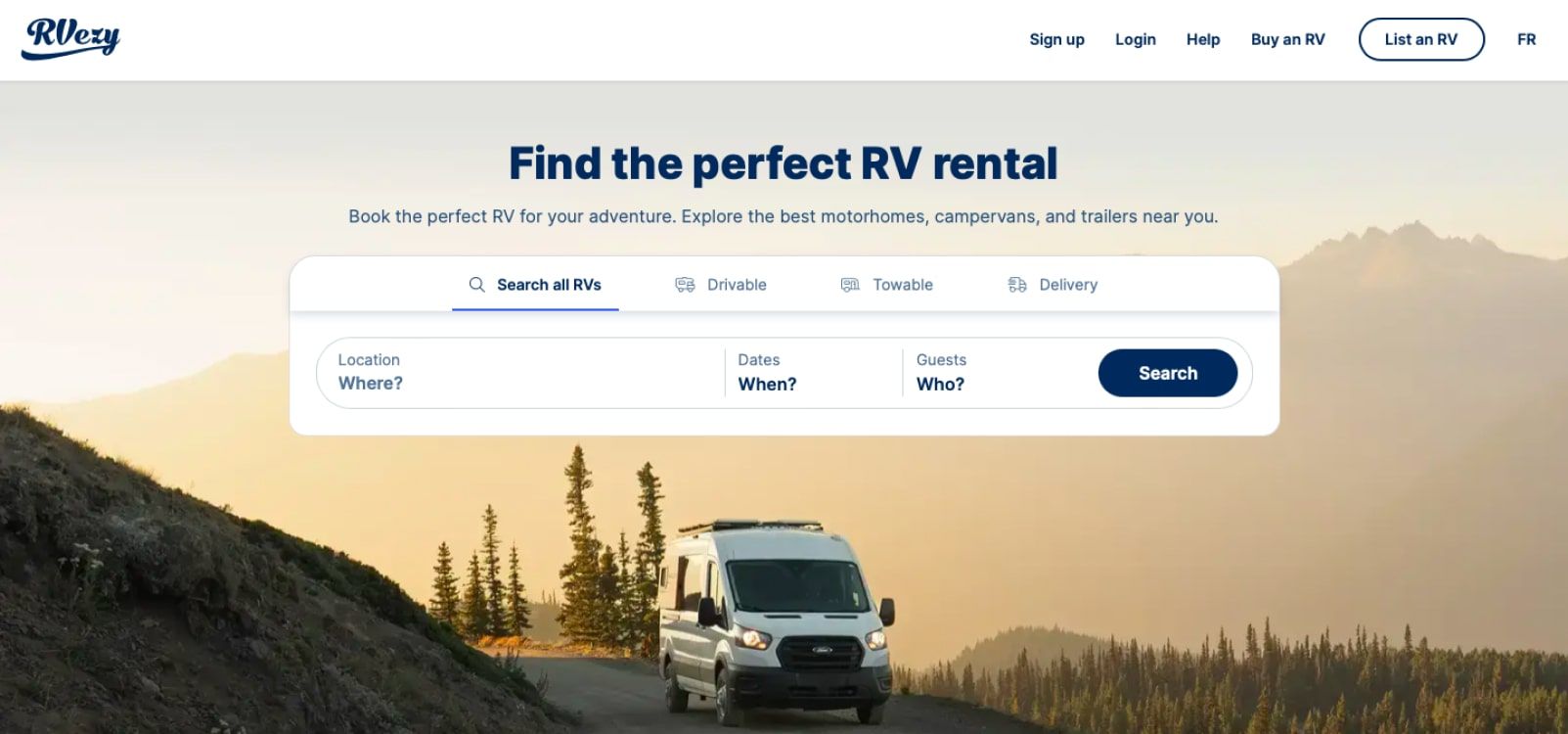 As the top-rated RV rental marketplace in the U.S., RVezy is a great RV hire option to consider for most trip types. Whether you're looking to go on an epic road trip or get an RV delivered to a specific location, RVezy has simplified the hiring process for international travelers. Did you know you can even get your RV delivered directly to the airport by your host?
View RVs available for hire in the U.S.
---
Corporately owned fleets
Companies like Cruise America own fleets of RVs you can hire at various locations across the U.S., typically in large-city centers. Their recognizable rigs, often Class C motorhomes decorated with company logos and colorful vinyl decals, are built to withstand heavy use and high mileage.
Best for one-way rentals — Cruise America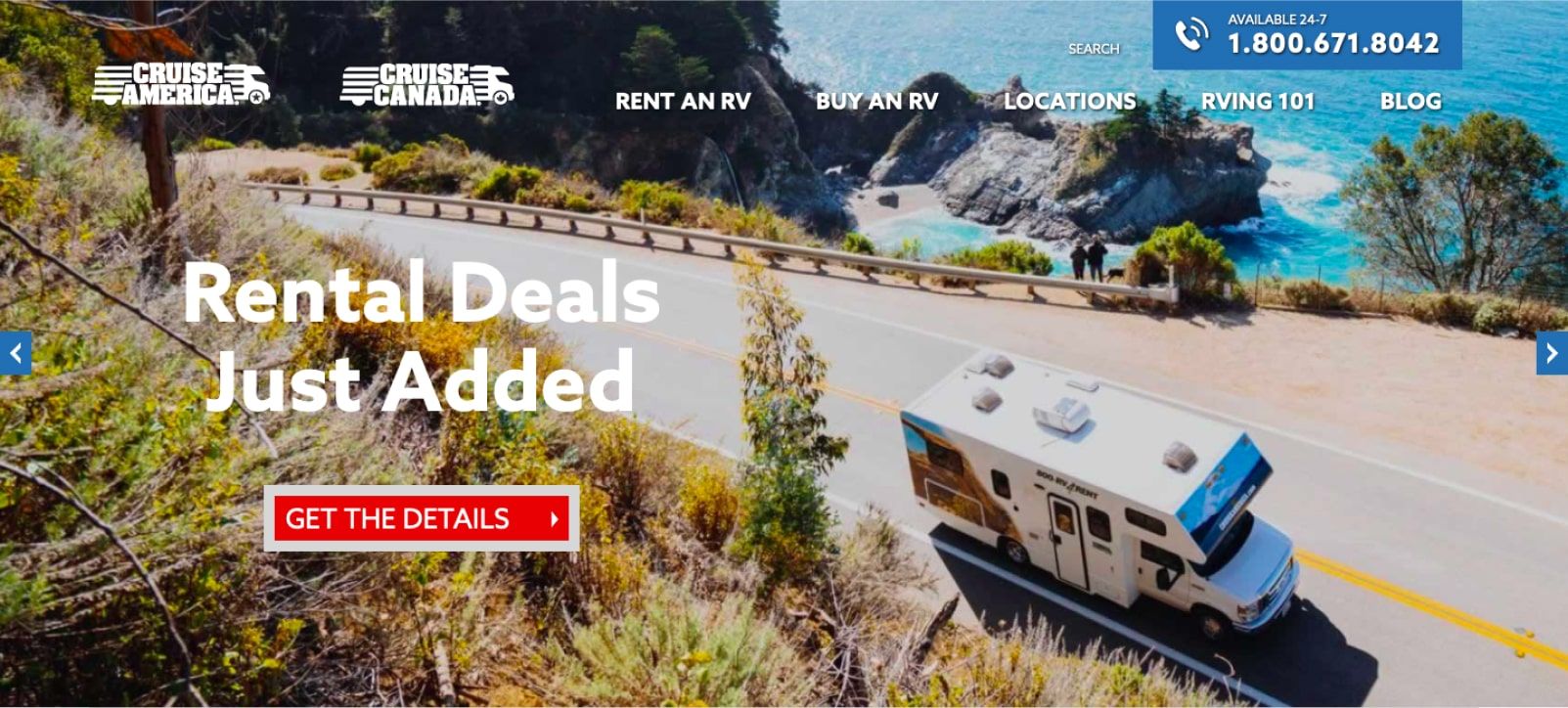 If you're looking to do a one-way rental, such as a California road trip from San Diego to San Francisco, consider a fleet rental service such as Cruise America. While it's technically possible to do a one-way rental through a P2P marketplace, it can be more complicated and expensive. With fleet rentals, you can pick up the RV in one location and pay a one-way fee in order to drop it off at another location.
Note: Corporate fleets attract customers with low per-night pricing. However, there are typically several extras, such as mileage, insurance, kitchen essentials, towels, and linens, to consider as part of the total price.
---
Driving guide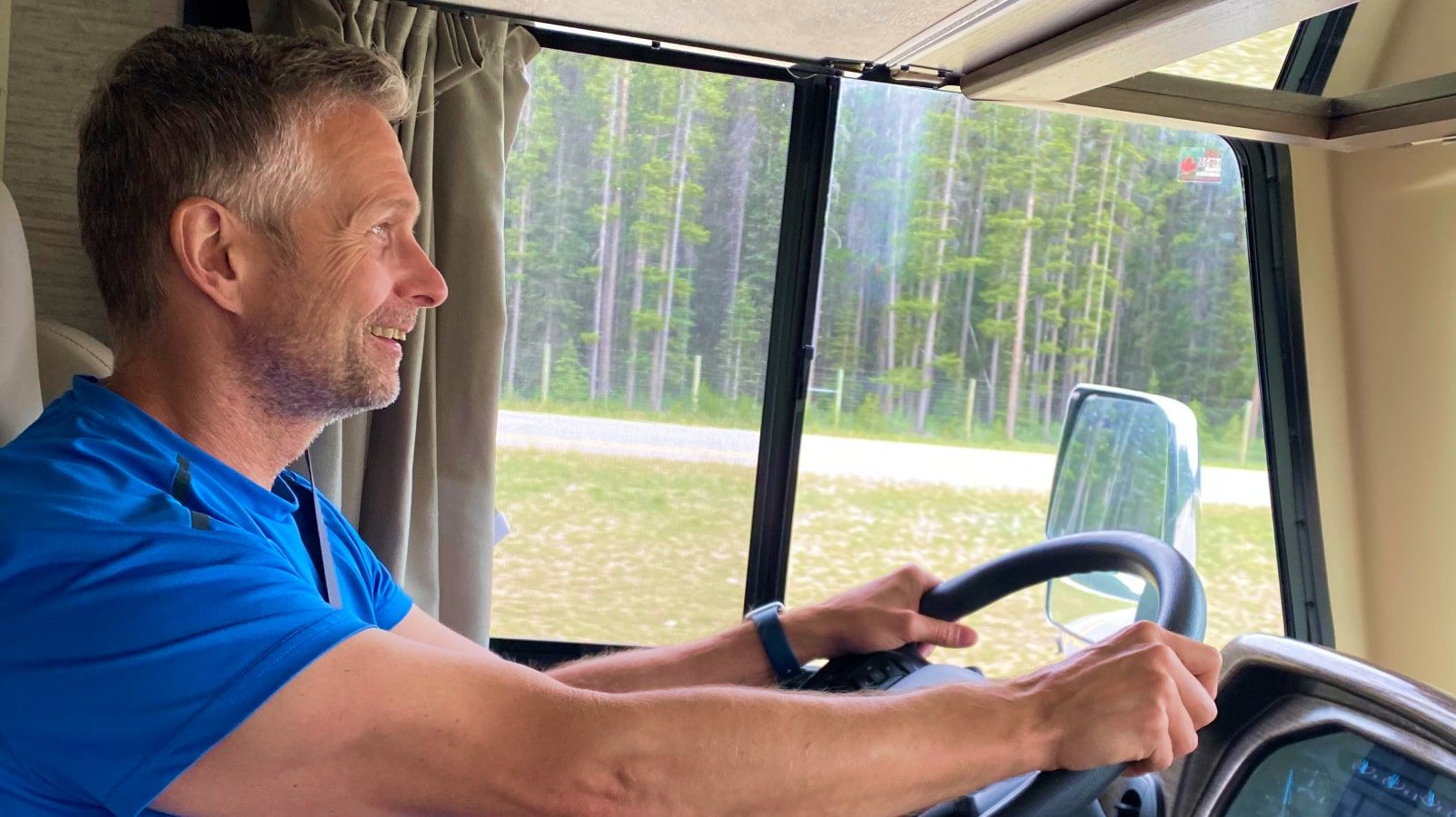 Before hitting the road, it's important to be aware of the different rules, regulations, and requirements for operating a motor vehicle in the U.S. Here are some of the most relevant topics and questions relevant for international travelers.
Can I drive an RV in America with a UK license?
Yes. As long as you have a valid UK driver's license, you can rent and drive most RVs in the U.S. While each state has different requirements for operating recreational vehicles, only certain states have special license requirements. Those requirements are usually for only very large, heavy motorhomes.
The blood alcohol content limit when operating a motor vehicle is 0.08 in all American states. It's illegal for drivers and passengers to consume alcohol while driving in most states. Despite a few states having exceptions for passengers, you should never have open containers while driving an RV.
What are the speed limits for RVs?
While some states have different speed limits for RVs and cars, the rules only apply to Class A motorhomes and/or towed RVs. The best way to drive an RV is to stay below the speed limit and give yourself plenty of space for when you need to brake.
Speed is measured in miles per hour (mph) in the U.S. and in kilometers per hour (kph) in the UK.
How many seat belts do RVs have?
Some RVs have more sleeping spots than seat belts. If you're going to be traveling in the RV, it's important to ensure you have enough seat belts for all of the passengers. When renting your RV through sites like RVezy, you can see seat belt information on the RV listing.
Can I use a cell phone while driving in the US?
It is illegal to text while driving in the U.S. Furthermore, using a hand-held cell phone to make calls is illegal in most states. It's best to avoid using your cell phone while driving to keep you and your passengers safe.
How do toll roads work in the US?
U.S. toll roads are highways or bridges where drivers must pay a fee to drive on them. Payments vary based on distance traveled, vehicle type, and road type. You can pay tolls with cash, an electronic toll collection system (like E-ZPass), or by paying an invoice through the mail. Toll companies use cameras to capture the license plate and then mail the invoice to the registration address on file. Rates and payment methods differ by state and agency, so it's essential to research the area you'll be driving in and plan accordingly.
How do I avoid toll roads in the US?
To bypass toll roads in the U.S., use a navigation app like Google Maps or Waze and update your driving preferences to avoid toll roads. Avoiding toll roads tolls is a great way to save money, but by avoiding them, you'll likely have longer drive times, especially during rush hour, which for most major cities is between 6:00 a.m. and 9:00 a.m. and again between 3:00 p.m. and 6:00 p.m.).
Where can I park an RV in the US?
In the U.S., you can park an RV at various locations, including:
RV parks and campgrounds: Many of these locations offer amenities such as water, electricity, sewage hookups, and more.
National and state parks: Some parks have designated campgrounds with RV facilities, but always check beforehand for availability, reservations, and size limitations.
Boondocking: Also known as dry camping, this refers to free or low-cost parking at locations without amenities. These sites can include federal lands managed by the Bureau of Land Management (BLM) and certain areas in national forests.
Overnight parking: Some retailers, like Walmart, Cracker Barrel, and Cabela's, may allow overnight RV parking, but always check with the specific location and adhere to the store's guidelines.
RV memberships and apps: Harvest Hosts, Boondockers Welcome, or another RV app like Allstays can help you find unique RV parking spots, usually in exchange for a membership fee.
Always check local regulations, obtain necessary permits, and practice good etiquette by leaving no trace and respecting your surroundings.
Most popular destinations for RVs in the US.
Other recommended reads