Are you in the market for a long-term RV rental?
Whether you're looking to rent a motorhome or trailer for a couple of weeks or a few months, you've come to the right place.
This article covers everything you need to know about long-term RV rentals so you can find the perfect RV for your specific needs and budget.
Let's get started.
Table of contents
Types of long-term RV rentals
There are dozens of reasons you might want to rent an RV for an extended period. To keep things simple and to provide you with the best recommendations, we've combined all the rental types into three main categories.
Stationary RV rentals with delivery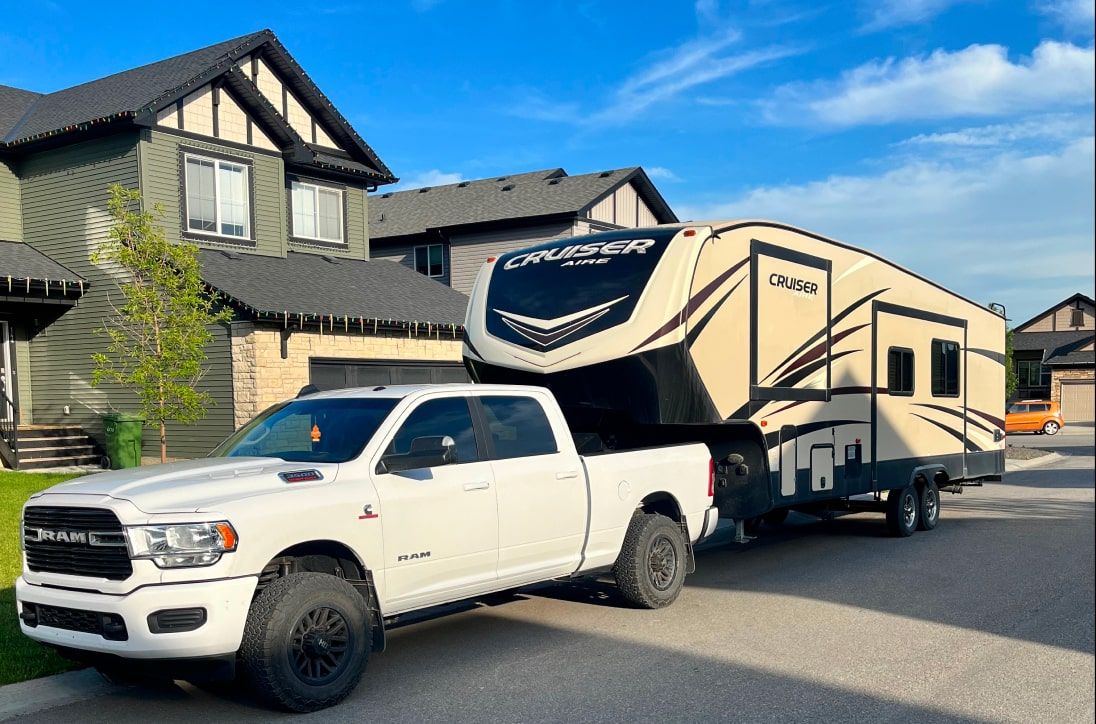 RV delivery is for you if you need temporary housing in a given location and don't need to move around. Unlike hotels and apartments with fixed addresses, you can have an RV delivered wherever and whenever you need one.
Imagine having an RV delivered to your house to add extra sleeping space when you need it or having your employer set up a place for you to sleep on-site when you work extended shifts far from home. When you have an RV delivered, you simplify your sleeping arrangements.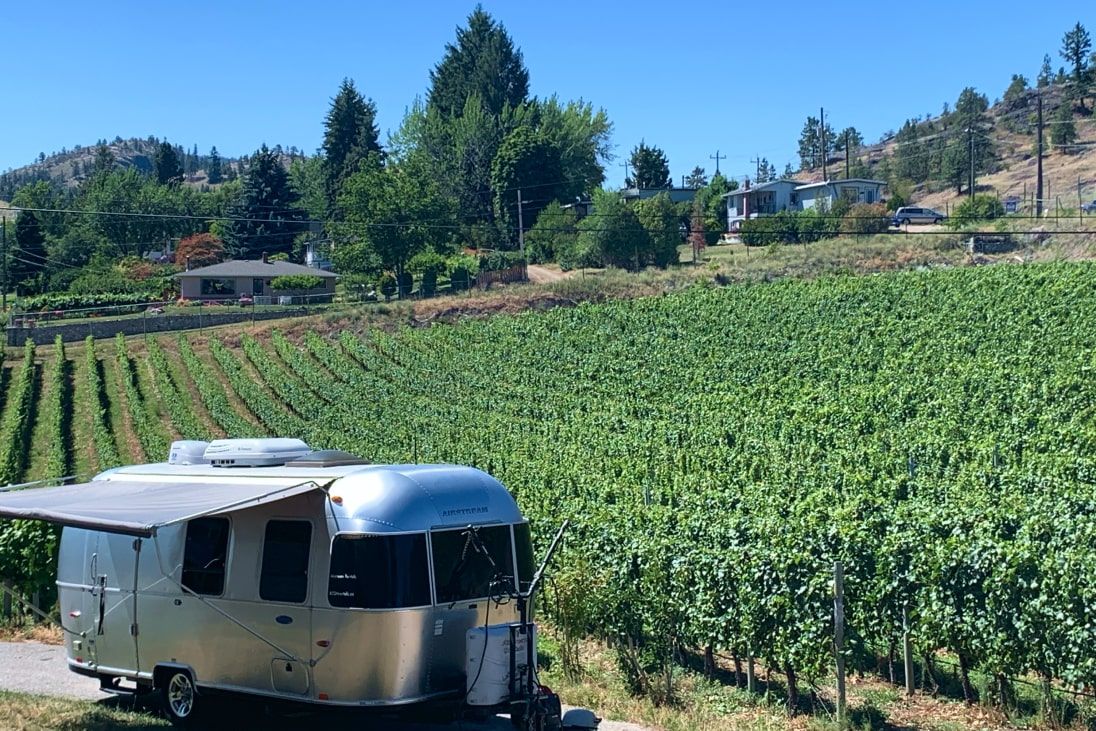 Here are a few reasons you might want your RV rental delivered:
Construction and renovation projects.
Large family gatherings at home or the cottage.
Events like music festivals, youth sports, tailgate parties, and rodeos.
Sleep accommodations for travel nurses or other types of employees who work at a mine, winery, farm, or another seasonal job.
Snowbirds (people leaving the cold winters up north to enjoy the warm summers down south).
Or, you simply don't own a tow vehicle.
Note: although most owners on RVezy are willing to deliver their RVs, some models offer more space and are more affordable than others. Jump to the best RVs for stationary rentals.
Driveable and towable RV rentals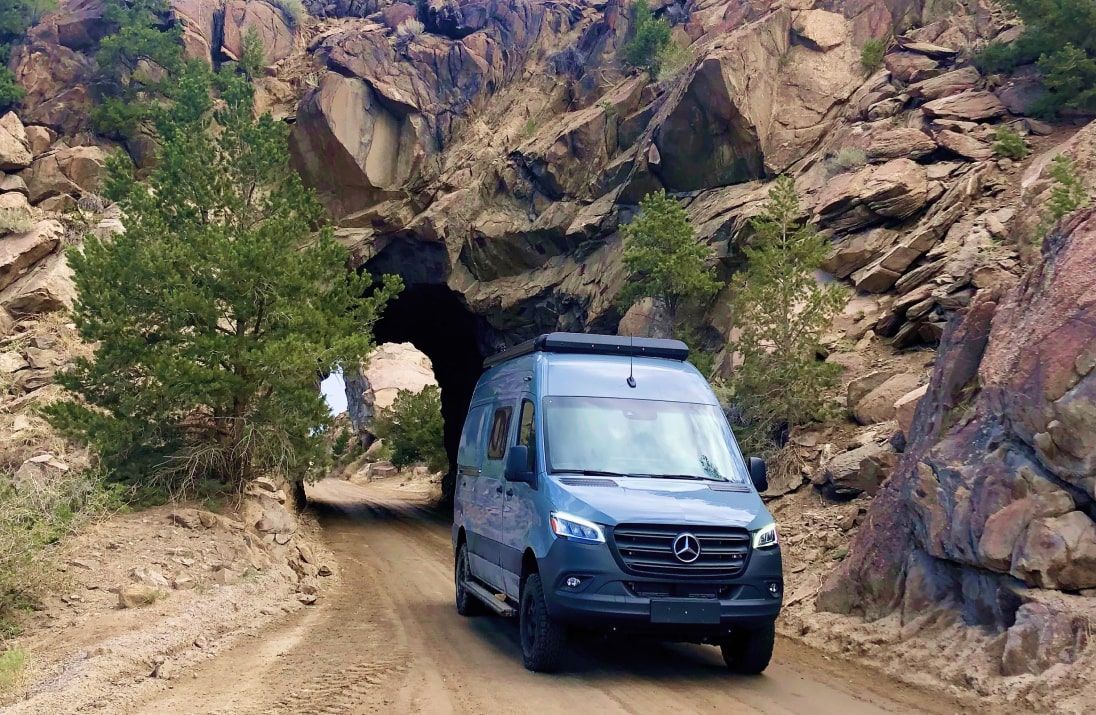 If you're looking for the classic RV experience of hitting the open road, then a drivable or towable RV rental is for you. While it's still possible to have your RV delivered to your location for convenience, choosing the right model for your trip type is the most important element when taking an RV rental on the road.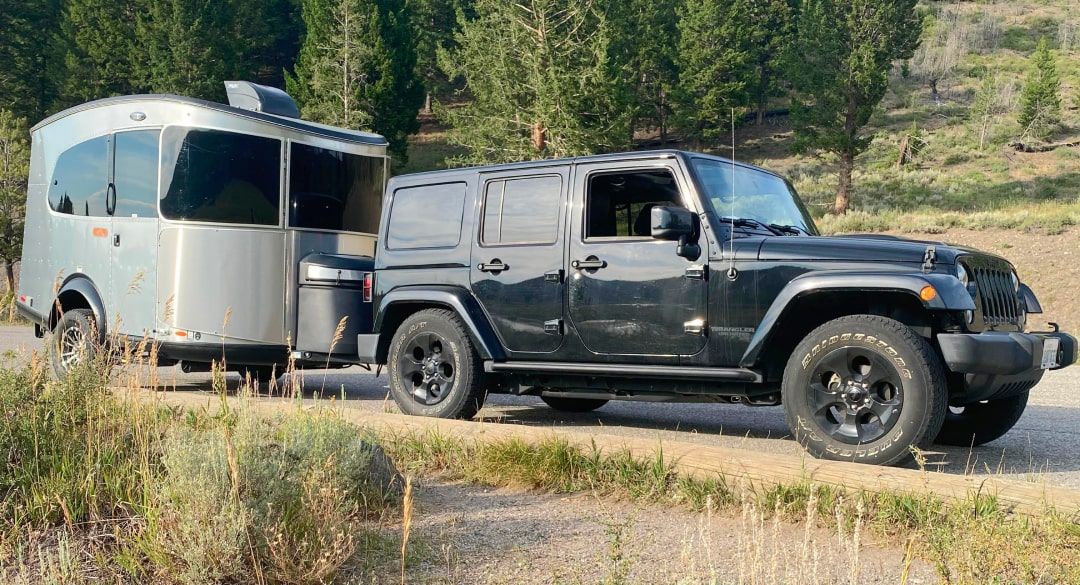 If you own a truck or SUV, you might want to consider a towable trailer. On the other hand, several drivable motorhome types that can fit your trip requirements and budget.
The main use cases for mobile RV rentals:
Long-distance trips.
Trips with multiple stops.
People who don't own a vehicle.
People who want to go RVing but don't own an RV.
Try before you buy
If you're looking to buy an RV, renting a similar make, model, or type is always a good idea before you commit to a purchase. Try before you buy is especially important if you plan on transitioning to full-time RVing. Renting an RV for a month can give you first-hand experience and might be the best decision you make to avoid buyer's remorse.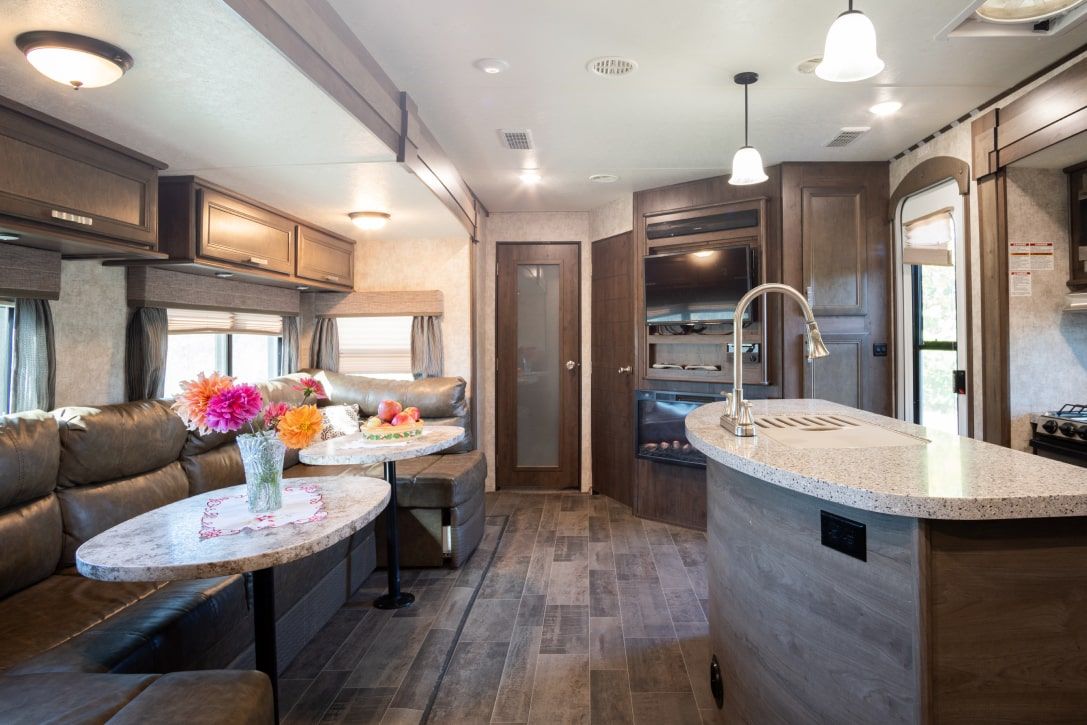 Typical questions people ask when trying before buying:
Do I feel comfortable driving/towing/parking the RV type?
Is the RV the right size for my height, living, storing, and sleeping needs?
What types of features do I want in my next RV?
Are you looking to purchase an RV? Here are some suggested reads:
-Expert Guide for Buying an RV: 9 Pro Tips Revealed
-The 9 Different Types of RVs [Pros & Cons]
-The Pros and Cons of Owning an RV
-How Much Does an RV Cost to Buy?
The best RVs for monthly rentals
Towable trailers
Towable RVs are the most popular and convenient option for delivery as a trailer only requires one tow vehicle and driver compared to a motorhome that requires a second vehicle and driver. Trailers are also less expensive than motorhomes for the same square footage, which make them the perfect fit for stationary rentals.
Fifth wheels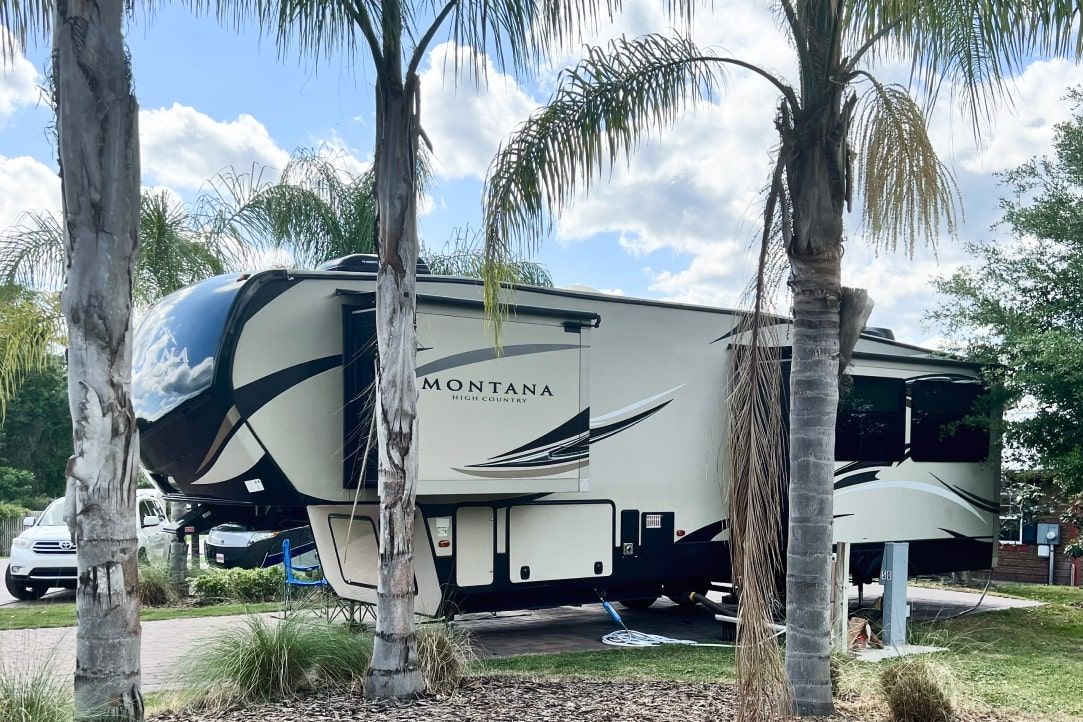 Fifth-wheel travel trailers are the largest towable RVs and one of the most popular types of RVs for long-term rentals. Amenities like multiple slide outs, an outdoor kitchen, extendable patio, reclining chairs, office space, and a kitchen island help make fifth wheels one of the most comfortable and luxurious RVs you can rent. Fifth wheels require a large truck with specialized equipment for towing, which makes them an ideal candidate for a hassle-free delivery.
Length: 32 to 36 feet.
Sleeps: 4 to 8 people.
Average cost per night: $161.
Average cost per week: $1,027.
Average cost per month: $4,018.
Travel trailers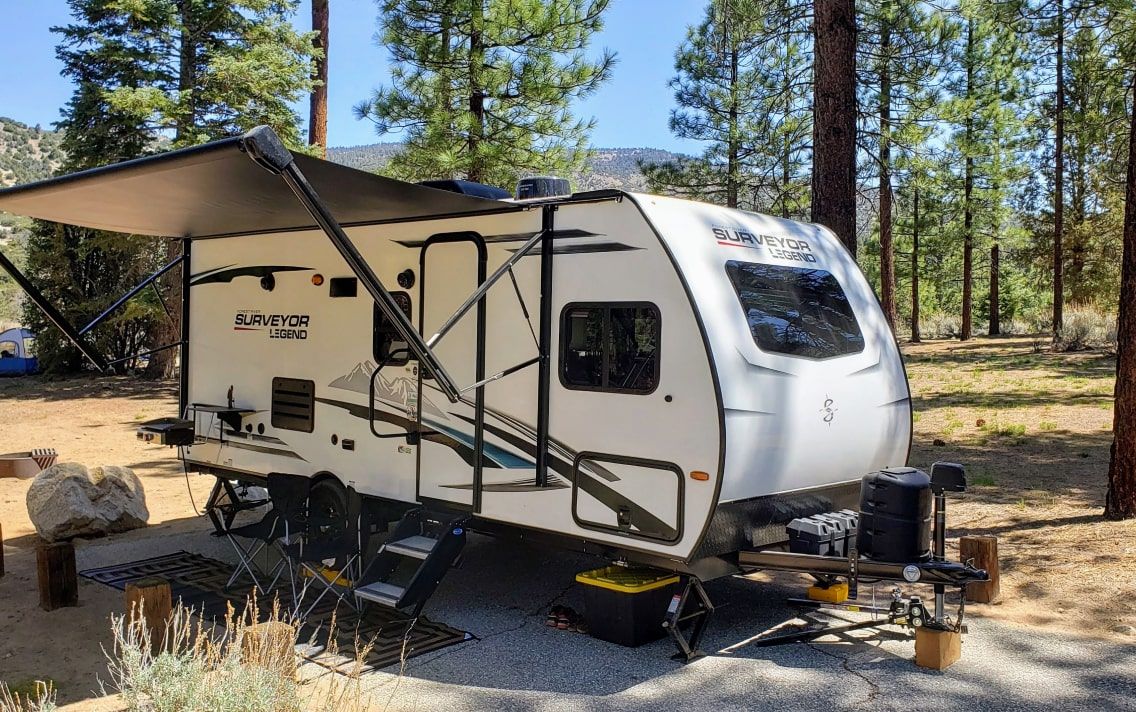 Travel trailers come in various shapes and sizes, with most models coming in between 20 and 30 feet in length. Since most travel trailers can be towed with a midsize truck or SUV, they are popular for both delivery and for guests who want to tow the unit themselves. We strongly recommend travel trailers for monthly rentals because they are the most affordable RVs in the long term.
Length: 20 to 30 feet.
Sleeps: 4 to 7 people.
Average cost per night: $126.
Average cost per week: $796.
Average cost per month: $3,115.
Thinking of going tiny? Micro trailers may be a cute and less expensive towable RV, but these small travel trailers might pose a challenge for an extended RV rental because they are compact and lack the space needed for longer stays.
Drivable motorhomes
Motorhomes are made for long-distance trips and people who don't want to tow. Motorhomes are also easier to drive and park at campgrounds than towable trailers.
Class A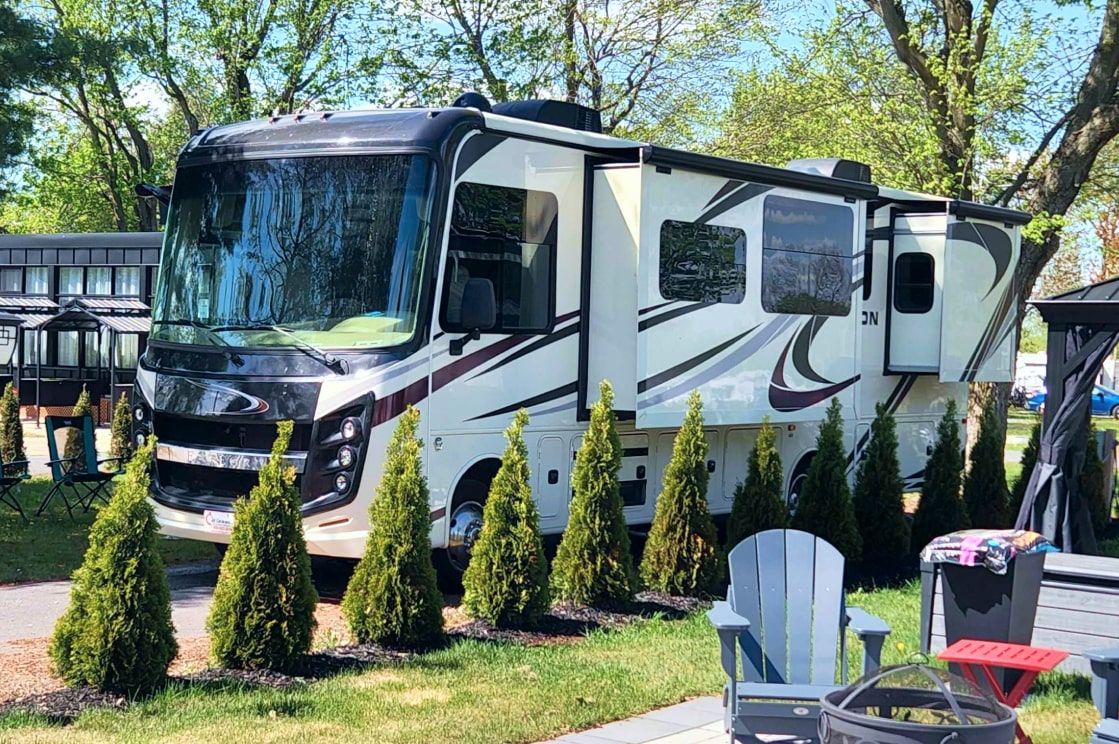 Class A motorhomes, which resemble a bus, are the biggest drivable RVs and are often associated with luxury and comfort. If you're looking for the ultimate long-distance travel vehicle, a Class A RV rental might be for you. The only real downsides to Class A motorhomes are the higher rental costs and the fact an oversized vehicle can be challenging to maneuver and park in narrow areas like cities and certain campgrounds. Note that some of North America's most luxurious RV resorts only allow Class A motorhomes.
Length: 30 to 50 feet.
Sleeps: 6 to 10 people.
Average cost per night: $302.
Average cost per week: $1,959.
Average cost per month: $7,684.
Did you know that most Class A motorhomes don't require a special license to drive? Learn more about RV driver's license requirements in Canada and the USA.
Class C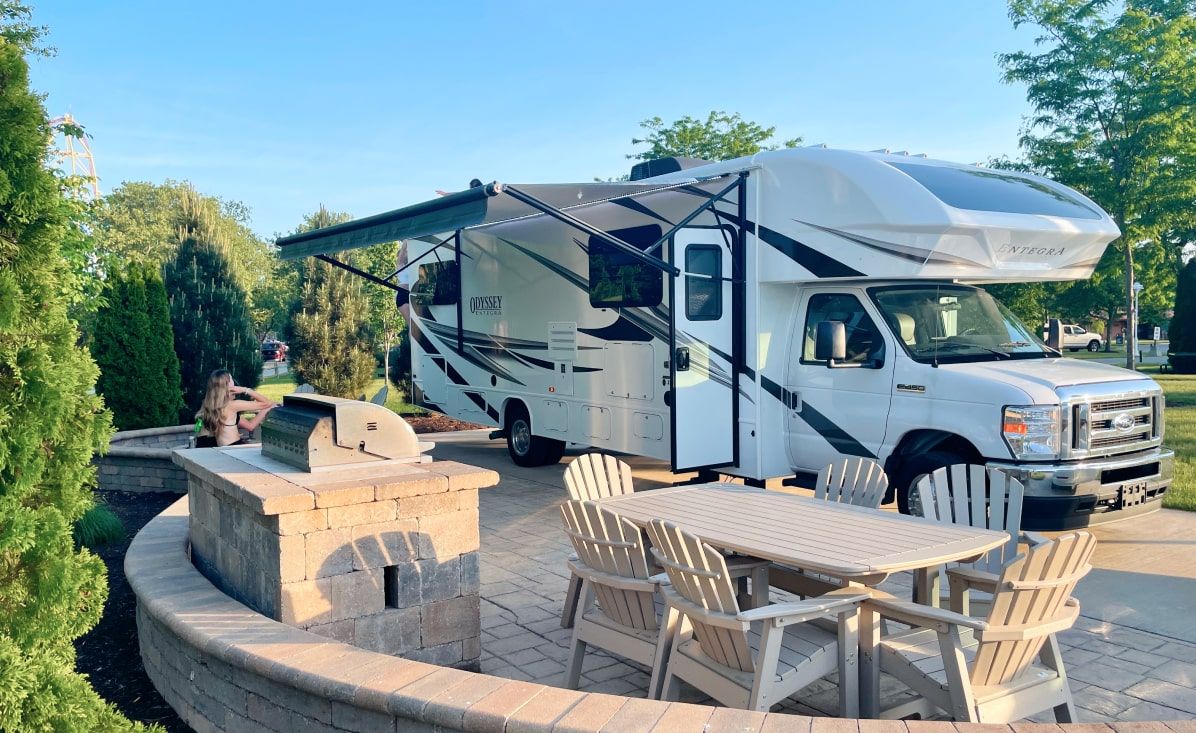 Class C motorhomes are the most popular RV rental type as they are easy to drive and offer the perfect balance of space, comfort, and cost. Most Class C RVs can be recognized because of the bunk space over the cab that can be used for sleeping or storage. Because Class C RVs come in so many different sizes, it's important to choose a model that fits the needs of your crew and the length requirements at your camping destinations. It's also important to note that most national, state, and provincial parks offer limited camping spots for RVs over 26 feet.
Length: 20 to 30 feet.
Sleeps: 4 to 7 people.
Average cost per night: $161.
Average cost per week: $1,027.
Average cost per month: $4,018.
Class B and campervans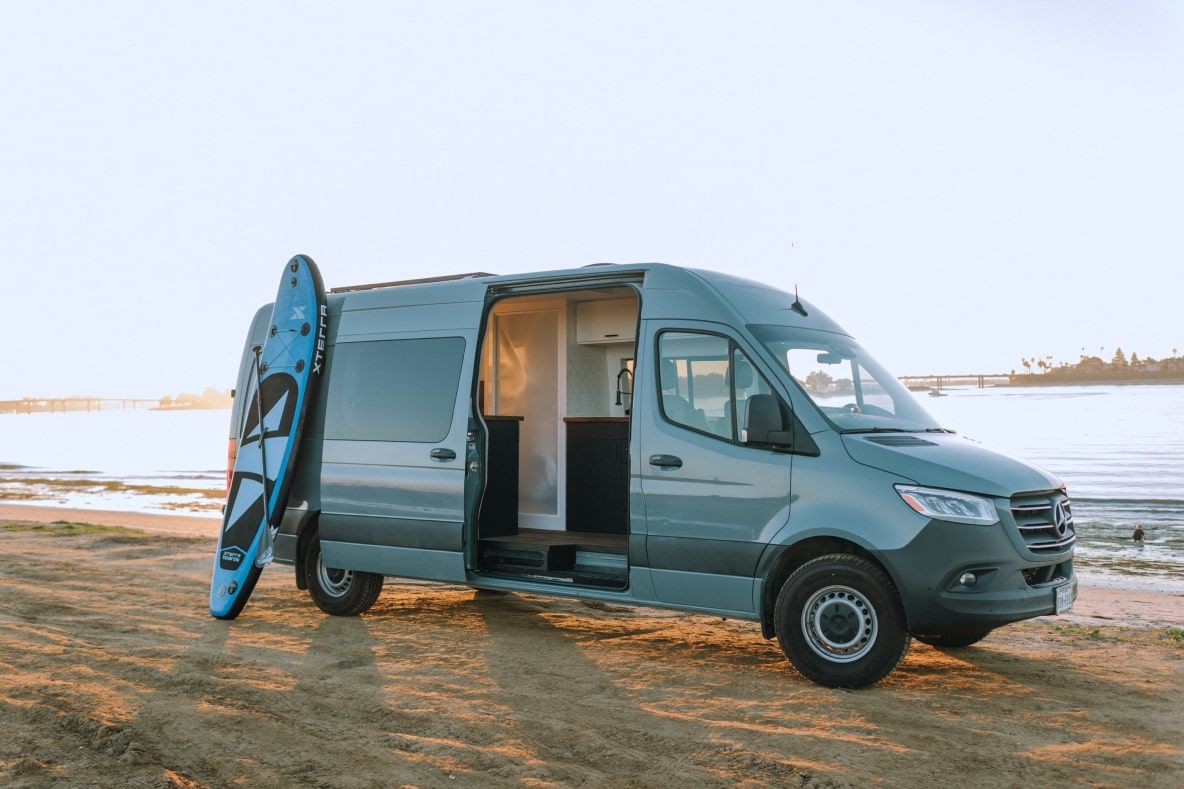 Class B motorhomes, made popular by the van life movement, are the smallest drivable RV you can rent. Often referred to as campervans, Class Bs provide ultimate flexibility for travelers as they are easy to drive, cheap on gas, and can fit just about anywhere, including small campgrounds and standard parking spots in city centers. Campervans typically offer a small kitchen and a flexible living and sleeping area, while larger models also provide onboard toilets and showers.
Length: 10 to 20 feet.
Sleeps: 2 to 4 people
Average cost per night: $239.
Average cost per week: $1,558.
Average cost per month: $6,127.
---
Tips for long-term RV rentals
Rent the right RV for your trip type
Using the information above, you should be able to find the perfect RV for your needs. Before booking, you should determine your budget, how many people are traveling with you, what space and amenities you need, whether you will be moving around or staying in one location, and where you'll park the RV.
Book months in advance
If you can, it's always best to book your RV rental and campsites well before you plan on traveling. You will get better prices and a better selection. RV camping is very popular making long-term campsites and RV rentals difficult to reserve in peak season.
Benefit from free or low-cost campgrounds
While most campgrounds will offer significant discounts on long-term stays, you might also want to consider free or nearly free camping options to save money during your trip. Just keep in mind that most of the free or low-cost campsites don't offer hookups for water, sewer, or electricity.
Reach out to multiple owners
RV owners who rent out their RVs privately using sites like RVezy love long-term rentals. They typically offer a 20% discount for rentals of a month or more. If you reach out to multiple owners with booking requests, you will see that they can be very accommodating if you're renting their RV for a long time.
---
Frequently asked questions
What's required to rent an RV?
Most RV rental companies will have a minimum age policy alongside a driver and insurance verification process. With RVezy, you need to be at least 25 years old  at the start of the rental period, have a minimum of eight consecutive years with a full, unrestricted driver's license, a clean insurance profile, and verify your identity to confirm your account.
How much does mileage cost?
For the most part, mileage overages are not something you need to worry about when renting for long periods through RVezy. Most motorhome owners offer a minimum of 150 miles (240 kilometers) per day, while trailer owners typically offer unlimited mileage. For a one-month trip, you'd have at least a 4,500 miles (7,250 kilometers) allowance, which should be enough for just about any trip.
Do long-term RV rentals come with insurance?
Yes. All RV rentals made through RVezy come with best-in-class insurance coverage. You also have access to RVezy's optional 24/7 roadside assistance if you don't have your own. Learn more about RVezy's insurance and protection plans.
Can your insurance company pay for your long-term RV rental?
Yes, if your home insurance policy includes loss of use coverage, it's possible to have your RV rental costs covered by your insurance provider. Most homeowners prefer the convenience of not having to relocate when an RV can be delivered on-site. Contact your home insurance provider for additional details on your specific plan.
Is it more affordable to rent or to buy an RV long term?
It depends. If you're looking to go on one RV trip per year, it's typically better to rent than to buy an RV. The costs to own an RV can add up and make ownership less tempting if you aren't getting enough use out of your rig. However, if you're willing to rent out your RV when you're not using it, the rental income can cover your costs making it less expensive to buy than to rent.
Ready to book your monthly RV rental? View available RVs in your area.